Welcome to my UserTesting Review. If you found this page wondering if this platform is worth your time and effort, well, the answer is yes. It most certainly can be. I've personally earned $6,206 from User Testing – all in my spare time.
Imagine making money while providing valuable insights that help shape the products and services of tomorrow. UserTesting bridges the gap between businesses and consumers, allowing us to share our experiences and thoughts about various products or services.
In this User Testing review, I'll delve into how this platform works, my personal experience, and how you could potentially turn your spare time into a profitable venture.
So, if you've ever wondered about making a side income that doesn't require a second full-time job, read on. I plan to shed some light on why UserTesting could be the exciting opportunity you've been searching for.
Ease of Use

Stability

Functionality

Customer Support
Summary
UserTesting is a platform where you can earn extra money by providing feedback on various websites, apps, and products. It's a flexible side hustle that pays well for short tasks, with most tests paying $10 for less than 20 minutes of work. The platform is easy to use and provides diverse testing opportunities. Payments are made through PayPal, making it a convenient option for those seeking to boost their income online. Check out UserTesting here.  
Pros
Easy Money: you can start earning money quickly as a user tester.
Abundance of Tests: constant flow of new tests becoming available.
Convenience: Test participants can earn money anywhere with an internet connection.
Better than Surveys: NOT endless surveys & pay rate is significantly higher than surveys.
Prompt Payment: Payments released 7 days after test completion.
Engaging Tests: fun, interesting, and you never take the same test twice.
No Degree Required: Anyone can join regardless of their educational background.
PayPal Payments: All payments made through PayPal.
Cons
Limited Test Acceptance: most people qualify for 10% of the available tests.
Dependent on Ratings: low rating from clients lowers your overall score, reducing access to tests & potential earnings.
Supplementary Income: earnings not substantial enough to replace a full-time job income.
Camera Requirement: Some tests require you to show your face on camera.
Slow Customer Support: User Testing Team often takes long to respond to inquiries.
User Testing Key Features
Here are the key features to look out for:
Ease of Use: The platform is user-friendly and easy to navigate.
Variety of Tests: Offers a wide range of usability tests, some of which must be taken on your phone and others that must be completed on your PC.
Flexible Schedule: You can choose when you want to take a user test based on your availability.
Screen Recorder: This built-in tool allows you to record your test session, providing real-time feedback to companies while testing services, apps, and websites.
Different Payment Models: Most tests pay $10 for about 10 – 20 minutes of your time, and for live interviews, you get paid per minute of your time.
Prompt Payment: Payments are made quickly and are paid out exactly one week after completing a test, to the minute.
Feedback Opportunity: You can provide feedback in shaping future products and services as a website tester. This helps companies make customer-centric business decisions.
Learning Experience: The UserTesting platform is a great way to learn about new products and services through usability testing.
Who Is User Testing Best For?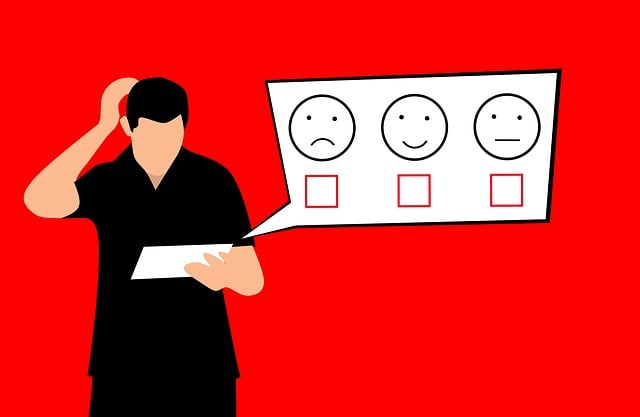 User Testing is a great way to make money online for beginners and, generally, anyone who could use the extra income. Here's a breakdown of who User Testing is best suited for:
Stay-at-Home Parents: Juggling childcare and a job can be tough. User Testing offers a flexible way for stay-at-home parents to earn some income during nap time or school hours.
Students: Whether you're an undergrad, postgrad, or part-time student, User Testing is a perfect money-making option. It fits your study schedule, and no specific qualifications are needed.
Freelancers: If you have free time between projects, User Testing can be a fantastic way to keep your income flowing. It's also a great way to learn about different industries and products.
Part-Time Workers: If you're looking for ways to supplement your income, User Testing can be an excellent choice. You can take a few tests whenever you have some spare time.
Retirees: If you're retired but still want to keep active and make some extra money, User Testing is a great option. It's easy to use, and you can share your valuable life experience with companies.
Digital Nomads: With a reliable internet connection, you can earn from anywhere in the world. User Testing is ideal for travel lovers seeking an additional income source. (I even took tests at the Jordan airport about my flight experience to Egypt).
Anyone Looking for a Side Hustle: If you enjoy trying new things and providing feedback, User Testing is an exciting and lucrative side gig. You can influence future products and services, earn money, and it's fun to share feedback with these companies.
While this User Testing review outlines how you can make great money with the platform, remember that it's ultimately about sharing your valuable perspective.
Your insight helps companies improve their products and services for their exact customer audience.
It's a win-win situation – you get paid, and you contribute to creating better user experiences.
How Does The User Testing Platform Work?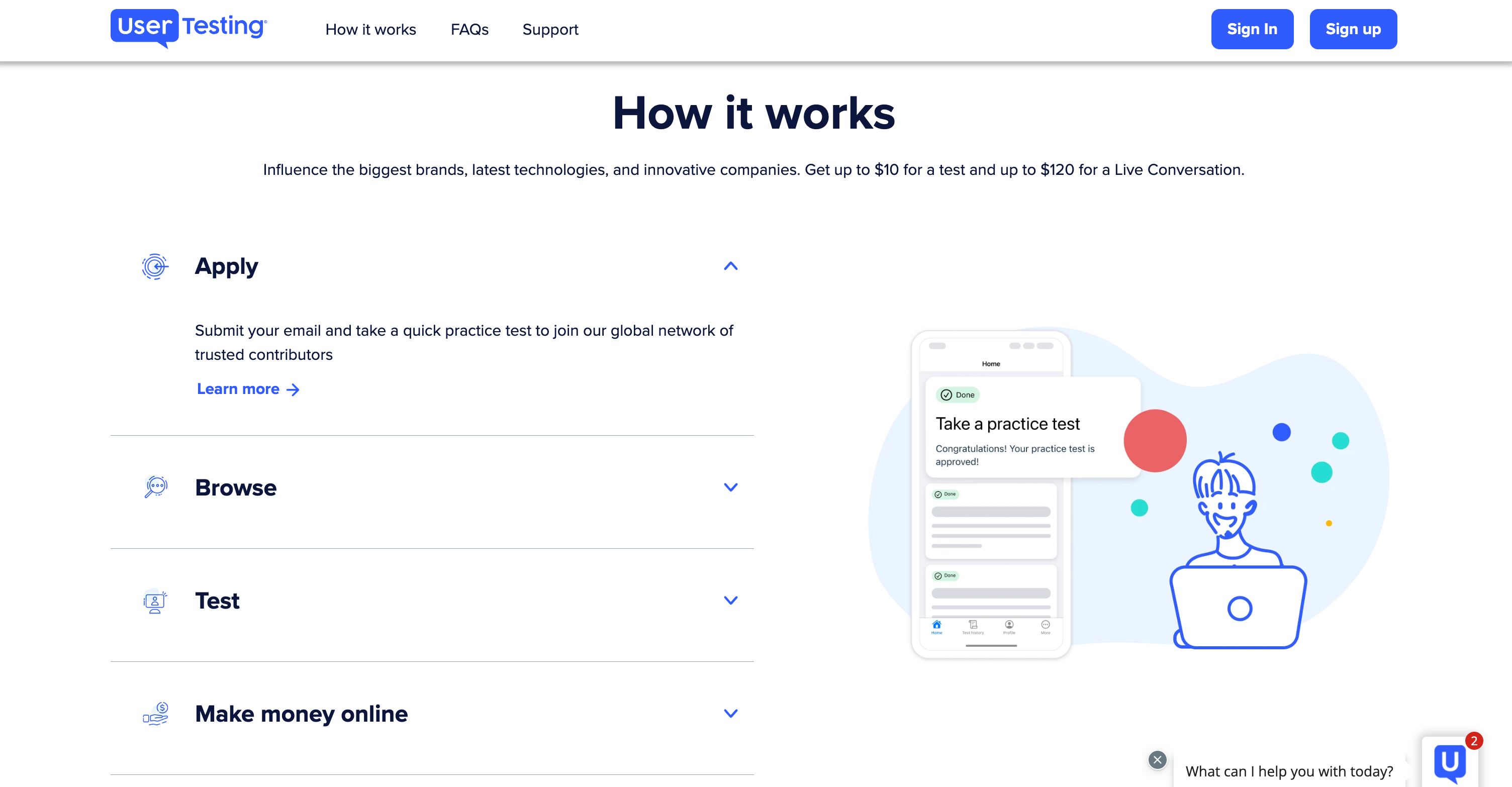 Here's a step-by-step process for how the User Testing platform works:
Sign Up: Visit the UserTesting website, create an account using your email address, and set up a password.
Complete Your Profile: Fill out your profile with personal details like demographics, interests, and tech usage. This info helps UserTesting match you with relevant tests.
Take a Practice Test: Before taking paid tests, UserTesting requires completion of a practice test. This helps familiarize you with the test expectations and ensures your comfort with the process. Your practice test is reviewed for quality before approval for paid tests.
Qualify for Tests: Based on your profile, UserTesting will send you invites to tests that fit your profile. Each test requires a qualification survey to ensure you meet the specific criteria.
Take the Test: If you qualify, you'll receive instructions for the test. These tests usually involve completing tasks (navigating a website or app) while sharing your thoughts and feedback out loud (and sometimes on camera, too). This is why you need a device with a microphone and a stable internet connection.
Record Your Feedback: UserTesting records your screen and voice as you navigate tasks. Companies use this to observe your real-time reactions and thoughts, assessing your experience on their app or website. Can they improve navigation on their site? Is anything confusing? Your honest feedback means the world to them.
Submit the Test: After completing the tasks and giving feedback, you submit the test. UserTesting reviews your submission for quality before approval.
Get Paid: Once approved, you get paid for participating. UserTesting pays $10 for each 10-20 minute test completed via PayPal. And the best part? Some tests are under 5 minutes, but you still get full pay!
Earn More: The more experience and positive ratings you gain, the more test opportunities you're eligible for. UserTesting rewards consistent, high-quality feedback with additional incentives.
How Do You Make Money With User Testing?
As mentioned in the steps above in this User Testing Review, you get paid seven days to the minute after you complete a test. All tests are paid out via PayPal.
So, it's essential to have a PayPal account set up and connected to the User Testing platform. Once it is, though, payments are a breeze, and you can track all your earnings in the User Testing dashboard at any time.
How Much Can You Realistically Earn?
I've earned a total of $6,206 to date with User Testing, and I've really enjoyed it.
While I'm sure it's different for everyone, in my experience, you can very realistically earn $30/hr. Of course, this depends on how many tests you take.
Many tests only take 5 – 10 minutes of your time. You may spend more time taking the screeners and getting rejected from tests than actually taking a test once you're approved for one.
That said, some tests are more tedious than others. This could be due to glitches on the website or app you have to review or the time it takes to take a particular test.
Let's say you get rejected from 10 tests, and you're approved for 3 of them. You take those three tests. Those rejections and completed tests could all happen within an hour, and I can say this from my own experience. That's usually how it goes if you're dedicated to going through the screeners.
So, right there, you've earned $30 in an hour.
That's also assuming you're taking the regular tests. Interviews pay per minute. Interviews require that you get on a Zoom call with a moderator who asks you questions or has you browse a website/app in real time.
Here's a breakdown of the payment structure of the tests available on the platform:
1 – 2 minute test: $4
10 – 20 minute test (most popular): $10
30 minute interview: $30
60 minute interview: $60
90 minute interview: $90
Is User Testing Easy To Use?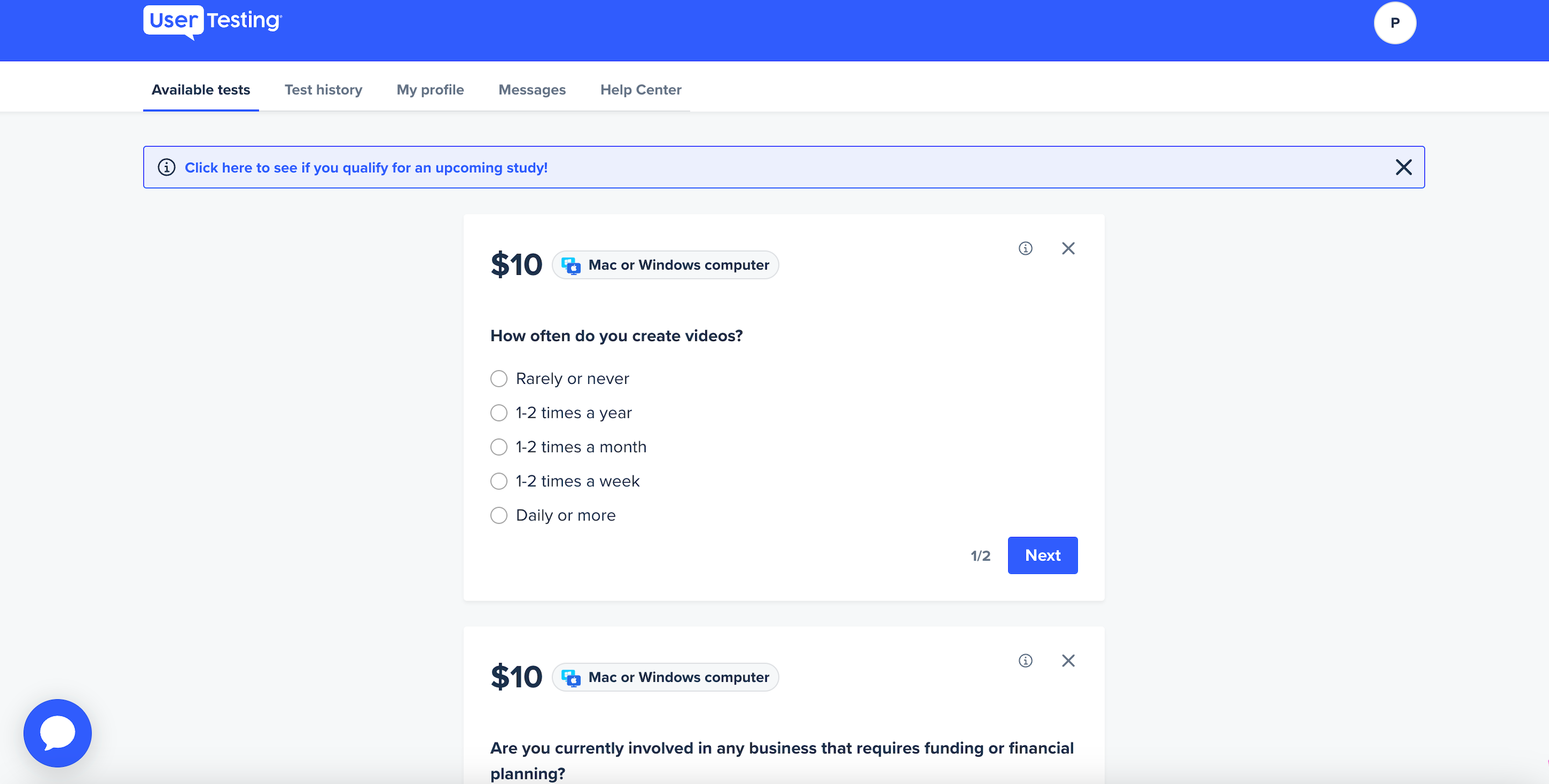 Once you have your web browser set up to take tests, meaning you have your camera and microphone adequately connected and recognized by the platform, it's simple to get started.
The same goes for your smartphone. Many tests are exclusively available on mobile devices (this also includes tablets). Just follow the simple step-by-step instructions, and you can start earning money taking tests.
My Experience Making Money With User Testing
For this User Testing review, I wanted to share a bit of my own experience taking tests on the platform.
Test #1 – Sample First Test
Before qualifying to take tests with the User Testing platform officially, you must take a paid sample test. It's simple. The people at User Testing want to know how you speak and interact with the website they choose to have you review.
Can you explain your thoughts in a way that's easy for the client to understand?
Do you provide useful feedback so that the website owner can make their site or app more user-friendly?
That's the ultimate goal. You're helping companies make their websites easier to navigate for consumers. Here's the feedback I got on my initial test.

Test #2 – Regular Test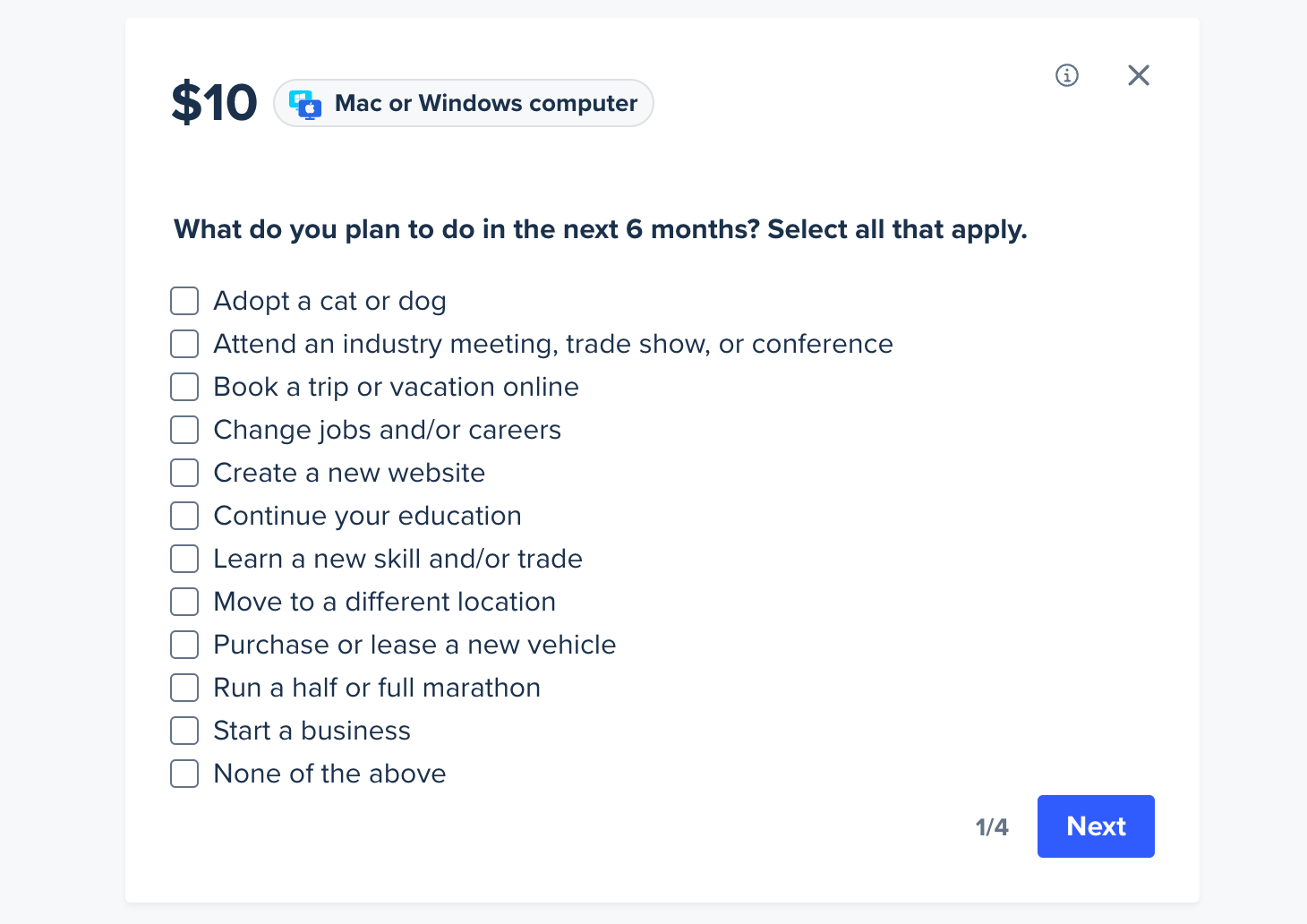 I've taken hundreds of these. They range anywhere from 5 minutes to 20 minutes. Sometimes, they go longer than 20 minutes, but that's rare.
Here is a very short list of topics I've had to discuss:
Rideshare services
Restaurant experiences
Alcoholic beverages
Kitchen appliances
Entrepreneurial mindset
Elementary school teaching materials (I used to be a teacher)
Mattresses
Food delivery
Musical instruments
Depression & anxiety
Dog food
The thing is, this list could go on forever – no joke. As of this writing, I've taken 518 tests, and I've pretty much discussed every topic under the sun. Here's some feedback I got from one customer who gave my test a 5-star rating: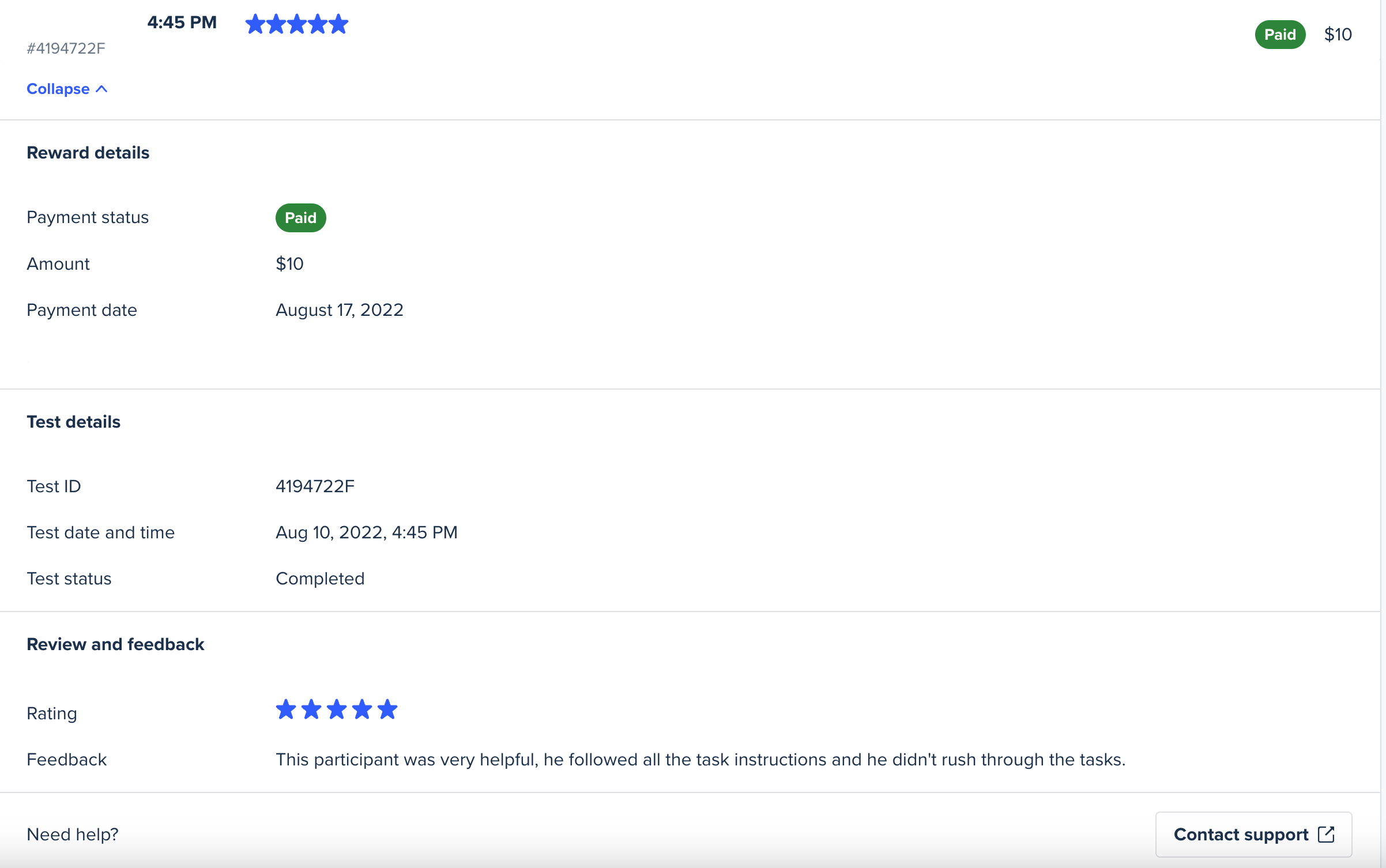 The more of these 5-star reviews you get, the more tests you're offered, and the more money you can make.
Test #3 – Live Conversation
Live conversations are slightly different, but when you get accepted into one, you're guaranteed $30 for 30 minutes or $60 for 60 minutes. There are some 90-minute sessions, too.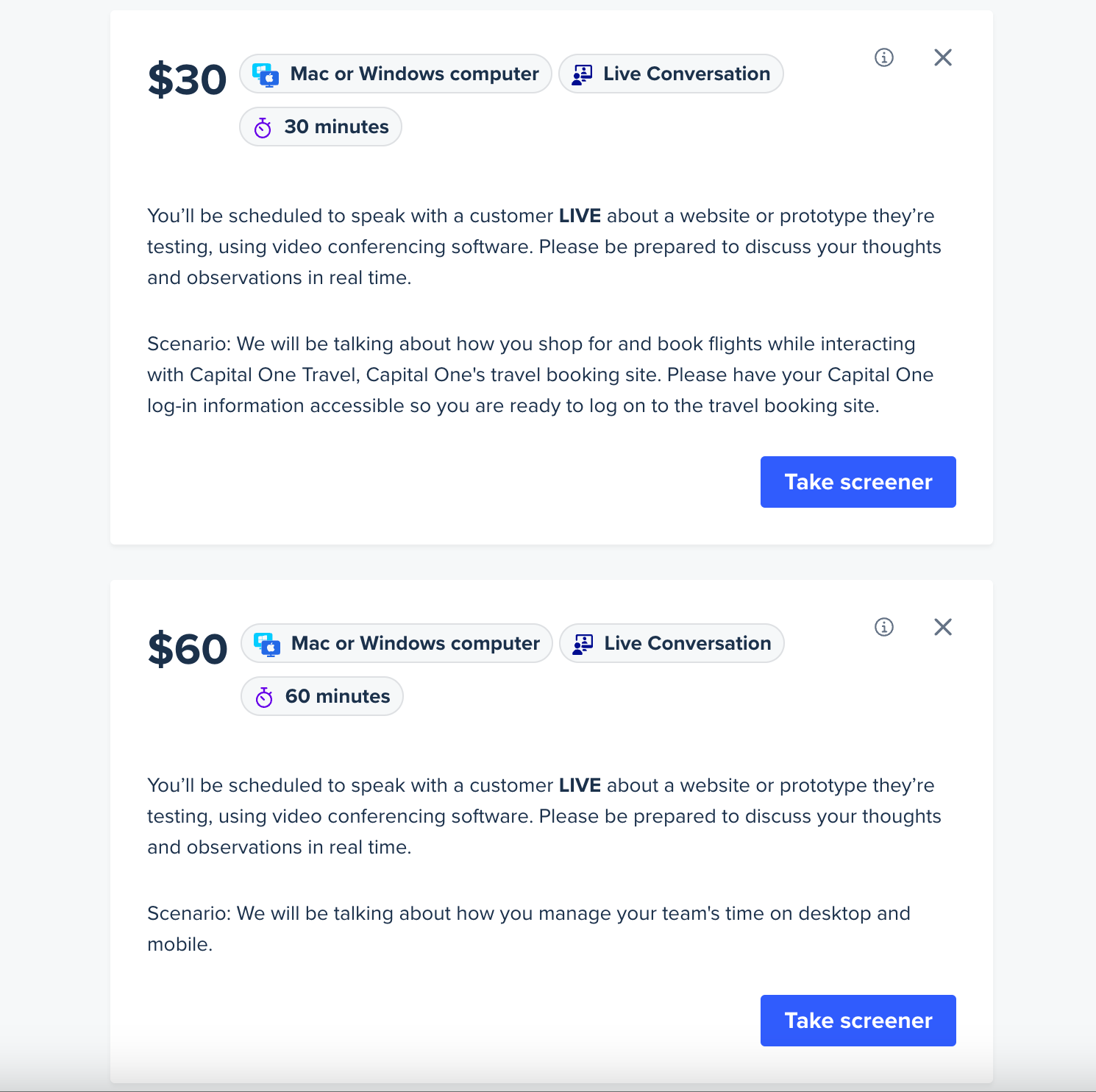 The process is the same. You have to quality for the interview from a screener. The only difference is you choose a date and time for your interview and then show up for your call. Here's an email you'd receive the day before your interview.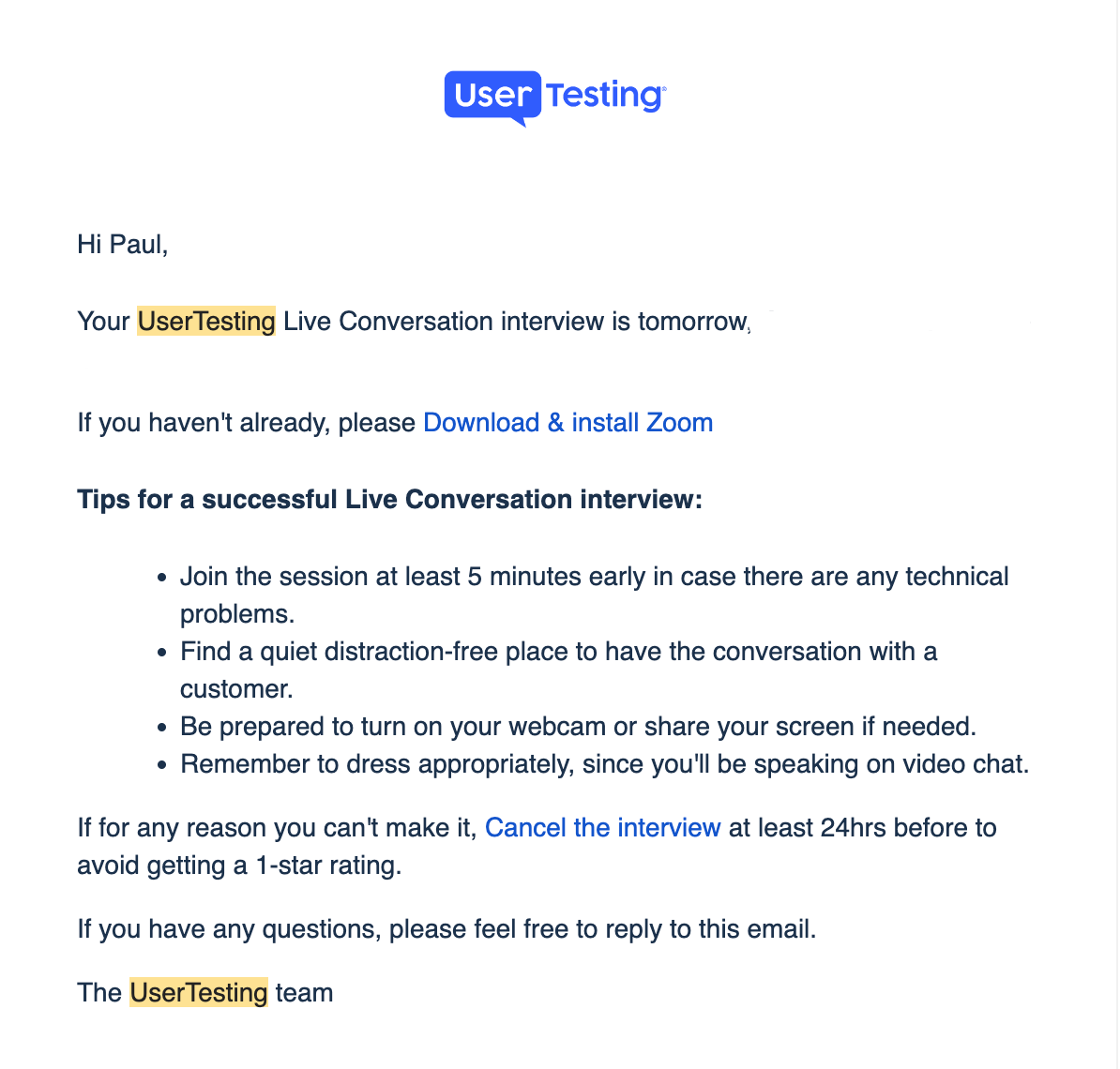 User Testing Alternatives
Here are some great alternatives to User Testing.
User Interviews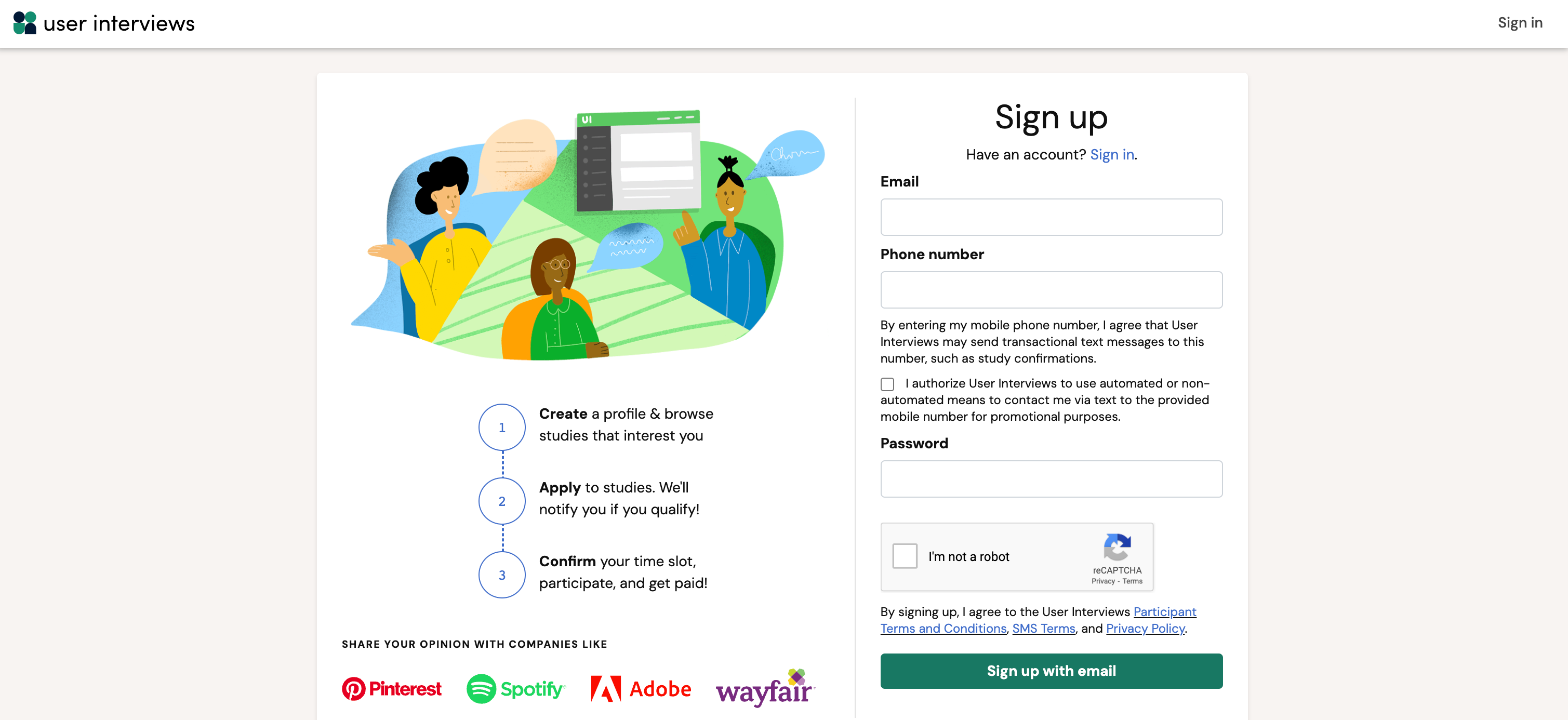 User Interviews is a fantastic alternative to UserTesting. This platform offers a variety of research studies you can participate in, such as online surveys, phone interviews, or even some of the best paid focus groups you can do in person. Sign-up is simple, and once you're in, you can browse through various studies that match your profile.
The website adds approximately 2,500 new studies each month. Since 2016, the company has rewarded participants with over $25 million in incentives.
The average study offers a generous payment of more than $65. They offer various payout options, including PayPal, Visa gift cards, and gift cards for numerous other stores.
---
Userlytics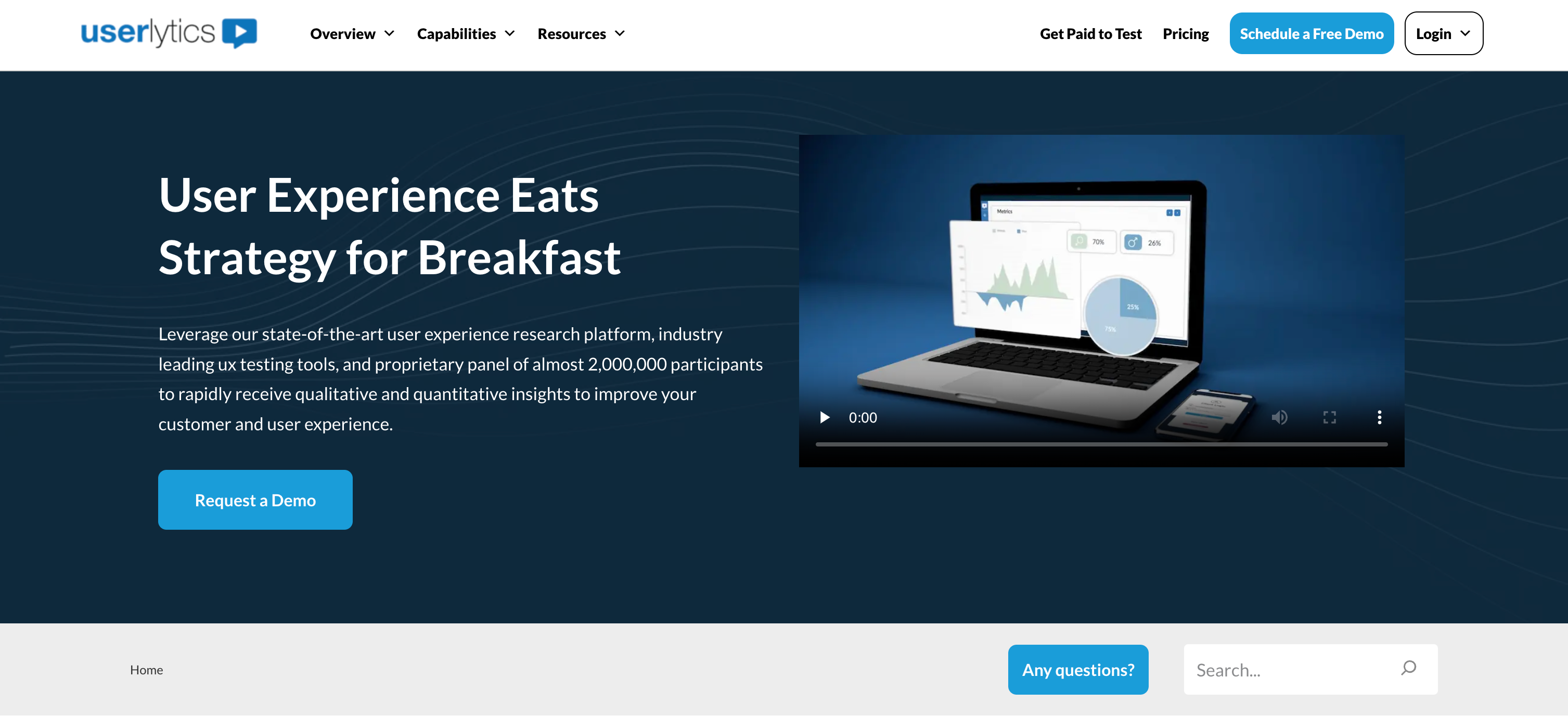 Userlytics is another excellent alternative to UserTesting. It allows you to test websites, apps, prototypes, advertisements, and more from companies worldwide. You're asked to complete tasks and share your thoughts, similar to UserTesting.
Payments vary per test but are competitive, and you receive your earnings via PayPal. Userlytics provides a user-friendly interface and detailed instructions for each test, making it easy for beginners to start earning.
Take a look at our article for info on other website testing jobs.
Final Thoughts: A User Testing Review Worth Your Time and Effort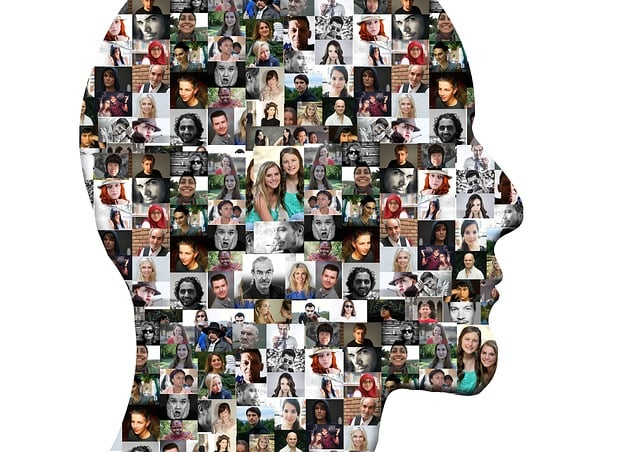 In conclusion, UserTesting emerges as a remarkable platform for those looking to bolster their income in an insightful and meaningful way. It's not just about the money; it's about contributing to improving the products and services we use daily.
By sharing your authentic user experience, you become a crucial part of the ever-evolving digital ecosystem, shaping the future while earning from the comfort of your home. So, whether you're a seasoned tester or a curious newcomer, UserTesting offers a unique opportunity to turn your opinions into cash.
Check out this article to learn about more product tester jobs.