Do you want isolated server resources but can't afford the costs of a dedicated server? Want high performance with better security? 
Then, VPS servers are a perfect fit for you.
There are many benefits of using VPS hosting, which include;
Isolated resources: You're not sharing your resources with others, as each VPS has its own dedicated resources, such as CPU, RAM, disk space, and bandwidth.  
High performance: VPS servers are more powerful than shared hosting servers. VPS hosting is perfect for handling high-traffic websites. 
Better security: VPS servers are more secure than shared hosting servers because each VPS is isolated from the others. 
Affordability: VPS servers are more affordable than dedicated servers.
Want to know more about VPS servers? In this post, let's discuss the following;
What is VPS hosting?
Different types of VPS hosting servers
VPS hosting Pros, cons, and more
Are you curious to find them out? Let's jump into the details. 
What does VPS Mean? Definition, Pros, Cons & More
What is VPS Sever?
VPS server hosting (Virtual Private Server) is a type of hosting that uses a virtual machine to share multiple resources on a single physical server.
Each VPS has its dedicated resources, such as RAM, CPU, and disk space, allocated from the physical server.
This provides the benefits of a dedicated server, such as performance and security, at a lower cost than a dedicated server. It sits somewhere between shared and dedicated hosting. You can read our what is shared hosting guide to learn more about it.
Imagine a giant computer that is divided into many smaller computers, each with its own operating system and applications. This is what a VPS server is like. Each VPS is like a separate computer, but they all share the same physical hardware.
Here's an illustration that explains how a VPS server works;
As you can see above, a single physical server is divided into multiple virtual servers in VPS hosting.
3 Types of VPS Servers
There are THREE major types of VPS servers, which are listed below.
Fully managed VPS hosting
Unmanaged VPS hosting
Semi-managed VPS
Let's briefly talk about each of them so you can understand better.
1. Fully managed VPS hosting
Pricing: $20-$100+ per month
Features: The web host takes care of all server management tasks, including security, software updates, and performance monitoring.
If you're not tech-savvy or don't want to deal with any technical stuff related to VPS servers – fully managed VPS hosting is the right choice. In a fully managed VPS, your web host will handle everything, including server maintenance, updates, security monitoring, etc.
Some benefits of fully managed VPS hosting are;
No need for technical expertise
24/7 support
Security updates and monitoring
Automatic backups
Easy scalability
2. Unmanaged VPS hosting
Pricing: $15-$50+ per month
Features: The web host provides you with server resources, and you are responsible for managing it ALL by yourself.
This is the best choice if you have the technical skills to manage VPS servers. Web hosts don't provide any technical assistance when you choose this type of hosting, except for providing a VPS server. You can customize your VPS servers however you want, and this hosting is cheaper than fully managed VPS hosting.
The benefits of unmanaged VPS hosting are;
More control over the server
Less expensive than fully managed VPS
Requires technical expertise
3. Semi-managed VPS
Pricing: $30-$80+ per month
Features: The web host provides you with a pre-configured server with essential software and settings.
In this type of hosting, you will get some kind of support from the web hosting provider as they'll handle complex things like hardware maintenance, security updates, etc. But you must monitor your VPS for server failure, software installations, configurations, and more.
The benefits of semi-managed VPS are;
Some technical expertise is required
Lower cost than fully managed VPS
You'll get some support from the hosting provider
Pros and Cons of Virtual Private Server
So, what are the advantages and disadvantages of VPS servers? Let's find out.
Pros of VPS hosting servers:
VPS hosting provides you with your own virtual server within a physical server. It is much more affordable when compared to dedicated servers.
Other websites on the same server don't affect your website's performance, as the resources are isolated.
VPS servers are an excellent choice for those who want their own hosting resources (such as RAM, CPU, storage space, etc.) but don't require the full resources of dedicated servers.
Scalability is not an issue with VPS hosting; you can upgrade server resources as your website grows.
With VPS servers, you'll have full flexibility as you can install any operating system or software that you want.
Most web hosts give their VPS hosting users full root access. It means that you get access to complete customization of server configurations and software installations.
Security breaches are minimal as you'll get dedicated hosting resources, and each VPS is isolated from the others.
They're extremely reliable. VPS servers use multiple physical servers (not just one), and the servers comprise multiple nodes. So, if one node goes offline or crashes, your website will remain online as there is always a backup.
They can handle high-traffic websites and web applications, making it an excellent choice for businesses of all sizes.
Cons of VPS hosting servers:
You may require technical knowledge if you want to manage resources independently.
VPS servers are expensive when compared to shared hosting servers and are not required for low-traffic websites.
When to Use VPS Hosting?
When should you start using VPS servers? 
Here's a quick answer: if your website generates over 100,000 monthly visits and needs more speed and stability – consider moving to VPS hosting. If businesses expect their website traffic or resource needs to increase in the future, VPS hosting is an excellent choice.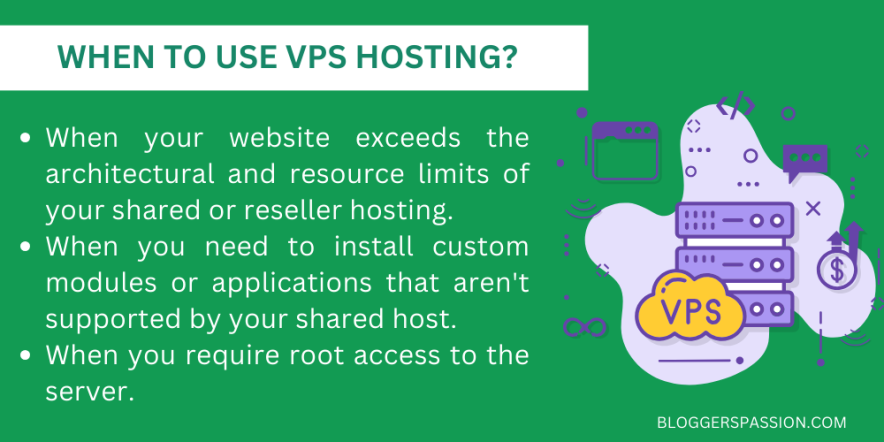 You need to use (or upgrade) to VPS Hosting if;
Your website is getting a lot of traffic, and your shared hosting resources, such as storage, RAM, bandwidth, etc, are NOT enough to handle your website traffic.
Your website is loading slowly.  Your website speed matters a lot, and you should go for VPS for faster loading times.
You need more control over your server environment, such as the ability to install custom software and applications.
You need to scale your server resources up or down whenever you want. There are a lot of instances where website owners need more resources (on particular sales like Black Friday). VPS allows you to increase your resources when compared to shared hosting easily.
You need the resources of a dedicated server but don't want to run your own server. Also, VPS hosting can give you the best of two worlds: shared and dedicated hosting. It costs less and gives you guaranteed resources.
---
FAQs on what is VPS hosting and how does it work?
Here are some frequently asked questions about VPS hosting servers.
Is VPS good for hosting?
VPS is an excellent choice for high-traffic websites that need more resources such as RAM, bandwidth, disk storage space, etc. 
Who should use VPS servers?
VPS servers are ideal for;
– Medium to High-traffic websites and web apps
– Online gaming servers
– eCommerce websites
Why do you need VPS hosting?
You need VPS hosting if you're running an eCommerce store, membership site, or agency website that generates a lot of traffic and needs more resources to load faster.
Is VPS hosting expensive?
VPS hosting is usually expensive when compared to shared hosting but cheaper than dedicated server hosting. It is a middle-ground solution between shared and dedicated hosting, as you get dedicated resources at an affordable price.
Related Posts:
---
Final thoughts on VPS meaning
VPS hosting is a perfect choice if you want enhanced performance and control over your website resources.
It's the best hosting if you need more power and control than shared hosting but don't want to spend the money on a dedicated server. The best part of VPS hosting is that it is flexible, which means you can easily add more resources to your VPS as your website traffic grows.
What are your thoughts on VPS servers? Have any questions? Let us know in the comments.