Are you wondering whether Strikingly is the best website builder for you? In this Strikingly review, we'll look at how it works, its main features, and who should use it so that you can make an informed decision.
Site builders give anyone, even with zero coding experience, the simple tools to build their own Strikingly websites.
This is a great solution for small businesses and freelancers who want to create their own Strikingly websites without investing too much money up-front.
And Strikingly is one of these no-code website builders that offers a simple way to create websites.
Let's take a look at Strikingly in more detail.
And, if you're looking to build your website for free, sign up for Strikingly here.
What is Strikingly?
Strikingly is a simple website builder that allows users with zero design or coding skills to create a beautiful, mobile-friendly website.
You can choose from various pre-designed templates and use the built-in image editor and premade sections to quickly and easily put a professional website together in a matter of hours.
Strikingly Review: Who Should Use it?
Strikingly is a good choice for anyone that doesn't have the time or skills to put a website together from scratch.
While it does have various template and design options, it doesn't allow a huge amount of customization and is more suited to small to medium businesses.
Strikingly is ideal for:
New bloggers and freelancers. Strikingly is a good option for those new to online business who want a simple way to get a website up and running quickly and affordably.
Small web agencies. If you're a website designer, Strikingly is a speedier option to get new websites built for your clients. The paid plans allow you to host multiple websites.
Service-based businesses. Are you a plumber, hairstylist, local bakery (if so be sure to browse our list of bakery name ideas) or beautician? Strikingly is a good place to start getting your business off the ground. However, due to its limited scalability, it might not be the right choice if you predict fast growth.
New e-commerce sellers. Strikingly does have e-commerce functionality that allows you to sell your products online. However, each pricing tier has a cap on how many items you can sell. If the sole purpose of your site is to sell products, you should look into other platforms that give you more features, like Shopify or BigCommerce.
Strikingly Review: Main Features and Tools?
Strikingly has several basic tools and advanced features to help you get a simple website up fast.
To get started, you need to choose a template, write the text for your site and upload images.
Here's an overview of the best Strikingly features and customization options:
Pre-Designed Templates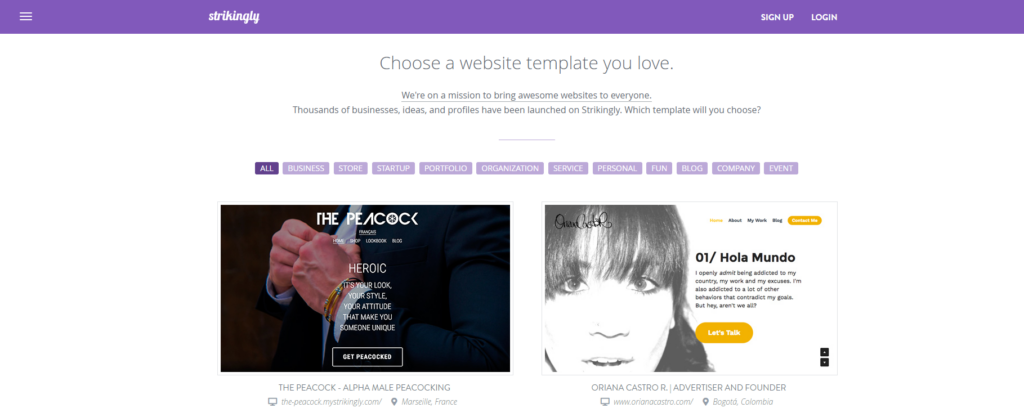 One top feature of Strikingly is the 190+ pre-designed templates you can choose from.
These are available even to free plan users.
In addition, there are pre-built sections and layouts so you can put your new website together in a unique way.
Another handy feature is the template preview. This allows you to switch templates and see how your content would look with different designs.
Drag and Drop Editor
Once you've chosen your template, you'll get taken to the editor where you can begin to build your site.
To assemble each page, you can add different sections like building blocks. 
Next, you can customize each section by dragging and dropping elements around in each section.
This makes it extremely easy to put your website together with minimal design skills.
However, the drag-and-drop editor will not let you move elements between sections, which might put off those who like a little more flexibility.
Social Media Integration
Every business needs to market itself on social media to get customers, sales, and brand recognition.
And this is where the social feed in Strikingly will help. It allows you to link your social accounts so visitors get notified when you make updates.
However, the free plan doesn't offer the same social media features as the paid plans.
For example, the Pro Plan and higher allows you to add a Facebook messenger live chat feature to your site and to import posts from a dedicated Facebook page.
You can also choose to have your latest Twitter and Instagram feeds show on your site, which are checked every five minutes for new posts.
SEO Checklist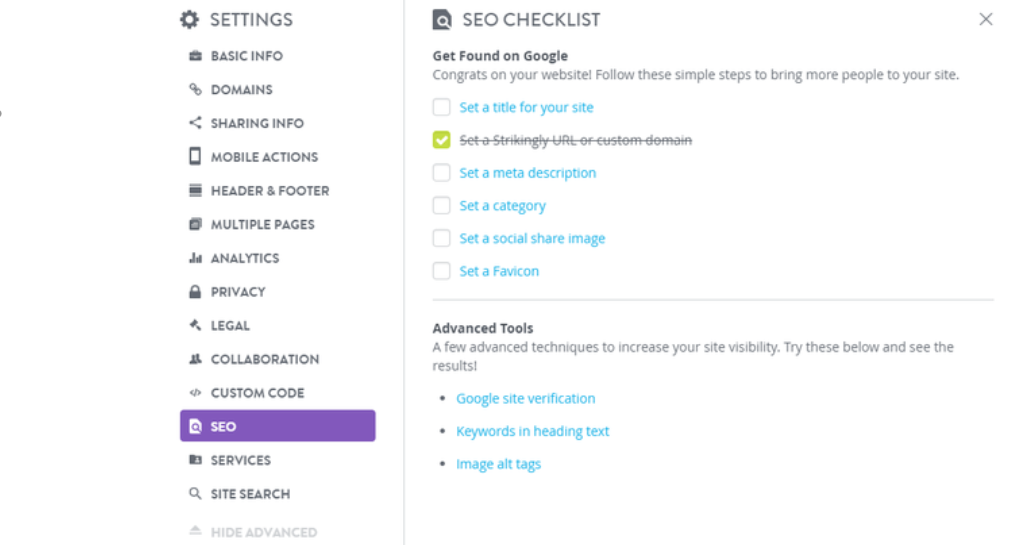 To continually increase visitor traffic to your site, like any website, you need to use the best SEO (search engine optimization) practices.
Optimizing your different web pages will help them rank higher in search engines.
For example, if your site is about losing weight, the right cues will tell Google that your site is a good place to go for weight loss and fitness tips.
While this might seem overwhelming to new bloggers and site owners, Strikingly helps out by giving you an SEO checklist to follow.
Analytics Dashboard
Another handy feature of Strikingly is its analytics dashboard.
This allows you to see how many visitors you have to your website, which countries they're from, what time of day they visited, and whether they were on a desktop or mobile device.
You can filter these stats to show the last 90 days, 30 days, 7 days, and 24 hours.
While this information is limited, it gives you a good overview of how your site is doing, and you can use Google Analytics to gain more in-depth information.
Image Editor and Gallery
Strikingly offers a simple image editor and gallery.
When adding images to your site, you can choose free photos from stock sites or to upload your own images.
If you need to edit the image, the editor allows you to:
Crop
Resize
Rotate
Filter the saturation, brightness, contrast etc.
Add text or draw on the image
Create and Host Multiple Websites
A great feature of the Strikingly website builder is that you can create multiple websites on each plan.
This means it's ideal for businesses with multiple organizations or digital agencies that build sites for different clients.
Here's an overview of what you get with each plan:
Free Plan. Unlimited free sites with the Strikingly.com domain.
Limited Plan. 2 Limited sites, unlimited free sites, and your own custom domain.
Pro Plan. Up to three websites, unlimited free sites, and your own custom domain.
VIP Plan. 5 VIP sites and everything in the Pro Plan
E-Commerce Functionality

Strikingly offers e-commerce functionality, even on the Free Plan.
However, the amount you can sell on the Free and Limited plans is restricted.
But, many website builders won't even offer this functionality on a free or low-tier plan, which is another thumbs up for Strikingly.
Here's an overview of the e-commerce feature:
Free Plan
Sell one product with a 5% added transaction fee.
Limited Plan
Sell 5 products with a 5% added transaction fee.
Pro Plan
Sell 300 products with a 2% added transaction fee.
VIP Plan
Sell unlimited products with 0% added transaction fee.
Strikingly Review: How Much Does it Cost?
There are multiple Strikingly price plans to choose from. Plus, the free plan stays free forever.
With it, you get unlimited free sites, 5GB monthly bandwidth, a Strikingly.com domain, 100MB total storage per site, 1 product per site, and multiple pages (up to 5 pages) per site.
The Strikingly paid plans cost:
Limited. $8/month billed yearly or $12/month billed monthly.
Pro. $16/month billed yearly or $20/month billed monthly.
VIP. $49/month billed yearly or $59/month billed monthly.
By paying more, you get access to more tools and more advanced features.
The Limited Plan gets you 2 extra limited sites, multiple pages (up to 5 pages per site), 1GB of storage per site, and 50GB of bandwidth.
The Pro Plan allows you to use the Pro features and gets you 20GB of storage per site, unlimited bandwidth, and create multi page websites – up to 100 pages per site.
On the VIP Plan, you can have 5 VIP sites with VIP features, 100 GB of storage per site and unlimited bandwidth.
Strikingly Review: Is it Secure?
Strikingly uses SSL (Secure Sockets Layer) on each custom website, ensuring the connection to that website is encrypted and secure.
It also ensures that any data entered by the website user is safe and secure.
By having a secure website, you'll give your website visitors confidence, and it can even improve your Google ranking.
Custom domains on the Limited Plan and upwards have this set up automatically for them.
Does Strikingly Have Good Support?

Strikingly does offer a decent amount of help and support for its users.
You can take advantage of the 24/7 live chat phone support when you get stuck, which is manned by trained ''Happiness Officers''.
You can email them directly or ask questions by filling out the form on their contact page.
They also have a detailed knowledge base that can be found in the Help Center.
Here you can find a range of videos and articles that walk you through how to build and edit your website clearly.
Strikingly Review: What Are the Alternatives?
Here are a few of the best Strikingly alternatives:
Squarespace
Squarespace is a good all-around website builder ideal for online stores, personal portfolio sites, and blogs.
They offer 140 sophisticated templates and design options which are highly customizable.
It has generous page limits, with all plans supporting up to 1,000 pages. Plan prices range from $14/month for the Personal up to $42/month for the advanced Commerce.
Weebly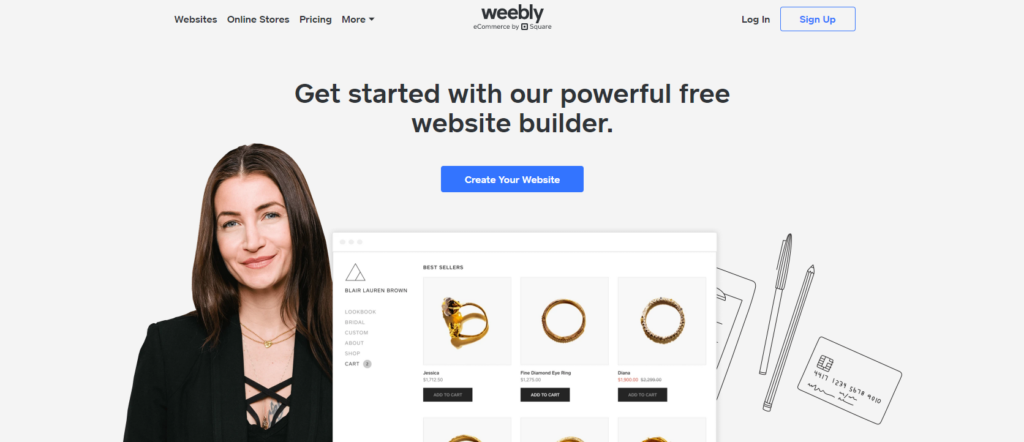 Weebly is another website builder that offers a generous free plan and affordable premium packages.
It's best for bloggers and website owners who plan to stay small, as you don't get much customization control when designing your pages.
However, it's easy to use, and the Weebly App Center can add more advanced features to your website.
Weebly pricing includes a Free plan plus four paid tiers ranging from $6 to $29/month.
WordPress.org
WordPress.org is a good choice for those wanting to start their blog and use myriad features tailored to help design and run a blog easier.
However, it doesn't use the same drag-and-drop editor as some other website builders, which may be confusing for some however, there are tons of awesome WordPress themes you can use.
WordPress.org is free, which is ideal for getting started on.
It's easy to get confused with WordPress.com, which has both free and paid plans with decent pricing if billed yearly:
Personal Plan at $4/month
Premium Plan at $8/month
Business Plan at $25/month
eCommerce at $45/month
But if you're going this route, you might as well just go with WordPress.org.
Conclusion: Is Strikingly Right for You?
At the end of this Strikingly review, we must decide whether it's the right website builder for you.
Overall, Strikingly is a great place to start for new bloggers or small business owners.
You can use the generous Free Plan to build your first website and customize each page with the simple drag-and-drop editor.
When you feel ready, you can upgrade to one of the premium plans, which are more cost-effective than some other website builders in terms of what you get.
However, some people might not like the design option and editor limitations.
But beginners can take advantage of the 24/7 customer support, so they don't need to struggle alone.
At the end of the day, the Strikingly website builder is geared toward beginners. So, if you want to get set up fast, you won't go far wrong using Strikingly.