Blogging is thriving like never before! The industry is growing, with 70 million new posts published on WordPress each month, and thanks to AI writing tools, creating content has become easier than ever. As a result, more bloggers are seeking tools to assist in the traditional content creation process and become more visible to search engines without spending a fortune. With that in mind, we're looking at one such SEO and AI-generated content tool in our NeuronWriter review.
In this article, we will explore the key features the NeuronWriter content optimization tool has to offer, taking a particularly in-depth look at its AI writing capabilities with output you can see for yourself. We'll also be looking at pricing options, competitors, what others are saying, and more.
In a hurry? Get started with NeuronWriter here.
NEURONwriter review

Ease of Use

Stability

Functionality

Price
TL; DR
NeuronWriter is a powerful tool for content creation and optimization. Its standout features include a user-friendly design, a keyword comparison function, a useful content editor scoring system, and a generous AI writing allowance. While there is a learning curve, the benefits outweigh the initial adjustment period. All in all, NEURONwriter is an invaluable asset for content writers aiming to enhance their SEO strategies and overall writing efficiency.
Pros
Comprehensive SEO optimization tool: The SEO optimization score provided by NeuronWriter aligns with what Google values the most.
Regular updates: NeuronWriter consistently adds new tools and updates, reflecting an active development team and a commitment to improvement.
Intuitive design: The user-friendly design of the tool makes it easy to navigate and use.
Keyword comparison: NeuronWriter compares the keywords in your article to those in top-ranking SERPs, helping you optimize your content.
Prevents Keyword Stuffing: NeuronWriter ensures the right keywords are used in the appropriate places without keyword stuffing, avoiding SEO penalties.
Generous NEURONwriter AI writing allowance: You get 25,000 credits of AI content writing per month on the Bronze plan.
Useful AI templates: The AI-powered templates provided by NeuronWriter help content writers create compelling and optimized content quickly.
Cons
Infrequent product roadmap updates: Users have expressed a desire for more frequent product roadmap updates.
Limited engagement with member feedback: Some users feel that the platform could be more responsive to the feedback provided by its active user base.
Learning curve: Despite being easy to implement, there is still a learning curve associated with using NeuronWriter.
Plagiarism check wasn't as accurate as Grammarly: The plagiarism check feature gave a 100% original score vs Grammarly's 18% plagiarism, indicating that it may not be as accurate.
Neuronwriter Review: Key Features
For this NeuronWriter review, I'm using the Gold Plan, so it's worth noting some of the collaborative features, integrations, and the plagiarism checker are not available on lower plans.
We will walk you through the features of NeuronWriter by setting up a project and running a content query.
Ready? Let's go!
Content Management
The first step is setting up a project. A project is like a folder where your queries are stored, which is handy if you work on multiple websites. This can be linked to a domain for Google Search Console purposes or kept separate and individual.
When setting up a project, you will be asked to specify the default search engine, e.g., Google.com or Google.co.uk, depending on which market you are generating content for.
There's also the option to add keywords you want to rank for, brand keywords, negative keywords, as well as competitor keywords and competitors' domains – which are useful to analyze what keywords are missing from your website.
You can also add a WordPress API password for integrations.
Inside your Projects, you have all your Content Queries. These are based on the keywords you are hoping to rank for with your content.
This is shown in a nifty table format, which shows your content schedule and strategy at a glance.
They are also automatically added to your color-coded content management calendar so you can see at a glance what stage each query is at, whether it's planned, planned with an existing optimization, or completed. Neat huh?!
When you add a query, NeuronWriter will do competitor and SERP analysis for the given query/keyword.
You can then write and optimize your content with the help of their SEO & NLP guidelines, and it will update the content score as you add more relevant keywords to the text.
Content Optimization
Once you are in the query, you can select webpages from the SERPs to use as a reference for creating content optimization guidelines. This allows you to deselect any results that are not strictly relevant and don't match search intent.
Hit the "Next" button once you've made your selections, and NeuronWriter will work its magic to come up with the terms you need in your article for the target keyword.
If you've ever worked with Frase, Surfer, or MarketMuse, this next screen with a content score will look very familiar. This is the Content Editor window.
If you work with other writers or freelancers, you can hit the three dots and hit the "Share" button to allow people on your team access to this content editor page, although they can only edit with a Gold Plan or above.
Chrome Extension
The Google Chrome extension allows you to write your article in Google Docs or any other editor and get instant optimizations. It's available in the Chrome store.
Generative AI
Let's look at some of the integrated AI templates next in our Neuronwriter review.
Advanced Blog Article Outline With H1-H3 Headings
I've already generated my outline, but there's an option in the AI writing templates to have AI generate this for you, so let's have a look at how to write a blog post outline using this feature.
All I had to do was fill in the title, check the box "Consider best competitors' outlines," and hit the "Write for me" button. Everything else was filled in automatically.
So – spoiler alert: it literally just pulled all the H2s/H3s, etc., from the top 9 hits in the search engine results pages that I selected as relevant to the search intent and dumped them in my outline.
Not so helpful! Luckily, there's an undo button, although this little experiment just burned 155 AI credits!
Onwards and upwards!
Various AI templates may be more helpful – perhaps?
The smorgasbord of AI content creation delights includes:
One-click long-form article
Article based on your outline
Advanced blog article outline with H1-H3 headings (tried that!)
FAQ with unused terms (I'm very much looking forward to trying this out)
Landing page based on your outline
One-click landing page
Expand text
Rephrase text
Content plan
Topical map
Article topic ideas
Article outline
Article intro
Paragraph
FAQ
Product description
Category description
Product reviews
YouTube description
Email
Article Based on Your Outline
Let's look at the "Article based on your outline" AI content creator.
I've put the title in and left the rest of the terms as they are. You can choose the tone for the article from:
Neutral
Formal
Informal
Witty
Funny
Serious
Respectful
Motivating
I've selected "Motivating," so let's see what we get!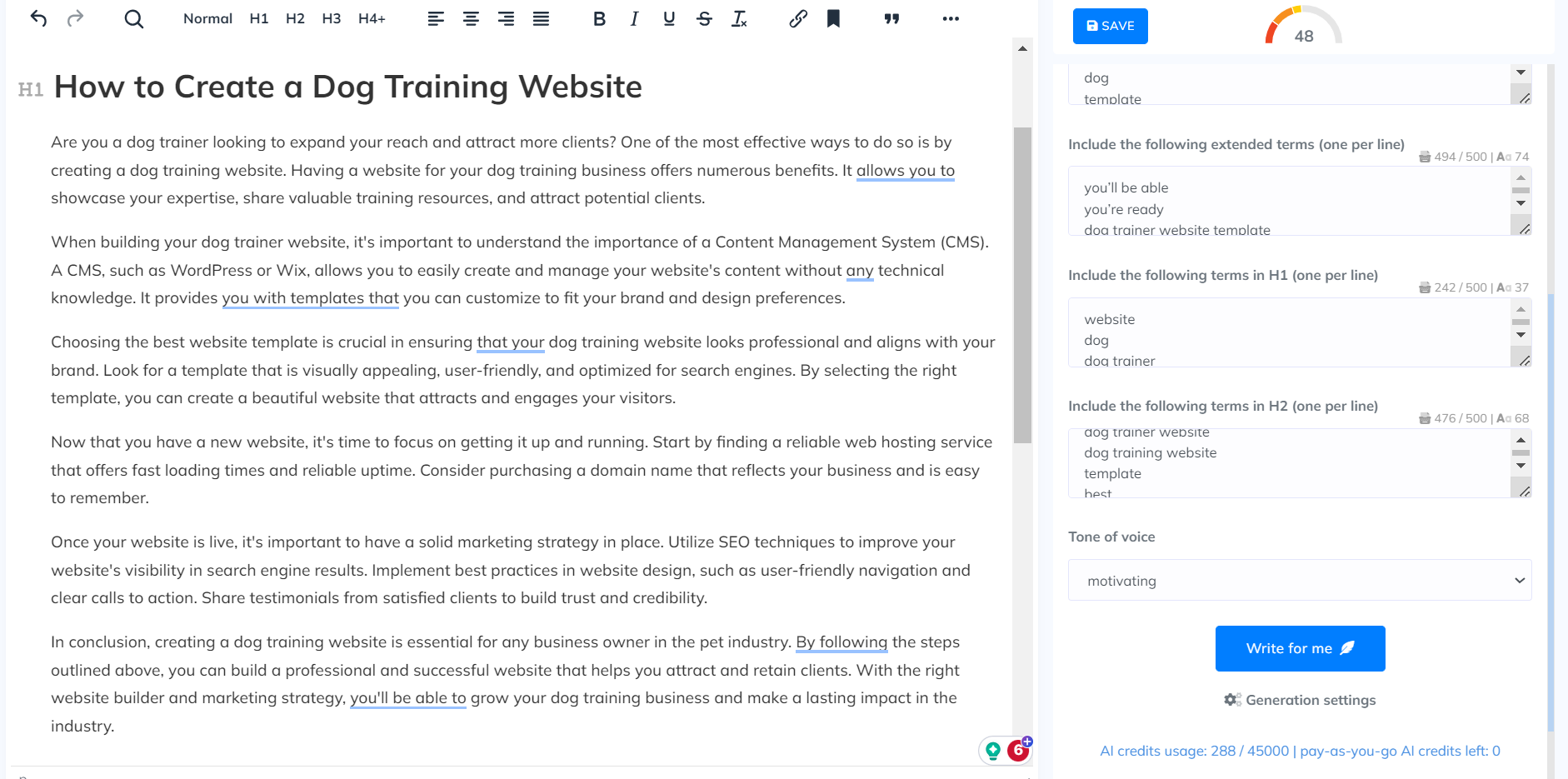 Okay, so it hasn't arranged the paragraphs under the headings, but in terms of content quality, it's not a terrible start. The content does actually make some sense, although it's super brief. This piece of text used 133 AI credits.
One thing I've noticed while using NEURONwriter is that you must hit the Save button in the content editor before switching to another screen.
I just lost that piece of text it generated because I went to my account info to check on the number of AI credits remaining. Don't do this!
One-Click Long-Form Article
This was the result of the one-click long-form article. This cost 353 credits and gave me 1300-ish words with 48% of terms covered, although it's gone over on some terms, reducing the score.
Using the "FAQ for unused terms" AI template, it added around another 600 or so additional words, and the score increased from 45 to 51, which I found a bit underwhelming.
At one point, I got this error message saying the API with OpenAI had failed, so I'm guessing at times ChatGPT is busy, and so the service may be a tad unreliable.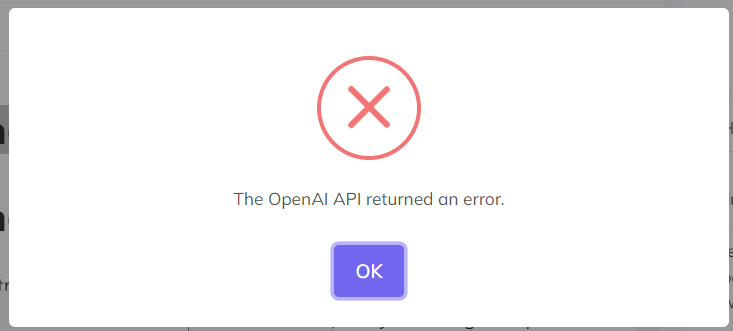 Plagiarism Checker
I ran the AI-generated text through the plagiarism checker, and it came up with a 100% original result.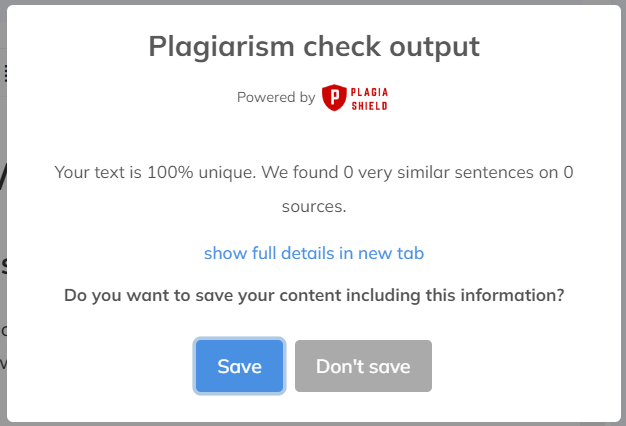 Just for funsies, I ran it through Grammarly, which gave me a not-so-awesome 18% plagiarism score.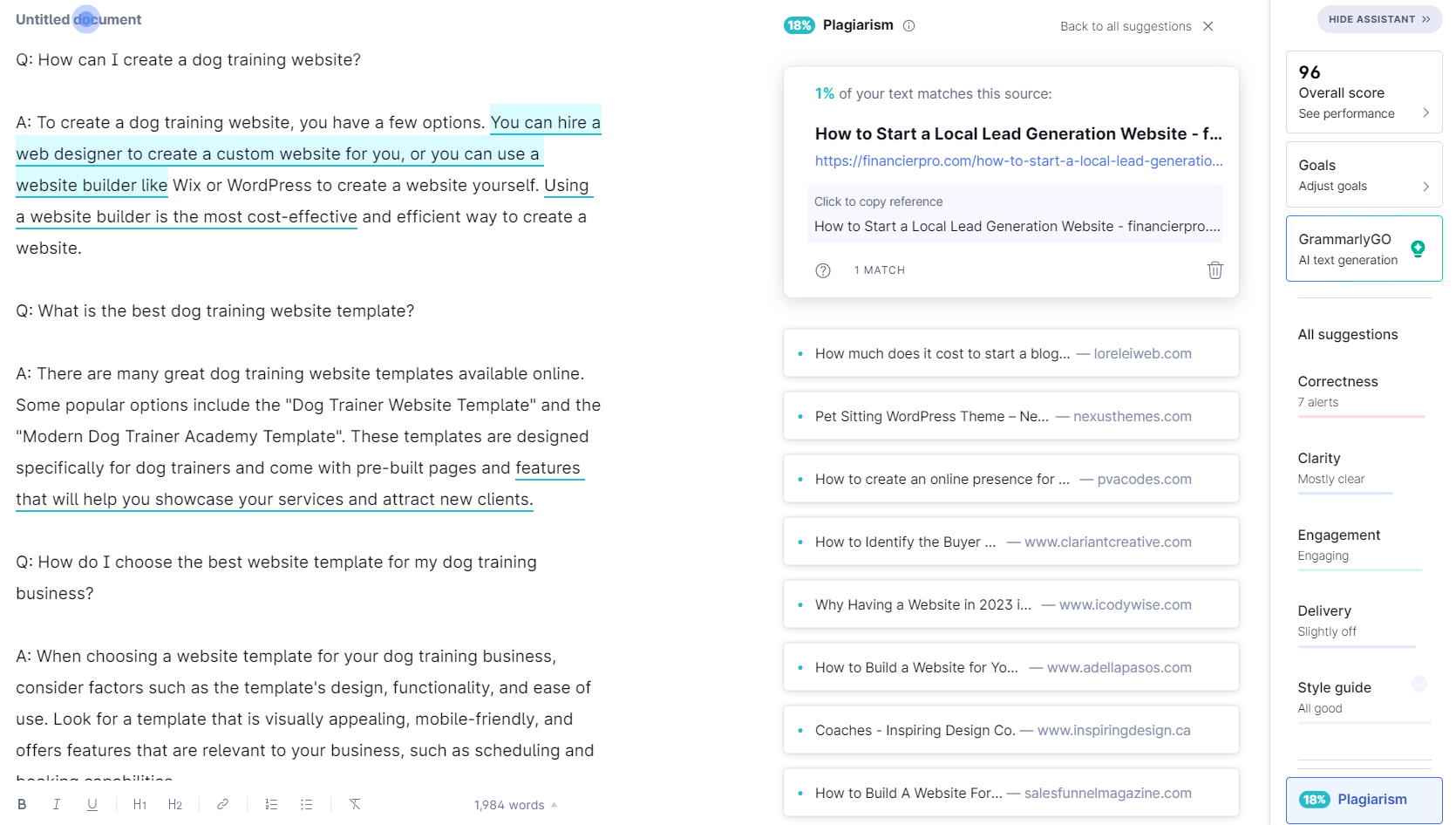 So, if you're thinking of upgrading to the Gold level purely for the plagiarism checker, I'd say save your cash.
Topical Authority
If you're looking for relevant ideas for your next batch of content, you're in luck! You can explore topic-related ideas for your upcoming articles.
Save time on brainstorming and planning, and get ideas based on your own content and what your competitors are doing.
NEURONwriter's Pricing Plans
NeuronWriter offers five levels of plans, with the Bronze Plan starting at $23/month, although if you're prepared to commit to a year, you can get a 20% discount for an annual plan.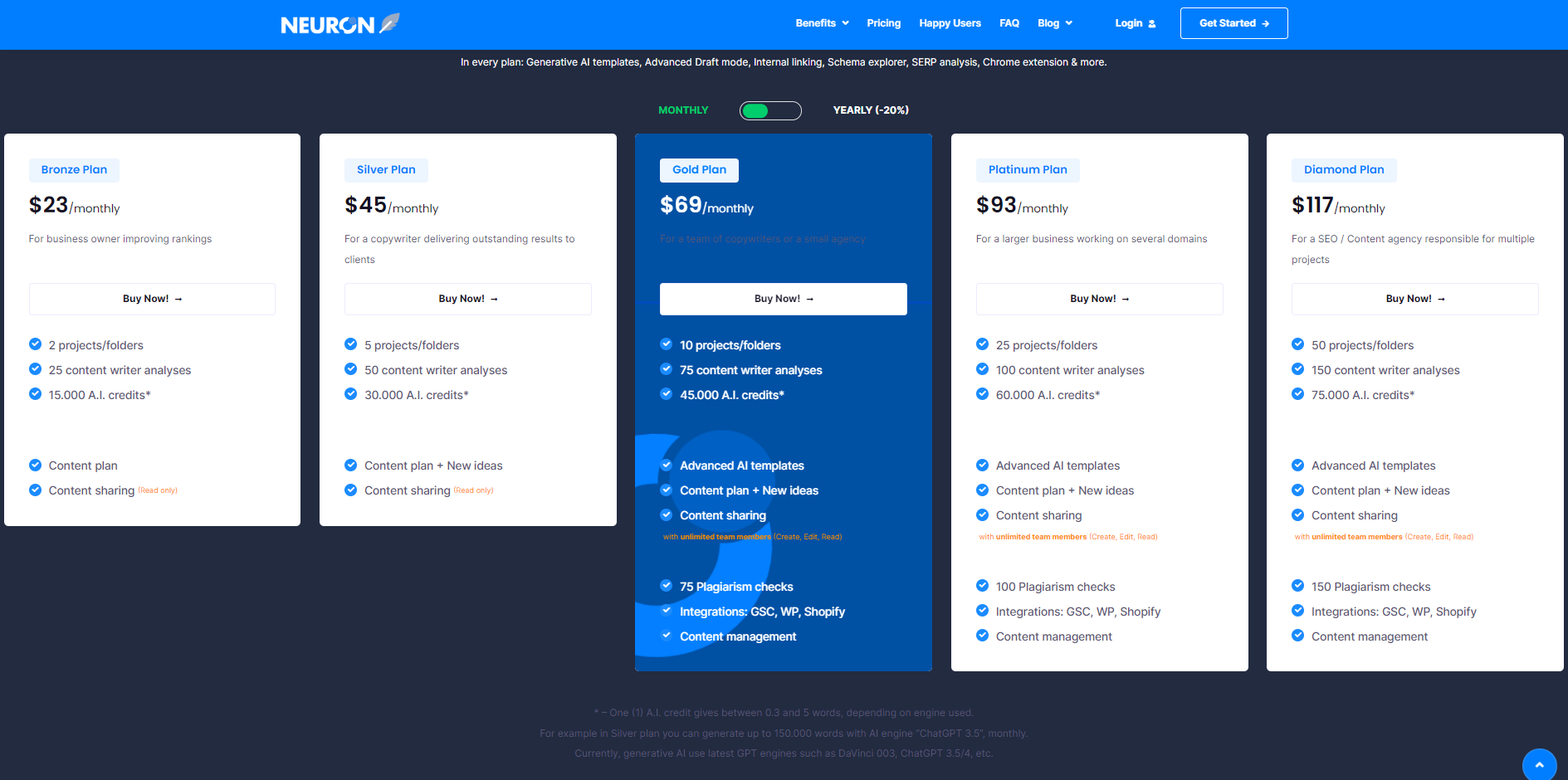 The Gold Plan stands out as it offers a significant increase in features (including the infamous aforementioned plagiarism checker). Apart from that, the variations in each plan are primarily related to the number of queries and available credits.
If you're like me, a total Appsumo addict who buys enough new software on lifetime deals to practically cover Noah Kagan's car payments, you'll be happy to know it's still available on Appsumo (for now).
But don't wait too long; get in quick!
NEURONwriter Review: Who is It For?
From business owners who want to improve rankings to SEO content writers and content agencies managing multiple clients, Neuronwriter can be an invaluable tool for any marketer or business owner looking to create quality, SEO-optimized content at scale.
What Are People Saying About NEURONwriter?
So, here's the deal with NeuronWriter – it's got an awesome 4.7-star score on Trustpilot based on 18 reviews.
That isn't exactly a big contingency of people but seriously, almost all of them are 5-stars!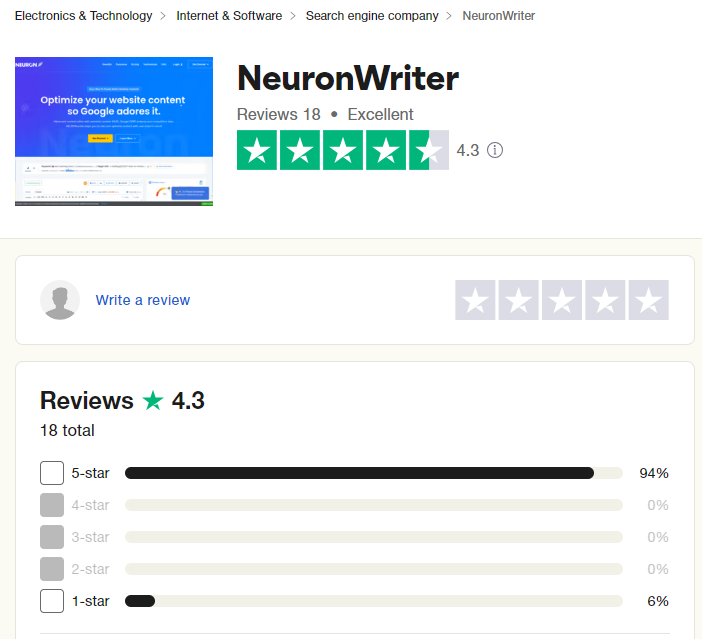 But there's one person who left a not-so-great one-star Neuronwriter review.
The poor guy seems a bit annoyed about the query limits. But hey, at least he didn't find any issues with the functionality or features of the software.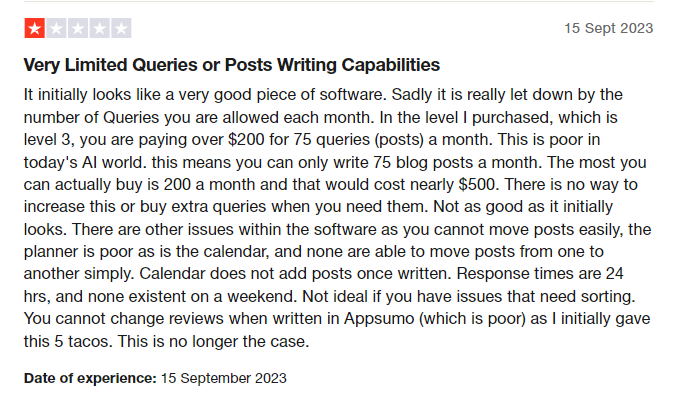 It also gets rave reviews on G2.com. with 4.7/5-stars.
NEURONwriter Alternatives
If, for some reason, the NeuronWriter content writing tool doesn't float your boat, there are a few alternatives you can consider.
Surfer
Surfer SEO has long held the crown of being the software to beat for on-page optimizations.
Surfer is an all-in-one content intelligence solution that brings together content strategy, creation, and optimization into a seamless process.
It uses machine learning, natural language processing solutions, and analysis of 500+ web signals to give you real-time, competition-based, and Google-compliant guidelines.
However, Surfer does come with a much steeper price tag than Neuronwriter, starting at $89/month for just the content editor.
Check out our Surfer review for full info.
---
Frase
Frase provides similar functionality to NEURONwriter, offering a content scoring tool and AI writer that makes high-quality content creation a breeze. With Frase, you can quickly analyze search competitors to create outlines and optimize your content.
Frase starts at $14.99/month, but this only allows you to write and optimize four articles. The Pro add-on is an extra $35/month and allows unlimited AI-generated words.
Get started with a 5-day trial for only $1.
Have a read of our full Frase review to get the whole story.
NEURONwriter Review: Verdict
As someone who uses content SEO optimization tools regularly, I have to say that in my Neuronwriter review, it definitely holds its own when it comes to content optimization.
And the best part? It's way more affordable than Surfer!
While AI-generated text still needs lots of oversight and tweaking, you can still save time by using Neuronwriter to help generate content as a writing assistant.
In summary, if you're looking for a reliable, cost-effective way to optimize your content for SEO, Neuronwriter is definitely worth considering.