One of the best ways to increase traffic and sales to your affiliate products directly from Google search is to get star ratings for your product reviews on Google.
Google shows up star ratings for products that you promote on your sites. Here's an example.
As you can see above, we're getting star ratings for the product reviews (WPX Hosting review). They help you increase overall organic CTA, conversions and also traffic.
Did you know that before making any online purchase, 63% of customers opt sites that display user ratings?
Star ratings for products can definitely improve the buying decisions and your sales are greatly influenced by online reviews. While ranking individual pages in SERP, Google mainly focuses on site user ratings.
Getting star ratings for your product reviews has the following benefits.
Increased CTA because they look distinguished in search results
The improved schema for your content
Increased conversions and overall search traffic
So how to get star ratings in Google search for your products? Let's discuss some of the PROVEN ways.
Are you wondering about how to get star ratings against your product reviews in Google search results? Well, this guide shows you how to exactly do that.
How to Get Star Ratings for Product Reviews in Google search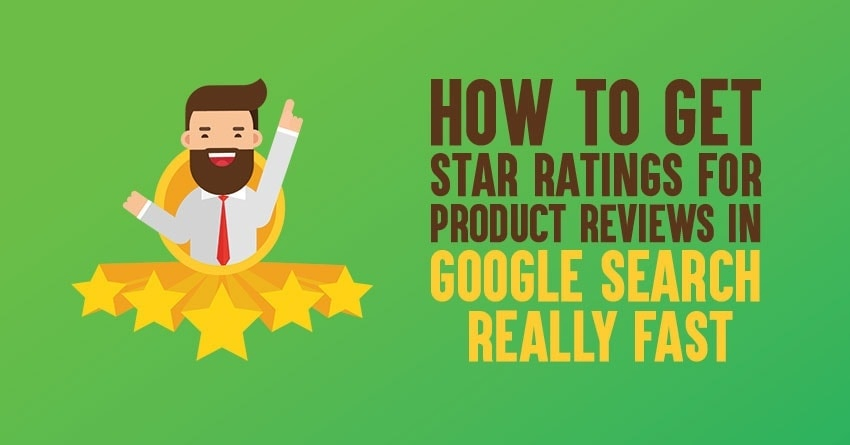 Implement Schema Markup
Schema markup was created by Google, Bing, and Yahoo. Schema markup is simply a structured data added to your site's HTML to make your content stand out among your competitors.
Here's an example of schema markup.
The whole purpose of implementing schema is to create and provide support for a common group of tags such as product name, review value, product price, product URL, description of the product etc that could be used by the search engines like Google to better understand about your content and display that data in search results.
Here's a step by step tutorial on how you can use some of the free Google's tools to get your schema markup generated easily.
Step 1: Go to Google's Structured Data Markup Helper tool as it will help you add structured data markup to any of your web pages. To get started, you should select a data type, then paste the URL or HTML source of the page that you want to mark up which looks like this;
Step 2: Just select the type of data that you plan to markup (such as articles, book reviews, products etc).
Then, paste in the URL of the page or article you want to markup. Here's how it looks like;
As you can see above, we're showing an example for implementing schema markup for a product review on our site.
Step 3: In this step, highlight and select the type of elements to be marked up.
You don't have to tag every item, just tag the ones that are required.
Step 4: Once tagging the items is done, you should now create the HTML which is the final step of markup.
As you can see above, we tagged several items including the reviewer name, star rating value for the product, description of product, the price of the product and so on.
Click on the Create HTML button to continue.
Step 5: Once the HTML is generated, use Google's Structured Data Testing Tool to find out what your page will look like with the added markup. It can also be useful to find out any warnings in your markup. Once it's done, you can simply add the generated schema markup to your relevant web page.
That's it, you're done!
Here are a few helpful tools you can use to implement and validate your site's schema markup.
Schema Generators
Validators and schema testing tools
All the above mentioned tools can help you create your website's schema markup and even validate it.
Use WordPress Plugins (Easiest Way)
The good thing about using WordPress is that they are a ton of product review rating plugins available that can help you get star ratings for product reviews.
Here are the top 3 product review rating plugins for WordPress sites.
This is an incredible review plugin that lets your visitors submit reviews for different products or events. It includes two shortcodes. One shortcode for displaying your reviews and the other one for displaying a form that your visitors can use to submit reviews.
2. Rich Reviews
It provides a visual way to show your business value in the form of rankings, ratings etc. You can create your own review and add it to the site. You have the facility to choose specific number of reviews for the product. The plugin doesn't slow down the website performance.
This is a premium product review extension that can be used on any eCommerce site or a traditional site that sells products. If you're looking to get more product reviews from the users, this one's a great choice for you.
You can now motivate customers to give product reviews in return of appealing incentives with this useful extension. You can also send automatic emails to remind the customers regarding product reviews on their recent purchase.
Above all, you can easily track and manage the total customer reviews along with their reviewed product details.
Search engines like Google trust authority sites over brand new sites. There's a reason. Authority sites spend huge time and money to produce high quality content and they build a ton of high quality links over the years.
So why not search engines like Google give more importance to authority sites? So if you want to get star ratings on Google, improve your site's authority.
There are several ways to increase your site's authority which are listed below.
Evaluate your current rankings: You can assess your site search ranking using Semrush. If you want to improve your site rankings for specific keywords, then Semrush is for you. Just enter the keyword and your domain, it shows you where your site ranks in search engines for that keyword.
You can use the following link to get your 14 days free trial from Semrush.
Improve your site speed: If your site is slow, no one shows interest in visiting your site which impacts badly on your site ranking. You can check with Website Speed Test tools like Google PageSpeed Insights or Pingdom. If you get your site performance grade less than 50, that means your page content is very slow and you need to work on improving it.
Perform site audits: Check for site metrics such as backlink profile and your overall content performance. This is important if your site experiences a sudden drop in organic traffic after several months of consistency. You can use tools like Semrush for site audits.
Rewrite the existing articles and optimize the content for SEO. Make sure to use any of the review stars plugins (that we mentioned above) and make use of them within your old review blog posts. This definitely can give a huge boost in your rankings and sales.
Analyze inbound links to your site and also your competitors' with tools like Semrush. The results will give information about nofollow links, active backlinks, helps in identifying relevant links to your site.
Strategic content marketing is the key: You can increase your site's authority with high quality content. Strategic keyword research also plays an important role in improving site authority. Your content goes viral only if it is useful, unique and optimized for SEO with rich keywords related to your blog niche.
So, by optimizing your blog content, you can make the audience find your site. Take the help from Google Keywords Planner while doing keyword research. Both Page Authority (PA) and Domain Authority (DA) plays a vital role in improving search ranking. Google decides which site should get star ranking.
Make sure you are always focused on increasing your site authority. Not only it helps you get more search traffic but also helpful for you to get more sales in the long run. The best way to increase your site authority is to get backlinks to your sites regularly. Write in-depth content and make sure to use techniques like Skyscraper technique to attract natural backlinks.
If you're a business owner, use Google trusted review sites
To get legitimate reviews from real customers, you need to sign up for review sites that which are trusted by Google. For this, you need to know about Google seller rating extensions.
What are Google seller ratings?
These are nothing but an automated extension in Google Adwords. It automatically showcases advertisers with high ratings by aggregating ratings from reputable resources. It greatly reflects on overall customer experience while they shop for a product. Usually these ratings appear when your site gets 150 unique reviews and a composite rating of 3.5 stars.
To check this, go to Google shopping and observe the reviews for particular stores. You will see same companies like ResellerRatings, Bizrate, PriceGrabber etc..Some are more inclined to some countries. So, you can choose based on your location too.
If you ask me the top 5 review websites that are trusted by Google, I would say these.
All these five companies offer the best product reviews. Almost all top companies are making the best use of Google seller ratings. Google seller ratings helps in increasing click-through rate and also helps your ads stand out in crowd.
One important note is that the product reviews by the above companies are completely different from the rich snippet schema.org reviews that show on organic search results.
Here are few more solid tips that can be helpful for you in getting star ratings in Google search.
Write magnetic headlines. The more engaging titles you have the more people will click on your links. The more clicks you get from organic search the better rankings you will get.
Figure out ways to write in-depth product reviews. Don't just write product reviews to increase your sales. Don't sound like a sales guy. Offer unique value and share benefits of using the products that you recommend your users.
Offer exclusive deals. For instance, I give a 14 days free trial of Semrush (worth $129.95) for my readers here at Bloggers Passion that most people don't offer. So these special days are really helpful to boost sales.
---
FAQs About Getting Google Star Ratings
Here are some interesting questions around getting star ratings on Google for your products.
What are Google product ratings?
Google product ratings are the star ratings that appear under product listings in Google search results. The star rating usually ranges from 1 to 5 and they give an overview of the products.
How can I test my pages to know if the review schema markup is being applied?
Can I display star reviews for all the pages on my site?
Don't do that. Show star ratings using a plugin or schema markup only for specific pages such as product reviews, events, book reviews etc. Google might think you're tricking and manipulating the search results if you display star ratings for all the pages on your site.
Is showing star ratings for products lead to slow loading time?
No, it's not. Star ratings are aggregated ratings that are usually implemented with the help of schema markup. They don't affect your page loading times at all! Just make sure to write compelling titles and meta description if you want to increase your CTA (apart from implementing schema markup or rich snippets for your reviews).
Browse more SEO Tutorials:
Final Thoughts on Getting Product Star Ratings in Google
Getting star ratings on Google for your product is a lot of fun (if you're a website owner). Google product review stars not only increase your organic clicks but more importantly, they help you get more sales and conversions for your sites.
There are a ton of ways to get star ratings including using a great product review star plugin to implementing schema and so on. Start encouraging customers to submit Google reviews. Analyze the sites that are already getting the star ratings on Google, you can learn a lot.
Try to implement the strategies mentioned in this guide and you too can get star ratings on Google search results. So what are your thoughts? Share your views in the comments.