The Amazing Selling Machine (ASM) is an in-depth training program that teaches entrepreneurs how to build a thriving online business through Amazon's FBA (Fulfillment By Amazon) program. 
My Amazing Selling Machine review takes a look at the most popular and expensive e-commerce training course available and how it can turn you into an Amazon selling machine. I will also share my thoughts about whether it is a worthwhile investment or a get-rich-quick scheme.
With over 30,000 members from more than 120 countries, ASM is one of the best Amazon business training programs ever created!
This Amazing Selling Machine review includes the following:
What it is
What's Included in the Training
Pricing
Pros & Cons
Amazing Selling Machine Alternatives
No time to read now? Get the Amazing Selling Machine right here!
Amazing Selling Machine Review

Course Content

Ease of Use

Customer Support

Price
Summary
The Amazing Selling Machine includes information and resources to start an Amazon business. The eight modules cover a wide range of topics. Online video lessons and written materials are well-organized and easy to follow. Additionally, the private ASM community is a well-supported environment. But this course is very expensive. A more affordable option with similar information is the award-winning Proven Amazon Course.
Pros
Up-to-date course material
Engaging training methods
Cons
Overblown marketing methods
Overpriced
Amazing Selling Machine – What is It?
I will get to the point with this Amazing Selling Machine review because that's what the ASM is all about – saving time! The course is designed to help you build your brand by leveraging Amazon's massive power.
Using ASM course materials and tools, you can create a thriving online business through Amazon's FBA program. If you are a newbie unsure of what the Amazon FBA is all about, read on.
The FBA is an invaluable service offered by Amazon that allows third-party sellers to store their products in Amazon fulfillment centers. This means when your customer orders a product, Amazon picks, packs, and ships the order on your behalf.
Amazon FBA also handles customer service and returns, so you don't have to (find out what happens to returns in our article on how to buy Amazon returns). Added to this around-the-clock service, the FBA offers access to Amazon's Prime customers, faster shipping options, and increased visibility for your products in Amazon's marketplace.
You also get to take part in programs like Amazon's Subscribe & Save and Amazon's Buy Box, which can increase your sales.
Who Created Amazing Selling Machine?
E-Com giants Matt Clark and Jason Katzen created the Amazing Selling Machine (ASM) in 2012.
Matt and Jason are both seasoned entrepreneurs who specialize in online marketing. They were inspired to use their successes and experience in the e-commerce industry to create ASM to help fellow entrepreneurs.
It is worth mentioning that over the years, global media outlets like Forbes, Business Insider, Entrepreneur, MSN, CNBC, and Success, have featured Amazing Selling Machine and its creators.
What's Included in Amazing Selling Machine's Training Course?
The latest version of Amazing Selling Machine is ASM 13. The eight-week training course eliminates the uncertainty, hard work, and possible failure usually attached to starting an e-commerce store.
Using proven trading methods, ASM holds your hand as you go through the steps of building a successful Amazon FBA business. The course includes the proven tools and resources used by Amazon's top 1% of sellers to grow your Amazon business!
So, let's get down to what the course includes.
Eight Modules
Eight modules include a gold badge system to help you reach your goals and complete your course. Each time you complete an Amazing Selling Machine module, you receive a gold badge from Amazing Selling Machine.
Welcome Module – Receive the principles of success that will unlock the mindset to succeed on Amazon. You will also learn how to tackle any challenges that may arise on your 12-month plan to scale sales from $1,000 to $10,000.
Module 1 – Learn product selection strategies to find the perfect product and trustworthy suppliers.
Module 2 – Set up your Amazon business account to be operational in the US, UK, Canada, and Australia.
Module 3 – Discover how to decide which supplier and shipping companies to work with to achieve the highest profit margin.
Module 4 – Build your brand assets by creating a powerful social media presence with Facebook and your website.
Module 5 – Discover the five elements your product listing should include to convert traffic into sales.
Module 6 – Focus on ranking keywords, set perfect product launch targets, and make your first sales by following the proven Amazing Launch Process.
Module 7 – Reach your sales goals by using Amazon's three ad types, and then become an ad-savvy buyer by learning to track and analyze your ad performance.
The ASM team motivates you by awarding you a badge each time you complete a module.
102 Lessons
The magic behind Amazing Selling Machine evolution is the simple, straightforward course teaching style used by course instructors Matt Clark, Mike McClary, Devin Dorosh, and Rich Henderson.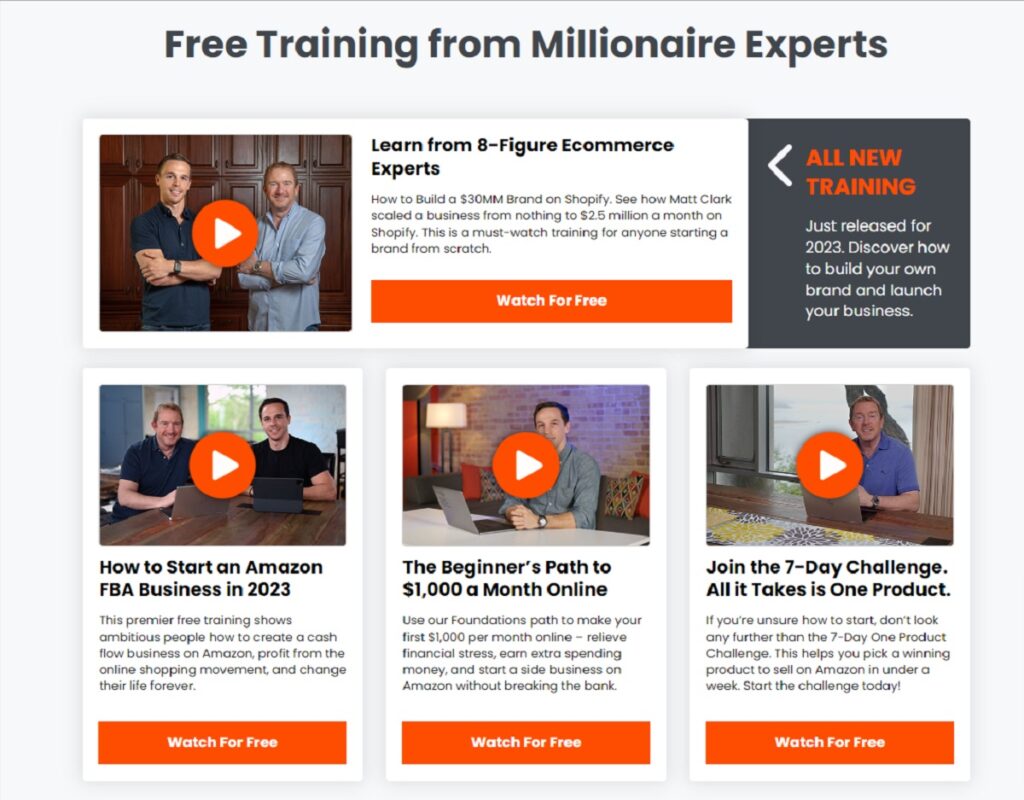 The guys are down-to-earth and easy to understand!
Even someone with little-to-no business experience will feel at ease with the training course methods.
Although the course is eight weeks long, your exclusive course material is available online. This means you don't have to rush, and you can take your time and work to progress through the modules at a pace that suits you.
Another Amazing Selling Machine bonus is live coaching calls. These calls are only available to members; you can send in your questions, and an ASM mentor will answer them.
Exclusive Tools
Amazing Selling Machine gives you access to its private resource vault with an exclusive collection of tools that other ASM members have successfully used to grow their own Amazon stores.
Zoof
Get access to the Chrome browser plugin that uses Amazon's proprietary algorithm to find the best products on the Amazon marketplace. Zoof gives users detailed information about each product's price, rankings, and sales history.
Product Analyzer Tool
Do a market analysis of all your product opportunities with the Product Analyzer Tool. All you have to do is upload your product opportunity list to receive an in-depth analysis of everything happening in the market.
Perfect Keyword Tool
Save hours by not having to hunt for keywords. The Perfect Keyword Tool shows you exactly what keywords to target for ad ranking at the touch of a button. Having access to this traffic tool results in faster profits on your product listing.
It also highlights hidden opportunities that have high sales and low competition.
Lifetime Access to Upgrades
The course constantly evolves as the creators keep up with the ever-changing Amazon Marketplace. Tests on new strategies are ongoing, and course modules are updated annually.
Once you have invested in your ASM training, you get FREE upgrades with each new version. Yes, being part of the Amazing Selling Machine family means you are a member for life!
Customer Support Hotline
A customer support hotline with a passionate team stands ready to answer your questions about the ASM business process.
Further support includes:
Email
Live coaching calls 
ASM community forum – Facebook
Who is Amazing Selling Machine Best Suited To?
Anyone wanting to build a profitable business on the Amazon platform and make money online can use Amazing Selling Machine. The training can help you realize your dreams of owning a successful e-commerce business.
The program is especially well-suited to entrepreneurs who are new to Amazon. It is also a good fit for existing Amazon sellers who want to expand their businesses and increase their profits.
Because of its hefty price tag, ASM individuals serious about building a successful Amazon FBA business would be a perfect fit. ASM is an Amazon FBA course for people who are willing to invest in their education and growth.
Amazing Selling Machine – Successful User Stories
My Amazing Selling Machine review shines the spotlight on two ASM success stories.
Matt Clark and Jason Katzenback
Without a doubt, Matt Clark and Jason Katzenback's success story leads the way.
The ASM founders built their own successful Amazon businesses using ASM strategies and advanced marketing methods. According to their website, ASM has helped thousands of people build profitable Amazon businesses.
Sophie Howard
Former lawyer Sophie Howard was looking for a way to transition out of her stressful career and spend more time with her family. Sophie decided to give ASM a try.
Using the strategies she learned in the course, Sophie started an Amazon business selling yoga accessories.
Within a year, she became a successful Amazon seller and had grown her business to the point where it generated a monthly revenue of over $300,000.
Today, Sophie is a successful e-commerce entrepreneur and part of the ASM mentor program, helping others achieve success on Amazon.
How Much Does Amazing Selling Machine Cost?
To put it bluntly, it costs a lot! It's probably the most expensive course of its kind.
Once-off payment – $4,997
Six monthly payments option – $997
Keep in mind that once you have gained the knowledge the course will empower you with, you will still need to invest money to buy or make your inventory. But this will apply to any other course you might decide on before you can get down to the actual business of selling. I know I am stating the obvious, but I thought I had better remind you.
ASM's training recommends a start-up inventory budget in the region of $2,000, with a suggested maximum spend of no more than $5,000. Your perfect product choice will have a lot to do with this. Some successful users say that you should have even more cash handy for the "just in cases" and "what ifs." For now, we will stick to the pros and cons of the actual course.
One of the perks worth mentioning is ASM's Affiliate Marketing Program which gives you the incentive to recoup your investment. Become a wealthy affiliate by raking in a 40% commission on every signup when you refer someone for an Amazing Selling Machine course. This equates to $2,000 in coms per referral.
The Pros & Cons of Amazing Selling Machine
Unfortunately, even the best things in life have a downside. While I can't fault ASM's pros, I am a realist and need to get the cons out there in this Amazing Selling Machine review.
Up-to-date training modules & lessons

20+ hours of proven Amazon FBA content

Private Resource Vault

Free lifetime upgrades

Helpful course community

Easy-to-reach support team

Monthly coaching calls

30-day money-back guarantee
Strong emotional selling technique (promoting the dream of hardly having to work to earn money)

Private Resources Vault costs extra

Difficult finding current user reviews

Oh-so pricey!
Two Alternatives to Amazing Selling Machine
Even though ASM has helped many people build successful e-commerce businesses, the course might not be everyone's mojito.
I picked two alternatives that make the grade when teaching you the tricks of the e-commerce trade. The bonus is they also come with a much more affordable price tag!
MarketPlace SuperHeroes
MarketPlace SuperHeroes teaches you how to build an online business selling your own branded products globally on Amazon. It was founded by Robert Rickey and Stephen Somers.
Perfect for any FBA seller who wants to take their Amazon business to the next level, from complete novices to advanced Amazon sellers, there is something here for everyone!
Pricing
MarketPlace SuperHeroes free 7-day trial
Once-off payment – $997
Monthly payment option – $97 (for 12 months)
Key Features
MPSH Ignite – Three-phase training course (Embark, Evolve, and Expand)
Step-by-step tutorials
Bonus content
Research tool suite
Personalized coaching
Mastermind Facebook group (community support)
Customer Support (onboarding call, weekly and monthly group calls)
Read our MarketPlace SuperHeroes review to learn more about this course.
---
Proven Amazon Course
Proven Amazon Course has served over 10,000 students since its launch in 2012. It is one of the world's most established Amazon seller training courses.
The course creator is Jim Cockrum, an American entrepreneur, author, and online business coach. Jim is best known for his expertise in e-commerce, particularly on the Amazon platform.
Pricing
Once-off payment – $999
Monthly payment option – $39
Key Features
No overhyped promises
Powerful training modules
Live training events
Active and helpful private social media community
Lots of current testimonials
Amazing Selling Machine Review Conclusion
To conclude this Amazing Selling Machine review, although ASM has received global recognition from reputable media outlets, the program's high price point may be a drawback for some.

Nevertheless, if you're looking to build a successful Amazon FBA business, becoming an ASM member is undoubtedly a worthwhile investment.
In my opinion, the Amazing Selling Machine evolution marketing campaign punts the multi-million dollar dream of only having to work for a couple of hours a day to achieve wealth. I feel this is irresponsible of them in this economic climate.
With that said, similar courses have the same information and will give you more bang for your buck if you are working to a budget. Before you reach into your pocket, reach out to the community support forums of the course you are investigating. That way, you might have more to spend on the perfect product and product selection for your store!
For another option, you might want to read our Freedom Ticket review. Or if you feel a full course is not for you, why not enlist the help of an Amazon FBA coach?
I recommend looking into Jim Cockrum's Proven Amazon Course, though. Jim has shared his fortune by making the course accessible to those of us who aren't in a position to spend without thinking. All the information you need is there, as well as a team and user community ready to give you the support you require.
If you're on a strict budget, read more on starting an Amazon FBA business with very little money.
To end my review, I wish you all the best with your venture!