Creating dynamic, engaging content in the digital business world is more crucial than ever. Enter the AI movie generator, a game-changing tool transforming the content creation landscape.
This new, powerful technology leverages AI algorithms to generate realistic visuals and professional audio tracks. It can help you create videos quickly and easily while saving money and time.
We'll dive deep into the capabilities of these cutting-edge tools and how they're revolutionizing how we produce and consume video content. Understanding the power of an AI movie generator can help you stand out in an increasingly competitive market.
So, let's find the perfect fit for you and your business so you can surprise and delight your audience with high-quality AI-generated videos.
9 AI Movie Generator Software Options
Here are 9 of the best AI video generators that are redefining the boundaries of creativity and accessibility:
1. Synthesia
Synthesia is a standout AI video generator that empowers you to effortlessly craft engaging videos with AI avatars.
This platform is a go-to choice for industry giants, including Google, Nike, Reuters, and BBC.
Synthesia simplifies the video creation process, allowing users to create high-quality videos in just a few clicks.
This software is designed for anyone looking to streamline their video creation process, whether you're a budding entrepreneur or a large corporation.
It's especially beneficial for those needing to create training videos, promo videos, or any other type of engaging business videos.
Here are some key features that make Synthesia an outstanding AI video maker:
Over 70 AI avatars to choose from.
Supports more than 120 languages and accents.
A vast collection of video templates for varied content.
A free media library for added convenience.
The option to create custom AI avatars.
An innovative text-to-speech feature that converts your text into professional voiceovers in minutes.
New gesture and voice cloning features for added personalization.
From creating your own custom AI avatar to leveraging the text-to-speech feature for seamless voiceovers, this platform puts you in the director's seat for the video editing process.
You can even add a personal touch with micro gestures like head nods or raised eyebrows or clone your own voice for an even more personalized avatar.
If you want to dig even deeper into the details and specs of this powerful program, check out our Synthesia.io review.
Pricing: $30 each month or save 25% with an annual plan.
---
2. Pictory
Pictory AI is a cloud-based platform that simplifies the process of creating engaging, professional videos. It's a user-friendly AI tool designed for everyone. It's ideal for bloggers, digital marketers, online educators, and entrepreneurs.
Entrepreneurs love Pictory for its:
User-friendly interface suitable for beginners.
Extensive range of tools for creating captivating videos.
Ability to convert written content into professional-looking videos.
Free trial plan offering 3 video projects, each up to 10 minutes long.
14-day money-back guarantee.
Pictory's standout feature is its Script To Video tool. With just a few clicks, you can transform any script into an attention-grabbing video.
Choose from millions of high-quality visuals, music tracks, voiceovers, and animations.
Revamp your video into a brand reflection effortlessly by customizing a range of themes, fonts, color schemes, logos, intros, and outros to match your unique style.
You can also elevate your content with the platform's Video Highlight Reels feature. Transform your existing videos into captivating, bite-sized masterpieces that will leave your audience craving more.
Pictory also offers features like auto-captioning and summarizing long videos, making it an excellent choice for anyone seeking to save time and improve their business through AI-generated videos.
We break down all of these features and more in our Pictory AI review, so go ahead and check that out if you're interested in the program.
Pricing: Post-trial, choose from three paid plans: Standard at $23/month, Premium at $47/month, and Teams at $119, with 15% discount for annual plans.
---
3. Veed.io
Veed.io stands out as a superior AI video generator, perfect for anyone seeking to create custom videos with ease. This AI-powered tool offers the ability to alter text, fonts, colors, and background music, ensuring every video is uniquely yours.
You can expect:
Simple video customization.
Variety of themes for targeted messaging.
One-click video transcription.
An easy learning curve; no prior video editing experience is needed.
Veed's platform is user-friendly, making it ideal for generating videos for music, testimonials, or your YouTube channel.
The added feature of simultaneous screen and webcam recording makes it a go-to for professionals creating instructional videos. Veed allows you to create engaging video content right in your browser, improving your business while saving you time.
Pricing: Veed has four plans: Free for short projects, Basic at $25/month for high-quality videos, Pro at $38/month for professionals, and Business at $70/month for organizations. Save up to 45% on these prices with annual plans.
---
4. Filmora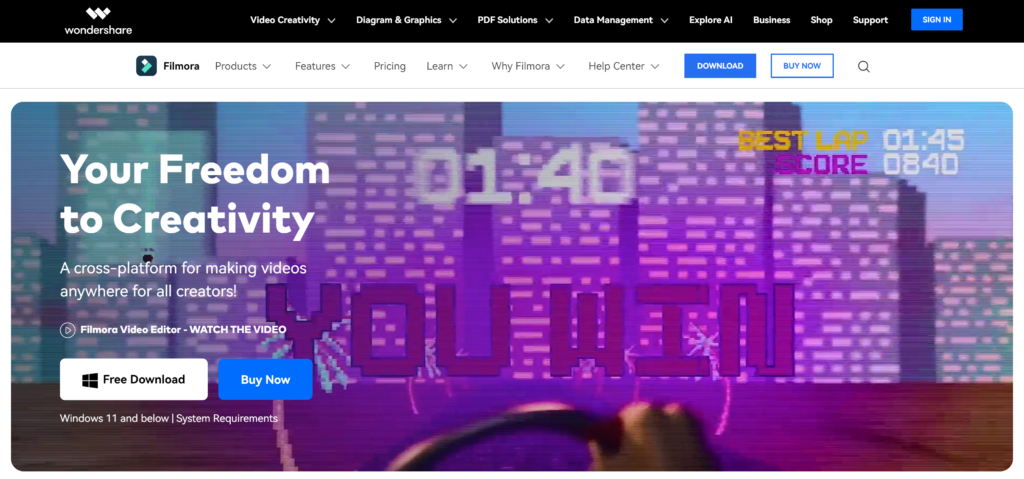 Filmora by Wondershare is an intuitive AI-powered video editing software, perfect for those seeking to create engaging business videos without the need for advanced video editing skills. This tool not only aids in generating high-quality, professional videos but also saves time with its AI features.
Key Features:
AI smart cutout
AI audio denoise and stretch
AI motion tracking
AI background removal
AI silence detection
These features allow users to create AI-generated videos with ease, whether it's for YouTube or other social media platforms. For instance, you can use the AI smart cutout to create custom videos by adding your own photos. Filmora also offers AI silence detection to make snappy jump cuts for short-form videos.
The software might be slow on low-end computers. But it boasts a vast video library and plentiful learning resources. It also offers flexibility in exporting videos, allowing adjustments in format, resolution, quality, and frame rate.
Moreover, the Filmora AI movie generator can make a quick 15-second video highlight for TikTok or a 60-second one for YouTube shorts.
In essence, Filmora is one of the best Adobe alternatives, rivaling the power of Adobe Premier Pro. It makes it easier than ever to create engaging videos and enhance your content, all with basic computer skills.
Pricing: Choose from the Annual Plan at $49.99/year, the Cross-Platform Plan at $59.99/year (both with auto-renewal and cancel anytime options), or the Perpetual Plan at a one-time payment of $79.99. You can also create videos for free with a watermark added to the file.
---
5. Kaiber
As a creative hub developed by artists for artists, Kaiber AI is committed to harnessing the power of artificial intelligence to fuel creativity. It's not about replacing human creativity but rather enhancing it with the help of cutting-edge technology.
Kaiber AI stands at the crossroads of art and technology, providing infinite opportunities to redefine and elevate your creative process. It's truly an innovative and intuitive platform for generating audio and video content.
Here are some stand-out features of this creative AI product:
Animation: Experience your words taking form and static images becoming animated.
Transform: Alter the aesthetics of your videos effortlessly.
Storyboard: Develop your stories from one prompt to another seamlessly.
Gallery: An infinite source of inspiration for your creative journey.
Kaiber AI is a great AI movie generator to have in your creative arsenal, as it allows you to quickly create high-quality videos and audio projects with ease.
Pricing: Kaiber comes with three plans priced at $5, $10, and $25 each month, respectively.
---
6. Decoherence
Decoherence is the go-to resource for generating high-quality AI videos, enabling you to turn simple text into dynamic video content. This AI tool is perfect if you're creating music videos, educational content, or enhancing your artwork.
Here's what it offers:
Free AI video generator for a range of content
Easy synchronization to your audio
Unique AI styles for personalized creations
Complete control with a familiar timeline editor
Imagine creating a psychedelic music video or an anime intro with just a few clicks. Or perhaps you need to generate video testimonials or explainer videos for your business.
Decoherence not only saves you precious time but also empowers you to create short-form, green-screen, or photorealistic videos that resonate with your audience.
Whether you're looking to simply upload a blog post as a video or create custom avatars, this generative AI technology is a game-changer.
Pricing: Plans start at $9/mo for Basic, $29/mo for Creator, $89/mo for Director, with a free trial of 300 credits.
---
7. Vidyo.AI

Vidyo.ai is an innovative tool designed to revolutionize the way you create and repurpose content.
Ideal for video creators, podcasters, marketers, agencies, and small businesses, this AI tool saves you considerable time and effort by automatically extracting the best clips from your long-form videos.
Here's what Vidyo.ai is capable of:
Creating short, social-ready clips from longer videos
AI-driven editing for multi-cam and complex videos
Automatic generation of subtitles using AI technology
Video resizing and clipping capabilities
Content repurposing and auto-video chapters
Imagine effortlessly creating YouTube videos or generating custom avatars with just a few clicks. Whether you're looking to repurpose a Zoom webinar or need to create high-quality video content, Vidyo.ai's AI movie generator simplifies the process.
This AI tool allows you to produce short-form videos and short clips that resonate with your audience and align with your vision.
With Vidyo.ai, you'll have complete control over the final version of your video, enabling you to enhance your business and streamline your video creation process.
Pricing: Free trial, $15 starter, $29.99 pro, $49.99 pro plus, and $299 full-service monthly plans.
---
8. InVideo.IO
InVideo is a user-friendly AI-powered tool designed to streamline video creation. Ideal for marketers and non-editors, it enables you to generate high-quality marketing or explainer videos directly from text inputs.
Here are a few InVideo tools and features that can save you time:
AI video generator that requires no background in video creation
Quick conversion of text into videos
Professionally designed templates
Direct sharing to social media platforms
Whether you're creating training videos, promo content, or even memes, InVideo simplifies the process. Simply input your text, choose a template, and let the AI do the work.
Pricing: Free plan, $30 business plan, and $60 unlimited plan, billed monthly. 50% savings on annual plans.
---
9. DeepBrain
DeepBrain is an amazing AI movie generator that lets you create AI-generated videos quickly and easily. It's perfect for beginners and lets you turn text into high-quality video content with ease.
Key features of Deepbrain:
User-friendly text-to-video conversion
Customizable AI avatars to reflect your brand
Time and cost savings in video production
Easy-to-use video editor
Just create a new project, input your script, select the language and AI model, and export your synthesized video.
Whether you're creating a short-form video or a blog post, Deepbrain offers significant savings in preparation, filming, and editing time.
Pricing: The starter plan is $30 a month, and the pro plan is $225 a month, with a 20% discount for annual plans.
Final Thoughts: 9 Mind-Blowing AI Movie Generator Programs
Creating content with AI movie generator programs can help you save time and resources while still delivering high-quality results. Whether you're a video creator, podcaster, or marketer looking to enhance your artwork or create original videos, there is an AI tool out there that can meet your needs.
Take advantage of these powerful AI tools to level up your creativity and deliver top-notch results. You won't be disappointed!