The best AI detectors are useful for identifying AI-written text. AI detectors are helpful for a ton of reasons and uses, like teachers checking student work for originality.
With the surge in AI tools hitting the market, especially AI writer tools, the need for AI detection tools is ever-increasing. This software creates transparency in the publishing world so you know if content is AI-produced or not.
In this article, we're breaking down 7 of the best AI detectors online. Read about:
7 of the top AI detectors online
How AI detection tools work
Pricing
Features and more
Let's get into it!
What is an AI Content Detector?
AI content detectors are software tools that detect AI content. With access to creating content using the power of AI, a need for AI detection exists. It's becoming increasingly more difficult to spot AI-created content, so the need for AI content detection was born.
People need AI detection for various reasons:
To identify AI-produced content
Plagiarism detection
Online Safety
Content moderation
Teachers use AI detectors to make sure students are not using AI writers or AI writing assistants to write their work.
Advertisers use AI detectors to ensure their messaging from publishers is human-written.
Bloggers use AI detectors to check their AI-written work for plagiarism and to ensure it is human-like.
These are just a handful of examples of how and why you'd use AI detectors.
Now, let's get into the list of the seven best AI detectors.
7 Best AI Detectors (Free and Paid)
You'll find a mix of free and paid AI detector tools in this list. People are searching for a ChatGPT detector to spot AI-written content. You can do that with these AI-generated text detectors!
We'll cover what they are, how they work, pricing, features, and more. Let's go!
Originality AI: Best Overall
Originality AI is an AI content detector that can scan and spot AI-written content and plagiarism for ChatGPT, Google Bard, Paraphrasing, and GPT-4.
The creators behind Originality AI call it AI content detection for serious publishers:
Publishers
Agencies
Writers
The features include:
AI content detection
Bulk site scan for AI text
Plagiarism detector
Readability testing and scoring
Originality AI Pricing
There's no free AI detection option available with Originality AI, but there are two pricing options. 
$30 pay-as-you-go 
$14.95/month subscription
---
Sapling AI
The Sapling AI detector is a free AI writing detector that can spot AI-generated content created by models like ChatGPT. 
No membership, payment, or subscription is required to use Sapling AI. All you do is paste the text you want checked for AI content into the text box on their site. The text that appears to be AI-written will be highlighted, alerting you to AI-created text from your content.
Sapling AI is most accurate for groups of text at least 50 words long.
Sapling AI Pricing
The free plan gets you free basic suggestions, free use on domains, and up to 20 snippets. 
The Pro plan runs $25/month and includes everything in the free plan plus unlimited snippets, advanced premium suggestions, and a few additional features. 
The Enterprise plan pricing is not disclosed publicly on the site, but you can contact Sapling AI to learn about the cost and sign up. Enterprise gives you everything in Pro plus conversational insights, team analytics, and additional features.
---
GPTZero
GPTZero is an AI detector for ChatGPT, GPT-4, and other AI models. They call themselves the gold standard in AI detection.
The features available from GPTZero are:
Chrome extension: This allows you to use GPTZero across multiple web pages as you browse the internet.
Writing report: See the behind-the-scenes of a Google Doc, like writing statistics, AI content, and more.
AI detection API: AI content detection, which can be integrated into your tools and workflow.
GPTZero Pricing
There are three pricing tiers: Classic, Educator, and Pro.
The Classic plan is free.
5K character limit per document
Limit of 3 files per batch upload
AI detection
The Education plan costs $9.99/month.
Includes everything in Classic plus,
50K character limit per document
Unlimited batch file uploads
Finetuned detection for education
Up to 1 million words of AI detection or 100K words of plagiarism checks per month
The Pro plan is $19.99/month
Includes everything in Education plus,
Up to 2 million words of AI detection or 200K words of plagiarism checks per month
Premium AI detection 
Then, the API subscription plan, starting at $49.99/month for 500K words a month, is for businesses and developers, which gets you an API key and other features
---
Copyleaks AI Content Detector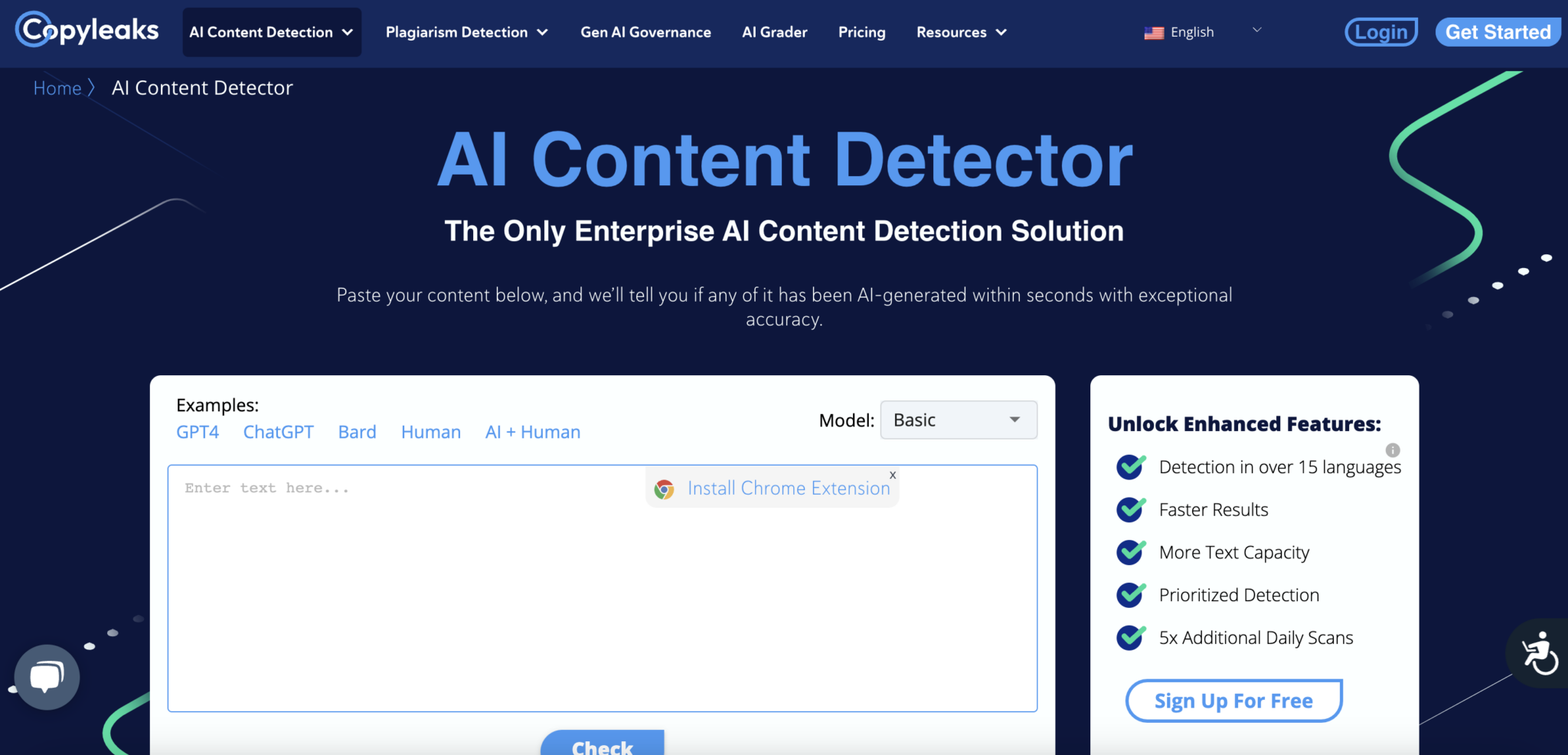 Copyleaks AI detector will help you determine if the content you're reading is human-written or AI-created. Paste your content into the text box on their homepage to find out if it is AI-written.
Features:
Detection in over 15 languages
Interactive similarity reports with each scan
5X additional daily scans
Greater text capacity
API integration
Two website comparisons
White label reports
Copyleaks AI Pricing
The free trial plan includes ten pages with up to 250 words of scanned content per page.
Paid plans start at $9.16/month (billed annually) and include 1,200 pages with up to 250 words of scanned content per page.
---
Winston AI
Winston AI has a 99.6% accuracy report in AI content detection. Their AI content detector is for writers, educators, and web publishers who need to verify content for AI creation.
First, you'll create your Winston AI account. Next, you will enter the text you want to check for AI by either pasting it or uploading a document. Then, you'll get the results.
Winston AI Pricing
They offer free and paid plans.
The free plan gets you up to 2,000 words per scan, advanced AI detection, and other features.
Paid plans start at $12/month and include up to 80,000 words per scan, the ability to generate shareable PDFs, and other features.
---
Writer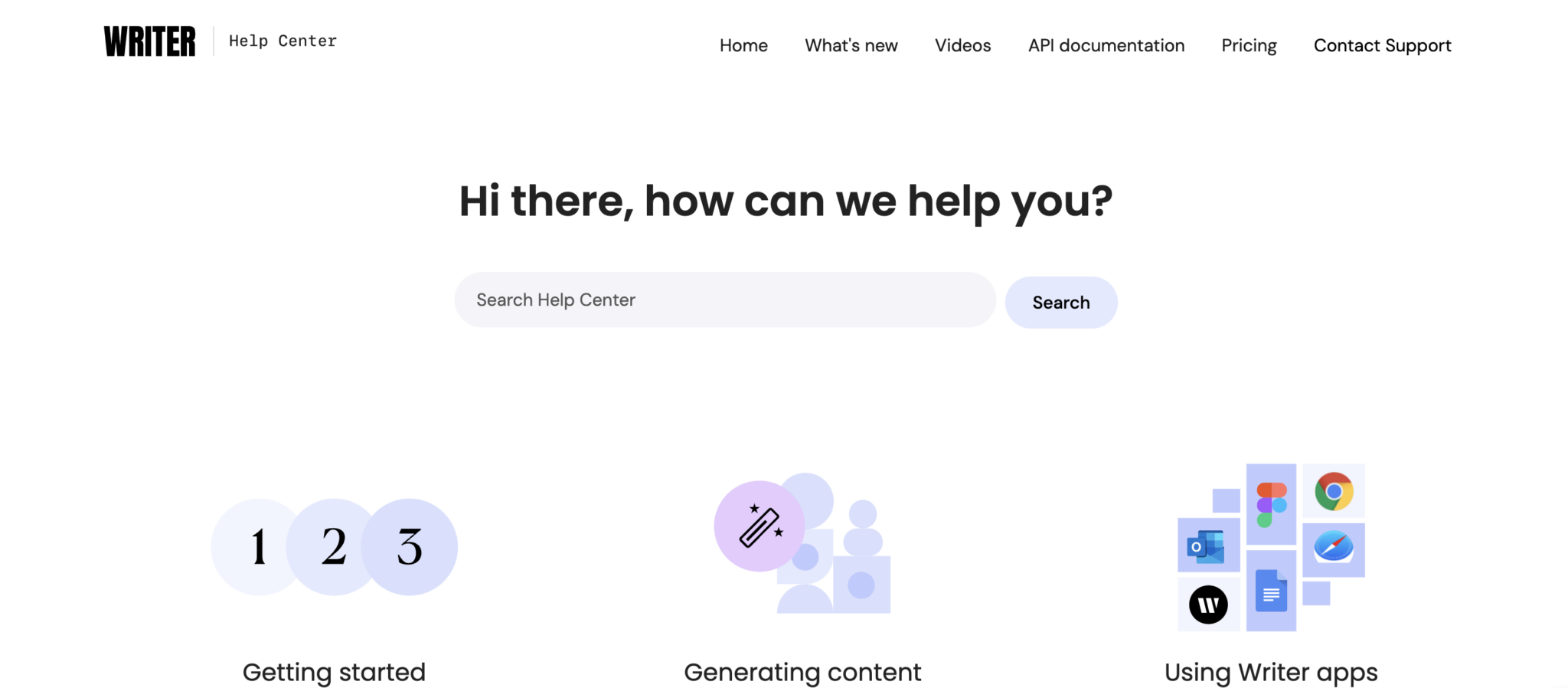 Writer AI content detector is free to check up to 1,500 characters of text. After landing on the site, enter a URL or paste your text and wait for your AI detection score.
Writer offers a free and paid version of its AI detection tool.
Writer Pricing
The free version doesn't require you to register an account or subscribe. You are limited to 1,500 characters (around 300 words) at a time for AI detection.
For checking longer documents, they recommend you break it up into chunks and paste sections at a time, not exceeding their 1,500-character limit.
For developers that want to integrate the AI detector into an app with an API, you will need an API key and an Enterprise plan. Team plan subscribers can check up to 500K words per month. You will need to contact Writer's Support team to learn about pricing.
---
Crossplag
Crossplag AI is an AI content detector and plagiarism checker. The AI content detector gives accurate predictions about text originality (human-written vs. AI-created). You just paste the text you want to be checked for AI writing, and Crossplag will give it a confidence score, evaluating the probability of the text being created by AI.
The plagiarism checker is offered for individuals and educators.
Crossplag AI Pricing
You can join Crossplag for free. They offer free and paid plans. The free plan gives you ten credits (or 1,000 words) to plagiarism check.
There are two paid plans available:
Pay-as-you-go: This runs 9.95 euros and gets you 50 credits (or 5,000 words). 
Bundle: The bundle plan is 149.95 euros and includes 1,000 credits (or 100,000 words) with everything in Pay-as-you-go plus faster document checks and priority support.
Do AI Detectors Work?
Yes, AI content detection tools do work, but I don't think any AI content detector is 100% accurate.
In time, AI content detectors will improve and continue to evolve. The tools available today are very good, with some having up to 99.6% accuracy.
If you're trying to determine whether content is AI-created, I definitely think it's worth using AI detectors.
How can AI Writing be Detected?
AI detection tools work by looking for specific characteristics in the text that are typical for AI writing, like:
Random word choice
Sentence length
Repetitive words
No personal experience
Unnatural language
It will scan the written content for these characteristics, which help it determine how likely the content is to be AI-written and tell you if it is AI-generated content. Even some of the best AI content generators can be uncovered with AI content detectors!
How do You Choose the Best AI Content Detector for Your Needs?
To choose the best AI content detector for you, look at the features, pricing, and overall ease-of-use and functionality to determine if it's the right tool for you.
For example, if you want to upload documents that the AI content detector will scan for AI writing, you want a tool that can accommodate uploaded documents.
Some AI content detection tools are also geared toward specific professions, like teaching. So, evaluate the features to make sure it's a good fit.
Bottom Line on The Best AI Detectors
We just covered 7 of the best AI detectors online!
With the rise of AI writer tools, there's a growing need for AI content and plagiarism detectors. In general, there's nothing wrong with using AI writing tools, but there can be risks that arise around ethical use, including security and compliance concerns.
So, the need for AI detectors is very real.
As AI continues to change and improve over time, AI detectors will need to continuously evolve as well.
So, keep in mind that the AI content detector you choose today may change over time as AI writing continues to evolve rapidly.
I hope this guide is helpful to you in picking the best AI tool for identifying AI writing for your needs.
Which AI detector will you choose?