Are you looking for various plugins to boost your SEO? Did you know Yoast SEO is one of the ultimate SEO plugins for WordPress users? If you're looking for an honest Yoast SEO Premium vs free plugin review, this is the right place for you.
We all know how important it is to get more search engine traffic.
Search traffic is the best because;
it helps you boost your website conversion rates
improves your overall website sales
search visitors are ready to pay money if they find the right stuff
There are a ton of SEO tactics you can use but there will always be one or two strategies that gives you the maximum benefits. Here's where on page optimization comes into play.
Fortunately for WordPress users, there's a plugin called Yoast SEO is available. It's free version itself is worth paying for and offers a ton of amazing features to boost your SEO. Have you ever wondered what Yoast SEO premium plugin offers? In this detailed Yoast SEO premium vs free plugin review, let's talk about both of them.
IMPORTANT NOTE: We recently moved from Yoast SEO premium to Rank Math SEO plugin's pro version. It offers a ton of extra features when compared to Yoast SEO plugin. We also wrote a detailed review post around Rank Math plugin. Rank Math Pro Version will cost you $59 only as compared to the $99, you need to pay for the Yoast SEO premium version.
So without much ado, let's talk about Yoast SEO premium vs free plugin review.
Yoast SEO Premium gives you features like smart suggestions for links, target multiple keywords with each post, social media previews, 1-year support, the ability to easily redirect old URLs to new ones etc whereas with Yoast free, you can optimize your contents for a single keyword.
Let's first start with the Yoast SEO premium version so you will know whether it is worth paying for it or not. Later we will also talk about the free Yoast SEO plugin in this Yoast SEO free vs premium plugin review. Let's get started.
Here are some of the main benefits of using Yoast SEO premium plugin to improve your SEO.
1. You can use multiple focus keywords
With Yoast SEO Premium, you can set multiple focus keywords up to 5. Just have a look at the following image to understand better about this feature.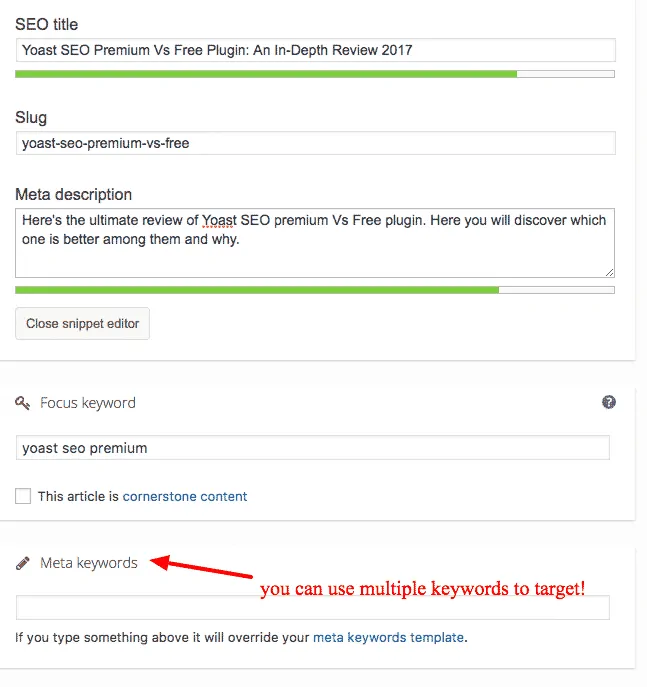 Focusing multiple keywords can help you a lot in bringing more search traffic from various keywords. But be careful when you're using multiple keywords otherwise your overall content may look completely search optimized and not so useful for your audience to consume your stuff.
Usually, you should expect to find the same information which is called search intent when you Google both keywords. So, while writing your article headline, include your primary keyword as an exact match while your secondary keyword as a partial match.
The trick is to sprinkle individual words from your secondary phrase throughout the content and snippet.
As you will only be using partial matches for your secondary keyword and which Yoast only detects exact keyword matches, many bullets will not be green in that content analysis tab.
So, the multiple focus keywords option in Yoast SEO Premium is only helpful for keeping track of secondary keywords but not helpful for actually optimizing content.
Using Google Autocomplete, research both your primary and secondary keyword so you know they are being searched and using Mozbar, make sure to check that they are not too competitive.
Here are some of the tips that will help you to target multiple focus keywords:
Just like your primary, research secondary keywords too.
Secondary keywords should have same search intent as the primary keyword.
Craft your headline, SEO title, meta description to read well and include keywords.
Partial matches for secondary keywords prevents keyword stuffing in the title.
Since partial matches are used, ignore the content analysis for secondary keywords.
Why should you use multiple focus keywords?
To choose your focus keyword wisely, you should do some research. If you want your post to rank for more than one particular focus keyword, then sometimes it is hard to choose one keyword.
If you would also like to rank for a slightly different keyword, then multiple focus keywords helps a lot.
Here are the 4 examples in which optimizing for multiple keywords is the best strategy.
1. Synonyms: People use different terms while searching. For example, let''s say users want to search for travel destinations.  if some people use the term road trip, others use vacation, holiday or trip. So, to reach different groups of people, you should make sure that your post will rank for these different keywords.
2. More than one topic: Sometimes a post will have more than one topic or has a few subtopics. For example, "yoga for spinal cord" and "yoga for back pain". These two topics could very well fit into one article.
In this case, you would like your article to rank for "yoga for back pain" as well as for "yoga for spinal cord". And, you may also like to rank for your most important keyword "yoga poses".
3. Long tail keyword variants: If you want to get your content to rank in Google, then focus on long tail keywords. Usually, these have far less competition and will be relatively easy to rank for. If you were able to rank for multiple long tail keywords with one post, that would make it even more fruitful.
One of the great strategies is to address multiple long tail variants of your focus keyword. Optimizing your post for different long tail variants will give you the opportunity to be found for more search terms.
4. Key phrases: Users tend to use key phrases if they seek something rather specific. Sometimes, the word order of the words within these key phrases and the use of stopwords is important. So, it is advisable to optimize your post on different variations of your focus keyword.
Google tries to find the exact match and the order of the word is important. So, search queries with stopwords seem to be handled a bit different by Google.
With Yoast SEO Premium, optimizing your post for multiple focus keywords is really easy. Just click on the tab in the Yoast SEO Premium box to add a new keyword.
A new box will open and you can enter the second focus keyword  that you would like to optimize your post for. Yoast SEO ensures to see whether your post is optimized for all the focus keywords you entered or not by running a check on the content.
---
2. Orphaned content
Orphaned content as the name says is the content which is not linked from anywhere on your website and which is not easily accessible to search engines and your website visitors since you're not using any internal links (No links from actual content in this case).
To put it simply, if any of your blog posts doesn't have any internal links included can be called as orphaned content since the content is alone i.e orphan without any internal links to your own site.
So "orphaned content" ultimately refers to blog posts that don't get any links from other blog posts.
The #1 reason to use Yoast Premium version is that, it tells you which of your blog posts belong to "orphaned content" so you can immediately fix those issues in order to rank well in search engines.
Here's how it looks like from the dashboard;
When you're coupled "orphaned content" feature with the Yoast internal linking feature, you can immediately and easily fix all your internal linking and orphaned content issues using Yoast SEO Premium. This feature is available only for Yoast pro users, not free users.
---
3.  Redirecting the old URLs to new ones
At some point, whether you are cleaning up pages on your site or moving pages or changing your site structure: you need to delete posts or pages. And it is very risk because when the old URL gets visitors, they will be served a 404 not found error.
So, especially for a frequently visited page, you need to redirect the old URL to a new one with the information you think that is most relevant to these visitors. Or else, you can tell to your visitors that content has been deleted or temporarily show another page. With the Yoast SEO Premium plugin you can do all this directly from within your WordPress dashboard.
Their redirects module can help you fix those. Here are the Redirect types in the redirects module that you can choose from in Yoast SEO Premium.
301 – Moved permanently
302 – Found
307 – Temporary redirect
410 – Content deleted
451 – Content unavailable for legal reasons
Yoast SEO Premium also enables you to create REGEX (Regular Expressions) redirects where you can redirect a group of URLs that contain a certain word or expression with one redirect.
---
4.  Incredible internal linking
Did you know that Yoast SEO premium plugin offers incredible internal linking suggestions? Just have a look at the following screenshot and you'll understand what I'm talking about.
If you observe the above screenshot you will notice that the Yoast SEO premium plugin offers various link suggestions for the content you're writing as internal link suggestion. This feature is so helpful because relevant internal linking helps you boost your SEO. This feature is NOT available in free Yoast plugin.
Keeping internal links to related posts is not as easy as it seems. It is one of the important SEO strategies. If you want to get ranked then you have to create high quality, relevant and informative content about keywords that you want to be found for.
How do you show Google which posts are related and which are most important?
That's when our internal linking tool helps you out. Premium customers of Yoast SEO will find a new box on the right-hand side of your site called Yoast Internal Linking. It shows series of links that are proven to be relevant to the text you are working on. To find posts that use the same words, it uses the most prominent words from the previously introduced Yoast SEO Insights tool.
Read: Link Whisper Plugin Review: Is it the Best Plugin for Internal Linking?
---
When post contains lots of images, you may end up with picking up the wrong image. If you want to gain the reader's' attention for your blog, then your post share should really look good.
With Yoast SEO Premium you can check what your post will look like on Facebook or Twitter without even going to these channels. Just go to the Yoast SEO meta box, upload the image you would like to show and make sure it will look fine.
---
You can change post's SEO title and meta description for category, tag and author archive pages on a per post basis.
You can manage your permalink settings and edit some parameters like removing stop words from slugs, manage some redirects and canonical settings.
You can have Google search result snippet previews.
It has the ability to verify Google Webmaster Tools, Yahoo Site Explorer and Bing Webmaster Tools.
Yoast SEO Premium adds a powerful redirect manager where you can quickly fix 404 errors in your Google search console by setting up redirects and marking them as fixed in Search Console.
Sitemaps are the quickest and easiest way to get indexed and notify search engines about your content. WordPress SEO by Yoast makes it super easy to add XML sitemaps in WordPress.
One of the greatest features of the plugin is that it integrates your site with Facebook, Twitter, and Google+ social platforms.
With the feature of multiple focus keywords, you can optimize a post for more than one focus keyword.
Pros of Yoast SEO Premium
It is regularly updated and moreover community is big that you can easily find suggestions, tips and guides to get the most out of the plugin.
As premium version comes with some extra options, it can be solved utilizing other free plugins.
It integrates features from some of the most popular plugins like Robots Meta and RSS footer.
Yoast SEO allows you to add a backlink to your own site for each post in your RSS feed.
It helps in improving your SEO ranking.
It offers email support for premium users and WordPress support forum for free users.
Yoast provides many premium modules with premium SEO plugin to increase SEO visibility.
The Bulk Editor in Yoast SEO allows you to show items with a certain status which you can find useful sometimes.
Cons of Yoast SEO Premium
Many security threats. It goes vulnerable many times giving hackers access to your site.
No redirect feature if a link is changed.
Website speed may get reduced as all features get activated at once.
---
Yoast SEO Free Plugin Review
1. Best for optimizing search friendly content
Yoast SEO is one of the best of it's kind when it comes to content analysis tools. You can find Yoast's content analyzer in a meta box directly below the WordPress text editor. Make sure that it is enabled.
The Snippet Editor allows you to edit and preview how your content appears in the SERPs. It gives you the opportunity to customize your SEO title and rewrite your meta description which plays a significant role in boosting CTR.
To use Content Analysis tool, just input your focus keyword. In free version of the plugin can only input one keyword.
Once you specify your keyword, Yoast SEO will analyze your content against 12 SEO 'best practices. For example, keyword density, readability and number of outbound links. It also looks at whether your keyword is used in the SEO title, meta description, and first paragraph of your content.
Using a helpful 'traffic light' scoring system, it analyses everything to help you easily identify the areas you can improve. Yoast SEO also displays an overall content score using the same traffic light system where obviously, the aim is green. This functionality guarantees your content won't sink in the SERPs.
---
2.  The ability to use XML Sitemaps
An XML sitemap makes it easier for Google to discover the pages on your site. If your content is not indexed by search engine, then whatever the SEO strategies you use, it won't help you.
Yoast SEO offers built-in XML Sitemap functionality. It enables users to generate a sitemap which is automatically updated any time a new post or page is published. You can enable XML Sitemaps by navigating to SEO and then clicking on "XML Sitemap". Just tick the checkbox here.
Once the Sitemap functionality is activated, Yoast SEO notifies the search engines every time you publish new content. So that your content, your images are also get indexed which means you can show up in Google Image searches.
---
With Yoast SEO, you can tell Google the URLs of eight popular social networks by navigating to SEO  and then click on "Social".You can integrate your website with four popular social media tools namely Facebook Open Graph, Twitter Cards, Pinterest Open Graph, and Google+ Publisher verification.
You can find social media features in the content analysis meta box also. Under "Social" tab, you can tailor the way your content appears on the social channels. You can edit the title, write a meta description and also upload a custom image.
---
Free Yoast SEO plugin features
It provides all-round SEO functionality that you can tailor to your website's needs.
It comes with powerful content analysis tool that helps you optimize every single post or page on your website.
It also offers Breadcrumb Navigation, open graph meta tags, built-in robots.txt, .htaccess editor. Breadcrumbs feature permits you to show readers exactly where they are in the structure of your blog.
Yoast SEO also offers some paid addon plugins available for niche sites with specific SEO needs. These addon plugins are Video SEO, Local SEO, News SEO.
Yoast SEO offers a traffic light system once you have saved a draft of your post. Green means that your SEO is fine. Red means it is poor, and changes must be made, while orange means that you have one or two factors that still need some work.
Pros of Free Yoast SEO Plugin
Using the snippet preview, you can see how your post or page will look like in the search results, whether your title is too long or too short and whether your meta description makes sense in the context of a search result.
Yoast SEO eliminates a lot of duplicate content by excluding subpages of archives from being indexed.
You can add up to eight different social networks so Google knows they belong to your site. Social platforms will understand exactly what your content is about and which is the title, image, URL, description and more so they can display everything correctly when it is shared.
Yoast SEO will analyze your content for more than a dozen SEO best practices and tell you how you are doing for each of them with an easy to understand traffic light scoring system.
Yoast SEO can import settings from other websites and even other SEO plugins if you are making the switch. Of course, it can export them, too.
Cons of Free Yoast SEO Plugin
The basic Yoast SEO plugin comes with no support. You are not guaranteed an official response from Yoast team. For professional support, you will need to buy Yoast SEO premium.
Free version doesn't offer much of SEO benefits (such as usage of multiple keywords, internal link suggestions etc which are quite helpful for you to boost your SEO).
---
So is Yoast premium worth it? Yes, Yoast SEO premium for 1 site costs you just $99 for 1 year and you'll get updated features regularly. That being said, here are few more ultimate features which make Yoast SEO premium worth paying for.
Yoast SEO Premium keyword analysis
With free Yoast SEO, you can only target 1 keyword whereas, with Yoast SEO premium, you can optimize for keywords, keyphrases, synonyms, related keywords and so on with ease.
Here are a few things you can do with Yoast SEO premium keyword analysis;
Optimize for synonyms, related key phrases and word forms
Optimize your page so it ranks for synonyms as well on search engines like Google
You can easily add related keyword phrases
You don't even need to worry about different word forms
You can easily check your keyword phrase distribution to better optimize your contents
If you're wondering about how keyword analysis works, let's see how it works;
For instance, if you want to optimize for german shepherd, you could use any dog-related sports such as agility trials, dock jumping etc as related synonyms now and then.
It helps your audience easily digest your content which can also be useful for better optimizing your contents. In Yoast SEO Premium plugin, you can add these synonyms of your focus keyword phrase, and it tells you if you've used those synonyms in
your meta description
Introduction
Subheadings
image alt text and so on
Above all, their keyword phrase distribution check will help you for alternately using your keyword phrase along with the synonyms throughout your content to optimize your blog posts in a much better way.
Here's how you can add synonyms using Yoast SEO premium;
As you can see above, we're using the focus keyphrase as "Yoast SEO premium" and related keyphrase as "Yoast SEO vs free" which means, Yoast SEO premium helps you optimize your content for both the keyphrases whereas with a free version, you can only optimize your content for 1 primary keyword.
Content insights
Yoast SEO premium shows you the 5 words or phrases you use the most on your page, to check if they're a match with your chosen keywords. Content insights feature is ONLY available for Yoast SEO premium users.
Here's how it looks like;
As you can see above, Yoast SEO premium is showing us 5 keywords that occur most in the content we were writing about.
To put it simply, these content insights keywords give an indication of what your content mostly focuses on. If the words differ a lot from your topic that you're covering on your site, you might simply want to rewrite your content accordingly to match with your original topic.
Read: Top 20 Premium WordPress Plugins That Are Worth Every Penny in 2023
Focus keyword export
Again, "focus keyword export" feature is only available for Yoast SEO premium users. This feature helps you come up with a ton of new and highly related keyword ideas to find out what you should optimize next.
In Yoast SEO Premium, you can download an overview of all the focus keywords you've used so far.
You can choose whatever the keyword data you need to optimize including keywords, URL, readability score, title and so on. You can then simply download your overview as a CSV file.
Here's how it looks like;
How cool is that? In a nutshell, Yoast SEO premium helps you easily export your focus keywords, scores, URLs, titles, meta descriptions and so on with just one click.
Readability check
Yoast SEO premium plugin allows you to easily analyze the readability of the copy you wrote and calculate the Flesch Reading Ease score.
What is Flesch Reading Ease score anyway?
Flesch reading ease score measures the complexity of English text. That means, it tells you how easy or hard it is to read your text.
Text with a very high Flesch reading ease score (about 100) is extremely easy to read which mostly includes short sentences and no words of more than two syllables. That being said, a reading ease score of 60 to 70 is considered normal for websites and online reading.
Have a look at the following illustration to get a better understanding about it.
PRO TIP: Try to aim for grade 8 (reading level) to ensure your content can be read by 80% of Americans.
Here's where Yoast SEO comes into play which displays the overall reading score of your content and also gives you writing suggestions on how you can improve the overall readability score.
Here's how it looks like on Yoast SEO backend;
As you can see from the above image, Yoast SEO provides a readability score (it's good if it shows in green color) and also gives you a ton of suggestions to improve your content's readability score.
---
Yoast SEO vs All in One SEO Pack: Which Is Best for WordPress SEO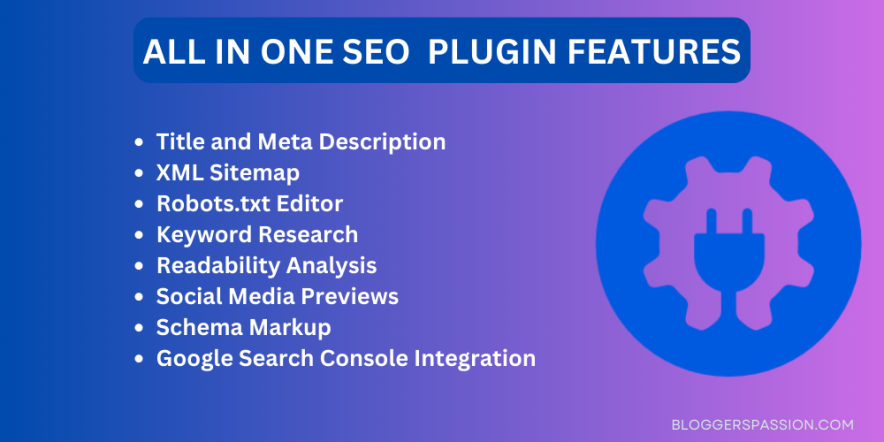 Yoast SEO is great for optimizing your blog posts and also help you with technical customizations such as sitemaps, breadcrumbs and so on whereas All in One SEO Pack helps you with easy optimization of your contents.
So far we've discussed about Yoast SEO premium vs free, so let's now talk about All in one SEO pack features, pros and cons along with the pricing so you'll know which is better among Yoast SEO vs All in One SEO Pack.
All in one SEO features
Let's quickly have a look at all the All in one SEO features so you will know what you can get out of it.
You can easily submit your sitemap to Google and Bing and improve your SEO
Image XML Sitemap submitted to Google and Bing to improve your Image SEO
Google AMP support (Accelerated Mobile Pages)
Google Analytics support
Advanced Canonical URLs
Redirect attachment pages to parent post easily
Read: AIOSEO Review 2023: The Ultimate SEO Plugin for WordPress
Main differences between All in one SEO Vs Yoast SEO
Here are few major differences you can find with All in one SEO Vs Yoast SEO;
All in One SEO Pack, has all the settings on a single page, so especially for beginners will find it easier and faster than the multi-page settings of Yoast SEO plugin
Yoast SEO comes with a powerful content analysis tool that helps you optimize every single post or page on your website whereas All in One SEO comes with a similar kind of metabox that you find in Yoast SEO to edit SEO settings on a post by post basis.
Yoast SEO provides you a content analysis and SEO scoring of your content whereas All in one SEO pack meta box is very simple where you can edit the title and description, but there is no content analysis or SEO scoring.
Here's how the metabox looks like in All in one SEO pack;
As you can see from the above image, metabox of All in one SEO pack is so simple and sleek where you'll only find title and description, so really helpful for beginners who are new to optimizing their blog posts.
All in one SEO Pricing
All in one SEO has two options just like Yoast SEO which comes in both free and premium versions. If you're interested in its premium plans, here's the All in one SEO pricing;
It comes in 3 pricing plans;
Individual (costs you $68 which you can use for 1 site)
Business (costs you $118 which you can use for up to 10 sites)
Agency (costs you $559 which you can use for unlimited sites)
Here are the main features that you get with All in one SEO pack PRO version;
Advanced support for WooCommerce
SEO for categories, tags and custom taxonomies
Video SEO module
Access to video screencasts
Access to premium support forums
Access to the knowledge centre
To put it simply, the All in one SEO Pro version includes various other functionality and modules such as advanced WooCommerce support, a Video SEO module including Video XML sitemaps, SEO for categories, tags, and custom taxonomies etc.
---
3 More Better WordPress SEO Plugins to Optimize Your Site
If you're looking for a few more better WordPress SEO plugins to optimize your content for better search results and organic rankings, here are 3 great WordPress SEO plugins which you can use in 2023 and beyond.
Squirrly SEO
The SEO framework
SEO Press
Let's briefly talk about the above SEO plugins so you can decide the best one for you.
1. Squirrly SEO
Squirrly SEO is another incredible WordPress SEO plugin which helps you increase your organic rankings. That being said, here are some of the Assistants you get out-of-the-box when you install Squirrly SEO:
Blogging Assistant
SEO Live Assistant
Settings Assistant
Keyword Opportunity Assistant
SEO Automation Assistant
By default, this amazing plugin called The SEO framework automatically generates titles according to Google's best practices to help with better search rankings. It also generates a properly optimized description. Here are some of the features of this plugin;
Helps you optimize your metadata so you can get better click-through rates
Points search engine crawlers in the right direction in order to prevent duplicate content issues
Allows you to adjust SEO through global options
Allows you to optimize every public page, post, and term
Helps your pages get more social shares on sites like Facebook, Twitter etc
Above all, it supports all custom post types, like from WooCommerce and bbPress
3. SEOPress
SEOPress is new to the field but one of the most powerful SEO plugins out there which helps you easily optimize your SEO, increase social sharing, build custom HTML and XML Sitemaps, create optimized breadcrumbs, add schemas, manage redirects 301 and so on.
Which means, using SEOPress, you can pretty much do everything from optimizing to redirecting your URLs. So if you're someone who's looking for an all in one WordPress SEO plugin, SEOPress is a must have a plugin for you.
3 Quick Tips to Use Yoast SEO Like A Pro in 2023
If you've decided to start using Yoast SEO (be it free or premium version), here are few quick tips which can help you use it like a pro.
1. Find a primary keyword with long tail SEO in mind
One of the biggest mistakes most bloggers make while using Yoast SEO is that they often use a "short tail keyword" in the focus keyword section which is completely wrong. You need always look for a long tail keyword while optimizing for focus keywords using Yoast SEO plugin to get better search rankings.
It's always better to target long tail keywords like "best website optimization tips" instead of going for keywords like "website optimization" where you can better optimize and also drive more traffic from search.
2. Tick all the boxes which are recommended by Yoast SEO
Yoast SEO gives content suggestions which means, it shows you where to put your primary keyword in order to properly optimize your content for your target keywords. These suggestions usually include;
Image alt tags
Introduction of your posts
Headline and meta description and so on
Just make sure to get the "green color" which means your site is properly optimized for the keywords you're trying to rank for.
3. Use synonyms if you're using Yoast SEO Pro
Last but not least, if you're using Yoast SEO premium version, you should also start using synonyms (which can be also considered as a secondary keyword which is relevant to the primary keyword you're already targeting) to improve your organic traffic. The best part is, Yoast SEO also shows you recommendations on how well your synonyms are optimized for increasing your rankings.
---
Here's a list of some of the important questions Yoast SEO Premium Vs Free you must know about to get a better idea.
What is best WordPress plugin for SEO?
Undoubtedly Yoast is the best WordPress plugin for SEO. We've tried and tested almost all the WordPress optimization plugins including All in one SEO, SEOpressor and so on but nothing beats Yoast SEO.
How much does Yoast premium cost?
Yoast SEO premium costs you only $99 for 1 site including 1 year free updates and support.
How can I do SEO for my website?
There are a ton of ways to optimize your WordPress site but if you're a beginner, we highly recommend you to install any optimization plugin such as Yoast SEO to be able to easily optimize your blog posts for certain keywords.
What is Yoast SEO?
oast SEO is a WordPress optimization plugin. Yoast SEO can be considered as the all in one optimization solution for your WordPress site as it handles all the technical optimization aspects of your site and helps with optimizing your content for search engines.
How long does it take for Yoast SEO to work?
There's no specific answer for how long does it take for Yoast SEO to work. It usually depends on the kind of keywords you target (along with their search volume, keyword difficulty, competition for the keyword and so on). That being said, it might take around 2 to 3 months to start seeing organic results and search traffic to your sites.
Is Yoast better than all in one SEO?
We've tried both Yoast SEO and All in One SEO pack, both are amazing optimization plugins for WordPress users.
What is the use of Yoast SEO Plugin?
Here are some of the benefits of using the Yoast SEO plugin for WordPress sites.
→ Create better content
→ Page Analysis
→ XML Sitemaps
→ Powerful in-built features
SEO Tools Worth Trying:
---
Yoast SEO plugin is by far the most complete SEO solution that is available for WordPress. You will find wide number of features that help you improve your site's SEO in a single plugin.
If you're just a beginner to SEO and looking for the right SEO tool, free SEO version of Yoast is enough for you.
But if you're someone who's blogging for a while and looking for ways to boost your overall search engine traffic, then Yoast SEO premium is worth paying for. Considering the fact that it just costs $99 for 1 year, it is worth every single penny.
More Posts Worth Reading:
So what are your thoughts about Yoast SEO premium vs free plugin? Did you like this review and which is your favorite SEO plugin? Share your views in the comments below.