Looking to create a website without any coding or technical experience? The answer is using an AI website builder!
These next-gen tools are revolutionizing website creation.
Feel free to do your own search and possibly SELECT THE WRONG ONE.
But I did the job for you.
I tested MORE THAN TEN builders and selected the top seven to review here.
Believe me; I saved you lots of time!
After testing each of the builders, Durable AI builder is the one I prefer to use for a small business that has no time to sit and learn coding.
Join the AI website builder revolution – get Durable right here!
What is an AI Website Builder?
AI website builders are magical tools that can instantly create personalized websites with just a few clicks, revolutionizing how we build websites from scratch.
These builders use the best AI tools to generate designs tailored to your needs.
Integrating AI in web design allows for efficient and user-friendly website creation, even for those without technical expertise.
The advantages of you using artificial intelligence website builders are:
Ease of usage
Time-saving 
They are a cost-effective solution
Easy branding
According to Hubspot, using an AI tool helps to reduce repetitive tasks like setting up margins, creating filler text, formatting buttons, etc. This frees up time to focus on strategic and creative design decisions. If you're wondering how to create a website for your business, these AI tools could be the answer.
Let's look at a few professional website builders and their specific features and capabilities.
7 Best AI Website Builders
I selected a representative sample of AI website-building tools to test the power of AI.
1. Hostinger Website Builder
Hostinger offers an AI website builder powered by ChatGPT technology. With just a few details about your company, you can generate your website with appropriate content and design elements.
And the generated content aligns well with the company description.
The initial website creation takes about a minute, and you can customize the layout, fonts, and colors with the free version.
Here you can see the first steps.
The builder includes responsive design, a drag-and-drop interface, and eCommerce capabilities.
Overall, it offers a quick and convenient way to create a website using AI technology.
Paid plans unlock advanced customization features and built-in AI tools like:
A writing assistant
AI logo maker
SEO tools
Key Features
Create a website effortlessly within minutes using the AI-powered platform. 
Responsive design capabilities.
Drag-and-drop website builder. No coding knowledge is required.
eCommerce tools for creating an online store.
AI writer for content creation.
Very basic AI tool for logo design.
AI Heatmap and AI SEO.
Best For
Hostinger AI Website Builder is ideal for beginners and small businesses looking for a user-friendly and efficient website-building platform.
Hostinger Pricing
$2.99/mo + 3 months free. On renewal, $6.99/mo.
---
2. 10Web.IO
The 10Web site builder platform offers a wide range of tools and services for:
Creating
Hosting
Managing WordPress websites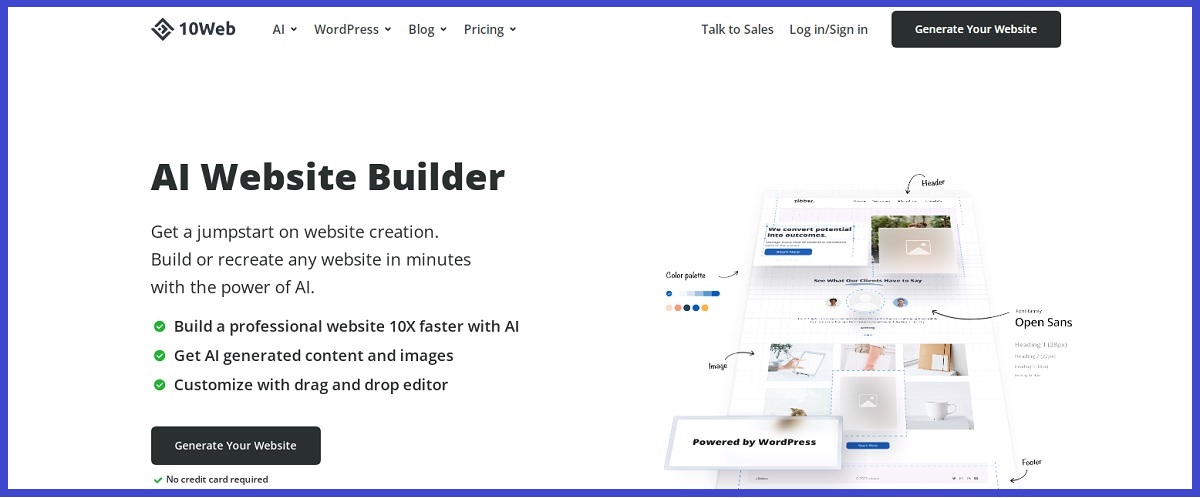 With its "Create a new website with AI" option, you can quickly generate a web layout with content and images tailored to your business.
Answer a few simple questions, and the AI uses your responses to create the initial website design, which you can modify using WordPress.
Key Features
Easy migration to WordPress.
Extensive AI tools, including content writing and SEO optimization.
Drag-and-drop editor.
The PageSpeed Booster is an add-on.
Best For
10Web is a comprehensive tool suitable for individuals with design experience. Beginners should expect a learning curve.
10Web Pricing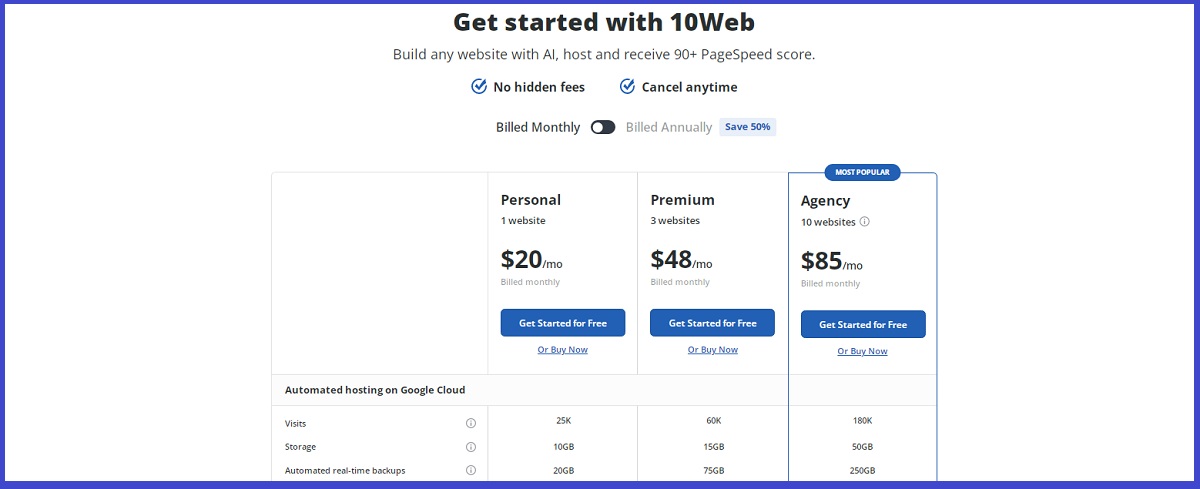 The Personal plan costs $20/mo. PageSpeed is optional and costs $14/mo.
Premium plan: $48/mo, PageSpeed optional for $35/mo.
Agency plan: $85/mo, PageSpeed optional for $85/mo.
Don't forget to consider your budget.
---
3. Durable AI Website Builder
Durable is an all-in-one tool for small business owners, featuring an AI website builder as its core offering.

With just a few pieces of information, you get an AI-generated website with relevant photos and text content tailored to your business.
The developed website can easily be customized to your liking.
If you expand your website by adding more pages, Durable will generate appropriate content, such as FAQs or blog articles.
Key Features
AI-controlled CRM system.
AI assistant capable of drafting marketing strategies and analyzing website metrics.
Write copy for Google Ads with the help of AI.
Business name generator.
Three questions and 30 seconds later, the AI website maker had my Art Gallery website done.
In conclusion, Durable's AI website builder excels in speed and generates text content that aligns with the website's theme.
Best For
Durable caters to individuals seeking side hustles or non-traditional jobs. It provides specialized features and functionalities tailored to create a professional website for various industries.
Pricing
Durable offers a free 90-day trial period, after which you must choose between two paid plans to publish your website.
The Starter plan costs $15/mo, while the Business plan is $25/mo.
---
4. Framer AI Tool
Framer AI is an AI-powered website builder. It simplifies the website creation process by leveraging AI technology and providing an array of features.
You can create professional landing pages, dynamic blogs with a built-in CMS, and more.
The user interface is intuitive, enabling you to edit designs visually without coding.
Framer AI integrates with popular third-party applications, allowing you to expand functionality by incorporating various multimedia elements.
With Framer AI, you can access a selection of free and premium templates, offering you an easy starting point.
I tried to build a website for my Art Gallery, and here is the result.
Key Features of Framer AI
Framer AI allows you to generate entire websites or specific elements using text prompts.
The platform claims to prioritize search engine optimization (SEO), responsive designs, and performance.
Framer offers a complete set of tools for designing, shipping, hosting, and maintaining stunning websites without code.
A side note: Finding two H1s on many of the Framer.com pages confused me, particularly for a platform that prioritizes SEO.
Best For
A small business with some time to invest in development. (I recommend checking the website's SEO once you're done.)
Pricing
You can publish your websites for free, starting with a simple project. Or upgrade to a basic plan for a hosted personal site with a custom domain and a CMS.
The Pro version offers features such as built-in site analytics and a staging site.
Plans: Free, Mini $5/mo, Basic $15/mo, Pro $25/mo.
---
5. Wix ADI
Along with being one of the best blogging platforms, Wix also offers an AI-driven website builder called Wix ADI. This tool provides an innovative AI assistant that guides you through the design process.
With decades of deep knowledge and experimentation, Wix's AI models are highly reliable and intelligent.
Wix ADI recommends features that it believes will benefit your websites. Once the site is generated, you can customize the layout and color palette and add additional features to align with your branding.
Key Features
Create a website by using an intuitive AI design assistant and answering simple questions. 
Wix Analytics benchmarks report provides an in-depth analysis.
Option to customize outputs and add a human touch to the generated designs.
Wix ADI is ideal for small businesses, offering notable features such as:
AI text creator
Layout switcher
Image enhancer
Background remover
Chatbot
Wix's full suite of AI offerings can significantly boost businesses.
Best For
Small business owners who have the time to invest in development. Wix is not for beginners or those who expect to generate a website in minutes with AI.
Here are my first steps in generating an Art Gallery.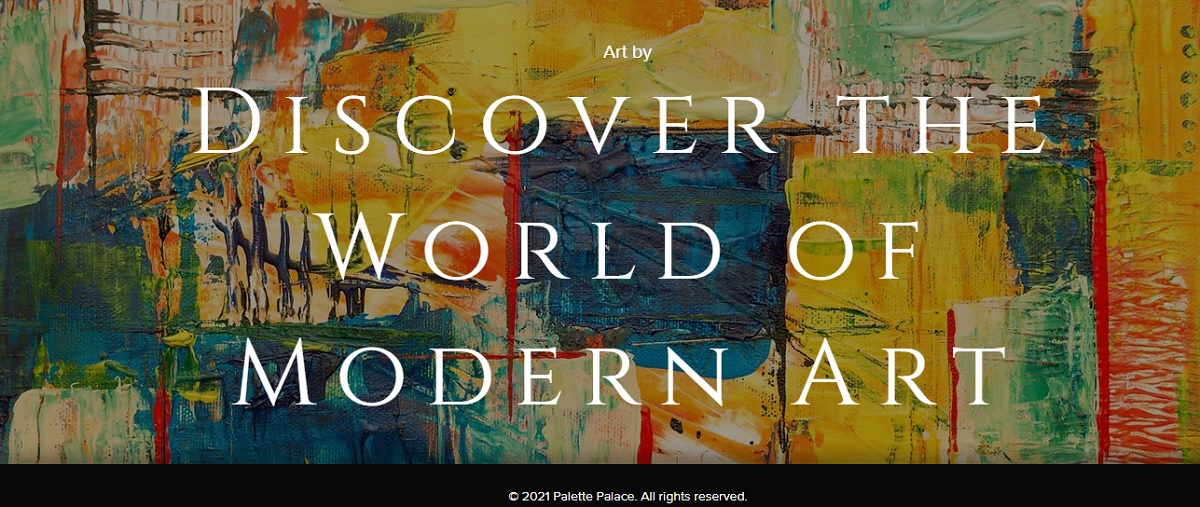 Pricing
Pricing for Wix ranges from free to $24.50 per month, depending on the selected plan and features.
---
6. Hocoos Artificial Intelligence Builder
Hocoos is an AI-powered website builder that simplifies creating a custom website.
This generator creates a personalized website with text, design, and images by asking you to answer eight straightforward questions about your business.
The platform provides an easy-to-use editor that allows further customization of the website.
It took me less than 5 minutes to create the landing page for my Art Gallery website.
Hocoos aims to save time and effort by helping you to get your website online quickly and in front of customers. It is particularly well-suited for e-commerce and online listings.
You can choose from three suggested layouts based on your responses, and the AI generates complete websites with subpages and texts.
While some layouts may require additional adjustment, Hocoos offers flexibility in changing individual areas, colors, and fonts.
It provides a free option for small online shops.
Hocoos offers a range of features, such as online stores, booking systems, and blogs, making it a versatile platform for your business needs.
Key Features
Integration with Stripe or PayPal.
Online stores.
Marketing tools.
Content generation.
Best For
I found Hocoos a valuable tool for quickly creating a great business-ready AI website.
Pricing
Plans: Free, Premium at $15/mo
---
7. Appy Pie AI website generator
I know Appy Pie from the app development side of the platform.
Appy Pie claims to be an AI website creator and app builder that incorporates AI into the core process of creating websites.
Features
Ingenious AI technology converts your text to a website.
Creates light and fast websites.
Plagiarism Checker, Backlink Checker, Domain Name Generator, and more.
Appy Pie claims to have the ability to understand your intentions simply by describing what you want to build, either through writing or speaking to the program.
The AI should then create the actual design based on your input, eliminating the need for coding or technical expertise.
So, I decided to put this to the test, expecting the AI web builder to create a landing page following my description: "I want to create an online art gallery named Palette Palace."
And this was the result.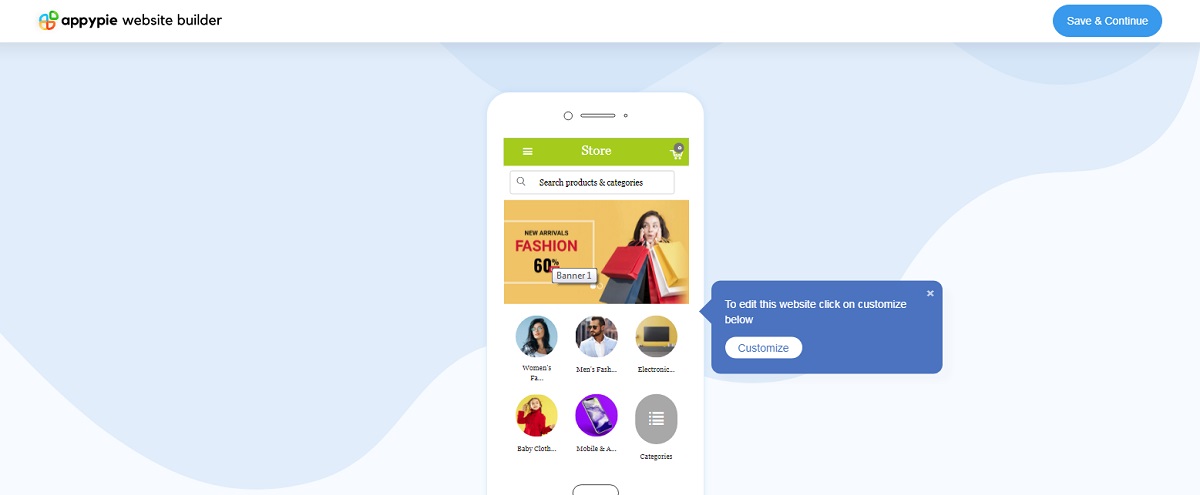 Definitely unexpected! But I did not give up trying to build the website.
The result?
I discovered that the process may not need any code, but it has a learning curve!
Best For
Appy Pie may be well-suited for small businesses and personal projects, but at the same time, it is not easy and fast.
I think it is not for you if you hope your website will be ready in minutes.
Maybe Appy Pie is better suited to App development.
Pricing
Appy Pie offers plans starting from $18 per month.
Why Generate a Website with AI?
AI does the heavy lifting for you, allowing you to focus on other important tasks.
You don't need to spend hours learning coding or design skills to create a professional-looking website.
AI website builders offer a range of advantages:
Customization
Time-saving
Adaptability
Creating personalized websites in minutes
With AI-powered design intelligence, these builders can generate layouts, subpages, and content based on your preferences, saving you effort.
This level of customization ensures that your website reflects your unique brand identity and meets your specific needs.
Also, AI website builders optimize your site for different screen sizes and resolutions, ensuring a seamless user experience across devices.
Note: AI-generated content should be thoroughly checked for facts and plagiarism before publishing.
A classic website builder may be better if you require complete control and flexibility over your website's layout.
What Makes an AI Website Builder Good?
When evaluating AI website builders, there are several key factors to consider that can help you determine which one is the AI builder for your needs.
AI website builders should offer the following:
Ability to create your website fast with "No-Code"  
AI content generation
Logo maker
AI SEO
AI Integration in Website Design
Evaluate how well the AI integrates into the website design process. A good AI website builder should make it easy for you to customize your website and make it unique to your brand.
Look for options to select:
Color palettes
Font sets
Button shapes
Animations to match your branding
Pricing and Limitations
Consider the pricing of the AI website builder and any limitations that it may come with.
Compare the pricing plans of different builders and choose one that fits your budget.
Additionally, be aware of any limitations on features or customization options that may impact your ability to create the website you envision.
How does AI website builder technology work?
AI website builders use machine learning and language processing to create personalized website designs.
Can AI website builders create custom designs, or are they limited to templates?
AI website builders have custom design capabilities and are not limited to templates.
With AI technology, these builders can generate personalized website designs based on your preferences and needs.
While some AI website builders may have template limitations, they offer design flexibility by allowing you to customize elements such as colors, fonts, and layouts.
Are AI website builders suitable for all websites, or are there limitations?
AI website builders have limitations when creating custom designs, as they often rely on templates.
While they may not be suitable for all types of websites, they can be particularly beneficial for startups and small businesses.
AI website builders offer extensibility and compatibility with various tools and platforms, making integration a breeze.
They are designed to collaborate with popular third-party applications and services, such as CRM systems, AI assistants, e-commerce platforms, and payment processors.
Conclusion: The Best AI Website Builder
Now that you've learned what makes an AI website builder good, let's dive into finding the best AI website builder for your needs.
With the growing popularity of AI website builders, it's essential to understand their ADVANTAGES and LIMITATIONS.
When comparing popular AI website builders, it's crucial to consider their features, limitations, customization options, and pricing.
Ultimately, the best AI website builder for you will depend on your specific requirements and budget.
But I found Durable AI builder an easy tool to use. You should try it!
Ps. If you're just looking for a landing page builder, then give Unbounce a try. It's an easy-to-use tool for creating high-converting landing pages.
Read our full Unbounce review if you want to know more.