In this Sprout Social review, we will be taking an in-depth look at this popular social media management tool. With a wide array of features, including scheduling, analytics, and even a CRM, Sprout Social aims to be a one-stop shop for all your social media needs.
But does it deliver on its promises? In this review, we'll take a closer look at Sprout Social to see if it's worth the investment for businesses looking to up their social media game.
In a hurry? Don't worry; here's a quick TL;DR:
Sprout Social's robust features and collaboration tools make it a great choice for social media managers and marketing agencies. While it is one of the pricier tools out there, its real-time analytics and customized reports allow you to prove the ROI of your marketing campaigns across multiple platforms, streamlining the reporting process and saving you hours of time every week.
You can try Sprout Social risk-free for 30 days to see if it's right for you before committing to a paid plan.
Sprout Social Review

Ease of Use

Stability

Customer Service

Price
Summary
While it's one of the more expensive social media management tools out there, Sprout Social is an excellent option for social media managers and large agencies. Its real-time analytics and customizable reports allow you to prove the ROI of your marketing campaigns across multiple platforms.
Pros
Free 30-day trial before you need to commit to making a payment
Dashboard is easy to understand and find what you need
Smart inbox means your messages across all social media platforms are easy to find
Tools available to help you create great posts
Automated customer service tools available
Cons
It's quite expensive
The basic plan only allows you to connect 5 social media profiles
Customer service can be slow to respond
Sprout Social Review: Overview
Sprout Social is currently used by over 30,000 brands across a wide range of industries, which means that whatever your niche is, you can feel confident it's going to work for your business.
When you're working on a social media strategy, it's about more than just posting content and checking for replies. Monitoring engagement and determining what sort of posts are giving you the highest ROI is one of the best ways to ensure your social media accounts experience growth.
It also has excellent social listening features, which allow you to monitor specific keywords throughout social media channels. This means you can check for times when your brand is mentioned and reply to customers even when they don't expect it.
From a back-end point of view, you're also able to look into which team members reply to posts and contribute the most to productivity. This helps to make the tool a great all-rounder for those brands that want to increase their social media presence effectively.
Keep reading for the full Sprout Social review to find out everything you need to know about this powerful tool.
Sprout Social's Main Features
As you might imagine, Sprout Social has a wide range of social media management tools for you to take advantage of. This means that whatever you need in terms of social media support, you'll be able to find help within your Sprout Social dashboard.
Some of Sprout Social's most useful features include:
Smart Inbox. Check which customers have replied to you and know whether one of your team members has replied or if it is something that still needs a response.
Keyword Monitoring. Check for brand mentions across a variety of social media channels. Also, check for mentions of related keywords so you can reply and promote your brand when appropriate.
View Contacts. The social CRM tools allow you to access customer records, conversation history, and anything to do with the customer to ensure everything is as seamless as possible.
Advert Comment Moderation. Check for comments on any paid adverts to ensure that there is nothing negative or needs a response.
Productivity Reporting. Check on team members, which responses have been sent, and how productive each team member is.
Plan and Schedule Content. Make use of Sprout Social's social media scheduling tools to plan and schedule content in advance. Set up collaborative content and queue content, as well as leave the content as drafts for other team members to review before posts go live.
Image Editor. Add text, optimize images, and even add filters to ensure your visuals are always top quality.
Now, let's take a closer look at some of the key functions of Sprout Social and how they work.
Publishing and Scheduling
One of the most important things for growing a social media channel is to have consistent, quality posts to meet the needs of all of your customers. This means you may want to schedule posts at different time zones to the one you're in.
Not posting at weekends or late at night means you miss out on significant social media growth, so this is definitely something to be avoided.
By taking advantage of Sprout Social's scheduling tool, you can create posts in advance and schedule them to go live throughout the day.
You can also easily see an overview of your upcoming posts in Sprout Social's calendar. This ensures that any gaps are filled and enables you to move content to a different day if that is more appropriate.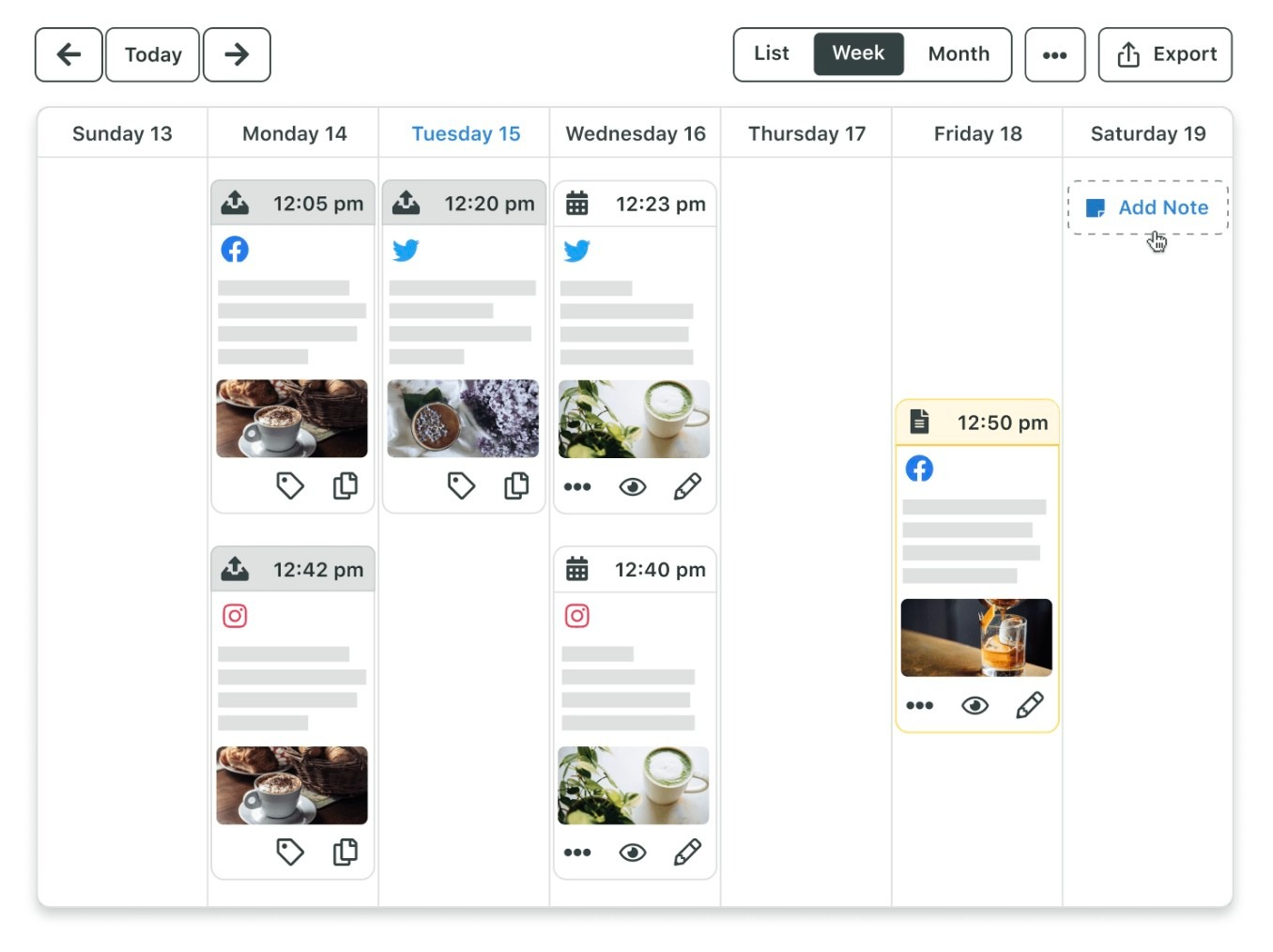 When scheduling content, you can take advantage of the available multimedia assets and add product tags or external links quickly and easily.
Their tool even lets you look at the optimal times to schedule the content for, helping to ensure that you always reach the biggest audience size possible. 
Engagement
It's all well and good putting content out there throughout the day, but are the right people seeing what you have to say? Sprout Social has a range of engagement tools available.
This allows you to monitor which posts are getting the most traction and what your followers are enjoying seeing on their newsfeeds. You can easily see which posts have had less engagement, so you can tweak future content to avoid this where possible. 
Social Listening
When managing social media for a brand, one of the easiest things to do is see where you have been tagged and respond. This is when people have actively reached out to you and your brand, so it makes sense to formulate a reply. However, social listening allows you to step up your game in this area.
Social listening allows you to pay attention to what people are saying to do with your industry and/or niche and reply — even when they have not directly mentioned you.
Social listening allows you to monitor multiple social media platforms for mentions of the problem your product solves. It allows you to reply to their concern and offer a solution – great for growing your following by showing you're a brand that goes above and beyond for their customers. 
Analytics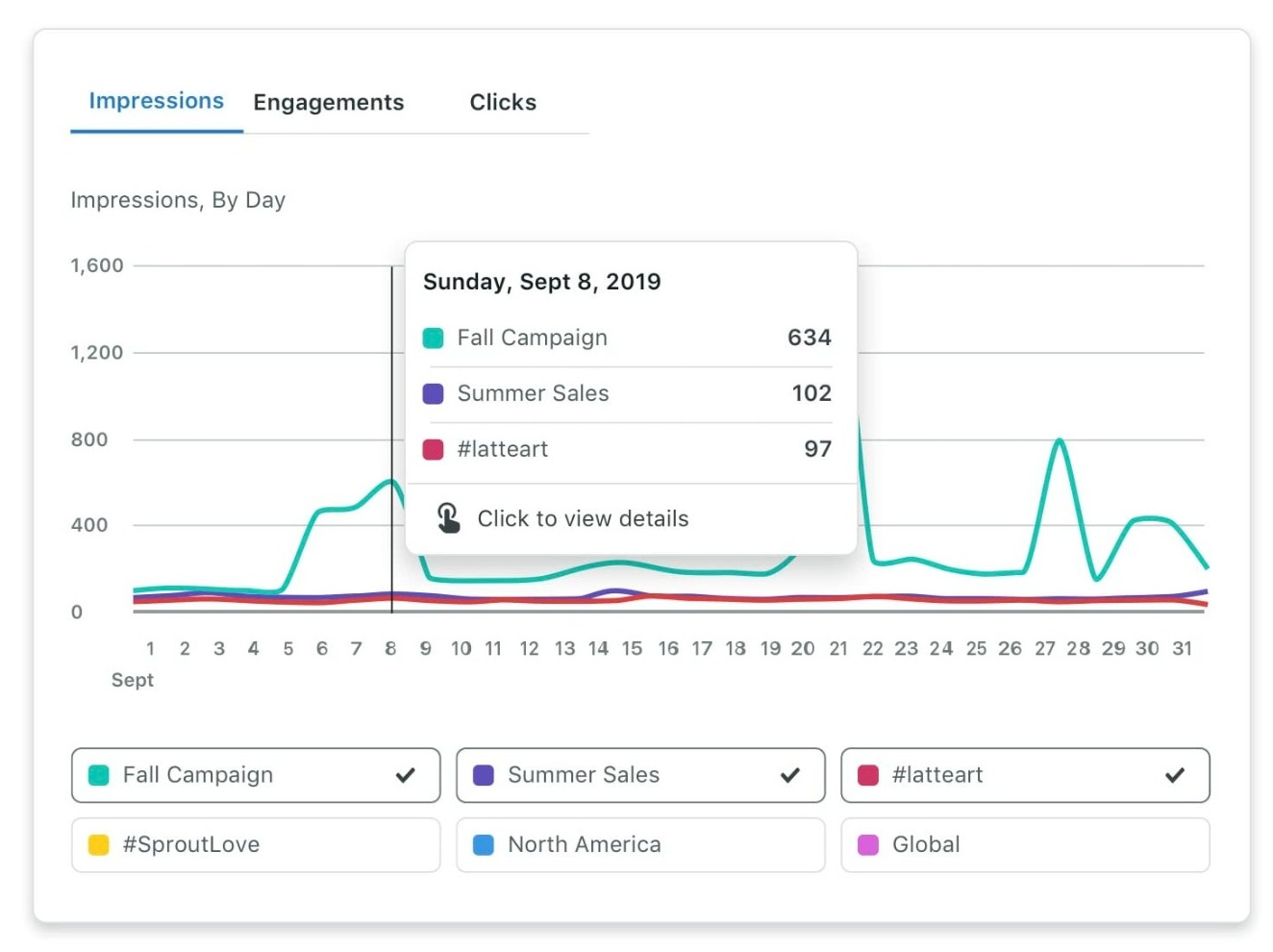 Knowing how your social media channels are performing is essential, especially if you're looking to monitor growth and what impact this has on things such as sales.
Sprout Social has a built-in analytics tool that you can easily access from your dashboard. This allows you to see all of your social media profiles in one location.
From here, you can check things such as how many views your profiles are getting and easily see what impact any posts you are putting out there may be having. 
Integrations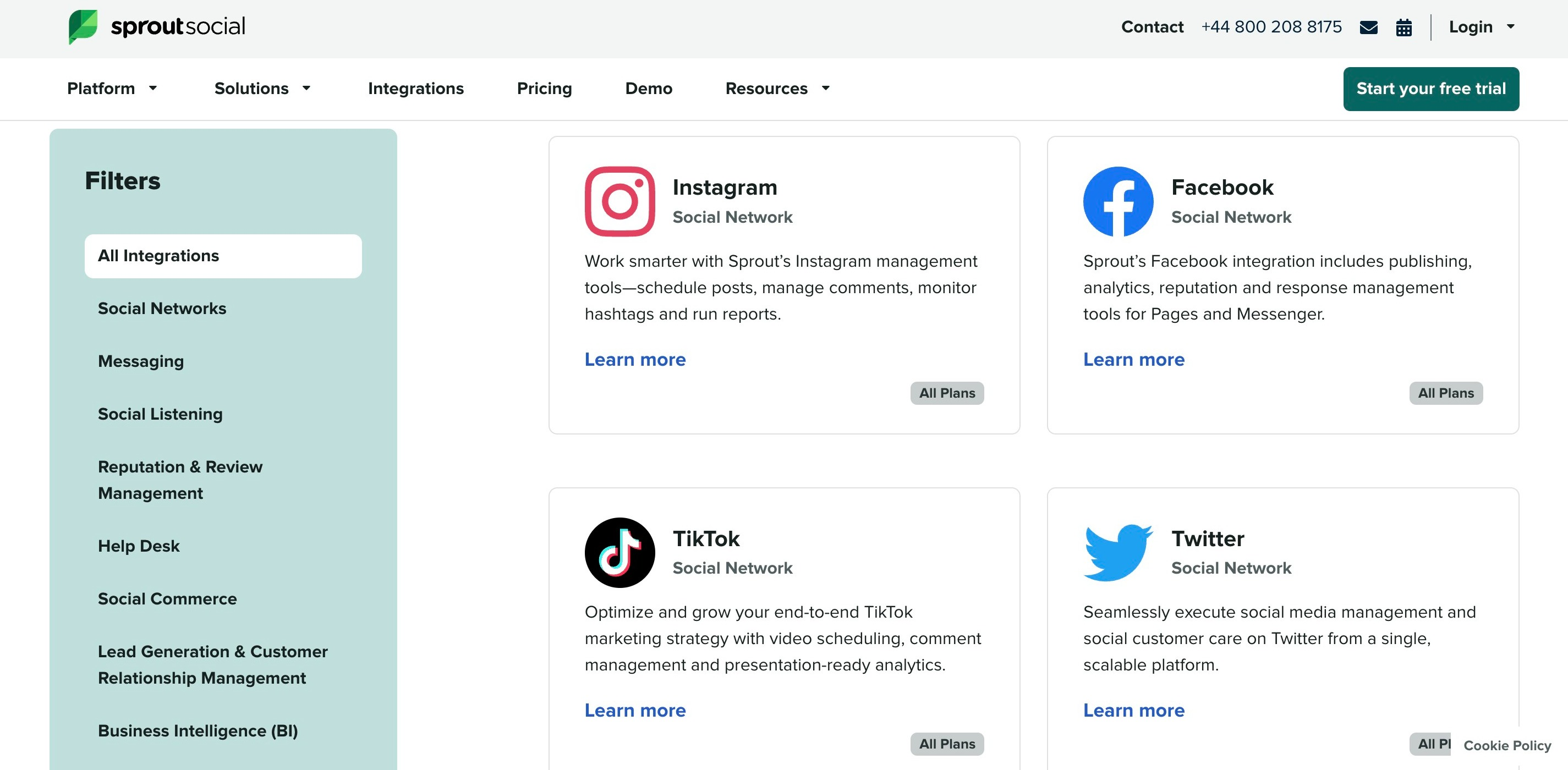 Although Sprout Social has a massive range of features for you to be able to take advantage of, it is never going to be possible for one tool to do it all.
However, they have ensured that they integrate with some other leading platforms. This gives you the best of both worlds.
It integrates with most major social media platforms, so posting, scheduling, and even managing comments is made as easy as possible.
You can also integrate with tools such as Bit.ly and Canva to help ensure that creating your social media content is as seamless as possible. You can also easily integrate with most Google platforms, including Google My Business and Google Play Store. 
Sprout Social Review: Ease of Use
You will be pleased to know that Sprout Social is refreshingly user-friendly. The interface is intuitive and easy to navigate, and you will find pretty much everything you need in the main dashboard.
All of the functions have been well thought out. This means that things like pulling analytics reports from multiple social media platforms can be done with the click of a button.
Sprout Social Reviews
In general, Sprout Social's reviews are overwhelmingly good. It has an impressive 4.4 out of 5 stars on G2 and 8.1 out of 10 on TrustRadius.
While most users rave about how great Sprout Social is for large teams and agencies, quite a few recent reviews state their customer service has gone downhill.
This appears to be largely due to their auto-renew policy. Other poor reviews mention their 12-month contracts that are difficult to downgrade or get out of if your circumstances change.
Sprout Social Review: The Pros and Cons
Free 30-day trial before you need to commit to making a payment
Dashboard is easy to understand and find what you need
Smart inbox means your messages across all social media platforms are easy to find
Tools available to help you create great posts
Automated customer service tools available
It's quite expensive
The basic plan only allows you to connect 5 social media profiles
Customer service can be slow to respond
Sprout Social Pricing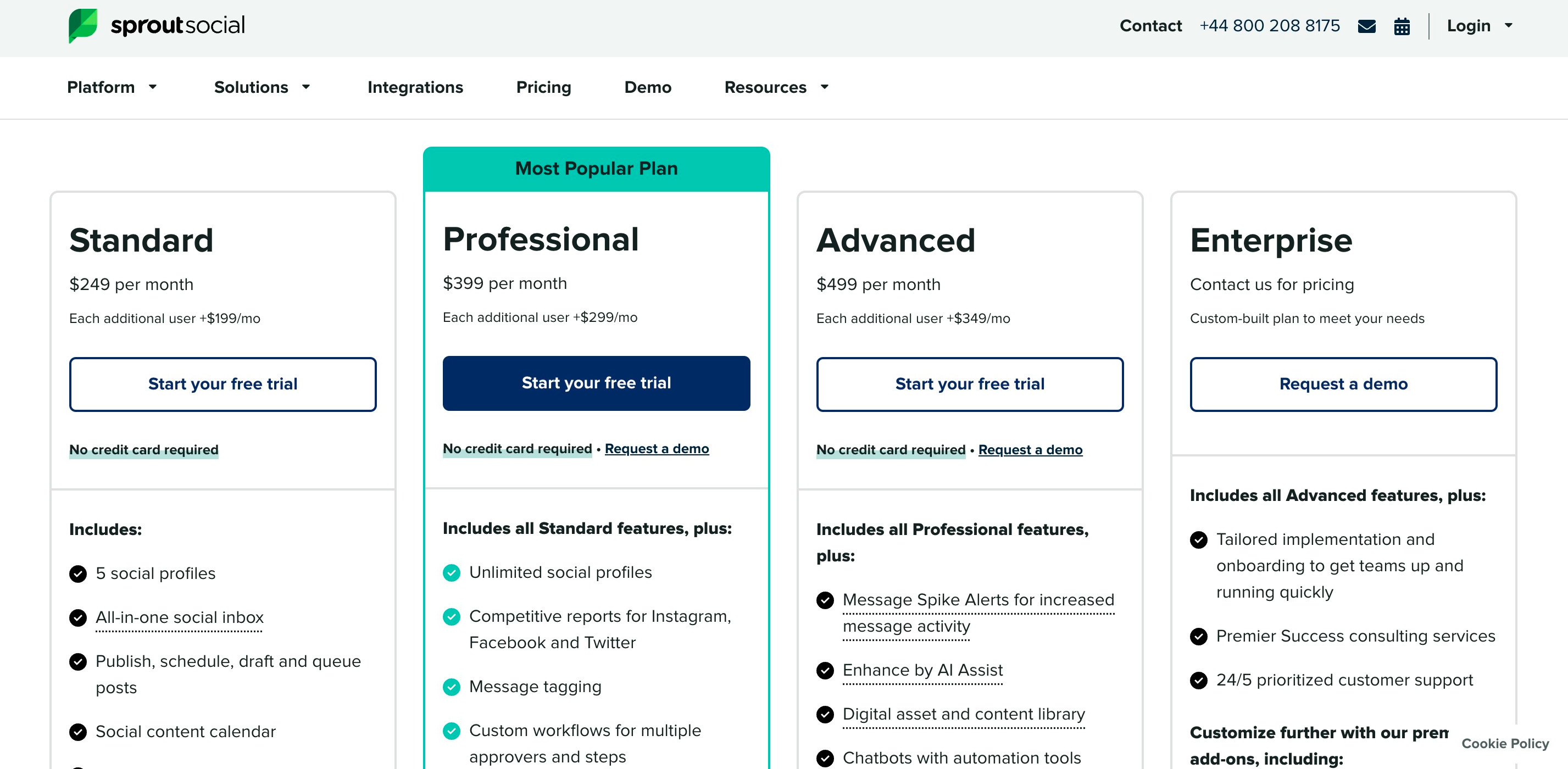 The pricing is based on four separate plans: Standard, Professional, Advanced, and Enterprise.
The initial three plans are offered with a free 30-day trial. The final Enterprise plan is offered with a free demo on request.
Standard Plan
Monthly costs start at $249 for the Standard plan, with additional users priced at $199. This provides:
5 individual social profiles
Social inbox provides an inclusive solution for your various social media accounts.
Draft, schedule, or queue posts before publication
Social media content calendar
Review features for keywords, management Profiles, and locations
CRM tools and tasking
Reporting for groups, individual profiles, and single posts
Boost posts on Facebook with paid promotions.
AI Assist suggestion facility
Android and iOS mobile apps.
Professional Plan
Monthly costs for the Professional plan are $399, with additional users charged at $299. This plan takes the Standard plan features and adds the following:
Unlimited social profiles
Message tagging
Competitive social media reports for Facebook, Instagram and Twitter
Custom workflows to cover multiple approvers and process steps
Scheduling facilities to enable the perfect send times
Report facilities for Response Rate and Time Analysis
Trend analysis provisions for your hashtags and keywords on Twitter
Paid social reporting for Instagram, Twitter, Facebook and LinkedIn
Integrations covering CRM, Social Commerce, and the Helpdesk.
Advanced Plan
The monthly costs for the Advanced plan are $499, with additional user costs of $349. This plan offers all that the lower plans offer and adds the following:
Message volume alerts to spot increased interaction
Content and digital assets library
Chatbots featured with automation facilities.
Sentiment offered with both the Smart Inbox and Reviews
Automated link tracking
Saved reply facility
Inbox rule builder for automated actions
NPS and CSAT survey facilities
External approvals.
Enterprise plan costs are available by contacting Sprout Social. The plan encompasses the features of all the lower plans and adds the following:
Onboarding and tailored implementation for a fast setup or transition.
Premier Success provides consulting services as needed.
Prioritized 24-hour customer support is provided for a 5-day week.
Premium add-ons offered include:
Social Listening feature for researching new trends, influencers, and information as it happens.
Premium Analytics to give you information on all your social media channels and accounts.
Employee Advocacy features to maximize your natural catchment.
The Verdict: Is Sprout Social Worth The Money?
Overall, yes! Sprout Social is worth the money.
Although it comes with a high price tag, Sprout Social offers good value to large teams and agencies looking to manage multiple marketing campaigns across various social media platforms.
Its advanced reporting features and built-in CRM make it easy for multiple team members to collaborate effectively using automated processes that can be customized to your teams and business type.
If you're unsure whether Sprout Social is right for your team, you can use the 30-day free trial to test the waters before committing to a paid plan.
Sprout Social Alternatives
If you're still undecided after reading this Sprout Social review, don't worry! There are some decent alternatives.
For freelancers and small businesses, Sprout Social's high price tag might just not be viable. Here are some great Sprout Social alternatives that are a little more pocket-friendly.
Social Pilot
Social Pilot is a fantastic alternative to Sprout Social if you're on a tighter budget. It offers all of the features you would expect from a social media management tool and has robust reporting features.
Best of all, prices start from $25.50/month.
---
Sendible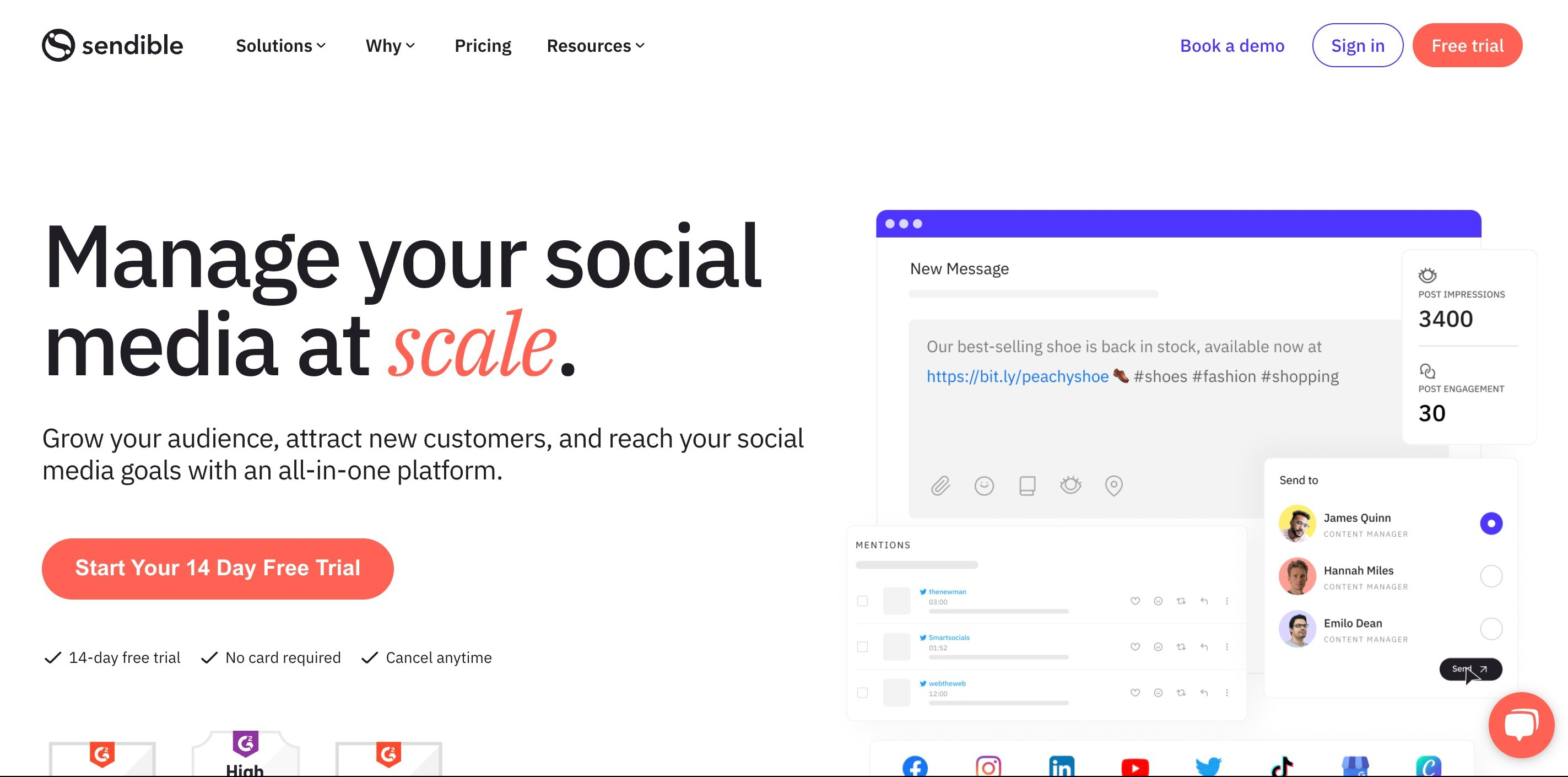 Sendible allows you to grow your audience and reach your social media goals via its all-in-one platform. With prices starting at $29/month, it is an affordable alternative to Sprout Social for freelancers and small businesses.
---
Buffer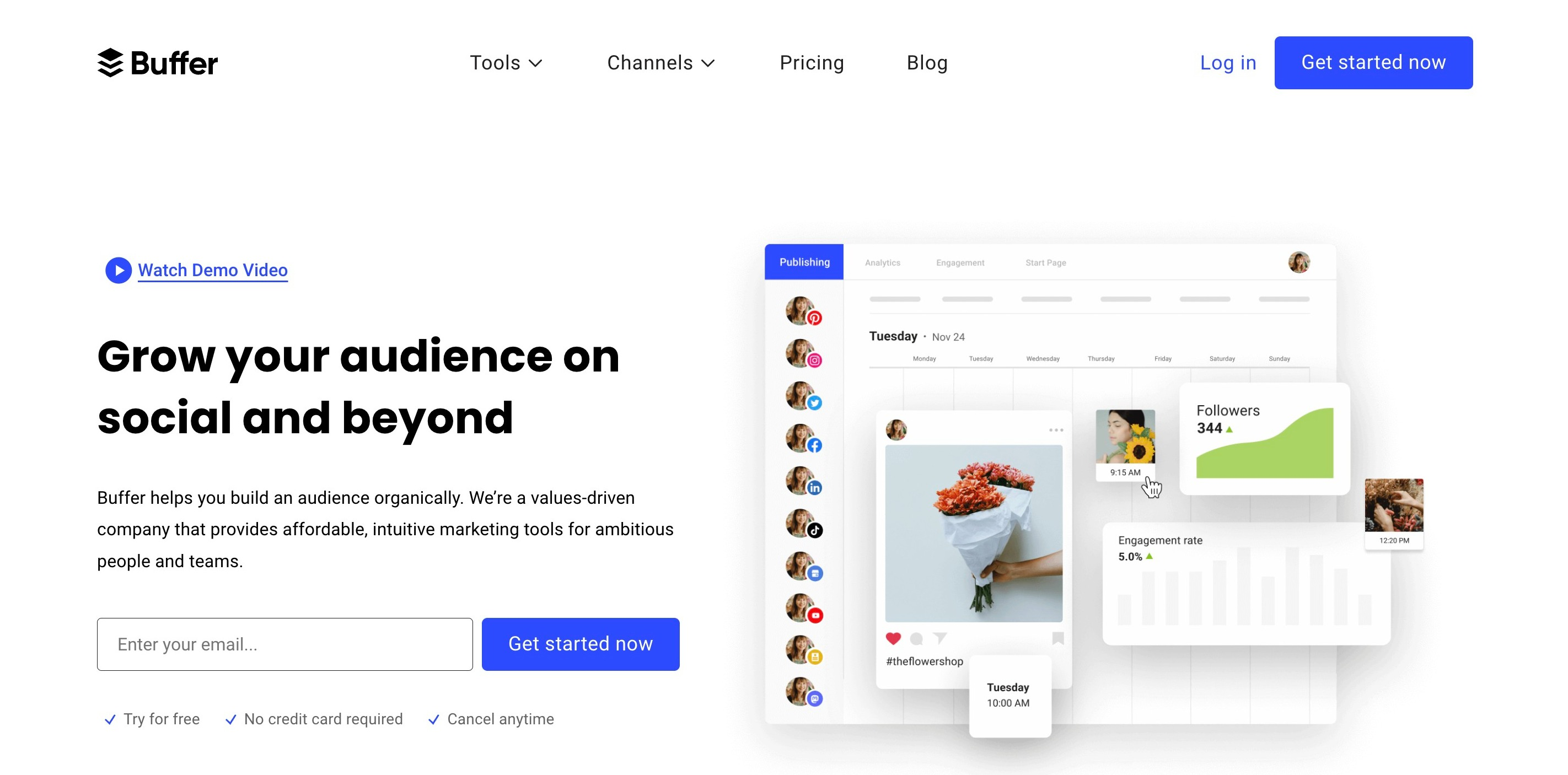 Buffer is widely considered one of the best digital marketing apps for small businesses. It offers a simple-to-use platform that can offer smaller users a viable alternative to Sprout Social.
This all-in-one tool integrates with top social media platforms, allowing you to grow your social media presence and analyze your results organically. With a free plan available and paid plans starting from just $6 per month, this is one of the more cost-effective solutions for managing your online presence.
---