Are you tired of trying to find micro-influencers for your marketing campaigns? If so, this Social Cat review is just what you've been looking for!
Social Cat is a platform that helps brands connect with influencers who align with their niche and are looking to work on paid social media campaigns.
It calls itself:
"The Tinder for Brands and Creators."
Influencer marketing is an excellent way to increase brand awareness, gain credibility and trust, and boost sales and revenue.
Plus, you won't have to worry about ad blockers and can enjoy knowing that your campaign will get seen by a highly engaged audience.
Sound good? Ok, here's an overview of what you'll learn about Social Cat:
Who Social Cat is right for?
Social Cat features
How to use Social Cat
Pricing
What people are saying
Social Cat alternatives
Is it worth your money?
In a hurry? Try out Social Cat for 7 days FREE right now.
Social Cat review

Ease of Use

Features

Customer Service

Price
Summary
Social Cat is a platform that connects brands with micro-influencers to work on Instagram and TikTok marketing campaigns. It has one centralized dashboard so you can keep all communications and campaign analytics in one place, and with over 25,000 creators using the site, you should never run out of influencers to market your products. Try it out for free for 7 days.
Pros
Simple and fast to set up
Free 7-day trial
Daily email digest with interested influencers
Central dashboard to track campaign success
Message influencers inside the platform
Affordable pricing and can cancel anytime
Retain ownership rights of influencer content
Over 25,000 creators to choose from
All creators are manually vetted for quality
Start affordably with gifted collaborations
Cons
Only available in limited countries (UK, US, Australia and New Zealand)
Influencers are only currently available from TikTok and Instagram
Social Cat Review: How Does it Work?
Social Cat is mainly aimed at small businesses and micro-influencers. Currently, it's available for use for those living in the UK, USA, Australia and New Zealand.
It's simple to use. To start, you need to register as a brand or creator.
In this Social Cat review, we'll focus primarily on how it works for brands and small businesses (companies looking for influencers).
To find relevant micro-influencers, you need to:
Set up an account. Sign up for free in less than 3 minutes! Give details about your brand, products, where you're based, and the type of micro-influencers you'd like to collaborate with.
Social Cat matches your brand with micro-influencers. Your brand will be matched with any matches from a database of over 25,000 influencers. Any suitable candidates are emailed to you.
Influencers like your brand. Creators are sent a daily digest of brands they might be interested in. If they believe your products fit their style and social feed, they can reach out to you and show an interest.
You approve creators who are a fit. A list of interested influencers is emailed to you daily. If you also like them, you can discuss the details of a possible campaign through the Social Cat messaging system.
Who Should Use Social Cat?
Social Cat is a platform where small businesses and influencers can connect.
Social Cat for Brands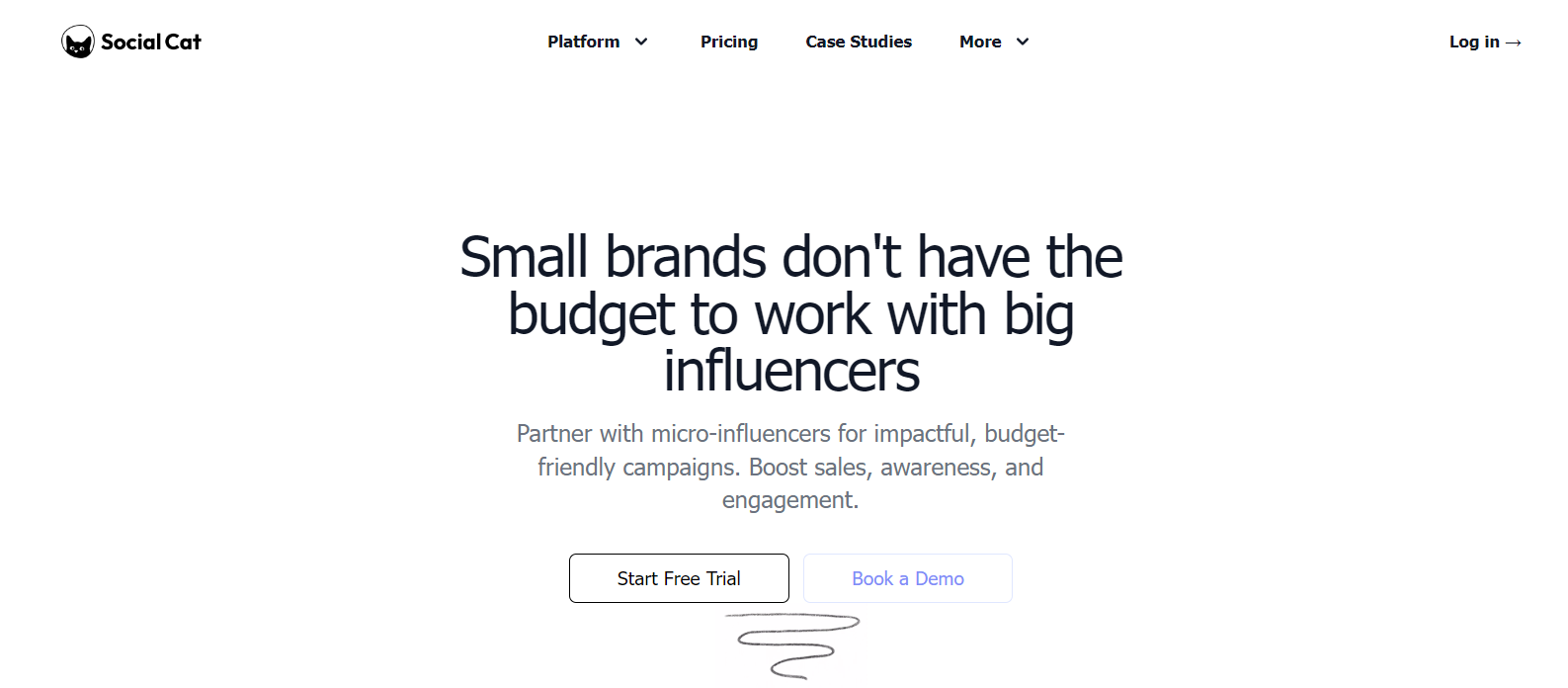 Social Cat is a wonderful platform for small business owners to ramp up their marketing efforts.
With the help of user-generated content from micro-influencers, you can promote your products and services at an affordable cost. The rise of ugc platforms shows that people are increasingly trusting non-celebrity influencers for product recommendations.
And, statistics show that micro influencers' small but dedicated following gets a more consistent level of engagement and ROI than mega and macro influencers.
Plus, by tapping into the huge Social Cat database of influencers, you'll save hours of outreach time that can be better spent somewhere else.
Social Cat for Creators
If you're a creator, Social Cat is a great place to make money online as a successful influencer.
On the platform, you can search through the database of small businesses and brands to find ones that align with your content.
Get free products and cash in exchange for reviews of new products or services and build lasting relationships with new brands in the early days of their journey.
Main Social Cat Features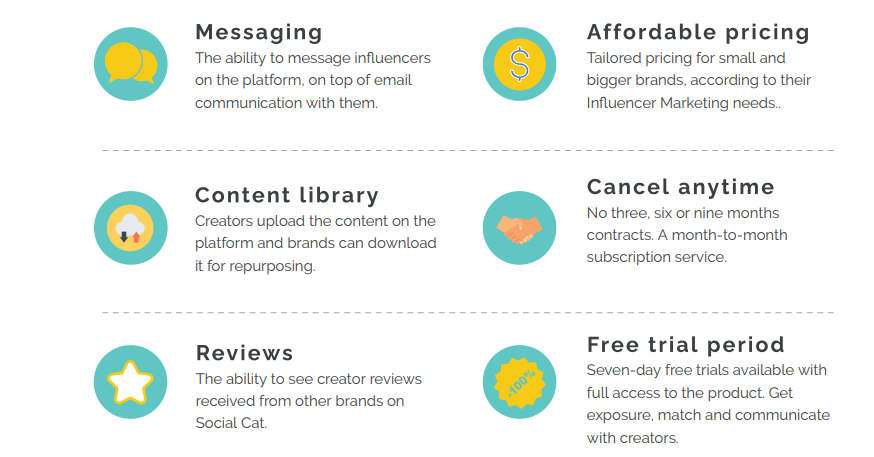 Let's take a look at the main Social Cat features so you can decide if it's right for your small brand.
Targeted Matchmaking
The Social Cat platform will save you hours of searching and emailing by looking at your profile and matching you with relevant creators instantly.
You can sit back and relax while targeted influencer outreach is done for you!
With over 25,000 creators on their books across multiple social media channels and niches, you can be sure to find the right ones for your marketing campaigns.
The most popular influencer niches on Social Cat include:
Wellness
Fashion
Parenting
Lifestyle
Travel
Beauty
Skincare
Jewelry
Fitness
Food
Pets
Home decor

Influencers Manually Vetted
Not just any micro-influencer is allowed onto the Social Cat platform.
Each one is manually vetted to ensure they produce quality content and have an aesthetically pleasing feed.
Other things that are judged include authentic engagement levels, post caption quality, whether they have a clear and concise bio, and the success rate of any other brand collaborations completed.
One important rule for creators is:
Must have a 3:1 ratio on the follower number vs. accounts followed. So, if they have 3,000 followers, they must be following no more than 1,000 accounts
Ownership Rights of Content
After paying a micro-influencer to promote your product, you have brand ownership rights to use this content again in ads or other types of marketing, even if your relationship with this creator ends.
See Previous Influencer Campaigns
Before working with a Social Cat micro-influencer, you can check their previous campaigns.
This helps to ensure that the content they produce will align with your brand and target audience.
Gifted Collaborations
Small brands and start-ups may not have a big budget for marketing just yet.
This is where "gifted collaborations" are helpful, allowing you to enlist micro-influencers to promote your products in exchange for a freebie.
Daily Digest Emails
Receive a daily email of any influencers that are suitable to promote your products and services.
This allows you to connect with influencers quickly without the hassle of manually searching through social media yourself.
Collaborative Dashboard
Keep an eye on all your collaboration efforts in one central dashboard.
No need to flick about your social media accounts and emails, wondering what's going on!
Track campaign success rates, message communications with micro-influencers, and constantly have access to new influencers.
How to Use Social Cat?
Here's what you need to do after creating a Social Cat account:
Select a Target Audience
Firstly, you need to select your desired target audience for your campaign.
Information requested includes gender and the age range your target audience falls into.
Choose Relevant Topics
Now, you need to choose the right topics that align with your brand niche.
There are many options, with a few of the most popular ones being fashion, fitness, health, family, baby, DIY, entertainment and more.
Detail Your Business Location
Here, you'll be asked to give details of where your business is located.
This is only worth doing if you want to be matched with local creators. This selection is optional, and you can opt to miss this step if you want to find influencers in different countries.
Select Your Preferred Marketing Channels
Here, you can select whether you want to be matched with TikTok or Instagram creators, or both.
Choose Your Target Creators
This section asks you which type of creators you'd like to be matched with.
There are options in multiple niches, such as:
Travel
Beauty
Skincare
Makeup
Fashion
Hair
Health
Lifestyle
Fitness
Jewelry
Give Collaboration Details
Here, you're asked about what type of collaborations you're looking for. You can select one or all of the options, which include:
Instagram reels
Instagram stories
Photo grid
Video grid
TikTok video
Select Desired Follower Count for Influencers
Next, select the lowest number of followers you want creators to have that you work with. The main options include:
Above 1,000 followers
Needs at least 3,000 followers
Only over 5,000 followers
Describe Your Products and Campaign Goals
Describe the product in as much detail as you can that you want micro-influencers to promote for you.
It's also recommended to include pricing details here so creators have a better idea of what they're dealing with.
Next, you'll be given three campaign goal options to choose from:
User-generated content
Awareness
Sales
Detail How You'd Like To Offer Compensation
How will you compensate influencers? You can choose one option or all three if you're open to the influencer deciding.
A few options include:
Offering a fixed fee
Commission on each sale
Send a free product gift
Choose a Pricing Plan
Finally, you need to select the pricing plan. Whichever one you choose gets you a 7-day FREE trial so you can get started risk-free.
Social Cat Review: Pricing
Social Cat offers a range of affordable pricing options to suit different budgets.
Plus, you can save money by opting to pay yearly and get 2 months free.
The main Social Cat pricing plans look like this:
Startup. $49/month, up to 100 prospects
Growth. $99/month up to 200 prospects
Pro. $249/month, up to 500 prospects
Try out Social Cat for 7 days FREE right now.
What Are People Saying About Social Cat?
Social Cat has a 4.5-star excellent rating on TrustPilot over 129 reviews.
Many of the reviews comment on how easy the platform makes it to connect with creators quickly who relate to their niche.
Best Social Cat Alternatives
Not sold on Social Cat just yet? Take a look at the best alternatives:
Ninja Outreach
Ninja Outreach is an influencer marketing platform where you can find Instagram and YouTube influencers from their huge database.
You can find social media influencers in just about any location and any niche by typing in your keywords and accessing millions of profiles.
The platform allows you to manage all your campaigns with built-in CRM, and you can organize your leads with filters and notes.
You can even save time copying and pasting and use their pro-link-building software to NEVER run out of qualified link-building leads.
Price: 7-day risk-free trial. Flex $389/month, Silver $589/month, Silver Plus $849/month. Save 60% by paying annually.
Try out Ninja Outreach for 7 days free right now.
Learn more in this in-depth Ninja Outreach review.
---
Upfluence
Upfluence is another platform that connects small brands with micro-influencers and celebrities that have different engagement rates, demographics, audience sizes, and more.
The influencer matching features will help you find creators that match with your customer base, and you can enjoy having all your communications and campaign analytics in one centralized dashboard.
Choose to reward influencers with free gifts or payments, and you can even automate your outreach workflow by leveraging the integrated ChatGPT solution.
Price: Not stated on their website. Contact Upfluence for pricing details.
Learn more about how to use ChatGPT for social media marketing here.
Social Cat Review: Is it Worth Your Money?
At the end of this Social Cat review, you can see that it's a great site for small brands and micro-influencers to connect and build targeted influencer marketing campaigns.
It's got a simple user interface, can be set up in under 3 minutes, and you have access to thousands of micro-influencers in multiple niches at your fingertips.
If you're seeing little success trawling social media yourself to find influencers and you want to take back your time, Social Cat is well worth using.
Another bit of good news is that you can try it out for 7 days FREE to test the waters and see if there are any influencers that look a good fit for your brand.
Oh, and read more about collaborating with influencers if this is all new to you!