Product Name: Semrush or LTP
Summary
Long Tail Pro is more about doing keyword research and finding long tail keywords for your business. And Semrush is a complete SEO tool you can use to spy on your competitors.
If you are confused between choosing Semrush vs Long Tail Pro, you are in the right place. Or if you are looking for a better Long Tail Pro alternative, you are also in the right place.
Do you want more search engine traffic? Start using proper SEO tools then.
Simple answer, right?
But that's true. SEO tools help you do so many things including keyword research, content analysis, competitor research, backlink analysis and so on. They save you time. That's why you need to pick the RIGHT SEO tools.
Both Semrush and Long Tail Pro are great tools for bloggers and agencies. If you're looking for free trials, check out the following links.
Click to Try Semrush Pro Account Free for 14 Days (Worth $129.95)
Grab Semrush Guru 14 Days Free Trial (Worth $249.95)
It's a basic fact that to increase your sales and income online, you need to bring more visitors from search engines to your sites.
Search traffic is not only free but it's one of the highest quality traffic sources that send you a massive "target audience" to your sites if done right.
But the problem is most bloggers don't know how to find the right keywords to increase their traffic.
And even when you find few keyword research tools such as Long Tail Pro, Semrush, Hit Tail, Moz etc, you will again get confused which one to use because you can't spend hundreds of dollars on buying every SEO tool.
That's the reason why I have decided to make a detailed review post of SemRush and LongTailPro. Over the last couple of years, I have used almost every SEO tool so I know better about the tools I am going to cover.
If you are confused between choosing Long Tail Pro and Semrush, your search ends here. By the end of this post, you will find out which tool is perfect for your blogging and SEO needs.
Are you ready? Let's dive into the details of the best Long Tail Pro alternative and also let's compare both the high performing keyword research tools.
Semrush vs Long Tail Pro Review: An Unbiased Comparison
Semrush is a complete SEO toolset that helps you with competitor analysis, keyword research, site audits and so on and costs you $129.95 per month whereas Long Tail Pro gives you competitor keyword analysis, long tail keyword ideas etc which costs you $59.99 per month for starter plan.
Firstly, let us start with the basic question – why should you use premium keyword research tools when there are free tools like Keyword Planner, Keyword.io etc?
Let me give you a simple explanation of this. Then, we'll talk about the Semrush vs Long Tail Pro review.
Here are 3 reasons to pick "paid keyword research tools" to come up with better keyword ideas and search terms.
Most internet marketers struggle to increase their search traffic because they don't know how to get started with search engine optimization. Your SEO strategy should begin with one thing: "keyword research".
Targeting the right keywords is the reason why few blogs get massive search traffic even if they don't update their blogs frequently. And it's the same reason why most bloggers fail to get search traffic even if they are constantly posting new stuff on their blogs.
Another biggest mistake most people make while doing keyword research is that they use the main keyword phrase into Google's Keyword Planner and make a list of few keywords and then start using them on their blog posts.
It won't work again. Why?
Literally, thousands of other bloggers and marketers are also doing the same: they are also coming up with the similar keywords you are trying to rank for.
So no matter how low competitive your keywords are, it's still hard to rank for those because everyone else is using the same keyword research tool.
To get over this problem, you need to do two things.
Hire an SEO expert who is guaranteed to bring you results (normally charges as low as $5000 per month!)
Find and start using few "incredible keyword research tools" (that cost you around $120 or so)
So what's the better option?
If you have an unlimited budget like Apple, Facebook, Amazon etc, you can hire top SEO experts to increase your search results. But it's not the same case with 99.9% of the bloggers – they all have limited budgets and most of them can't spend more than a couple of hundred dollars.
If you are one among them, I'm going to show you two such amazing keyword research tools to help you find "hidden keywords" that boost your overall search traffic.
Here's where keyword research tools like Semrush, Long Tail Pro etc come into play. They are not only widely used but they are created to help you uncover the "less used keywords".
---
Why should you start using Semrush?
Most SEO and Blogging experts recommend Semrush tool. I've been using Semrush tool since 2015. Most of my SEO related needs are fulfilled by this tool only.
It is really such an incredible tool and essential for anyone who wants to quickly boost their search traffic.
Semrush is basically a top notch search engine marketing tool proven to work. This tool has several databases depending upon the countries you target.
They update the data on these databases too often (like every day or every other day) to give you accurate information about your competitors or the keywords you are looking for.
If you want to find and overtake your competitors in search results, Semrush is the PERFECT tool for you. With Semrush, you will get in-depth information about various keyword phrases such as CPC distribution, search traffic share to URLs and keyword difficulty.
Start your 14 day free trial of Semrush Pro worth $129.95 Now
---
Benefits of using Semrush:
Find any website's traffic (it's really accurate, I use it regularly)
Extremely useful for competitive analysis
Check and analyse the backlinks of any website
Easily perform keyword research
Create a site audit for your sites to fix all the website issues
Check keyword positions
Analyse up to 5 competitors at once (for all the keywords)
---
Disadvantages of Semrush tool:
Not much, except that you have to pay around $129 each month. But that's worth every single penny because I've been using Semrush for a long time now and the results I get is what making me to stick to this tool.
I was able to increase my search traffic by over 5,000 visitors just within 14 days using this tool. That tells you indirectly about the importance of using this tool to increase your overall search traffic REALLY quickly.
The biggest advantage of using Semrush over Long Tail Pro
If you are wondering why you should go for Semrush and the better Long Tail Pro alternative, let me explain you.
Semrush is an advanced tool to crush your competitors in EVERY regard. You can not only spy on your competitor's top keywords but you can also use it to check backlinks, estimate traffic of other sites, perform site audit, fix your website issues etc.
All in all, Semrush is an all rounder SEO tool that's suitable for all kinds of bloggers and marketers to grow their traffic and more importantly sales.
Whereas Long Tail Pro is only made for finding long tail keywords. You can't use this tool to check others traffic, spy on others keywords, analyse backlinks like you do with Semrush.
Start your 14 day free trial of Semrush
---
Here's how to do keyword research with Semrush
Once you logged on to the Semrush dashboard, you will find "keyword research" tab at the left side. Pick any database of your choice and enter a keyword you want to rank for.
And that's it! Semrush is going to give you a detailed list of all the keyword ideas along with the monthly search volume.
Including the CPC paid search results and the search trend for the keywords you enter.
It also offers an amazing tool called Keyword Magic Tool for keyword research;
As you can see above, from relevant keywords to search volume to keyword trend and keyword difficulty, you can find almost every metric.
You can also use their regular keyword research tool to find many keyword suggestions including question based keywords.
Have a look;
Keyword research is just the ONE of the many things that's offered by Semrush. You can also pretty much do everything from checking others traffic, finding backlinks, knowing keyword positions etc. You can find a detailed review of Semrush here.
---
Step by step tutorial to grab Semrush Pro for free (worth $129.95)
Step 1: Click this EXCLUSIVE link to grab your 14 days Semrush account for free (which is worth $129.95). Click on the "Try It Free" button to continue.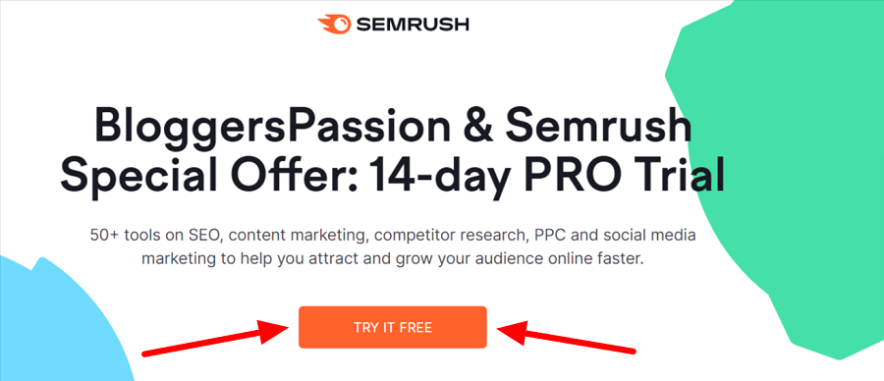 You'll now have to register by entering your email and any password of your choice.
Step 2: You will be now redirected to the page that looks like something like this.
Step 3: Enter your details (email, password and billing details) to grab your Semrush Pro account absolutely free for next 14 days.
Once you click on the "Place The Order" button, it will create your Semrush account without charging you anything.
---
Step by step tutorial to grab Semrush Guru for free (worth $249.95)
Do you want to know how to get Semrush Guru account free for next 14 days which is worth $249.95? Then, follow these steps.
Step 1: Click here to avail Guru account from Semrush and you'll be redirected to the following page.
Step 2: Now, create an account and then enter your billing information such as credit card number and expiry date to subscribe to Guru plan.
Step 3: Once you're done with it, you'll be charged $0 to your credit card and you'll be given a 14 days free trial to their Guru account.
Who should use Semrush Guru account?
In case if you're curious to know why and who should use Semrush Guru account, here are few reasons.
Access to historical data: Want to get access to all the Semrush database archives which go back as far as January 2012? Semrush Guru account gives access to all that historical data including the following features.
Create up to 15 projects
30,000 results per report (which means 5000 reports per day)
1500 keywords (which are updated daily) to track positions
300,000 pages to crawl per month
So if you're any one of the following, Semrush Guru is for you.
SEO agency
SEO expert who's dealing with lots of clients
Someone who wants to get historical data and extended features and limits of Semrush pro account
So what are you waiting for?
Grab Semrush Guru 14 Days Free Trial (worth $249.95)
---
Why should you use Long Tail Pro?
Tired of using Google's Keyword Planner? I know, keyword planner gives you nothing but the same keywords everyone else is using. So even if you find low competitive keywords, you will still have to compete with thousands of other bloggers who are using the same free tool.
If you are finding a better alternative to it, Long Tail Pro should be your choice. It is one of the BEST keyword research tools out there that helps you find really profitable keywords that are less competitive. Meaning, it's much easier to rank by using those keywords.
---
Pros of Long Tail Pro:
You can easily identify unlimited keyword opportunities
Great alternative to tools like Market Samurai
Gives you a ton of keyword suggestions that are helpful for all kinds of markets
You can test niche viability
Focus on profitable niches (it works for any niche)
You can create targeted campaigns to boost your traffic
Search multiple keywords all at once
Automatically find domain names
Generate up to 800 results for EVERY seed keyword you enter
Check rankings automatically on Google, Bing, Yahoo etc
You can get Long Tail Pro keyword research tool for just $59.99/month.
And a lot more features you can't find anywhere else!
---
Cons of Long Tail Pro:
Long Tail Pro is useful only for finding long tail keywords but it's a complete SEO toolkit like Semrush as you can't find any website traffic, won't be able to analyse backlinks or find your competitor's main keywords, perform site audits etc
Recommended: 10 best Semrush alternatives to try for your SEO needs in 2023
The biggest advantage of using Long Tail Pro over Semrush
Long Tail Pro gives you a great list of profitable long tail keywords by eliminating all the short tail keywords. This helps you greatly in increasing your overall search traffic by using keywords that REALLY work.
Whereas Semrush being an allrounder tool, it doesn't accurately give you a massive list of long tail keywords just as the way Long Tail Pro does.
Click here to get Long Tail Pro for just $59.99/month 
---
Using Long Tail Pro to find better keywords
Step 1: Enter a list of seed keywords. These can also be considered as head keywords (such as "iPhone XR", "car accessories" etc).
Step 2: Now, measure the keyword competitiveness.
As you can see above, LTP gives you a wide range of metrics like keyword competition, volume to measure the keyword competition.
Step 3: The key here is to pick those keywords with high CPC and low KC (keyword competition).
Make sure to include your primary keywords in your page titles, URL, image alt tags, meta description and 3 to 4 times in your posts to rank higher in Google search results for the keywords you are targeting.
Here are few powerful tips to harness the power of Semrush and Long Tail Pro:
Always find specific keywords i.e long tail keywords keywords with 4 or 5 words on it. For instance, "best sedan cars in India" which contains 5 words and usually a good low competitive long tail keyword that can help you boost your search traffic really quickly.
See what keywords your competitors are using to grow their overall search engine traffic. This is one of the easiest and proven ways to grow your traffic. Find their best performing keywords, make some changes and use them while creating new content for your blog.
Semrush is a robust tool which can help you do competitor analysis with ease. Even Long Tail Pro will help you do that.
Make use of "Related Searches" while doing keyword research with Long Tail Pro for seed keywords. It's one of the simplest ways to come up with lots of better keywords to increase your blog's traffic from search engines.
Other SEO Tools Worth Trying:
---
FAQs
What is SEO Semrush?
SEMush is an all-in-one marketing toolkit for digital professionals to grow their online business with the help of SEO, content marketing, PPC, social media, and competitive research.
How much is Semrush per month?
Semrush offers three different plans, Pro, Guru, and Business priced at $129.95, $249.95, $499.95 per month respectively.
What is Long Tail Pro?
Long Tail Pro is one of the best keyword research tools that helps you to identify long tail keywords in minutes to rank your pages high in Google SERP.
How much does Long Tail Pro cost?
Long Tail Pro has three different plans, Annual Starter for $59.99/month, Annual Pro $89.99/month, and Annual Agency for $299.99/month.
Is Long Tail Pro worth it?
Yes, Long Tail Pro is a powerful keyword research tool that is trusted by industry leaders.
Which is better: Semrush or Long Tail Pro?
Semrush is far better than the Long Tail Pro as it offers a huge range of services including Site Audit, domain to domain comparison, monthly search reports, keyword tracking, etc.
---
Conclusion about Semrush vs Long Tail Pro Review
Let me be honest with Semrush Vs Long Tail Pro review here: I used them both and I love them both. Although both are used by keyword research and competitor analysis, Semrush is clearly the better Long Tail Pro alternative because of its wide range of features such as Site Audit, domain to domain comparison, monthly search reports, keyword tracking etc.
Browse more SEO Tools:
They both are extremely efficient when it comes to finding profitable keywords including niche site. But they both are completely different tools, one serves you finding long tail keywords and the other is an all-rounder SEO tool that helps you compete with your competitors.
If you are only concerned about the keyword research, go for Long Tail Pro. You won't find a better alternative to it.
If you want an all rounder SEO tool that not only helps you find profitable keywords but also helps you estimate the traffic, analyze backlinks, find keyword positions, create site audits to fix your website issues and a whole bunch of things, Semrush is the ONLY option.
So what do you think? Which one among Semrush and Long Tail Pro you think is the BEST tool and did you find that Semrush is actually a better Long Tail Pro alternative? Let me know your thoughts in the comments and feel free to ask any questions that you have in mind before giving them a try.