Announcement: Semrush has limited its free trial duration from 30 days to 14 days as of May 17, 2023. This would apply to all new users.
Features
Ease of Use
Pricing
Customer Support
Customer Ratings
Are you looking for Semrush free trial? Whether you're looking for Semrush Pro or Guru free trials for 14 days, your search ends here.
Semrush is an all-in-one SEO toolkit that offers over 55 tools under one roof.
I am offering the Semrush trial of 14 days on both Pro (Worth $129.95) and Guru (Worth $249.95) plans.
In this post, you'll discover how to claim a free trial of Semrush Pro and Guru accounts. Plus, I will also show you how I was able to increase my website traffic using SEMRush.
How to Grab Semrush Free Trial: Claim Pro & Guru Accounts
How to Activate Semrush Pro 14 Days Free Trial Worth $129.95?
Follow these steps to get a Semrush pro trial account for 14 days.
Step 1: Click on this offer link (coupon code is already applied) to activate your 14 days Semrush free trial.
You'll land on our co-branding page;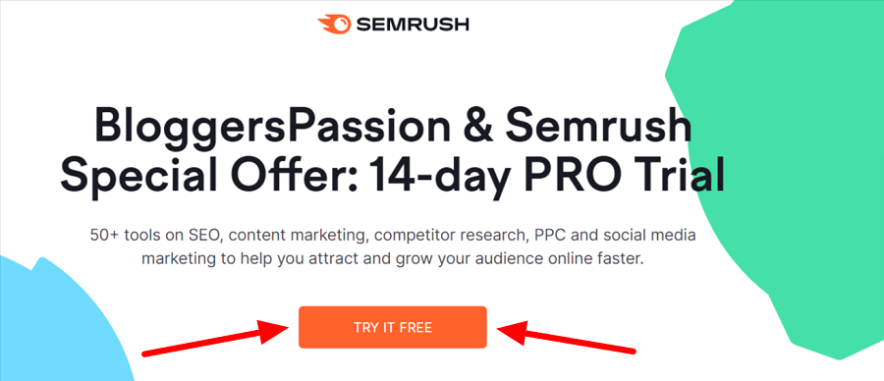 Click the "Try it Free" button to continue.
You'll now have to register by entering your email and any password. You can also register via Gmail.
Step 2: Once you enter your details, you will be now redirected to the page that looks like this, where you'll need to enter your billing details.
Step 3: Enter your details (email, password, and billing details) to grab your Semrush Pro account worth $120.95 free for the next 14 days, and start using the tool to boost your search engine rankings.
Once you click the "Place The Order" button, it will create your Semrush account without charging anything.
Looking for a GIF illustration to grab Semrush 14 days free trial? Here's it.
That's it! You now got Full Access to the Semrush Pro account for free for the next 14 days.
You are now ready to use Semrush's full features for the next 14 days, and if you are not happy with them, you can cancel your account at any time by sending an email to (email protected).
---
How to Activate Semrush Guru 14 Days Free Trial Worth $249.95?
Do you want to know how to get a Semrush Guru trial for free for the next 14 days, worth $249.95? Then, follow these steps.
Step 1: Click on this offer link to claim the Guru free trial from Semrush. Once on their site, click the "Try it Free" button.
Here's what it looks like;
Step 2: Then, you'll need to create an account.
Once you have entered an email and password (click on Agree to their terms and conditions) to create your account, you'll be taken to their payment page. It looks like this;
As you can see above, you'll be charged $0 and given a free 14 days trial to your Guru account.
Step 3: Enter your payment billing information to grab a Semrush Guru account free for 14 days after signing up.
That's it! You can cancel anytime and be charged $249.95 monthly if you continue using their Guru account.
---
How to get started with Semrush?
Once you sign up for the free trial, you can download this (FREE) Semrush Starter eBook or guide which introduces & helps you to move forward with Semrush. (No Signup is needed. The eBook is on the house.)
---
Semrush Pro vs Guru: Which Plan is More Suitable
The difference in a number of projects, keywords metrics & few features can be seen in Semrush plans. And these are the main factors on which your decision should be based.
| Features | Semrush Pro | Semrush Guru |
| --- | --- | --- |
| Projects | 5 | 15 |
| Results per report | 10,000 | 30,000 |
| Reports per day | 3,000 | 5,000 |
| Keywords to track | 500 | 1,500 |
| Pages to crawl | 100,000 | 300,000 |
| Monitoring | 50 Profiles | 100 Profiles |
| PDF reports | 5 | 20 |
| Historical Data (Jan 2012 – Now) | ✕ | ✓ |
| Content Marketing Platform | ✕ | ✓ |
| Keyword Cannibalization Report | ✕ | ✓ |
| Content Auditing (Pages) | ✕ | 20,000 |
| Plagiarism checks | ✕ | 5 Per month |
Quick note: Free cancellation before 14 days is applicable on both Semrush trial plans (No risk at all. Start today! )
Did you know you can always upgrade/downgrade your Semrush plan within 7 days? These 7 days will start counting when your 14 days free trial ends. And guess what, 100% refund is provided easily.
I have been using Semrush Guru since 2015, but you should first review both plans and then opt for the free trial. 
Have a look.
Semrush Pro Plan:
Semrush Pro trial is designed for small marketers, freelancers, medium sized blogs, or for those who have a limited budget.
Projects: 5
Results per report: 10,000
Reports per day: 3,000
Keywords to track: 500
Pages to Crawl: 100,000
Monitoring: 50 Profiles
Scheduled PDF Reports: 5
Following features are accessible in the Semrush Pro:
Organic search
Keyword research
Advertising research
Backlink analysis
Traffic Estimation (Any Site)
Keywords difficulty (KD) analysis
Domain vs Domain comparison
Keyword positions tracking
Site audits
Semrush Guru Plan:
Semrush Guru trial is surely the best option for those bloggers who have numerous sites (Projects) or SEO consultants with plenty of clients. 
I am using it for these additional features which are missing in the Pro plan:
Access to historical data (From Jan 2012 to now)
Content marketing tools (Very Powerful)
Keyword cannibalization report
And more…
Also, these are the updated metrics in the Guru Plan:
Projects: 15
Results per report: 30,000
Reports per day: 5,000
Keywords to track: 1,500
Pages to Crawl: 300,000
Monitoring: 100 Profiles
Scheduled PDF Reports: 20
Verdict:
Kicking off with Semrush with a Pro trial would be a wise decision because 9 out of 10 times a user requires an SEO tool to streamline these 4 tasks: Keyword research, Link Building tools, Competitor research, and Site audit. And the Pro trial has all of it. In a trial period of 14 days, you will get enough time to get used to the Semrush user interface and most of the features.
If you feel a need for content marketing features or access to historical data, then you can plan to upgrade your plan to Semrush Guru. Otherwise, the Pro plan has enough potential to satisfy your SEO requirements.
---
Semrush Pricing: Consider After Free Trial Ends
Semrush offers three pricing plans. You'll get an instant 17% off when you pay annually.
Click to Get 17% Instant Discount Now (With Annual Plans)
For more details, check out Semrush pricing plans, where you'll find which pricing plan best suits you.
---
Making the Most of Your Semrush Free Trial
During your Semrush free trial, make every moment count by following these steps:
Set Clear Goals: Define what you want to achieve with Semrush – better SEO, keyword research, or competitor insights.
Keyword Discovery: Use Semrush to find keywords relevant to your niche and boost your search rankings.
Competitor Analysis: Utilize Semrush to identify your top competitors and analyze their backlink profiles, content strategies, and traffic sources.
Explore Backlink Opportunities: Identify websites linking to competitors, opening doors for strategic backlink outreach.
Site Health Check: Run a site audit to fix technical issues and improve your website's user experience.
Content Strategy: Plan engaging content using Semrush insights on trending topics and gaps in your niche.
Reports and Analytics: Experiment with reporting features to track keyword rankings and measure your progress.
Learning Resources: Tap into Semrush's tutorials and webinars to navigate the platform effectively.
Team Collaboration: Involve your team to divide tasks and gain diverse perspectives during the trial.
Document Insights: Record your findings and successful strategies for future reference and planning.
---
Pros & Cons of Semrush
Pros:
Offers a 14-day free trial on both Pro and Guru plans, where you can test all its features during the trial
It gives you access to 55+ tools
Semrush has the most extensive keyword database in the world, with over 23.5 billion keywords
It is an excellent competitor analysis tool as you can use it to find any website's estimated total traffic, top traffic sources, bounce rate, etc
You can use its "Topic Research" to discover dozens of engaging content ideas quickly
Track your keyword rankings 
Use its site audit tool easily find and fix your website's SEO issues 
It offers a social media toolkit that lets you post and schedule content on social networks
Provides you an on-page SEO checker that helps you improve your search rankings
Cons:
There's a huge learning curve as Semrush offers a ton of tools in one platform 
---
Is Semrush Free Trial Worth it? Should You Extend It?
If I have to answer this in short:
Yes, Upgrading to Semrush for full time will be a game changer move for your business.
I am saying this because of the POSITIVE impact Semrush made up on our site traffic in just 14 days. The benefits Semrush are huge and required to run a successful marketing or blogging business.
"I was able to increase our site's ORGANIC traffic (14.83%) in a month" – You can always review our Semrush case study if you feel Semrush isn't worth it for you.
---
FAQs | Semrush 14 Days Free Trial
Here are some frequently asked questions about the free Semrush trial.
Does Semrush offer a free trial?
Semrush offers a free trial for Guru and Pro plans for 14 days.
Can I cancel my Semrush account after the free trial?
You can cancel your Semrush account before the trial ends to avoid getting charged. Want to know how to cancel Semrush free trial? Just send an email to (email protected) with your cancellation request.
Is Semrush worth it?
Semrush is a feature-rich tool that can be used for SEO, paid advertising, social media, content marketing, and more. If you're looking for only one toolkit to manage all your online marketing needs – Semrush is worth every penny.
Can I get the Semrush free trial without credit card?
No, you can't. You need to enter your credit card details to claim its free trial.
Is Semrush offering a 60-day trial or more?
Semrush used to offer 60-day free trials. But now, it is giving access to only 14-day trials. 
How much does Semrush cost per month?
Semrush monthly plans start from $129 and go up to $499.
How big is the Semrush backlinks database?
43 Trillion backlinks and growing.
Which is better: Semrush or Ahrefs?
Semrush and Ahrefs are the 2 legendary SEO tools of all time. Ahrefs usually has a better user interface but Semrush clearly wins in a number of features and money aspects.
Is a feature of the White label report available in Semrush free trial?
No. The "White Label Report" feature can only be found in Semrush business or enterprise plans. Unfortunately, there is no trial available for the Semrush business plan.
Is any money back guarantee applies to Semrush paid plans?
Yes. Semrush follows 7 day 100% refund money back policy.
---
Final thoughts on Semrush free account
If you're on the hunt for a powerful marketing toolkit, Semrush is a must-try.
The best part? With its 14 days free trial coupon, you can try Pro or Guru accounts for $0.
So what are your thoughts on Semrush's free trial account? Have you claimed it? Have any questions? Let us know in the comments.