Here is our hands-on and in-depth Popcorn theme review.
In this unbiased review, we'll cover:
The best (and worst) features
What makes it different
If it's worth the money
And much more
I've spent the last week testing out Popcorn theme to see how it compares to other WordPress themes.
And as a former web developer of 10 years, I can say that it's impressive.
However, no themes are perfect, so we'll break it down to help you decide if it's the right theme for you.
Let's jump right in.
Popcorn WordPress Theme Review

Ease of Use

Stability

Customer Service

Price
TL;DR
Popcorn is an excellent WordPress theme for affiliate websites as it creates less distraction yet makes the content highly engaging. It offers a fast page loading speed, various pre-built elements to add affiliate product boxes, and can be used on multiple sites with free updates for life. This Popcorn theme review shows that it stands out as an ideal choice for niche site owners. Check it out for yourself here!
Pros
Easy setup in less than 5 minutes
Pre-designed blocks and patterns for Affiliate marketing
Fast and lightweight with great user experience and SEO rankings
Ad network integration with ease
Fully compliant with affiliate policies
Multi-site license with continuous updates and free lifetime support from the Popcorn community.
Cons
Manual input required for some built-in elements
No Amazon API, requires manual product image addition
Theme customization requires WordPress Full Site Editing knowledge
Lack of uniqueness in theme installations
No refund policy unless the theme is broken.
Popcorn Theme Review: Is It Any Good?
Popcorn is considered one of the best WordPress themes for affiliate marketing and niche sites because it's designed for this exact purpose.
Set up takes less than 5 minutes, and there's no fiddling around with design settings.
When you activate the theme, you're ready to add content immediately.
It also has built-in design elements that make affiliate products stand out, which can boost commissions.
Moreover, it's fast and super lightweight, affiliate compliant, and recommended by the top advertising networks.
In this review, I'll be putting Popcorn theme to the test, revealing the pros and cons, and helping you decide if it's right for you.
The Problem with WordPress Themes for Niche Sites
There are hundreds of great WordPress themes out there, but there's a problem.
Most of them are trying to do everything.
This is great for developers or people with design skills but not so great for niche site owners.
As a niche site builder, you understand the importance of content, yet you want a theme that doesn't sacrifice design and user experience.
This is what Popcorn theme was designed for. A content-first approach, quick and easy set up, and optimized for affiliate sites and niche sites monetized with ads.
Why Use Popcorn Theme?
There are a few big differences between Popcorn theme and other WordPress themes.
How fast and simple it is to set up
Has built-in patterns for affiliate marketers
Pay once and get unlimited updates
Use on unlimited niche sites
The design and layout are ready from the moment you install it.
Additionally, the newest version of Popcorn uses Full Site Editing. This is the latest feature of WordPress to make customizations easy for everyone.
Many popular WordPress themes have yet to adopt this new technology, but Popcorn2 is ready to go.
But that's not all.
You also get access to a community of other niche site owners in the exclusive Popcorn theme Facebook group.
This group provides guidance and support from the team who created Popcorn and other Popcorn theme owners.
Who Created Popcorn Theme?
Popcorn theme was created by two successful niche site builders and an experienced web developer – Alex Cooper, Carl Broadbent, and Phil Lankester.
Alex Cooper is the founder of WP Eagle, a successful blog and YouTube channel that's been around since 2013.
Alex's channel covers WordPress tutorials and how to build niche websites. He documents his journey of starting sites from scratch, creating SEO content, and generating income.
Carl Broadbent is another successful niche site builder with a YouTube channel he started in 2019.
Carl is also the host and founder of Affiliate Gathering, an affiliate marketing event based in York, UK. His channel covers niche website tutorials, monthly income reports, and affiliate marketing tips for content creators.
Phil Lankester is the owner of Spidrweb, which he started in 2018 and is based in Hampshire, UK. Phil offers a range of web design services and hosting for bloggers, affiliate marketers, and content creators.
Popcorn theme was created for niche site owners by niche site owners. The team behind Popcorn theme has a lot of experience in monetizing and scaling content-based sites.
Popcorn Theme Features: 7 Things That Make Popcorn Theme Stand Out
Popcorn theme has some impressive features, but how can they improve your niche sites?
Here are 7 features that make Popcorn theme an excellent choice for niche site builders.
It's Easy to Set Up and Takes Less Than 5 Minutes
Popcorn is one of the easiest WordPress themes to set up.
The layout and design are set to go within minutes of installation.
There are no complicated settings you need to fiddle with to get everything looking right.
Other WordPress themes require custom settings and tweaks to match their demos.
But Popcorn is different. The creators want bloggers to focus on what's important, and that is the content.
However, Popcorn theme doesn't skimp on design features and customizations.
Full Site Editing is now available in Popcorn theme, which uses the Gutenberg editor to make customizations to any page.
You simply point and click on the text or elements you want to change and edit to your heart's content.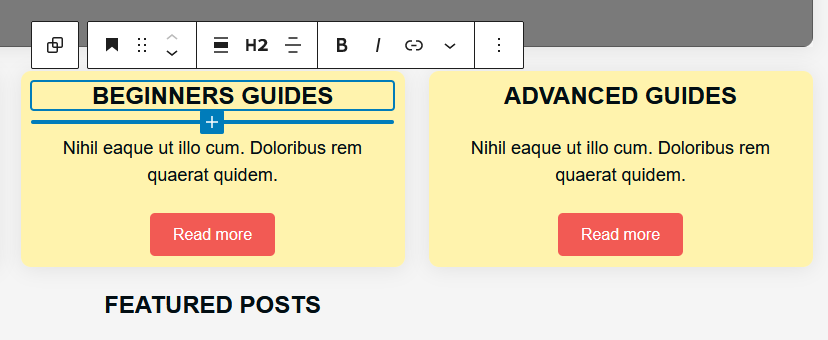 In full transparency, you can stick with the basics or get as technical as you like.
Full Site Editing is quite powerful.
It's Super Fast
Before running any speed tests, I could tell the theme was fast as the pages were loading instantly as I browsed through my demo site.
To test the speed, I installed the theme and ran it through GTMetrix without touching any settings.
Here are the results:
This is for an article page, which is where you want your site to be performing at its best.
As you can see from the above screenshot, it scored an A rating and 100% in performance.
The Largest Contentful Paint (LCP) is part of Google's Core Web Vitals and loaded in 528ms.
That's just over half a second to load the site, which is extremely fast. And without any optimizations.
The structure returned a 96% score, which is mainly caused by the first item on the list – Use a Content Delivery Network (CDN).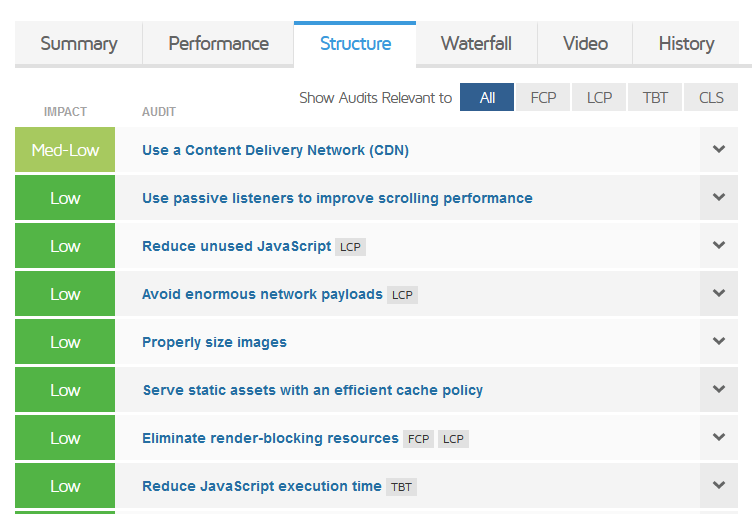 However, this and other factors on the list have a very low impact on the page speed and can easily be improved with a free speed optimization plugin.
Looking at the code, everything looks very clean and lightweight.
Moreover, the design of the theme is minimal and won't distract visitors from reading the content.
Has a Built-in Table of Contents
Adding a table of contents to your articles is a great way to help readers find what they're looking for.
They can also help you rank in search engines and increase organic traffic.
With Popcorn theme, there is a built-in table of contents you can add to each article.
The Gutenberg block grabs all the subheadings and displays them as a list on the page.
It also has jump links that take you to specific subheadings you click on.
You can choose between several ready-made templates or customize the look and feel in the settings.
The code is very clean and doesn't slow down the site, which can happen with plugins.
One downside is that you'll need to add the table contents to every post manually. There isn't a setting to make it appear before the first subheading, like you get with some plugins.
If you want to use a plugin instead, that's fine, as the theme supports them.
Create Product Comparison Tables Without a Plugin
Adding product comparison tables and description boxes is essential for increasing conversion rates.
With other WordPress themes, you'll need a separate plugin to add these, adding even more costs.
Popcorn theme comes with preset product description boxes, comparison tables, and pros and cons boxes.
There are lots of premade templates to choose from: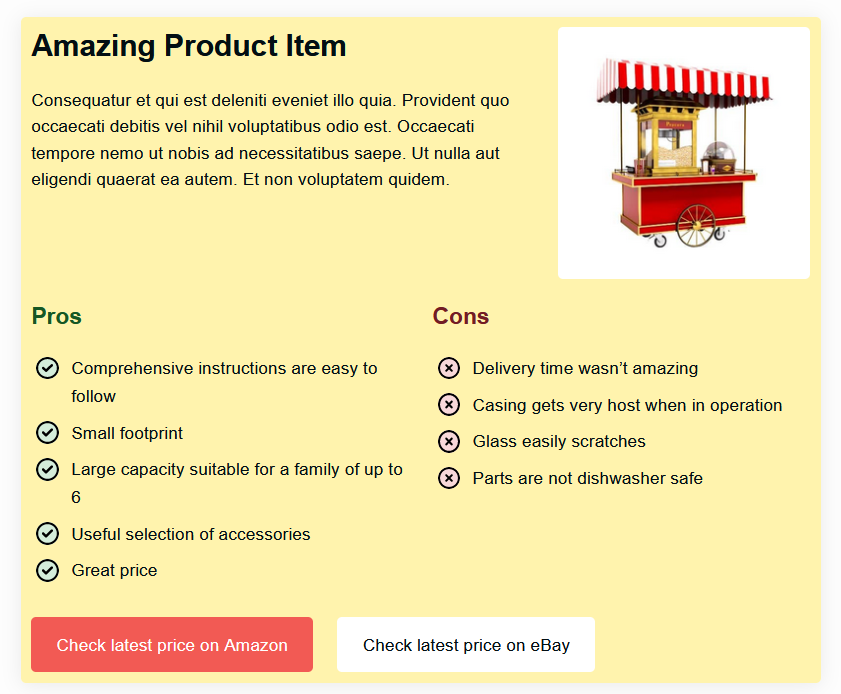 Each template is made using a Gutenberg block, which is broken down into sections. Each section can be edited if you wish to change the styles.
To put things to the test, I added a bunch of product tables to the page and the table of contents, then tested the page speed again.
The speed was better than the first time around:

Less than half a second with a lot of images and product tables on the page is quite impressive.
Built-in Elements to Make the Content Pop
Premade templates don't stop with just product comparison tables.
There are lots of other ready-made design elements inside Popcorn theme. Adding them to your content really makes it stand out.
For example, there's a list of steps for how-to guides:
And "You may also like" boxes list related posts, which can be tagged with specific keywords:
These built-in Gutenberg blocks will make your articles more engaging, improve conversions, and increase income.
Some other design elements include – Do's and don't boxes:
Pricing boxes:
Alert notices:
And many more.
Affiliate Marketing Compliant
Many affiliate marketing website owners worry that their site is breaking affiliate marketing policies.
With Popcorn theme, you don't have anything to worry about, as everything is included to make it compliant out of the box.
For example, every article has affiliate disclaimer banners that show underneath the image.
There's also a disclaimer in the footer, which is a typical place affiliate regulators look.
These disclaimer boxes can be edited using the full site editing customizer.
Integrates with Ad Networks Perfectly
More niche sites are monetizing their content with ads and seeing great success.
And Popcorn theme was built to cater to all major ad networks.
Whichever ad network you sign up with, integration is seamless, and ads will display perfectly on your site.
It's an important thing to consider when choosing a theme. If you plan to monetize with Ezoic, Adsense, or another platform, make sure the theme supports it.
Use on Unlimited Websites
Do you have multiple niche sites you want to use Popcorn theme on?
No problem.
There is no limit to the number of sites you can build with Popcorn theme.
This is quite uncommon on other themes. Popular themes usually start with a 1 site license for around $60. Then limit to 10 or 25 sites for up to $250.
Not Popcorn theme. Just install it on your new domain, enter your license key, and you're good to go.
No Charge for Future Updates
Unlike most WordPress themes, where you have to pay for annual updates, Popcorn theme have scrapped this entirely.
That means you'll continue to get theme updates every year without paying a yearly subscription.
You'll get to put that money back into your business, on other tools, on content, or whatever you like.
Pros and Cons of Popcorn Theme
The WordPress community and customers have lots of positive things to say about Popcorn theme.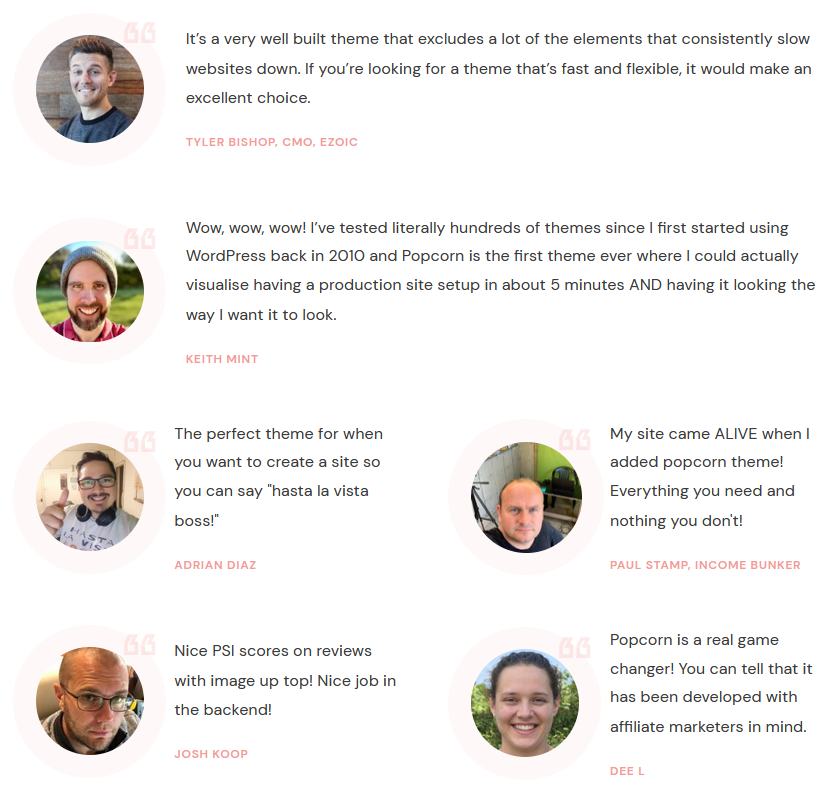 Here's what I found to be the most important pros and cons of Popcorn theme:
Easy setup: It take less than 5 minutes to setup Popcorn theme. You'll spend less time with frustrating settings and start ranking content sooner
Built-in affiliate marketing features: There are pre-designed blocks and patterns built into Popcorn theme. This will save you money on Affiliate marketing plugins
Speed and performance: Popcorn is fast and lightweight, resulting in a better user experience and SEO rankings
Ad network integration: Works perfectly with all major ad networks and is easy to add them
Affiliate compliant: Popcorn is fully compliant with affiliate marketing policies and includes affiliate disclaimers
Multi-site license: You can use Popcorn theme on as many sites as you like
Continuous updates: Popcorn is continuously being updated and you get free updates for life
Community Support: Get access to a supportive community of fellow niche site owners and the creators in an exclusive Facebook group
Some built-in elements, such as the table of content, require manual input to show on every page
No Amazon API: Amazon product images need to be added manually, through Amazon's SiteStripe
Theme customization: Changing the design requires some knowledge of WordPress Full Site Editing
Lacks uniqueness: All Popcorn theme installations will look the same, unless you customize the design yourself
No refund policy: If the theme is broken or can't be fixed, then you'll get a refund
Popcorn Theme Pricing: Is it Worth the Cost?
Pricing for Popcorn theme is pretty straightforward. It's a one-time payment of $99. You get free updates for life, so there are no yearly fees.
You also get to use Popcorn theme on an unlimited number of sites. This is great if you have multiple niche sites in your portfolio.
There is also a community of Popcorn users in a private Facebook group. You get access to this group for support and to answer any of your Popcorn theme questions.
If you're wondering if Popcorn theme is worth the price, check out some of these case studies that use Popcorn theme.
HutchandCage.com is a site that Carl Broadbent documented on his YouTube channel and grew to over $1,000 per month.
Carl also started a gardening site with Popcorn theme, which has grown to over $1,300 per month in less than 6 months.
Alex Cooper also sold one of his sites using Popcorn theme for $70,000 and used the money to move to Spain.
So, it's very possible to make a life-changing amount of money using Popcorn theme.
Bonus: Active Community and Facebook Group
When you buy Popcorn theme, you become part of the Popcorn and niche site community in their Facebook group.
There are hundreds of active members in the group, as well as the creators of the theme, ready to answer any question you might have.
Additionally, Carl and Alex are very active on YouTube, providing in-depth tutorials and niche site case studies to help you succeed with your site.
FAQs
Here are some important answers to common questions about the Popcorn Theme.
Is Popcorn Theme Compatible with Affiliate Plugins?
Yes. Even though there are built-in affiliate blocks available, Popcorn is fully compatible with the best Amazon affiliate plugins for WordPress, such as AAWP.
Do I Have to Pay for Yearly Updates?
No. Popcorn is a one-time fee, and you get free updates for life.
How Many Sites Can I Use Popcorn Theme on?
You can activate your Popcorn theme license on as many sites as you like. There's is no limit.
Can I Use Page Builders with Popcorn Theme?
Yes. Popcorn theme will work with the most popular page builder, but this kind of defeats the purpose of Popcorn.
If you want to use a page builder, that's no problem, but it will likely decrease the page speed of the site.
Can I Use a Table of Contents?
Yes. Popcorn works with a table of contents plugins, or it has its own built-in Gutenberg block.
It's really up to you which one you choose.
Is There a Refund Policy for Popcorn Theme?
Unfortunately not. You will only get a refund if:
The theme is faulty
The fault cannot be fixed in an update
Conclusion
In summary of this Popcorn theme review, Popcorn has proven to be a game-changer for hundreds of niche site owners.
If you're looking for a well-built Amazon affiliate WordPress theme that is also designed for ads, then Popcorn theme is an excellent choice.
What makes Popcorn theme stand out is that it's not trying to do everything. Using Popcorn theme for your niche site creates less distraction yet makes the content highly engaging.
Popcorn also runs super fast and includes everything you need to add affiliate product boxes and other pre-built elements.
Lastly, Popcorn theme can be used on as many sites as you like and gives you free updates for life.