This Kadence review takes a good look at the highly comprehensive WordPress theme by Kadence WP. The Kadence Pro theme was introduced to further enhance the original features.
Kadence Pro continually strives to bring innovative elements to the table. And it stands out in the market due to its unmatched collection of exclusive features.
Using Kadence, you can effortlessly and efficiently develop sophisticated websites at an accelerated pace.
This Kadence theme review will concentrate on covering the following:
Free version Features
Pro version Features
Performance
Pricing
Pros and cons
Alternatives to Kadence theme
If you do not have the time to continue reading, start using Kadence now, you will not be disappointed!
Kadence Review

Features

Ease of Use

Performance

Price

Customer Support
Summary
The free and Pro versions of the theme offer incredible ease of use and features that allow you to build any website you want. The Kadence Theme is built on lightweight, SEO-friendly code which means your site will load fast, positively contributing to your ranking efforts in the Google search results. The theme integrates perfectly with other page builder solutions, such as Elementor, and offers extra WooCommerce features. Get Kadence right here!
Pros
Lightweight and good performance
Good number of features in the free version and additional unique features in Pro
Kadence Blocks plugin is an excellent help
Reasonable pricing of the Pro theme, Lifetime Plan
Compatible with plugins like LifterLMS, Elementor, Beaver Builder, and many more
Easy creation of eCommerce or membership sites
Cons
Can improve on the number of starter sites
Plans may be confusing
No white labeling feature
Kadence Review: Overview
The Kadence theme is the flagship product of Kadence WP, accompanied by a diverse range of plugins, with Kadence Blocks being the most prominent. Kadence Blocks extends the capabilities of WordPress's Gutenberg editor.
I found Kadence theme:
Easy to use
It has very useful free features 
The combination with Kadence Blocks makes it a strong tool
Delivers top performance and speed
Even the free version of Kadence comes with a host of features you won't find with most other themes. And the Pro version is excellent for developing eCommerce websites.
Features of Kadence Free Theme
After the theme import is complete, you can start making any desired customizations to your website. If you're short on time and want to speed up the website design process, import a starter site.
The Kadence theme offers a range of powerful features that can enhance your website design and functionality. Here are some core features of the Kadence theme.
Header and Footer Builder. With Kadence, you can create stunning headers and footers using the intuitive drag-and-drop builder. 
Page Builder Compatibility. Kadence integrates with popular page builders like Gutenberg, Elementor, and Beaver Builder.
Responsive Design. The Kadence theme generates fully responsive sites.
Typography Options. With Kadence, you have extensive control over typography settings. There is a wide selection of options available for you to choose from. You have access to Google Fonts and can customize font sizes, line heights, letter spacing, and more to create a visually appealing and readable website.
Sticky and transparent header. You will find that these features are paid attributes in other premium themes.
Global Color Palette.
Free SVG Social Icons. SVG social icons are lightweight; no plugin is needed as in other themes.  
Scroll to top. Part of the free theme.
Features of Kadence Theme Pro
I would like to point out some of the Kadence Pro features that I found useful.
Header Addon
An advanced header addon for the header builder allows you to enhance its functionality and customize your headers further. Here are the additional elements that come with the Kadence Advanced Header Builder Add-on:
Account Icon with Dropdown/Modal. This element enables you to add an account icon to your header; it is beneficial for membership sites where you charge a subscription-based fee for services, courses, or premium content.
Search Bar. The add-on includes a search bar element that you can easily incorporate into your header. 
Contact Elements. This enables you to include contact information such as phone numbers, email addresses, or social media links.
Widget Area. Used to customize your header's content.
Divider, Divider2, Divider3. Dividers of different styles to visually separate sections within your header.
HTML2. The HTML2 element allows you to add custom HTML code to your header.
Button2. This element lets you add customizable buttons to your header.
Navigation3, Navigation4. These elements are multi-level or advanced navigation menus.
Conditional Headers
Conditional headers is a valuable feature that allows you to display different headers on various parts of your website based on specific conditions. Here are some benefits of using conditional headers.
Blog Websites. With conditional headers, you can show different headers based on different categories of your blog posts. This customization helps in creating a more tailored and relevant experience for your visitors.
Membership Websites. For websites that offer membership-based services or content, conditional headers allow you to dynamically adjust the header based on the user's login status. 
eCommerce Websites. Conditional headers are particularly useful for eCommerce websites, especially during the checkout process. By utilizing this feature, you can remove the header on the checkout page, eliminating unnecessary distractions for users while they complete their purchases.
Hooked Elements
Hooked Elements is an advanced feature of the Kadence Pro theme that further enhances its customization capabilities. With Hooked Elements, you can add custom elements to various website areas, allowing greater flexibility and control over your design. Here are some examples of how you can use Hooked Elements.
Entire WordPress Website. You can use Hooked Elements to add custom content or code that appears throughout your entire website. 
Single Post or Page. If you have specific content or functionality that you want to add to individual posts or pages, Hooked Elements allows you to do so.  
Before or After. With Hooked Elements, you can place custom elements before or after the main content area, header/footer, sidebar, or title of your posts or pages.  
Custom Placement via Custom Hooks. Kadence provides custom hooks that give you even more control over the placement of your custom elements. You can specify unique hooks within your theme's code, allowing you to precisely position your custom content anywhere on your WordPress website.
WooCommerce Features
In my Kadence review, I found that the free theme provides some basic WooCommerce options to set up an online store, including features such as a store notice, product catalog, single product layout, product images, checkout, and my account layout. These features are suitable for creating a simple and clean online store.
But if you desire a more visually appealing and feature-rich online store, upgrading to Kadence Pro is recommended. Kadence Pro offers additional WooCommerce add-ons that enhance your store's functionality and design. Some of the features included in Kadence Pro are:
Product archive off-canvas sidebar. This feature allows you to add a sidebar to your product archive pages, providing more options and information to your customers.
Catalog off-canvas sidebar settings. With this feature, you can configure the off-canvas sidebar specifically for your product catalog.
Add to cart settings. Kadence Pro provides advanced settings for the "Add to Cart" functionality, enabling you to customize the behavior and appearance of your store's add-to-cart buttons.
AJAX add to cart from single product pages. This feature allows customers to add products to their cart without having to refresh the entire page.
These are just a few examples of the additional features you can access. Kadence Pro offers a range of unique features and customization options that will help you to create a beautiful and fully functional online store.
Mega Menu
The Kadence Mega Menu allows you to design multiple-column dropdown menus and incorporate icons within your navigation items.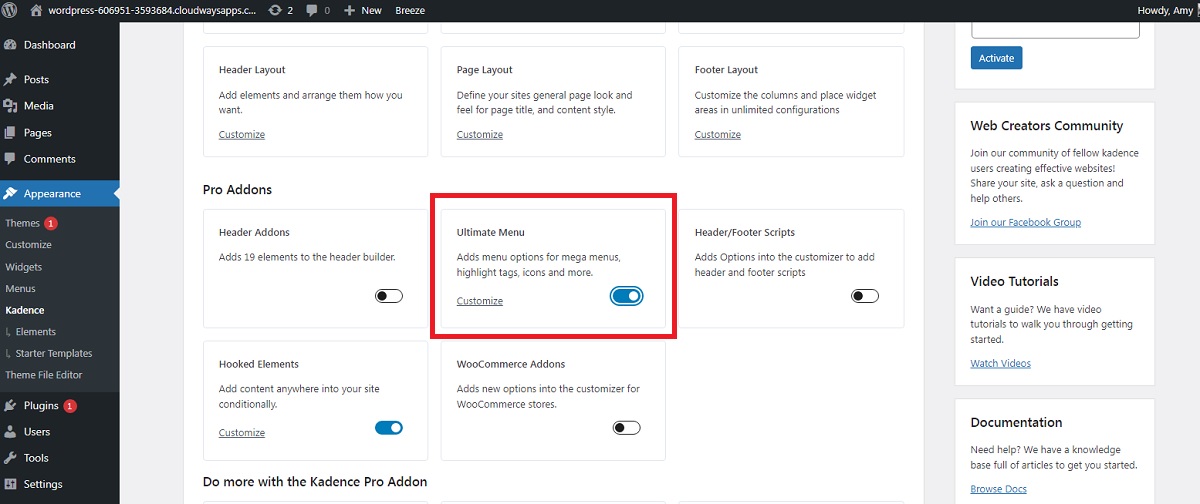 Kadence Templates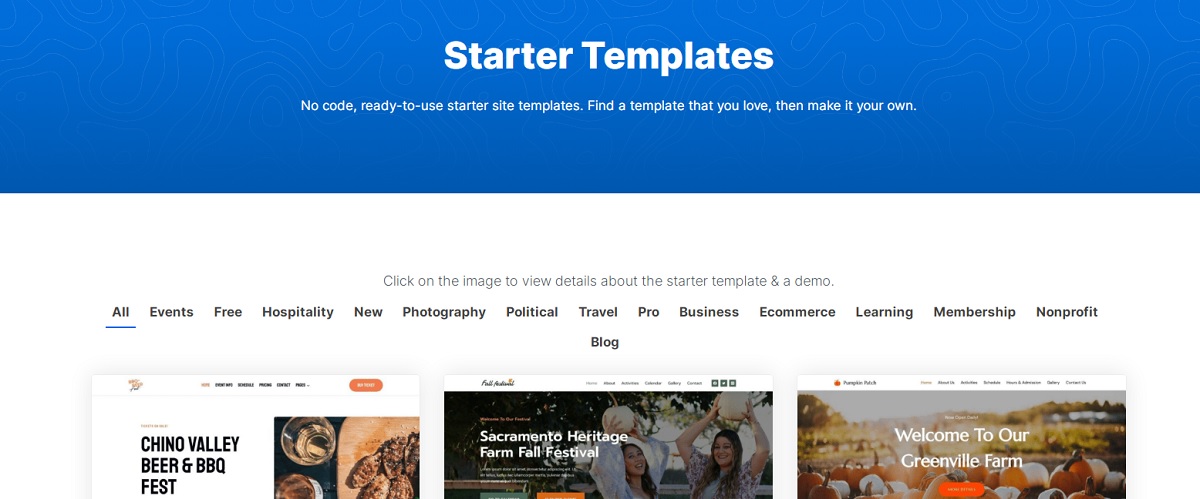 Kadence theme provides a good selection of starter templates to help users quickly set up their websites. Currently, over 80 starter templates are available, which should cater to the needs of most users.
To use one of the starter templates, you will have to:
Install the Kadence Starter Templates plugin
Select your preferred page builder; Gutenberg or Elementor
Choose the template that best suits your requirements
The templates are designed to work seamlessly with the respective page builders, making it convenient for users to customize and modify them to match their preferences and requirements.
Kadence Review: Performance
For the speed test, I built a basic landing page to be used in the Kadence review; the speed test result was impressive. The landing page included jpg images (not WebP) and some Kadence patterns.
Remember to achieve fast loading speeds, you should pay attention to the following factors:
Hosting: Choosing a fast and reliable hosting provider
Lightweight Theme: Using a lightweight and customizable WordPress theme like Kadence can help reduce your website's overall size and complexity. Lightweight themes are designed to prioritize speed and efficiency, allowing for faster loading times.
Native WordPress Editor: Opting for the built-in WordPress editor, Gutenberg, instead of third-party page builders can be beneficial for speed. While page builders offer many customization options, they can sometimes add extra code and overhead, slowing down your website. 
Caching Plugin: Implementing a high-performance caching plugin like WP Rocket can significantly enhance your website's speed.
By following these practices, you can easily optimize your website for speed and pass Core Web Vitals.
Help and Support
The support options offered by the team include:
Extensive documentation. They provide detailed and well-organized documentation.
FAQ page. The team maintains a frequently asked questions (FAQ) page that addresses common queries and provides answers to commonly encountered problems. 
Dedicated Facebook group. They have created a private Facebook group where enthusiasts and users of their product meet.
Support via a ticketing system. The team offers support to all users, including free users, through a ticketing system. You must have either a free or premium account with the team's service to access this support channel. I have found some users complaining about the time it took to get a response.
WordPress theme directory support forum. Users of the Kadence theme can also seek support by posting their questions in the dedicated support forum in the WordPress theme directory.
Some people have complained that the response for submitted tickets is not as quick as expected. But apart from that, help and support appear to be available when you need it.
Kadence Theme Pricing
The pricing model is a bit complicated – this is how it breaks down.
| | | |
| --- | --- | --- |
| Kadence Free | Essential Bundle | Full Bundle |
| Starter Templates | Unlimited sites | Unlimited sites |
| Kadence Theme | One year support & updates | One year support & updates |
| Kadence Blocks | 30-day satisfaction guarantee | 30-day satisfaction guarantee |
| | Kadence Blocks Pro | Kadence Blocks Pro |
| | Kadence Theme Pro | Kadence Theme Pro |
| | Pro Starter Templates | Pro Starter Templates |
| | Kadence Custom Fonts | Kadence Custom Fonts |
| | | Kadence Conversions |
| | | Kadence Shop Kit |
| | | Child Theme Builder |
| | | Kadence Recaptcha |
| | | Access to all plugins |
| | | Exclusive access to all future products |
Lifetime Full Bundle
You get everything in the full bundle. One payment, Lifetime support, updates, and you get all future products at $699/one time.
Kadence Review: Pros and Cons
Lightweight and performance-oriented

Reasonable pricing of the Pro theme and a Lifetime Plan is available

Kadence has a good number of features in the free version and additional unique ones in Pro

Kadence Blocks plugin is an excellent help in designing your website from scratch

Compatible with plugins like LifterLMS, Elementor, Beaver Builder, and many more

You can easily make an eCommerce website or a membership site
Limited number of starter sites to choose from

Confusing plans: pro version, pro blocks, bundles, add-ons, etc.

No white labeling feature
Alternatives to Kadence Theme
If you would like to try some of the closest alternatives to Kadence, here are two of them.
Blocksy
Blocksy and Kadence are two highly popular and trending WordPress themes that have significantly impacted the theme market, particularly with their unique features tailored for the Gutenberg editor.
Some call Blocksy the best WordPress theme. Developed by Sergiu and Radu, it is a lightweight, modern-looking, fast, and SEO-friendly WordPress theme. And the creators provide excellent support to their clients.
Blocksy is well-suited for beginners and advanced users, focusing on performance, flexibility, modern design, and advanced WooCommerce features. It comes with numerous features, including a free header/footer builder, and benefits from a dedicated team of developers who prioritize customer satisfaction. But, Blocksy offers fewer starter templates and needs its Gutenberg Blocks plugin.
Both Blocksy and Kadence excel in terms of features and visual appearance. Both themes focus on performance and are optimized to provide fast loading times. Even if there is a slight discrepancy in speed, it is unlikely to be substantial.
Regarding overall superiority, some may argue that Kadence edges slightly ahead of Blocksy. Kadence offers a broader range of options and additional products through its premium plans, providing users with more flexibility and customization possibilities.
Ultimately, Blocksy is a premium theme; selecting it depends on your individual preference and specific project requirements.
The Blocksy price is $49/year for one site license, $69/year for five sites, and $99/year for unlimited sites.
Want to know more about Blocksy? Read our full Blocksy review.
---
Astra
Astra remains a highly flexible option that caters to the needs of most users. It distinguishes itself by providing a user-friendly Customizer experience and a convenient drag-and-drop header/footer builder, which greatly enhances its usability.
Moreover, Astra stands out with its extensive integrations with plugins such as LifterLMS and LearnDash, making it particularly suitable for users who require these specific functionalities.
For advanced users, Astra's Custom Layouts feature offers greater flexibility.
Astra's pricing model is also worth mentioning, as it is more cost-effective for those who need a theme for multiple sites, thanks to its unlimited site usage policy.
Furthermore, Astra's focus on developers and its premium bundles, which include a wide range of starter sites, make it an excellent choice for projects of any scale.
Astra Pro offers plans allowing unlimited site usage, starting at $47 for the first year.
For a detailed comparison, see our Astra vs Kadence article.
Kadence Review: Conclusions
The Kadence theme offers a solid set of features, considering it is free. Its user-friendly nature and clean, modern design make it easy to use and visually appealing.
Kadence provides decent loading times, ample customization options, and support for WooCommerce integration. This makes it a good option if you are looking for an easy-to-use theme that caters to your needs and requirements.
Even though some features overlap with WordPress themes, the Kadence review revealed that the theme stands out as the better option.
Some users even prefer to use Kadence Blocks in combination with GeneratePress.
Ultimately, choosing the Kadence theme will depend on your preferences, the specific features you require, and your budget.