When Lauren Juliff took a chance and quit her day job to travel the world back in 2011, she was worried that she had made a giant mistake. But she was very, very wrong.
That trip set in motion a new life for Lauren. She created a website, Never Ending Footsteps, to keep her family and friends abreast of her travels. However, she quickly learned that she could monetize it, initially by selling backlinks and later with affiliate marketing.
Over the last 12 years, Lauren has not only hiked over glaciers in New Zealand and climbed an active volcano in the D.R.C., she has also published a book, experimented with a wide range of monetization methods, and got creative during Covid.
Today her travel blog is earning up to $15k/month.
Keep reading to find out:
What happened after she started her site
How she initially made money from it
How she diversified her blog's monetization
Where her income comes from
Her main marketing strategy
How she approaches keyword research
How she lands authoritative links
Her content creation process
Her thoughts on work-life balance
Her go-to tools
Her biggest challenge
Her greatest accomplishment
The advice she would give to other entrepreneurs
Meet Lauren Juliff
Hi! My name is Lauren. I'm from a small town on the outskirts of London, England, but currently live in Melbourne, Australia with my Kiwi partner. 
In 2011, I quit my job to travel the world, wondering if I was making a huge mistake. Instead, it turned out to be the best decision I ever made.
I've now been traveling for 12 years — mostly full-time — and it's all been funded by my successful travel blog. 
Over the past decade, I've camped in the Sahara Desert, hiked over glaciers in New Zealand, climbed an active volcano in the D.R.C., been on safari in Namibia, swam in the turquoise waters of Bora Bora, cruised through the jungles of Borneo, and so much more. 
There's no question that travel — and running a travel blog — has changed my life for the better.
These days, I split my life 50-50 between home and travel. 
After a decade of being a digital nomad, I've learned that some home comforts and routines are necessary for me to stay healthy and sane. And so, I spend six months of the year in Melbourne and six months traveling the world.
Why She Created Her Website
Initially, I didn't expect Never Ending Footsteps to bring in any real income. I certainly didn't expect it to evolve into a six-figure business! 
I started the site back in 2010 when I made the decision to travel for a year after graduating college. 
At first, I simply intended for Never Ending Footsteps to be a place to keep friends and family updated on my adventures. It wasn't until I discovered that you could make money from travel blogging that I considered running it as a business. 
I started to build up an audience before I'd started my trip by posting on social media, then was absolutely gobsmacked when somebody emailed to ask if they could advertise on my site. I made the easiest $200 of my life. Suddenly, this whole travel blogging thing seemed a whole lot more viable. 
In the early days, selling text links on a website was one of the only ways of making money from travel blogging, so we all did it. Essentially, it involves charging a company to publish a link on your blog to their site – which helps them to rank higher on Google. 
Doing so can result in a penalty from Google, losing your search traffic, so it's a risky endeavor! But back then, all of my traffic came from social media, so I wasn't concerned. (Needless to say, this is not something I recommend other bloggers do!)  
By the end of 2011 – a few months after setting off to travel – I was making $2,000 a month from said link-selling; enough to live in cheaper regions of the world indefinitely. I promptly decided that I was going to travel the world forever.
My site only grew from there. My travel misadventures and engaged audience caught the attention of a publisher and I landed myself a book deal for a memoir titled How Not to Travel the World. That was when things really started to take off. 
Most importantly, a quick experiment with affiliate marketing doubled my income overnight. I left the shady link sales behind and transitioned towards a more passive income: display advertising and affiliates were now my jam. 
By 2017 – seven years after starting the site – I had started making six figures. It was at this point that I really started to analyze what I wanted from this business. I was making more money than I could spend, was filling up my savings account, and was able to take weeks off at a time. 
Did I want to focus on growth, growth, growth, working every spare minute of the day to increase my profits even further? Honestly? I absolutely didn't. I was satisfied with the success levels I'd reached and wanted to take advantage of the freedom it could now afford me. 
These days, I'm all about working efficiently: maintaining my current income level, prioritizing spending time with family and out in nature, and keeping my stress levels low. Of course, sometimes a Google update will hit my site and I'll have to pull 90-hour weeks to recover, but for the most part, I live a chill life running a fulfilling business that I'm passionate about. 
Earlier this year, I launched a second website with my partner, called Everything Victoria. We're currently based in Melbourne, so it made sense for us to pair up and try our hands at something new. These niche travel sites tend to find success much faster than a generalized travel blog, so we're now putting that theory to the test.
The site has only been up and running for a few months, so traffic levels are still low – just 1,000 organic visits a month – but its rate of growth has still surprised us both and we expect it to be on Mediavine within the next year.
How Much She's Earning
Over the past year, my monthly income has ranged between $10,000 and $15,000 a month. At the moment, it's at the lower end of that scale, as the summer months are always (paradoxically!) a lower income-earning period for travel websites. 
This level of revenue has remained steady for me for around six years now, with a slight decrease during the pandemic for obvious reasons!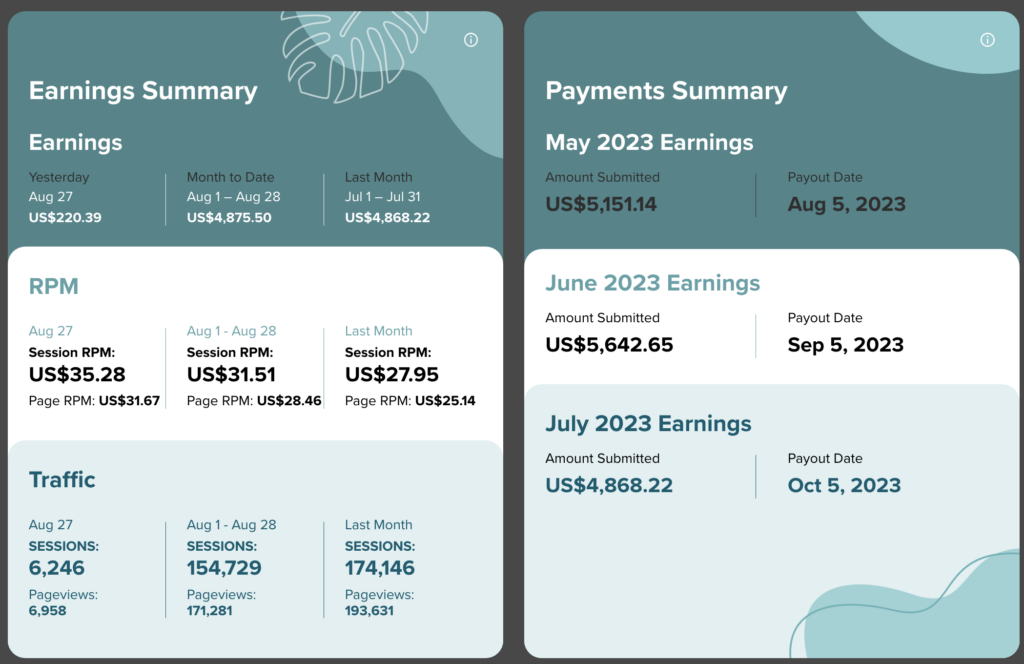 Over the years, I've experimented with so many different income streams. 
I ran a Patreon page, where I shared untold stories from my travels. I offered a one-on-one blog coaching service for new bloggers to help them get started and work their way up to a lucrative business. 
I launched an anxiety course to encourage fearful travelers to take the leap to see the world. I also dabbled with freelance writing and editing for other travel publications. 
You'll notice that I'm writing in the past tense for all of the above. 
While I've always loved to experiment with new income streams, I've ultimately found that most of them require too much of a time commitment to be worth it. 
For example, my blog coaching resulted in several thousand dollars a month in income but required me to work a solid eight hours a day with my students – I didn't have time to run my own business! 
And likewise, my Patreon involved a similar level of workload, again to the extent that I didn't have time to work on Never Ending Footsteps.
As a result, I eventually closed down all of these side income projects in order to focus on more passive revenue. 
As of 2023, my main income streams contribute the following percentages to my total earnings: 
Advertising with Mediavine: 45%
I'm not a huge fan of ads so I keep the density of these relatively low, even though it means taking a bit of an income hit
Affiliate income: 45%
This is mainly from companies like Booking, GetYourGuide, Viator, Amazon, World Nomads, RentalCars, and Skyscanner.
Book royalties from my travel memoir: 5%
I earn royalties from sales of my travel memoir, however I don't actively promote this anymore.
Copyright infringement of my photos: 5%
I use Copytrack to keep track of websites that use my photos without my permission. Payouts from these copyright infringements have ranged between $150 and $9,000. 
Never Ending Footsteps receives 200,000 page views a month.
Lauren's Top Marketing Strategy
I focus on adding personality and personal experiences into everything I do.
Travel blogging is a niche that is particularly prone to low-quality content. Because you don't necessarily need to have a high level of technical knowledge in order to write about travel, it's easy to just sit at home and desk research the best things to do in a place. 
You'd be surprised how many high-ranking articles are put together by people who have never even stepped foot in the country they're writing about.
It's becoming even more of an issue with the advent of generative AI. Why bother going to a place and writing about it if you can get "good enough" content while sitting at home?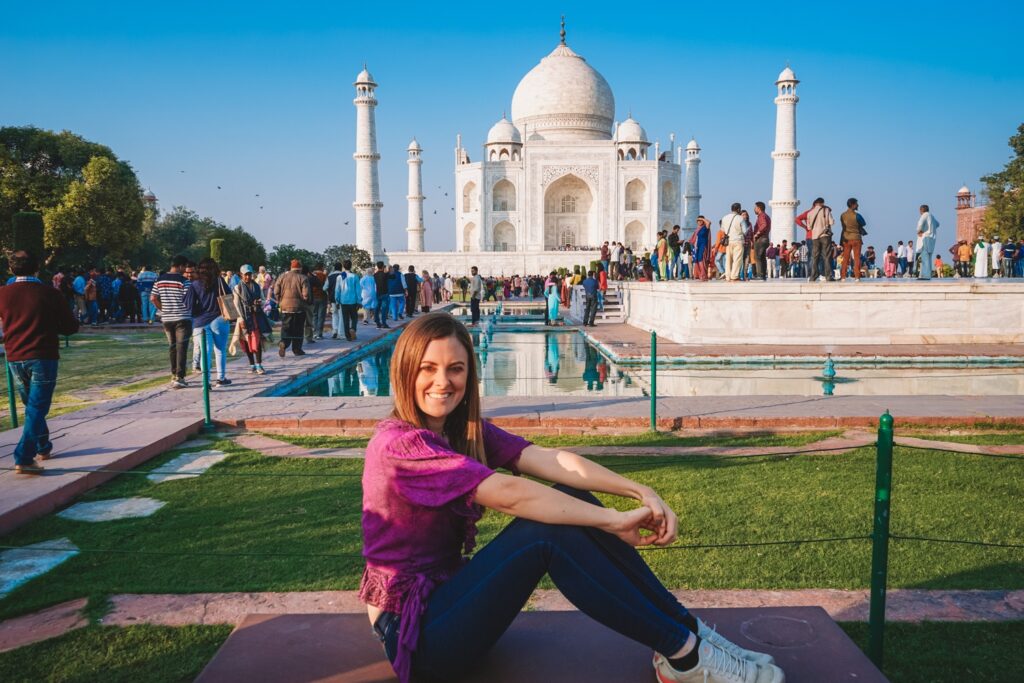 It drives me crazy and as this low-quality content has proliferated, it's driven readers to search for personality-driven content from people who have been to the places they're writing about. And that's where I come in.
All of these combined help my site to stand out in a sea of faceless, generic travel blogs.
Keyword Research
My keyword strategy is relatively simple and comes from having innate knowledge of the travel blogging industry. I already know which style of blog posts are most likely to rank, convert, and make money without needing to do much research. 
For each new city I visit, I know I'll be writing a series of fundamental guides to that place: the best things to do, how to spend three days there, a packing list, etc. The keywords I'll be targeting for these pieces are always essentially the same, just focusing on a different city. 
I'll use SEMRush to see if there's any destination-specific articles that would be valuable to write. For example, countries that are seen as being more dangerous may benefit from a guide to staying safe, while a place that's traditionally thought of as being expensive will push me to write a budget travel guide. 
I do take a look at who is currently ranking in the top 10 for my chosen keywords and analyze their URLs in SEMRush to see what other keywords these articles are ranking for – just in case there's anything unusual I haven't thought about. 
Roughly a year after publishing an article, I'll take a look at its ranking keywords in order to get an idea of how it's performing. I'll hone in on any low-hanging fruit during this audit. If there's a term that I'm ranking 11-20 for, I can usually boost that up to a top 10 position. 
Link Building
I've been fortunate to have amassed a lot of high-authority links through little effort on my part. It's something that tends to happen naturally when you've been running the same website for over a decade! 
For the most part, then, most of my links have been obtained organically. This is usually from big publications asking for a quote for an article or websites wanting to interview me, as well as other publishers finding my guides to be helpful and linking to them as a resource. 
Becoming a published author also helped. While the royalties from the book have yet to make me a millionaire, the links I've gained from my promotional rounds significantly boosted my domain's authority. Whenever somebody publishes a review of my book, they usually link to my site, too.
Still, I do recognize the value in link building, so I spend a couple of hours a week working on this. I've had huge success with HARO, in particular. 
I also participate in collaborations in Facebook groups for travel bloggers. These involve giving a quote about a destination you've been to for other travel bloggers to feature in a round-up. Think: the 25 Best Islands in Thailand. 
They get the free content and you get the link, so it's win-win! This is my main strategy for my new site, as it's a quick way to score dozens of links a month. 
Lauren's Content Creation Process
Now that I've been running the site for 12 years, I spend more time updating existing content than I do publishing new articles! 
In the travel industry, things are always changing. 
Prices have skyrocketed post-pandemic, which means every article of mine that lists prices (essentially all of them!) needs to be regularly updated. Hotels and restaurants and tour providers regularly close down, so recommendations often need to be replaced. Updating old content could be a full-time job at this point.
When it comes to producing new content, the first step is deciding where to travel to. I love exploring lesser-visited countries, so I don't have a business/financial mindset when it comes to this part of the decision-making. 
If I wanted to make the most amount of money, I'd only write about the U.S. (which has the highest advertising rpms), but that isn't super-exciting to me. 
So, once I've decided where I'm going, I start my keyword research. I like to arrive in a new country with a list of at least 10 potential article ideas. Then, once I'm there, I can hit the ground running and start visiting attractions and taking photos. 
I spend weeks devising the perfect trip. I make sure that my itinerary is one that other people will want to replicate, so my itinerary articles are most likely to convert. 
I choose to stay in a mid-range hotel that's rated higher than 9.5 so that I can strongly recommend it to readers. I'm always looking for tours to take so that I can give those personal recommendations in articles. 
While I'm on the trip, I take extensive notes. I don't write articles while I'm traveling, so I need to make sure I don't forget any of my research. As soon as I get home, I start writing everything up. 
I track everything, so I know exactly how much each trip has cost me and how much every article I wrote about it has made. I make sure that every trip I take makes 5-10x more than I spent on it, so this can help me determine whether I need to produce more content about a destination or not. 
All articles I publish are a minimum of 4,000 words, so that I can target plenty of long-tail keywords in addition to my main ones. And once an article is live, I check in on its performance every 3-6 months to ensure it's on track to pay off my trip expenses.
I currently have 500 articles live on my site.
Lauren's Thoughts on Work-Life Balance
The amount that I work varies wildly based on where I am. 
I maintain a home in Australia, where I spend around half of my year. The other half is spent traveling. 
When I travel, I do not work. 
Years of being a digital nomad taught me that it's tremendously difficult to balance work with travel, especially when you're changing location every few days. The quality of my work suffers from the constant movement and stimulation, and then I see less of the places I'm traveling to because I'm always trying to work. 
Because my income is passive and doesn't really change throughout the year, I've been able to experiment with taking several months off, discovering that it doesn't actually affect my income. 
Subsequently, when I travel, I try to stay as offline as possible. I work maybe four or five hours a week – sharing updates on social media, replying to urgent emails, and updating any outdated information I have on my site on the countries I'm traveling to. 
When I'm at home, my main priority is work. I spend the vast majority of my days publishing new articles and updating old ones. During this time, I average anywhere from 30 to 50 hours a week, depending on how overwhelming my to-do list feels.
To summarize: it's all over the place. I estimate that it averages out to 20 hours a week across an entire year.
Her Go-To Tools
SEMRush: I'm always tracking and analyzing Never Ending Footsteps' performance, and it's made so much easier with SEMRush. 
I use this tool to perform keyword research, find competitors to analyze, track my current positions, and more. It's an invaluable tool for SEO for me. 
Self Control app: As somebody with unmedicated ADHD, getting anything done is a real problem. This is the worst type of career for my neurodivergence: with no boss, no staff members, and no deadlines, I can easily lose weeks at a time to inertia. 
Self Control is the only reason I get any work done around here. It blocks access to the internet for a set period of time, which eliminates the vast majority of distractions. When I really need to get something done, I set the timer for several hours and start focusing. 
Shutterstock: I always try to use my own photos in my articles; however, because I now travel with an iPhone instead of a camera, my photo quality isn't incredible. I therefore use Shutterstock to download a pretty featured image for most of my articles. This helps increase my CTR on social media and makes my site look aesthetically pleasing. 
Her Biggest Challenge
I started doing this back in 2010, when the only travel blogs were narrative-based. In those days a travel blog truly was a blog: we all shared diary-style updates and funny stories, giving a personal insight into what it's really like to travel long-term. Unsurprisingly, none of us were really making much money. 
But I did find success by focusing on storytelling: I built a huge audience who loved reading about my misadventures. I published a book to share more misadventures. I ran a Patreon, where more than a hundred people paid every month to read untold stories from my travels. 
But it made me so little money. The Patreon pulled in around $500 a month but required me to work for 100 hours a month to publish enough stories to not get unsubscribes. After the initial sales rush, the travel memoir made $700 a month or so for the first few years, then petered out to very little. And my storytelling articles on my site are my worst-performing: I might make $50 from Mediavine when I first publish them, but then they disappear into my archives and I earn nothing further. 
The problem was: I had now cultivated a small but passionate, loyal – and extremely vocal – audience who longed for my travel blog to remain how it always had. Deviate from the travel stories? My readers would let me know how boring they found it; how disappointed they were. But this audience had supported me for over a decade and had helped me find initial success; I still wanted to serve them. 
But I also needed to make money.
Behind the scenes, I experimented with publishing helpful guides and resources and instantly, my traffic and income skyrocketed. Whereas that funny story might make a one-off $50, a detailed travel guide could make $2,000 a year, every year, for the foreseeable future. 
From a business perspective, the solution was clear. 
In my eyes, it was more complicated. 
For a while, I secretly ran two different sections of my site. I had my travel stories and personal updates that I'd push on social media and share with my audience. And I had my helpful travel content that I'd backdate in my archives and hide from my homepage and archives. One part of the site made me money and the other satisfied my community.
Obviously, that was ridiculous and a poor use of time. 
I hated feeling like I was letting down the people who supported me most during the initial stages of building my site, but I had to stop publishing the stories. Change is inevitable. Now, I write articles that are lengthy and helpful, but compromise by inserting little anecdotes and funny moments from my explorations.
To me, though, it's win-win. It helps prove that I've actually been to the city, and keeps readers engaged with stories and jokes, but still allows me to actually make money. 
An example of how I do this can be seen in my guide to spending three days in Delhi. You've got tons of useful information for making the most of your time there, but also gain an insight into some of my personal experiences in the city. 
Lauren's Greatest Accomplishment
My main accomplishment is that I managed to survive the pandemic as a travel writer! I cannot stress enough just how wild March 2020 was from a travel blogging perspective. 
I went from earning around $500 a day in February to roughly $8 a day in March. Almost all of my income streams dropped to zero and barely anybody was reading the site. 
I pivoted quickly.
I'd recently launched my Patreon where I charged $1-10 a month to read untold narratives and behind-the-scenes updates. I immediately doubled down on that. I shared everything I could think of that might convince readers to subscribe: scandalous stories, embarrassing travel disasters, business details I'd long kept secret… I shared it all. And amazingly, my audience stepped up and subscribed in droves. 
I then launched a one-on-one mentorship program, aimed at showing new travel bloggers how to get started and find success. I did everything: set up their sites, installed their themes, rewrote their website code, and revealed every single thing they needed to do to make money. 
I believe that the pandemic provided a great opportunity for new travel bloggers, primarily because many of the big-name ones stopped actively working on their sites and started new businesses. 
Those two new income streams, combined with a few high-earning blog posts that maintained their traffic, managed to get me back up to 70% of my normal income levels. 
While my passive income sources had fallen off a cliff, I suspected that within two years, travel would be back to normal. I watched my competition abandon their sites and spotted an opportunity: rather than take a step back, I went all in on content production. 
And when travel finally started to make its triumphant return? My traffic began to soar.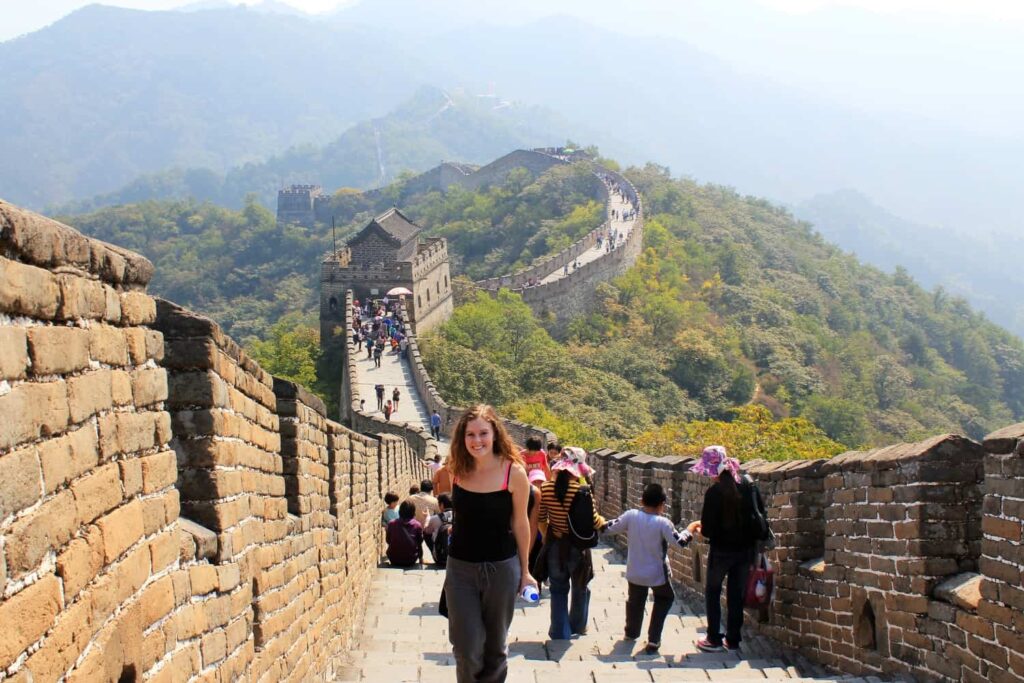 What She Wishes She Knew When She Started
I wish I had known that not everybody is going to like you, and that's totally fine. 
It was a real shock when I received my first-ever negative comment. I was furious and devastated in equal measure. I couldn't believe that somebody hadn't appreciated the effort I'd put into creating my content. Even worse: they thought I was an idiot. 
For a long time, I struggled to deal with somebody not enjoying my writing. I wanted to be liked by everyone. Several years in, in fact, I could recite, word-for-word, every single piece of criticism I'd ever received because it took up that much space in my mind. Sometimes I cried over it. 
Don't respond, tune it out, and stay focused on your work. Let your haters drive you to live a better life than they ever will. 
Her Main Mistake
It took a long time for me to recognize my worth. 
I mentioned a couple of times that I used to run a blog coaching service during the pandemic, where I'd work one-on-one with bloggers and give them unlimited access to me. Initially, I priced it at… $150 a month. Yes, really. 
I quickly realized how ludicrous my pricing was when I found myself spending 40 hours on each of my students every month. I'm definitely an over-deliverer! Within a few months, I was charging $1,000 a month for the same service, with just as many bloggers willing to pay that amount.
This has been a common theme throughout my blogging career. I would happily write lengthy, in-depth articles for $100, despite being a published author and excellent writer. I should have been charging ten times that. 
Looking back, it's something that makes me cringe, but it was an important lesson to learn. Now, I value my time above all else.
Her Advice for Other Entrepreneurs
If you want to do something similar, get started now. Like, right now. Today. This very second. The sooner you start, the sooner your business becomes profitable. 
Is it too late to start? Is the industry too saturated? Nope.
The only thing that guarantees failure? Not starting.