Grammarly Review
$29.95/month
Summary
Grammarly is a great tool for bloggers, website owners, writers, students and I would say for everyone who wants to improve their online writing skills as it checks our contents for grammatical and plagiarism errors and can be considered as the best proof reading tool. You can try Grammarly for free for the first 7 days before moving to the paid version.
"How can I improve my writing skills as a blogger in 2023?"
It is the most critical question asked by 90% of the bloggers. If you are one among them, this Grammarly review post is exclusively for you.
I think you will agree with me when I say "it's disgusting to read or write content that is full of typos and grammatical mistakes." If you want to get the most out of your content, you need to write error-free content.
It's no wonder "content marketing" is the king. Content marketing means attracting customers with your content. Writing content that sells is not a joke.
It takes serious efforts, time and writing skills to create engaging content. If your content has writing flaws and typos, forget about sales, people will immediately stop reading your blog. Sad truth!
That's the reason you should improve your writing skills as a blogger. It's a must.
I don't think of myself as a prolific writer, but over the years I have been consistently writing a lot of blog posts, so I learned to write useful content the hard way.
If you want to hone your writing skills quickly without putting many efforts, I strongly recommend you to try Grammarly proofreading tool.
Grammarly is a proofreading tool, and a bless for all types of bloggers, writers, marketers and everyone else who publishes content online.
It helps you quickly find and fix your typos and provides you an opportunity to improve your writing immediately.
In this detailed review of Grammarly tool, we'll talk about how it helps YOU improve your blog writing skills. Let's jump into the details.
Grammarly Review 2023: Great Tool to Improve Your Writing Skills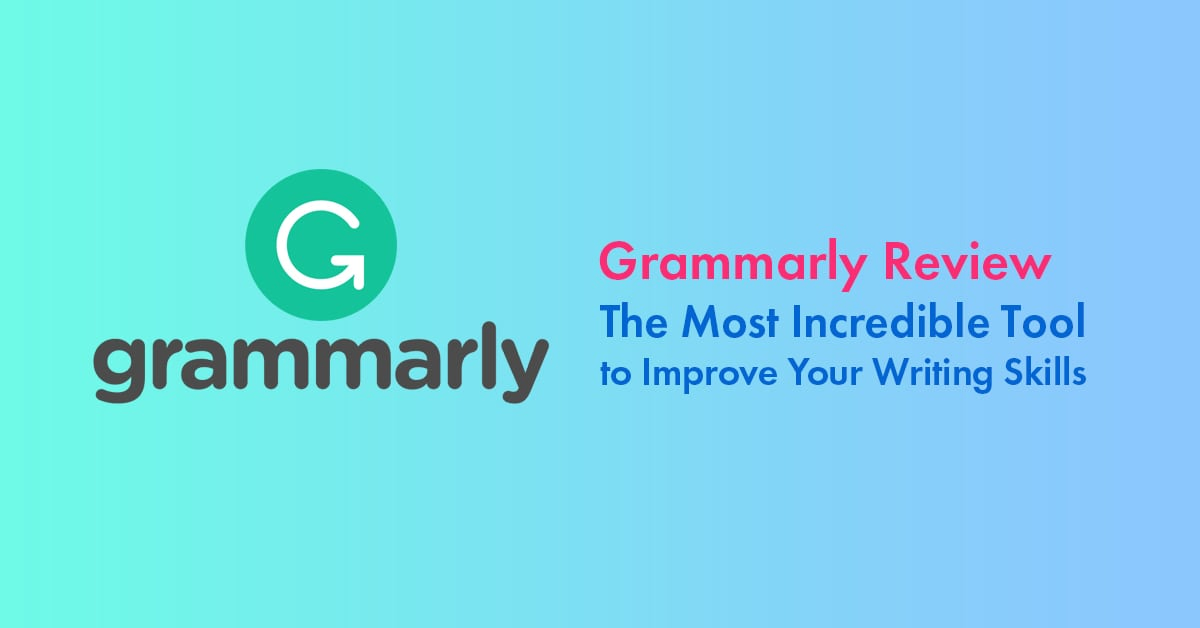 What is Grammarly?
Grammarly is a grammar check tool that quickly and easily makes your online writing better. Even if you are a beginner writer, you will find it extremely useful to improve your writing.
In a nutshell, Grammarly grammar tool does your writing better by finding and correcting up to 10 times more mistakes than your word processor.
Click here to try Grammarly for FREE.
How to use Grammarly?
This tool works similar to Google Docs. Just log in to your Grammarly account. On their dashboard, open a new document and start writing (or copy paste the content you already have).
Within seconds, it will underline all the sentences or keyword phrases that are filled with grammatical errors.
How can Grammarly help you improve your writing skills?
Did you know that Grammarly checks and analyzes your text for 10x more mistakes than your standard word processors like MS Word?
You can also upload or copy-paste your content into Grammarly tool to check for any grammar or punctuation errors.
Grammarly is the best grammar checker tool and the reason being, it has over 250 advanced grammar rules built into it.
So whenever you make any punctuation or grammar mistakes, it will look out for all the possible errors and fix them quickly using Grammarly.
For instance, below is the screenshot of this very post that's showing one of the grammatical errors. Notice that, it also explains to you why there's a mistake.
This tool checks for all the grammatical mistakes, contextual spelling problems, vocabulary errors, and plagiarism while you type.
And it helps you improve your writing fast. Are you bothered about copied content? No problem. Grammarly has a built-in plagiarism checker tool that accurately checks for copied content so you can make sure whether your copy is original or not.
It also gives you automatic writing suggestions while you type so you can effortlessly use better grammar on the go without having to worry about the better sentence usage.
It also works flawlessly with all of your favorite sites online and is compatible with Gmail, Facebook, Tumblr, LinkedIn, WordPress, Twitter and any other online platform where you write.
It has a browser extension that you can download for free and get automatic grammar suggestions while writing online.
All in all, Grammarly works as your writing editor and grammar coach that helps you easily and quickly improve your writing that has almost no grammar or punctuation mistakes.
So what are you waiting for?
Here are a few advantages of using Grammarly
Extremely useful for non-native English speakers (due to the linguistic technology used by Grammarly, it gives you better suggestions while you write).
Helps you eliminate all the grammatical errors including punctuation mistakes.
Makes you a better writer! You don't need a proofreader.
Click here to try Grammarly for free
3 Features That Makes Grammarly Incredible
If you are still wondering why should use Grammarly and what makes it so incredible, here are a few fantastic features to help you.
1. Eliminates most of the typos
Grammarly's #1 use is to eliminate all the typos, grammatical errors, punctuation errors, etc. from your writing.
It underlines the words that are grammatically incorrect and gives you better suggestions to make your writing simpler and better.
2. Works everywhere
Writing status updates on Facebook? Tweeting important stuff on Twitter? Or updating your blog posts?
It doesn't matter which platform you are using online, Grammarly works everywhere effortlessly.
3. Uses linguistic technology
Grammarly uses semantic technology that improves writing fast. So what does this technology means?
This technology combines natural language processing and computation algorithms to give you better vocabulary and quickly find all the grammar mistakes most people might make while writing.
It is the most advanced technology that your traditional free online writing proofreading tools won't use.
Due to this technology, Grammarly will be able to differentiate between the words "good" with "better." Are you getting it?
It's the best online writing tool that helps you use better vocabulary in your writing even if you are a non-native English speaker.
You might now ask, why should I even bother about good and bad writing. I'll explain to you briefly.
Difference between good writing and bad writing
Advantages of good writing
If your content is excellent with zero to no grammar mistakes, everyone loves to read, share and even link to it.
Of course, the meat of the content should also be enough that's another part. But no one links or shares your online content if it's full of typos and grammatical mistakes.
So make sure you spend quality time crafting your posts and writing error-free content so you will not only get more shares but you establish authority for yourself with your writing.
Good writing involves in:
Accurate use of words (no extra words or fancy words)
Right usage of punctuation
Short paragraphs for easy reading
Better sentence usage
Bad writing is the conversion killer
Almost no one reads bad writing. If your content is full of flaws, no one even trusts you and buys stuff from you.
Bad writing is the real conversion killer. If you want to make more sales online, you have to write great copy that is flawless no matter what.
Bad writing includes:
No proofreading
Writing typos
Wrong usage of grammar
Lots of grammar mistakes
Improper punctuation
Read: ProWritingAid Discount 2023: 20% Off On Premium Plans
Is Grammarly worth paying?
It depends on your blogging needs.
If you want to make sure your content is error-free, I highly recommend you to try it.
If you want a quick and more advanced grammar checker, Grammarly is the right option for you.
Otherwise, if you can get someone to review your content before publishing it to the online world, it's even better but make sure your friend/editor is superb at prolific writing and finding typos.
And make note that, most writers don't proofread for free, they always charge you something.
So it's again your call to whether pay to an editor or an excellent proofreading tool such as Grammarly to write flawless content.
If you ask me to choose one among hiring an editor or buying Grammarly, I advise you to start using Grammarly. As it is helpful even in the long run and gives you honest opinions as it has advanced algorithms to make sure your content is error-free.
Try it for free for 7-days
Few Grammarly alternatives for better writing
If you are looking for few better alternatives to Grammarly, well I'm afraid to say I haven't found the best one that beats Grammarly yet. But there are a few alternatives you can give a try.
WhiteSmoke
Polish My Writing
Spell Check Plus
Ginger
Slick Write
The above list consists of both paid and free online proofreading tools. I think premium tools have the better advantage over free tools, so if you want to improve your writing quickly, you should invest some money.
If you are looking for a comprehensive post on online free proofreading tools, make sure to check out this post.
Read: How to Use Semrush Content Marketing Platform?
Few questions About Grammarly
How much does it cost you?
Grammarly offers a seven-day free trial, as well as they, have 3-subscription plans: Monthly – $29.95. Quarterly – $59.95. Annual – $139.95. You can cancel at any time if you are not happy with it.
How does Grammarly work?
You can either upload your content or copy and paste your content into Grammar's text editor, and it will automatically show you all the grammar, spelling and punctuation errors you have.
It's easy to use, and you can also use their free browser extension for both Safari and Chrome.
I'm a newbie to online writing. Is Grammarly helpful for me?
Yes, it's worth every penny. Use their free trial for 7-days and pay them only if you are happy with the results. It not only helps you find all the errors in your writing, but it's the fastest way to improve your online writing skills.
Does Grammarly tool share my content publicly?
No, I had the same question. Grammarly won't share your content publicly EVER. Your content is safe.
Conclusion about Grammarly Review 2023
With more than 4 million registered users worldwide, Grammarly is the perfect tool for all bloggers and writers to improve their writing.
It's a handy tool for new bloggers and non-native English speakers. If you want to write error-free content, give this tool a try, and you won't regret.
Grammarly tool checks for over 250 common grammatical mistakes you might make, and it improves your vocabulary by giving you better suggestions while writing content online.
It doesn't matter whether if you want to write flawless content, improve your writing by using better vocabulary or find copied content, Grammarly tool is just for you.
It's the quickest and easiest way to hone your writing skills as a blogger. In a sentence, Grammarly is your writing coach!
So what are you waiting for? Give it a try and grab their 7-day free trial to improve your writing today. If you like this in-depth Grammarly review, please share it with others so they can benefit.
BloggersPassion readers can save 40% money on Grammarly purchase using this link.
Let me know if you have any questions about this tool, I'd be glad to respond to your queries in the comments.