Are you looking for the best Instagram hashtag tool to help increase your reach and engagement on social media? With so many apps available, it can be overwhelming trying to decide which one is right for you. If so, you won't want to miss out on this comprehensive Flick review.
Industry experts created this hashtag generation tool to help brands, influencers, and small business owners maximize their social media presence on Instagram and other platforms.
So whether it's discovering more relevant hashtags that drive better results, curating content from your niche's most reputable sources, or assessing performance metrics with advanced analytics tools, we'll dive into everything Flick offers in this blog post.
In a hurry? Get started with Flick right now.
Flick Review

Ease of Use

Stability

Customer Service

Price
Summary
With its hashtag insights, AI system, and Content Scheduler, Flick makes it easy to create content quickly and efficiently that will get noticed. Additionally, the ability to post on multiple social media handles is a huge time-saver! The mobile app could use some work, but overall it's an excellent tool for managing social media accounts. Check out Flick here!
Pros
Hashtag research tools to help you find the best tags for posts.
Content Scheduler allows for posts to be scheduled in advance.
Friendly customer support is available to quickly resolve any issues that arise.
Easy user interface for creating posts on multiple social media handles at once.
AI system helps to create content and post captions quickly.
Cons
Sometimes the auto-publish fails when posts are scheduled.
Mobile app does not allow users to upload pictures, videos, or use the camera.
The AI system is not available to use on the app yet.
No hashtag tracking for Reels.
Limited customization options on posts when compared to other platforms.
Flick Review: Key Features
In this Flick review, we'll take an in-depth look at everything Flick has to offer — from its powerful discovery features to its smart insights into analytics — to determine whether or not it truly is the ultimate Instagram hashtagging solution.
Hashtag Search
With Flick's hashtag search feature, you can easily find the best Instagram hashtags for your posts.
It simplifies your hashtag research and allows you to search unlimited hashtags, filter search results based on your account, and even see what's been successful on each hashtag.
So, you can improve your hashtag strategy and effortlessly reach more people.
Plus, Flick provides suggested filters and advanced search options to offer quality hashtags based on the size and engagement of your Instagram account.
With Flick's hashtag search, you can quickly filter hashtags by keyword, activity level, and competition – making better decisions in no time.
Hashtag Manager for Instagram
Simplify your life by saving and organizing your favorite hashtags and build a comprehensive library of high-performing hashtags.
Not only does this tool help you efficiently manage hashtags, but it also tracks their performance over time. This feature lets you quickly adapt your strategies as needed.
No more searching through endless notes; Flick's Instagram Hashtag Manager puts your hashtags front and center, making it super easy to find what you need.
All your saved hashtags are conveniently displayed in one place, allowing seamless switching between hashtag collections, categories, and sets. You can copy the perfect hashtags to your posts with a single click.
With Flick's Instagram Hashtag Manager, you can take your hashtag game to new heights and get more followers!
Banned Hashtag Checker
Flick's Banned Hashtag Checker enables you to quickly and easily check any hashtag before you post.
This helps to ensure that your content isn't limited by Instagram's ever-changing algorithm, which routinely bans and un-bans hashtags based on recent content and activity.
The Banned Hashtag Checker uses Instagram's official API to check your hashtags so you know for certain which ones are safe to use.
Not only does it save time, but it also helps you stay in good standing with Instagram's community guidelines.
Limited reach caused by banned and flagged hashtags can ruin your content strategy, but Flick's Banned Hashtag Checker can help you stay ahead of the game.
The Banned Hashtag Checker is available on all Starter, Growth & Pro plans so you can maximize each and every post and get the most out of your 30 available hashtag slots.
Flick Review: Instagram Analytics Reports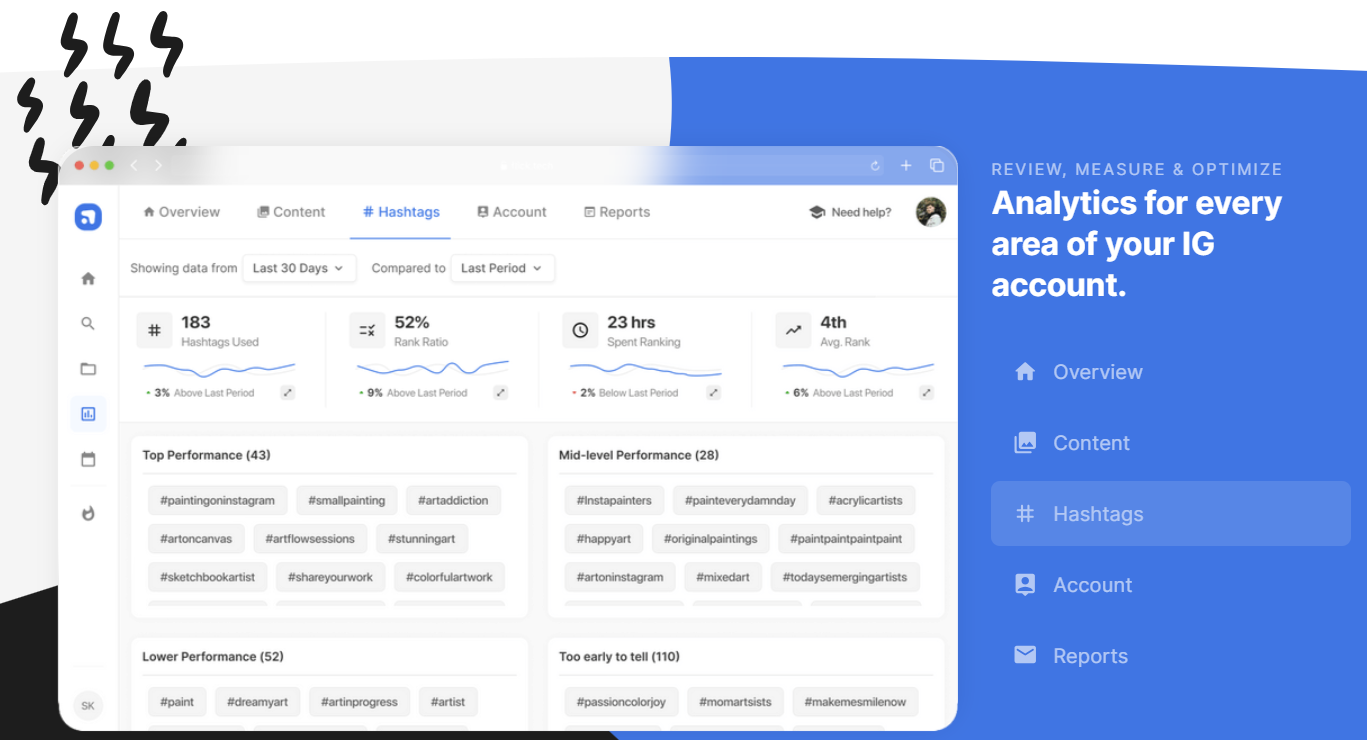 Through Flick's Instagram Analytics Reports, you can track and compare multiple accounts and hashtags to better understand the success of your content compared to other accounts in the same niche.
This data allows you to make more informed decisions about which hashtags are most effective for growing your reach, engagement, and overall success.
With detailed reports on hashtag performance, on data points such as reach, impressions, and engagement over time, you can easily identify which posts are working best for your audience and ultimately grow your account organically.
This tool allows you to maximize your Instagram reach and engagement through the power of data-driven insight to take your Instagram presence to the next level.
Instagram Post Scheduler
Flick's Instagram Scheduler takes away the stress of manually posting content on Instagram.
It allows users to easily develop and execute their content strategy with scheduling, media library, and best times to post on Instagram suggestion features. Its drag-and-drop functionality makes rearranging your content easy.
With the scheduler, you can plan ahead and make sure your content is always on brand and resonates with your audience.
This can reduce time spent creating and organizing posts while increasing your reach and engagement.
Instagram Hashtag Tracker
Flick's hashtag tracker allows you to keep up with the trends of your niche and measure the success of your campaigns in real time. This useful tool helps you research, analyze, and compare content across different hashtags as well as individual posts.
With Flick's hashtag tracker, you can easily find out which hashtags are bringing in more engagement and which ones are falling behind. Additionally, you can use this key hashtag metrics tool to discover and monitor the performance of your competitors' hashtags, giving you an edge in the game.
With all these insights, you can create content tailored specifically for your target audience and maximize the reach of your posts.
The hashtag tool also allows you to filter results by date, so you can get an in-depth understanding of how your posts have performed in the past. You can use this data to improve your future campaigns and optimize them for a higher reach and engagement rate.
With the help of Flick's hashtag tracker, you can also track the performance of your influencers and see how their posts have fared. This way, you can make informed decisions when it comes to choosing who you should collaborate with in the future.
Instagram Feed Planner
The Instagram Feed Planner from Flick helps you plan, schedule and preview posts on your feed. It enables you to easily visualize what your grid looks like in the future and create a cohesive content strategy for optimal reach and engagement.
You can also use it to search for relevant content, pick the right hashtags for each post, decide which content to publish when, and even identify potential influencers.
It provides you with all of the necessary features to plan, schedule and preview posts on your feed while also helping you create a cohesive content strategy that will drive engagement.
AI Social Media Assistant
Flick's AI Social Media Assistant is a clever tool that helps you quickly create unique content ideas, captions, and other posts for your social media. This speeds up the brainstorming, writing, and planning process for social media posts.
It uses natural language processing (NLP) to analyze the topics you enter and generate unique content in your own voice without the time and effort of traditional copywriting.
Additionally, you can save, organize, and schedule your ideas in just a few clicks.
The Assistant is also wrapped within the Content Planner, an organized space to store ideas for future use. The Content Planner helps you organize your thoughts better and create more cohesive content.
Flick's AI Social Media Assistant helps you become an expert copywriter while saving even more time and effort.
Flick's Pricing Plans
You can get started with Flick from $10 a month (plus taxes), with a 20% discount for an annual subscription. If you're not sure if Flick is right for you, try it free for seven days before committing to a paid plan.
Flick Review: Who is It For?
Flick is designed for small businesses, entrepreneurs, and freelancers who want to maximize their digital presence. Its intuitive and comprehensive tools make it a great choice for those looking to get the most out of their social media strategy.
Additionally, Flick offers a fairly affordable pricing model, making it accessible to small businesses with limited budgets.
It's designed to be user-friendly, with a simple and straightforward interface that helps users navigate the platform's features quickly. With Flick, casual content creators can craft beautiful social media posts with minimal effort.
Flick provides a comprehensive analytics suite that allows its users to gain deeper insights into their performance across multiple networks. This helps them understand what works and optimize their strategy for maximum reach and engagement.
At the end of the day, Flick is for individuals and businesses looking for an affordable tool to make their mark on social media. With its comprehensive suite of features, it can help users increase their reach and engagement efficiently. So, whether you're a small business or an independent content creator, Flick can help take your digital presence to the next level.
What Are People Saying About Flick?
Flick Social gets a solid 4.7-star rating from 56 reviews on G2.com, the business software reviews site, with users rating it above average for ease of use, quality of support team, and easy setup process.
Existing clients love how they can find hashtags that aren't used by many people but are still relevant to their business. They also appreciate the detailed insights on which hashtags are performing well. Since using Flick, their hashtag reach has increased immensely!
Flick Alternatives
If you're not sold on Flick, let's take a look at a couple alternatives:
IQHashtags is a comprehensive suite of tools that helps you to optimize your Instagram marketing strategy.
It provides AI-driven hashtag recommendations, analytics and performance tracking of your content, a hashtag search engine to find the best hashtags for each niche, and an Instagram Caption Generator with thousands of caption templates in different languages.
IQHashtags helps creators to identify relevant and trending hashtags to increase their reach and engagement on Instagram. It also allows you to monitor the performance of your hashtags over time with detailed insights into their usage.
If you plump for a yearly subscription, you can use this tool starting at just 6 bucks a month! There's a free 7-day trial of all plans.
---
HashtagsForLikes is designed to help you grow your Instagram and TikTok accounts. It features hashtag difficulty scoring, live stats tracking, fraud detection, audience demographics analysis, brand affinity monitoring, media downloaders, and more.
With these tools, you can create and curate hashtag campaigns, analyze the performance of both yourself and competitors, track results, and save hashtags for future use.
The software allows you to save time and money while growing your account organically, ensuring that your account remains safe with its safeguards against fraud.
This tool is quite a bit more expensive than Flick, with pricing starting at $59/mo with a 14-day money-back guarantee.
---
Flick Review: Verdict
All in all, Flick Social's suite of hashtag tools is an awesome choice for businesses and influencers looking to improve reach and engagement to ultimately make more money on Instagram. It's user-friendly, comprehensive, and provides deep insights into hashtag performance.
With extensive research potential, advanced analytics, and detailed reporting features, the Flick hashtag optimization tool suite can help manage and grow social media presence effectively. The platform has impressive reviews from users who credit it with helping them increase their Instagram engagement levels significantly.
If you're looking for an effective way of managing your social media hashtag strategy for your Instagram posts, Flick Social is definitely worth considering.