Product Name: Elementor Plugin
Summary
In 2023, Elementor is still standing on the top of the wordpress page builder list. I found Elementor built webpage's performance great on both desktop & mobile devices. It offers 40+ content modules which are enough for simple business sites to small blogs. However, upgrading to the Elementor Pro opens up unlimited design customization possibilities such as theme building, WooCommerce customization, etc at a price of just $59/year.
Are you searching for a WordPress page builder? Looking for an in-depth Elementor review along with its features, pros and cons? You're in the right place.
In this post, I am going to share our experience with the Elementor page builder. I have experimented with both free & paid versions of Elementor and finally came up with the verdict.
I'll talk about:
Elementor main benefits
It's working & the user interface
Its unique features
Its pros & cons
Its Pricing & Performance
And more.
So without wasting time, let's dive in.
---
What is Elementor? Who Should Use the Elementor Page builder?
Elementor is a free WordPress page builder which helps you create amazing websites using WordPress.
You need a WordPress theme to work along with the Elementor plugin. Almost every WordPress theme works well with Elementor.
With over 10 million active installs on WordPress sites, Elementor is the leading page builder plugin for WordPress sites.
Who is Elementor For?
Elementor WordPress plugin can be useful for bloggers, website owners, freelance website designers, digital marketing agencies, and anyone who wants to make their website's design appealing.
A quick answer for those seeking clarity about WordPress and Elementor…
What is the difference between Elementor vs WordPress Gutenberg Editor?
Compared to Elementor, the WordPress default Gutenberg editor is more simplified, easy to use, and offers a better user interface with enough block elements. And since it is built into core WordPress, plugins and themes are more likely to be compatible with Gutenberg than Elementor. However, the WordPress Gutenberg editor has serious limitations (Code customization, Limited Elements, Limited Functionality) which are overcome by Elementor
Let's move to the Elementor review…
---
Elementor Review 2023: Is it the #1 WordPress Page Builder?
When it comes to WordPress page builders, there are a lot of options available including;
Beaver Builder
Elementor Page Builder
Thrive Architect Page Builder
Divi Builder
When you have so many options, why choose Elementor over other page builders? Let's find it out in this detailed Elementor Pro review.
Is Elementor Worth it?
From my perspective, Elementor Pro is the best page builder plugin for WordPress sites. If you're using WordPress and looking to customize everything on your website (from header to footer to landing pages), Elementor is exclusively for you.
Because of its easy-to-design approach, beginners could design or customize their site look and overall design in much lesser time. And yes, Elementor also saves money. A web designer's charges are almost 5X higher than the cost involved in a DIY approach with Elementor.
But if you are using different CMS or have a requirement to access advanced developer level designing interfaces and features, then Elementor might not suit you. Probably Oxygen or Beaver Builder works well in that case.
If you're just getting started, give a try to Elementor free version as it offers enough elements and widgets to build a beautiful WordPress site. But if you open to invest little bit then try Elementor Pro version as it gives you unlimited opportunities to customize your site.
The extra features you'll get in Elementor pro is extra widgets (50+), inbuilt theme builder & popup form builder, WooCommerce & eCommerce support, premium support, and huge list of premade website design templates.
Elementor Pros and Cons
After using Elementor, I noted down some important pros and cons of Elementor that users should be aware of before making a decision on Elementor.
Elementor Pros:
Offers you extremely easy to use drag-and-drop builder (no HTML or CSS skills required)
It's also available for free (although their Pro version offers even more features and modules)
Gives you access to a ton of ready-made page templates
Works with any theme
Works with WooCommerce (in fact, it includes custom WooCommerce content elements) 
Offers mobile editing controls (and anything that you create with Elementor is mobile-friendly and responsive)
Elementor Cons:
No lifetime pricing options as you have to pay every year if you're using Elementor Pro (however you can still use their page builder without support, updates etc if you don't pay annually)
---
Wondering how Elementor can benefit you? What are its unique features? Well, let me reveal all the benefits I found after using Elementor.
---
Words on Elementor Working & User Interface (Is it Hard to Learn?)
Is Elementor easy to work with? 
Absolutely yes!
The primary reason behind Elementor's popularity is its simple learning curve. 
One of the major reasons over 5 million people are using the Elementor plugin is because of its editor. Because of the drag & drop approach, the user can easily design professional-looking web pages by Elementor in minutes. Plus, it also offers a live editing feature.
Here's what the main interface of Elementor looks like;
As you can see above, it offers "elements" (can be also considered as widgets) which you can drag and drop into their editor to make any kind of customizations you need.
There are basically 3 sections you'll find in their editor which are listed below.
Content area (where you can drag and drop any widget aka element that's needed)
Elements area (these are the widgets that you need to design your page)
Settings (you can preview your design on different devices, undo your changes etc)
Adding Widgets:
Customizing Elements:
Once you drag the elements, it offers you plenty of customizations you need. You can change the text color, play with other color options, typography etc.
Here's how it looks like;
Want to add pricing tables on your landing pages or sales pages? No problem.
As you can see, Elementor offers everything from pricing tables to testimonials to product star ratings and so on.
Verdict on How Elementor Works: Just like other users, I found the Elementor page building process smooth & simple. All you need to do is to search for an element and drag it to the editor. Adjusting element settings in one click saves a lot of time. Live editing, revisions & draft mode ensures safe & hassle free editing.
If you're just getting started with Elementor, I highly recommend you watch this quick video from the Elementor team.
---
Access to over 150 Responsive Premade Templates (Big Advantage)
The main value Elementor gives you is "Premade Templates".  For those who don't want to build a page from scratch can take advantage of such templates (300+)
During my research, I have found Elementor offers Templates for Individual Pages (About us, Contact us, Homepage), Embeddable Blocks templates (404 Block, Footer, etc), and Complete Website Kit templates.
Individual Pages Templates:
Blocks Templates:
Website Kit Templates (Set of Pages):
Verdict on Elementor Premade Templates: Elementor premade templates help any website owner to achieve the professional look in a short span of time. The templates have been divided into various industries (Business, Photography, etc) which means no matter what your website niche is – You will find the desired templates for sure.
Quick note: All the Elementor templates are editable.
---
Elementor Modules: How Many Elements Offered By Elementor?
Elementor Widgets (elements) are the main thing you will interact with inside Elementor. These elements are the building blocks of your page. You cannot build a page without these elements.
Did you know Elementor offers 40+ widgets in its free version only? It is more than any premium page builder (Divi) offers.  And if you explore Elementor Pro, then you would find upto 50 extra widgets.
You'll find 4 types of Modules inside Elementor: Basic Modules, Pro Modules, Theme Modules & WooCommerce Modules.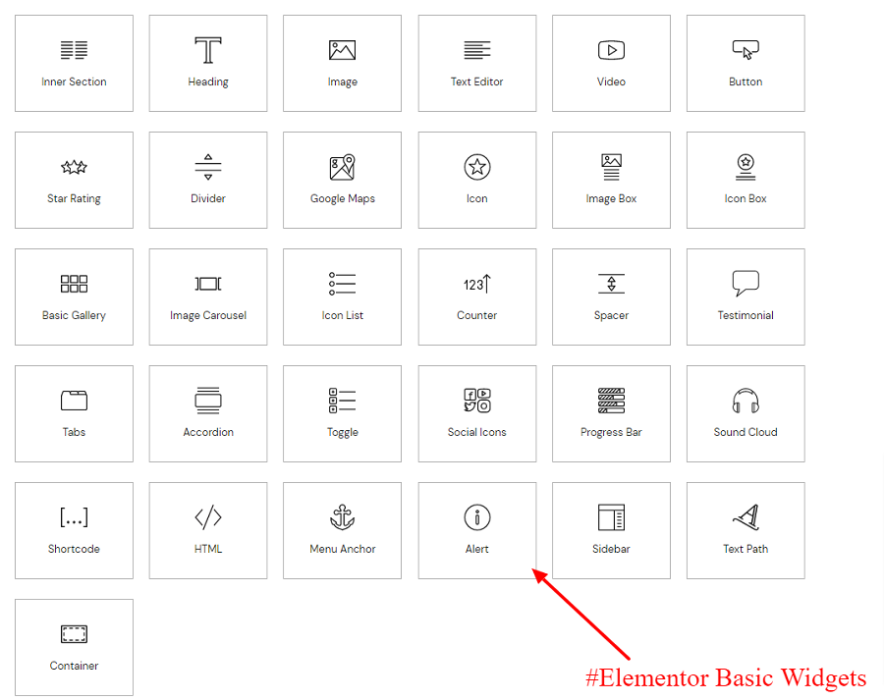 Verdict on Elementor Modules: With the availability of so many useful modules, you can achieve any layout possible, eliminate the need of 3rd party plugins for acquiring extra widgets, and finally transform your page design like never before. Not just regular pages, you can also build eCommerce rich pages with the help of powerful WooCommerce widgets.
Quick note: Did you know you can create your own Elementor widget with the help of developer tools? Plus with the help of 3rd party addons, you can extend the list of Elementor modules.
---
Elementor Theme Builder (A Highly Beneficial Feature of Elementor)
I know there are thousands of WordPress themes out there (ranging from free to premium themes). Most WordPress themes would require knowledge of PHP and CSS. That's the reason why most people won't be able to make many changes at the design level.  – This problem is solved by the Elementor Theme Builder feature.
Fortunately Elementor Pro offers a theme builder which lets you customize almost anything on your WordPress site.
Quick note: Elementor's free version doesn't offer all those functionalities, so Pro is a better choice.
From pages to the header section, footer and archive pages, you can pick any template you want to and customize your site using drag and drop editor.
Want to add a new logo to your site? Just create a logo and drop it in the header section. Want to change your footer section completely? Add the necessary elements that you need and you're done.
Verdict on Elementor Theme Builder: The Elementor theme builder could be a great help for users who want to achieve full control on website design.
So how to use Elementor Theme Builder from Elementor Pro?
Watch this tutorial from Elementor:
---
Words on Elementor Compatibility with WordPress Themes
Elementor needs a WordPress theme to customize your site and it works flawlessly with any WordPress theme.
When it comes to WordPress themes, I highly recommend you to stay away from free themes. So what options do you have when it comes to premium themes that work well with Elementor?
There are a ton of Elementor compatible themes in the market, but there are two themes that are widely used by Elementor users and they are;
But what if you're looking for a FREE theme that works out of the box with Elementor?
Fortunately, Elementor offers you a free WordPress theme called "Hello" which they call it as the "fastest WordPress theme ever created". Here's the link to download Hello theme for free (From the Elementor site)
---
Elementor and Popups
Quick Verdict on Elementor Popups:
By Elementor Popup Builder, you can eliminate the need for EXPENSIVE third party popup form maker plugins.
I should agree with the fact that Elementor Popup builder saves me 100's of additional bucks that are supposed to spend on third party Popup form maker tools like OptinMonster. In a nutshell, Elementor Popups can influence your decision on the Elementor Pro version.
If used right, popups can work like a charm to boost your website conversions. No matter whether you want to grow your sales, email subscribers or leads, you can use popups to quickly grow your conversions.
But creating popups is not easy until recently (as you either had to use expensive plugins or tools). Now, you can use Elementor Pro to create WordPress popups.
If you're a beginner, you can use their pre-made designs as they currently have over 100 beautifully designed popup templates you can use to design WordPress popups to increase your website conversions.
What type of popups can you show on your WordPress using Elementor plugin?
Countdown timer popups
Promotion & Sale Banners​
Lead Capture (Boost your conversion rate by creating smart popups)
Content Lock & Upgrades​ (Reveal your premium content to users who opted in)
Announcements (Notify visitors about maintenance, news or updates etc)
Exit Intent (Popups trigger when your website visitors are just about to leave your site)
Welcome Mat (You can show full-screen welcome popups that your visitors see the second they visit your site)
Related Products & Upsells (You can get more sales by creating popups that display related WooCommerce products)
So how can you create popups for WordPress using Elementor?
---
Elementor & WooCommerce: Create your own online store with Elementor WooCommerce Builder
Do you want to create your own online store? Don't know how to code? No problem.
With Elementor WooCommerce Builder, you can easily create your eCommerce store to sell products and it also offers page templates to customize your store however you want.
Quick note: WooCommerce builder & WooCommerce elements are only available in Elementor Pro version.
Here is the breakdown of all the parts that are included in a regular WooCommerce product page (including widgets).
As you can see above, from menu cart to product description and related products, you can create your own online store without coding.
You can now edit and customize the template however you want (by including any Widget from the Elementor plugin).
Here are some of the features (widgets) that you can use in WooCommerce Builder from the Elementor plugin.
Add to cart buttons
Product images, price, product ratings, upsells etc
Product title and description
Product content
Product breadcrumbs (easier for navigation and SEO benefits)
Offers you Pop-ups, Countdown timer, Flipbox and so on
Verdict on Elementor WooCommerce Builder: If you're someone who is looking to create single product templates to make your online stores appealing and conversion-focused, WooCommerce Builder from Elementor is the perfect choice for you.
---
Elementor Features: Does It Has All The Features You Can Expect in a Page Builder?
What makes a WordPress Page Builder great? Many things! Features is one of them.
Here are some of the excellent features offered by Elementor plugin which help you build amazing websites easily.
Access to the #1 Drag & Drop Page Builder (No HTML skills are required)
Access to a Ton of Widgets
Access to Over 300 Pro Templates
Access to Theme Builder (Design your entire site however you want from blog posts to the footer to the sidebar)
Access to Popup Builder​ (Eliminate the need of 3rd party popup plugins or tools!)
Access to Visual Form Builder (Eliminate the need for form builder plugins)

WooCommerce friendly

Access to 24/7 Premium Support

Access to Price Table & Price List (extremely useful for affiliate marketers or course sellers)
Access to Design 404 Pages
Access to Design Header & Footer
Access to Custom Field Integration And Interactive Carousels
Access to Role Manager, Custom Fonts, and Sticky Elements
That means, with the help of Elementor, you can build anything from landing pages to custom 404 pages, appealing popups and so on.
Verdict on Elementor Features: Elementor has been packed with super essential features. Even its free version has enough features which satisfy the needs most of the time. However, the Elementor Pro is a game changer. The Theme builder, Popups, WooCommerce Builder are some of the unique features of the Elementor Pro.
So do you want to give it a try?
---
Elementor Addons (For Expanding the Elementor Capabilities)
Feeling a lack of features or modules or templates in Elementor? Well, explore Elementor Addons.
When you have access to the Elementor plugin, you'll have unlimited choices to design your website layout from scratch.
In fact, you can also use 3rd party Elementor addons that can take your blog's design to the next level.
You can browse this section to get the best Elementor Addons to customize your site layout. (Our favorite is Envato Elements – Enhances template library)
Most of these addons are developed by world class developers and you can also find some free addons to use on Elementor page builder.
---
Experience with Elementor "Free Version" & "Pro Version" (Which one is to choose?)
As mentioned, I have experimented with both versions of Elementor. Just like us, Everyone started with the Elementor Free version.
The Elementor free version stands on the top when you search for a Page Builder inside the WordPress plugin repository.
5 Million + websites have already been using the Elementor Free version.
So why Elementor Pro? What's hidden inside Elementor Pro?
Well, there are dozens of differences b/w Elementor free version & Pro version, but you can consider this comparison table where I have mentioned the primary features you only get with Elementor Pro.
| Features | Elementor Pro | Elementor Free | Benefit |
| --- | --- | --- | --- |
| Theme Builder | ✓ | X | Full Theme Customization (No Coding) |
| Form Builder | ✓ | X | Inbuilt Form Maker |
| Pro Templates & Blocks | ✓ | X | Access to High level templates & widgets |
| Embed Anywhere | ✓ | X | Widgets can be placed anywhere on a site |
| Global Widget | ✓ | X | Change global settings of a widget (Highly Important) |
| Custom CSS | ✓ | X | Apply custom CSS to widgets |
| WooCommerce Widgets | ✓ | X | Access to WooCommerce Modules |
| Social Media Widgets | ✓ | X | Access to social media modules |
| Nav Menu | ✓ | X | For designing beautiful Menus |
| Header & Footer Builder | ✓ | X | Custom header & footer per page |
| Popup Builder | ✓ | X | Build Popup forms |
| Start Now | | | |
---
Elementor Pricing Review: Is it Affordable?
So how much does Elementor Pro cost?
Currently Elementor Pro offers 4 subscription plans which are listed below.
Essential: $59/year (1 Website)
Advanced: $99/year (3 Websites)
Expert: $199/year (25 Websites)
Agency: $399/year (1000 Websites)
So what are you waiting for?
What if you're not happy with Elementor Pro? 30-days money back guarantee will always have your back.
Verdict on Elementor Pricing: In a comparison with other page builders available in the market, Elementor offers relatively cheap plans. If you have a single website, then Essential plan should be your first pick. However if you have multiple clients to deal with then Grab the expert plan.
---
Words on Elementor Performance (Will it Impact Site Performance?)
The primary reason people don't install the Page Builders plugin on their site is that they fear about the bad impact page builders made on a website's performance.
But don't worry. Elementor never does this.
In fact, I have tested Elementor's performance and found amazing results. I created a page with Elementor HEAVY modules (contact form, table, etc) and tested using the Google PageSpeed tool.
Here is the result: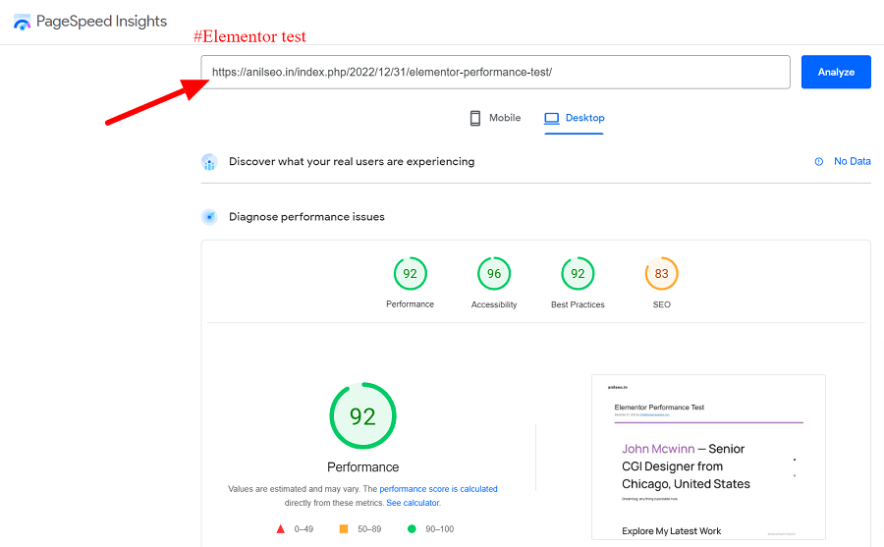 I haven't used the WP Rocket site optimization plugin – Meaning the performance will improve drastically if you use any site optimization plugin on Elementor based WordPress website.
Quick Verdict on Elementor Performance: Generally Elementor doesn't harm a website's performance. Just like any other plugin, your site performance will be impacted if your web hosting server is poor.
---
What are the Support Options available in Elementor?
The Support options for Elementor users vary as per their plan. 
Here are the support options found inside Elementor:
---
Elementor Reviews (What Other Users Are Saying About Elementor)
Elementor Reviews on WordPress.org:
Over 10 million websites are currently using this plugin and it has a 4.7 star rating with over 6,000 Elementor reviews at WordPress.org.
Elementor reviews on GetApp:
On GetApp, Elementor got a TrustScore of 4.7 out of 5 ratings.
---
Elementor Alternatives (You can consider Divi)
Personally, I would advise you to start with an Elementor (If you are a beginner). However, you can always have various WordPress page builders to choose from. 
When people search for Elementor alternatives, Divi always comes first. If Elementor is the #1 WordPress page builder then Divi is the #2. 
There has always been a running debate between these two awesome page builders. You can read my Elementor vs Divi post to understand how these plugins differ from each other.
---
FAQs About Elementor Page Builder Review
What can I do with the Elementor plugin?
Pretty much everything. It offers you a drag and drop editor which lets you customize almost every part of your site.
– You can create popups
– You can easily create email optin forms (and integrate with a ton of tools)
– You can design custom pages (including 404 error pages)
– You can create landing pages
– You can design custom footer, header etc
Is Elementor a theme or plugin?
Elementor is a WordPress plugin (not a theme). Elementor plugin is a page builder where you need a WordPress theme to build and customize your site. You can create anything including landing pages and custom layouts by using their drag and drop editor.
It also comes equipped with hundreds of pre-made templates that help you easily customize the design of your WordPress site.
What happens to pages created in the Elementor free version after I upgrade?
If you're already using the Elementor free version and wondering about what happens to those pages that are created with the free plugin, don't worry. You won't lose anything.
What happens if I deactivate Elementor?
If you deactivate or delete Elementor, your site will be unable to display the elements you created with it (such as popups, landing pages etc).
Does Elementor Pro offer a demo version?
No, they currently do not offer any demo version of Elementor Pro or free trials. However, you can use their free version to customize your sites.
Does Elementor impact SEO?
No, Elementor doesn't harm the SEO of web pages. In fact, it is 100% SEO optimized and compatible with major SEO plugins such as Rank Math, Yoast SEO, etc
Should you install Elementor free version or the pro version?
Elementor free version is perfect when it is your first time with WordPress page builders. Once you are comfortable with it you can upgrade to the Pro version and get additional widgets and features.
Is Elementor suitable for beginners?
Yes, Elementor is specially designed keeping newbies in mind which means it is perfect for beginners. With the help of drag and drop builder
Which WordPress theme works well with Elementor?
GeneratePress, Astra, and Elementor Hello Theme are the best Elementor themes you can choose from.
Does Elementor impact website speed?
Elementor is a plugin, hence it definitely adds some load on website speed. However, if your hosting server is top-notch then everything is going to be smooth.
---
Final Thoughts: Elementor Review 2023
So what are your views about the Elementor plugin? Hope you liked my in-depth Elementor Website Builder Review. If you have any questions, let us know in the comments.