Are you looking for a remote job that pays well and lets you showcase your skills? If that combination sounds (ahem) dynamite to you, then Dynamite Jobs just may become your new favorite website.
Boasting hundreds of job listings from remote-first companies, this platform caters to today's growing work-from-home workforce.
In this review, we'll check out all that Dynamite Jobs has to offer and see if it's right for you.
---
Dynamite Jobs

Ease of Use

Stability

Price
What Is Dynamite Jobs?
At its core, Dynamite Jobs is a job board dedicated to matching remote workers with the companies that need them.
Dynamite Jobs cultivates relationships with business owners who promote a remote-first culture. That means you'll find more than just the typical short-term gigs you might run across on Fiverr or Upwork.
Indeed, while you can find project-based work on Dynamite Jobs, many of the postings are for long-term engagements.
Is Dynamite Jobs Legit?
Dynamite Jobs is definitely legitimate.
Launched in 2017, DynamiteJobs.com was serving remote-first companies and workers long before the pandemic changed the world.
Today, the site is bustling, with hundreds of job listings at any given time. Company names and websites are right there for everyone to see, so there's good accountability.
That works both ways, too. employers can speak directly to candidates pre-vetted by Dynamite Jobs staffers.
How Dynamite Jobs Works for Job Seekers
Getting started with Dynamite Jobs as a job seeker is pretty simple. Just head over to the website and start searching for jobs!
You don't even have to create an account if you just want to window shop.
But it's quick and easy (and free!) to create an account, and doing so gets you access to all the features we'll discuss below.
How Dynamite Jobs Works for Companies
This review focuses on what Dynamite Jobs can do for job seekers, but it's also worth a quick look at the benefits for companies
Employers can hire workers on the site in one of three ways:
Post a job and respond to applicants
Talk directly to pre-vetted candidates
Let Dynamite Jobs handle the entire hiring process
The last option is basically an outsourced Human Resources function well-suited to companies making multiple hires.
Hiring pre-vetted job candidates is free for companies, but the other two options cost. More on that later.
Dynamite Jobs Features
If you're ready to dig in to all the features of Dynamite Jobs, take a deep breath and read on…
Job Board
The key to any job site is, of course, the job board itself!
Dynamite Jobs is no different in that regard, and the job listings are front and center when you click "Remote Jobs" in the top menu:
Scroll down, and you'll see the option to "Load More" jobs. Do that a few times, and it quickly becomes obvious that there are hundreds of remote postings at any given time.
They're fresh listings, too – when I checked for this article, Remote Jobs had more than 250 postings from the last week alone.
Click on a particular listing, and the right-hand pane shows more details about the job. If you like what you see, you can click the "Apply Now" button to submit your application.
And, if you're interested in the job but not ready to apply, you can click the heart icon to save the listing for later.
Job Search
It's all well and good to have easy access to hundreds of job listings, but it can also be overwhelming. Finding the right opportunity is tough when you have to scroll through such a wide array of openings.
Luckily, Dynamite Jobs has a robust search feature that lets you narrow the listings down to the ones most likely fit you.
In particular, you can filter by:
Category
Skills
Location
Salary
Job Type (part-time, full-time, short-term)
You can also provide a search term to really zero in on the type of job you want.
Here is my search for writing and editing gigs, with a keyword of "technical" and a few other filters:
While the search feature is handy, maybe you'd rather have your job listings hand-delivered rather than having to seek them out.
Dynamite Jobs has you covered in that case, too, with job alerts.
Job Alerts
Job Alerts allow you to set up search criteria in your account and then have job listings mailed to you.
Just click the red "Job Alerts" button and fill out the popover dialog with your preferences:
You can select up to five categories and have new jobs emailed to you daily or weekly. You can also sign up for Instant Alerts, where Dynamite Jobs sends you an email whenever a new posting matches your profile.
On-site Job Applications
Once you have found an opening you want to pursue, the next step is to apply.
And, even though it may sound boring, the application feature is one of the hidden gems of Dynamite Jobs.
When you click the "Apply Now" button, you're the application form loads right away:
When you're logged in to your Dynamite Jobs account, the system fills in some of your information each time you apply – name, email, etc.
The really nice part about this application is that it's the same interface every time you apply to a job.
Employers can customize the questions on the form, but you know what you're getting for the most part.
If you've spent much time applying to jobs online, you know what a hassle it can be to fuss with a new application system for every position. Being able to do it all under one login is a real bonus.
Now, there are some companies who post on the site that kick you over to a different system to apply, but not many. I randomly sampled ten different postings for this article, and eight used the on-site application form.
Job Seeker Profile
Applying for a job is one thing – actually landing the job is another. It can be tough to stand out when tons of applicants are gunning for the same remote job!
But Dynamite Jobs gives you a chance to make your best showing by completing your Profile on the site.
This is pretty standard fare for hiring platforms, providing space for your work experience, education, and skills.
You can also drop links to your profile on LinkedIn and a number of other social/professional sites, like GitHub, Facebook, and Dribble.
There is even space to link to your personal and company sites and an online portfolio.
You can upload a resume, too.
Filling in all of this information won't guarantee you land the job, or even an interview, but it will certainly give you a leg up on other applicants who skimp on the details.
One other neat feature of the job seeker profile is that you can set answers to some standard application questions. That way, the system will automatically fill in more of each application when you apply for a position.
Company Profiles
As with the candidate profile discussed above, employers who post on Dynamite Jobs can fill out a company profile.
Here, you can find a description of the company, what they do, and their culture – at least theoretically. In practice, most of the company profiles on the site are skimpy and not all that helpful.
At the very least, you'll find all the company's current jobs posted on Dynamite Jobs. So, if you find one job that looks like a fit, you might find others.
And most companies at least do provide links to their websites and any social accounts they may have.
Candidate Vetting
Although candidate vetting is a service provided to employers, it benefits you as a remote job seeker.
Basically, when a company asks Dynamite Jobs for candidates with certain skills, they send over the ones with the most complete and relevant profile information.
More motivation for taking the time to fill out your profile!
Hiring Support Services
Companies can also opt to have Dynamite Jobs handle their entire hiring process through an option called Hiring Support Services. 
After a discovery call, Dynamite Jobs handles the job posting, candidate recruitment, and offer negotiation.
As a job seeker, this can be either a positive or a negative (or maybe both).
On the plus side, you're dealing with a hiring team who really knows how to keep the process moving and professional. 
The downside is that outsourcing functions like this can make a company feel a bit detached from the process and from prospective employees.
Dynamite Jobs Pricing
Dynamite Jobs is completely free for job seekers. You can apply for unlimited jobs, beef up your profile, set up alerts – all for free.
The story is a little different for employers, though.
A basic job listing costs $399, with the "Promoted" and "Featured" jobs commanding a premium.
But that's actually more great news for job seekers because it means companies can't just post jobs will-nilly. They have a lot of skin in the game for each one.
Hiring Support Services costs $5500 to have Dynamite Jobs handle the entire job search.
Dynamite Jobs Alternatives
Dynamite Jobs has lots to offer remote job seekers, but they're not the only game in town.
Here are a few other places to look for remote work:
FlexJobs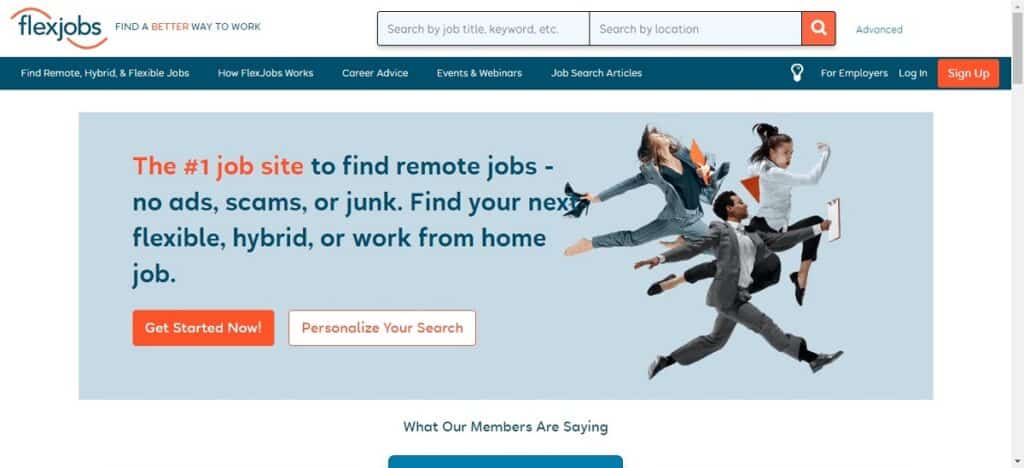 Started in 2007, FlexJobs is probably the oldest and definitely one of the largest sites dedicated to remote work.
With thousands of job listings across more than 100 industries, FlexJobs is tough to beat when it comes to the sheer volume of opportunities. And, like Dynamite Jobs, FlexJobs screens their job listings and gives you information about the posting companies.
The catch is, FlexJobs is not free for applicants. Subscriptions start at $9.95 per week with discounts if you ante up for a monthly, quarterly, or yearly commitment. 
A one-year subscription costs $59.95.
Check out our FlexJobs review here!
---
JustRemote
Like Dynamite Jobs and FlexJobs, JustRemote lists remote jobs across many categories. They also let you specify whether you're looking for full-time, part-time, temporary, or permanent work.
Access to the basic job search and application features is free, but many of the best job listings are behind a paywall.
Premium search gets you access to all jobs on the platform for $12 per month (the first month is discounted to $6).
---
Upwork
Upwork is perhaps the most popular site in the world for finding remote freelance gigs. A big difference between Upwork and Dynamite Jobs is that, at Upwork, you bid for each individual posting. 
Setting up your profile and bidding for gigs is free, but Upwork takes 20% of whatever you make on the platform. 
While you won't find as many long-term options as you will on Remote Jobs, Upwork can really help you build your freelancing business.
---
Dynamite Jobs Final Verdict
So, is Dynamite Jobs the right job board for you?
Well, if you're looking for a remote gig, then it's one of the top options available for finding your next job.
With hundreds of active open positions and a robust search feature, you're bound to uncover some interesting listings.
Dynamite Jobs takes pains in vetting remote companies and their listings, too. You can feel pretty secure that the opportunities you see on the site are legitimate remote jobs.
And, since Dynamite Jobs is free to job seekers, you don't have much to lose by taking it for a spin…but plenty to gain!
Still want more options? Have a look at our article listing the 20 best job sites for remote work!