SMS marketing is an effective way for businesses to connect with customers and leads. It allows them to send details about promotions and new products that'll get seen almost instantly. But which SMS marketing software is the best? In this ClickSend review, we'll take a look at what it has to offer so you can decide if this software is right for you.
ClickSend is a business communications provider helping brands keep in touch with staff and customers via SMS, MMS, rich messaging, email, voice calls, and more.
It's a cloud-based platform that can easily be integrated with many different apps. It's compatible with most network providers; it's simple to use, has enterprise-level security, and provides a 100% uptime guarantee.
Now, let's dive deeper into the ClickSend features, who it's right for, the pricing, pros and cons, the best alternatives, and whether it's worth using.
In a rush? Start using ClickSend for free right now.
Clicksend Review

Ease of Use

Features

Customer Service

Value for Money
Summary
ClickSend is an easy-to-use communications platform that offers SMS, MMS, email marketing, and text-to-speech voice call solutions. It has a free trial so that you can test out its features, and it integrates easily with many popular apps and websites. If you're looking for robust SMS marketing software to engage customers and leads through mobile, ClickSend is definitely worth trying out.
Pros
Free trial with free credits to test out ClickSend
You can pay as you go and don't have to get stuck in a contract
No setup fees, and can have unlimited users/contacts
Free 24/7 live chat support and helpful tutorials
Guaranteed 100% uptime and lightning-fast delivery of all message types
ClickSend will beat any quote from another SMS service
Extremely simple to use and robust reporting features
80% of ClickSend reviews on Trustpilot were 5-star
Cons
Need to keep the character limit low so you don't get charged for 2 texts
Some users report that links sent through ClickSend get reported as spam
Multiple complaints on Trustpilot of letters being printed in the wrong color or minus the full address causing them to be returned
ClickSend Review: What's It Best At?
The ClickSend platform offers a range of communication features for its users. Send messages through a variety of online SMS gateway applications, such as:
Business SMS
The ClickSend SMS service allows you to send and receive text messages quickly and easily.
Using this, you can send SMS text messages from your business in a way that suits you. The options include:
Online SMS. Send text messages, anywhere in the world, right from your browser. This is great for bulk texting as you can upload contacts and send campaigns and receive replies right in your dashboard.
Email to SMS. Convert emails to SMS from almost any email provider. This gives you another way to reach customers who might not see what you send in an overflowing email box.
SMS gateway API. Great for developers who want a reliable SMS API and custom solutions to their exact specifications.
SMS automation. Create "set and forget" recurring text messages without having to use complex code.
The ClickSend business SMS system can be used for promotional campaigns, informational text messages, and 2-way SMS conversations, so you can offer deals, remind clients of appointments, contact staff on the road, and more.
Business MMS

The Business MMS gateway allows you to send multimedia messages with ease worldwide. This helps to enhance engagement and to create more visually appealing mobile campaigns.
With MMS you can use images and GIFs which enhance campaigns, competitions, and feedback responses.
Via the ClickSend dashboard or API, you can send out mass MMS messages to your clients in seconds. A few ways to use MMS include:
Competitions
Special announcements
Instructional GIFs
Animated promotional cards
Promotions and coupons with scannable codes
Rich Messaging
Communicate with clients using the rich communications service. This allows brands and businesses to bring an immersive, interactive experience to default messaging.
This basically means you can get all the rich functionality found in messenger apps like Whatsapp and Facebook Messenger using your phone's native messaging app.
Text to Speech Voice Calls

Turn any text messages into a voice call using the ClickSend website dashboard or API.
A few ways to use this feature include:
Online TTS. Online text-to-speech (TTS) allows you to send voice messages to individuals or a large number of contacts.
Email to TTS. Email text-to-speech (TTS) is ideal for those who use email as their primary contact method.
Voice API. This enables integrations with multiple business applications, software, and websites.
Transactional Emails
Built with developers in mind, transactional email APIs enable them to send, receive, and track emails.
An example of this type of email is a confirmation email after a purchase or booking. These emails are sent to individuals as opposed to large groups of people, like with marketing emails.
Fax Gateway
Send fax messages worldwide via email, online, or API using the ClickSend fax gateway.
This allows businesses to send and receive faxes online without the need for a bulky fax machine or fixed line connection.
Online Post

Mail letters and post online via the ClickSend dashboard or API.
In just a few clicks, you can print, fold and create mail online using the ClickSend cloud printer anywhere in the world.
A few of the ClickSend Post features include:
Online Post. Send letters and postcards to individuals or large groups in a few seconds.
Mail Merge. Send up to 20,000 personalized letters in minutes. Data gets automatically updated from your contact list.
Post API. This feature allows you to integrate easily with a range of business applications, software, and websites.
Print to Post Driver. Print and post a letter just like you would on your normal office printer using the ClickSend Printer Driver. The letter you create is sent to ClickSend, printed out, folded, and posted anywhere you request worldwide.
ClickSend Review: Who is It Right for?
The ClickSend SMS provider is ideal for use by medium to large businesses in a variety of industries, such as:
Tech
Retail
Hospitality
Finance
Transport
Healthcare
E-commerce
Advertising and marketing
Non-profit organizations
Many more…
ClickSend SMS services are basically great for any business or brand that wants to communicate effectively and easily with clients and staff.
ClickSend Review: Can it Integrate with Other Apps?
Yes, ClickSend integrates seamlessly with many of the major apps on the market. A few of the popular ones include:
Shopify
Zoho CRM
Facebook
Freshbooks
Gmail
Google Sheets
Microsoft Outlook
WordPress
Slack
Zapier
Check the full list of integrations on the ClickSend Integrations page. If you can't see the one you need, you can request a listing.
Does ClickSend Have Good Customer Support?
Once you have a ClickSend account, you can take advantage of their 24/7 customer support via live chat and through their Facebook or Twitter page.
You can also browse through the ClickSend Knowledge Base, which has a range of top articles and quick-start guides about SMS, MMS, Fax, post, contact lists, integrations, account set-up, and more.
How Much Does It Cost (ClickSend Pricing)

ClickSend only charges you for the messages you send. You don't have to sign up for a contract or pay any setup fees, and you can have unlimited users/contacts.
Opt for a prepaid plan, where you use your credit card to recharge, or a postpaid plan, where you'll receive an invoice each month for messages sent.
ClickSend pricing is separated into seven categories. Pricing gets cheaper the more messages you send:
SMS. $0.0235/sms under 5k messages.
MMS. $0.0398/MMS.
Voice. Calling mobile $0.0138/call.
Email. $0.0067/email under 25k messages.
Fax. $0.0323/page.
Post. Letters $0.85/each, and postcards $0.81/each.
Rich messaging. This service will be available soon.
ClickSend Review: Is There a Free Trial?
Yes, you can enjoy a free ClickSend trial.
All you have to do is sign up for a ClickSend account, and you'll be given free credit to test out the SMS features and services.
Does ClickSend Have Good Customer Reviews?
ClickSend is a verified company on Trustpilot with over 2,900 reviews and an overall rating of 4.5 stars excellent.
While the majority of ClickSend reviews were good, like you can see below.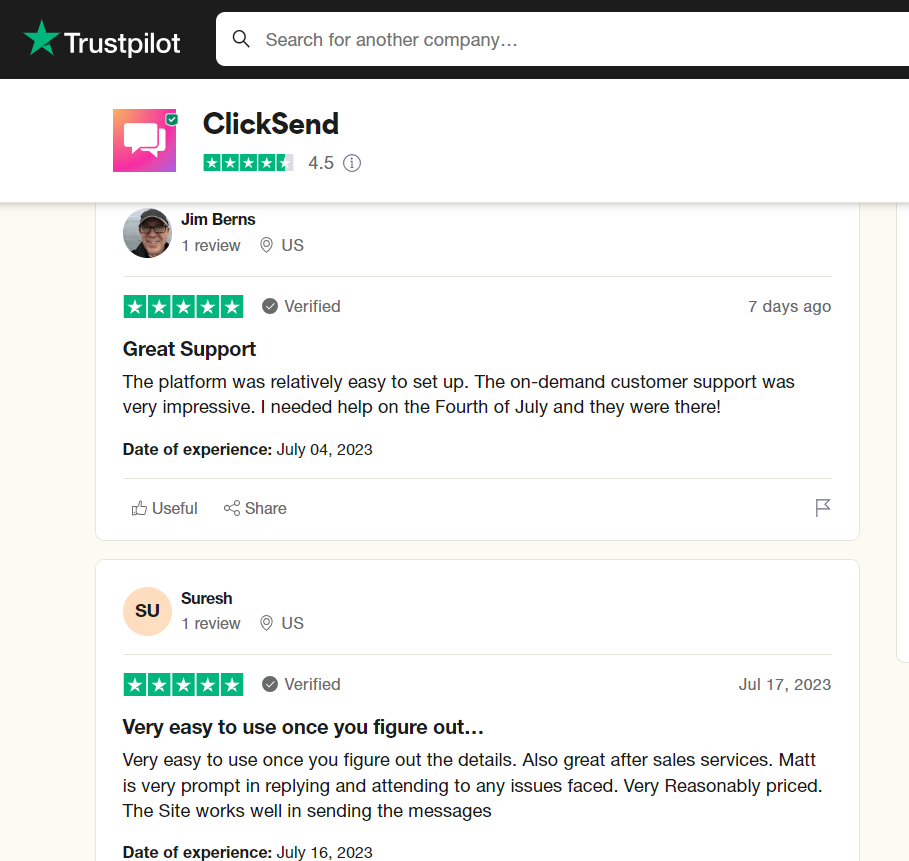 There were a few reviews from customers that had bad experiences.

What Are the Best ClickSend Alternatives?
If you're not ready to commit to ClickSend just yet, take a look at the best alternatives for sending bulk online messages:
TextMagic

TextMagic is a text messaging marketing software that's been around since 2001.
Using it, you can send mass personalized texts to staff, customers, and suppliers.
Its main features include sending texts online, two-way SMS chat, email to SMS, message scheduling, SMS marketing campaigns, and more.
Pricing: $0.049/text, $0.08/MMS.
Simple Texting

SimpleTexting is an all-in-one text messaging service that allows you to create affordable SMS marketing campaigns to target customers and leads.
You can announce sales, personalize messages, and track results all within your dashboard and integrate with over 1,000 apps such as Mailchimp, Zapier, Shopify, Instagram, and more.
This messaging service is useful for a range of industries, including franchises, restaurants, healthcare, real estate, education, marketing agencies, and many others.
Pricing: $29/month for 500 credits, $49/month for 1,000 credits, and plans go up to 50,000 credits, or you can build your own plan.
Take a look at our full SimpleTexting review here.
Twilio

Twilio is an industry-leading communications platform that helps brands and businesses drive customer engagement.
It allows you to send and receive multi-channel text and media messages in 180+ countries, deliver email messages, and make, receive, and monitor calls.
Twilio is used by over 10+ million developers and 290,000+ brands, such as Toyota, Airbnb, IBM, and the American Red Cross.
Pricing: Check the pricing page.
Check out more SMS marketing platforms here.
ClickSend Review Conclusion: Is it Worth Using?
At the end of this ClickSend review, let's consider whether it's the right communications platform for your business.
ClickSend offers a simple and fast way to send bulk SMS marketing messages to clients, staff, and partners.
With a few clicks, you can send SMS, MMS, and direct mail campaigns, and you can easily turn any text message into speech in multiple languages and voice types.
You can try out ClickSend features for free and keep on top of your spending by only paying for what you use and not getting locked into monthly contracts.
If you're a business or brand looking for a new way to market to customers and stay in closer contact with staff, ClickSend are SMS specialists worth checking out.
Need more ways to keep in touch with customers? Check out the best digital marketing apps to help you grow and succeed.