Are you looking to find the cheapest funnel builder?
First, let me drop a truth bomb.
Here it is: Sales funnels are the lifeblood of our online businesses. 
Yep, you heard that right. 
But let's face it – not all of us can afford those fancy-schmancy, high-priced funnel builders. So, what's a scrappy entrepreneur to do? 
Today, we'll explore 9 of the cheapest funnel builders on the market that pack a serious punch! 
Here they are:
Systeme.io
Simvoly
Groovefunnels
Clickfunnels
Convertri
Leadpages
Are you ready to discover the best sales funnel builder? Let's dive in!
Systeme.io: Best & Cheapest Funnel Builder
Managing an online business can be quite a challenge, right? Juggling multiple platforms, staying on top of costs, and maintaining your sanity is a daunting task.
But, as someone who's been there, I cannot help but share my experience with a platform that genuinely made my life easier – Systeme.io.
Think of Systeme.io as your all-in-one business companion. It's got everything you need to streamline your online operations, all under one roof:
Sales Funnels: Creating high-converting funnels has never been simpler, thanks to customizable templates and an intuitive drag-and-drop editor.
Email Marketing: From designing engaging email campaigns to managing subscribers and tracking results, it's all in one place.
Affiliate Program Management: Launch, manage, and track your affiliate program, monitor commissions, and let your affiliates boost your business.
Online Course Hosting: Effortlessly design, host, and sell your online courses, complete with an integrated membership area for seamless access.
I've built multiple funnels with Systeme.io, and I can vouch for its user-friendliness. I also used Systeme.io to promote Jonathan Montoya's make money online program, and I was quite impressed with how easy it is to set up.
Even if you're not tech-savvy, you'll feel right at home. And believe me, the last thing you want is to invest in a tool that gathers virtual dust!
Another plus is Systeme.io's speed – no more waiting around for pages to load, which can be a natural productivity killer.
Signing up takes about 5 seconds – all you need to do is submit an email, and you get access to the free account. You don't even need to submit a CC on file.
I'm confident you'll love it too – give Systeme.io a try and see the difference yourself!
Pros and Cons
User-friendly interface: This makes it great for beginners.
Competitive pricing and the extensive free plan let you start without spending an arm and a leg.
All-in-one solution: It combines multiple tools in one platform
Responsive customer support: Users report quick and helpful assistance
Some users mention that the customization options are not as extensive as with other platforms.
A few users report encountering occasional bugs
Pricing
If you're on a budget, Systeme.io has excellent pricing options. They even have a Free plan, perfect for those just starting. With the free plan, you get access to 2,000 contacts, unlimited emails, and 3 sales funnels – not bad, right?
Their Startup plan costs $27/month and offers more features, like webinars and A/B testing. Their Enterprise plan at $97/month gives you access to unlimited funnels, contacts, and more. All plans come with a 14-day free trial. The value you get with Systeme.io is unmatched – that's why it's my top pick!
---
Simovly: Runner Up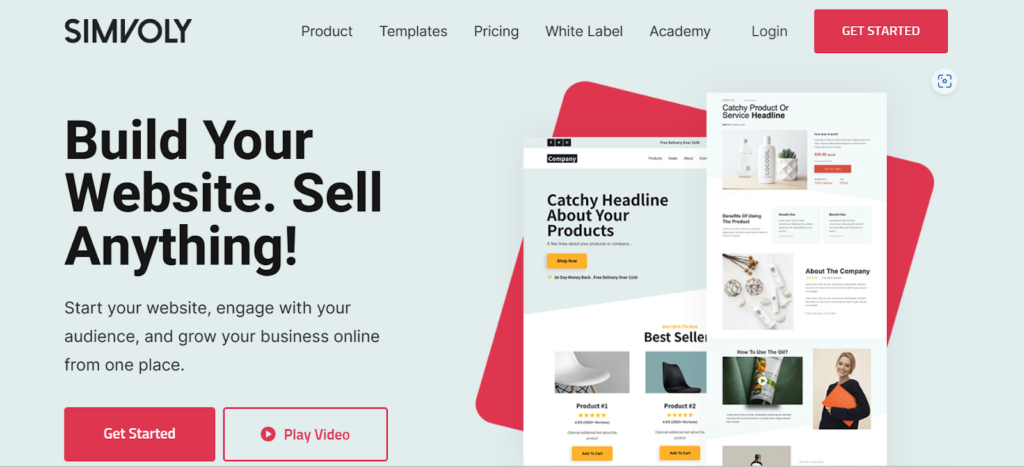 If you're on the lookout for a modern, capable, and user-friendly website builder, let me introduce you to Simvoly. 
I've personally enjoyed using Simvoly, as it strikes a balance between functionality, ease of use, and price.
So, who is Simvoly for? It's perfect for small business owners, entrepreneurs, freelancers, and agencies looking to create professional websites, online stores, or sales funnels.
It may not have as many widget options as some competitors, but it covers the essentials quite well (at an amazing price).
What sets Simvoly apart is its white-label website-building solution for agencies and freelancers and its focus on funnel-building and e-commerce capabilities. 
Here's an overview of Simvoly's key features:
Drag-and-Drop Builder: Create professional pages effortlessly with Simvoly's intuitive builder.
Templates and Themes: Customize pre-designed templates and themes to suit your brand's style.
Funnel-Building Capabilities: Generate leads and drive sales with Simvoly's funnel-building tools.
E-commerce Features: Set up an online store, manage products, and process payments with ease.
White-Label Solution: Offer clients a branded website-building experience with Simvoly's white-label option.
Mobile Responsiveness: Ensure your website looks great on all devices, including smartphones, tablets, and desktops.
Pros and Cons
Easy (cheapest) funnel builder: Simvoly's website builder is easy to use and requires no coding knowledge.
White-label feature: You can rebrand the platform as your own for clients or reselling purposes.
Fast-loading pages: Users report quick page load times, improving user experience and SEO.
E-commerce capabilities: Simvoly includes built-in e-commerce features for selling products online.
Limited integration options: Some users wish for more third-party integrations with other tools.
Not as feature-rich: Users mention that Simvoly lacks some advanced features compared to competitors.
Pricing
Simvoly's pricing is pretty straightforward and caters to different needs. I started with their Personal plan at $12/month, which provides a lot of value for a small website. 
Their Business plan starts at $24/month, which allows you to create more funnels and access e-commerce features. If you need even more power, their Growth plan at $59/month or Pro plan at $149/month could be a better fit. It's nice to have options, you know?
So, check out Simovly and let me know what you think!
---
GrooveFunnels: One of the Cheapest Funnel Builders
I know there are countless funnel-building platforms out there, but let me share my experience with our third pick: Groovefunnels.
What sets GrooveFunnels apart? For starters, it's their laser-focus on conversion. In addition, they offer a suite of templates specifically designed to help you generate sales and leads.
And trust me, you don't need any coding skills to make the most of these resources – GrooveFunnels is incredibly user-friendly.
But there's more to GrooveFunnels than meets the eye. This platform goes the extra mile when it comes to funnel elements. Whether collecting leads, showcasing your primary products on conversion-focused web pages, or offering downsells to hesitant customers, GrooveFunnels has your back. 
Next, let's not overlook one-click upsells and attractive checkout page bumps – they've truly thought of everything.
Lastly, GrooveFunnels enables you to follow up with your customers through email and SMS.
As for the types of funnels you can create, GrooveFunnels boasts an impressive lineup. From tripwire funnels and evergreen funnels to ebook launches and webinars, the sky's the limit!
Here's a video to showcase what Groovefunnels is used for:
Pros and Cons
Offers over 18 apps
They offer a lifetime plan
The platform continues to improve, addressing user feedback
Has a large and supportive user community
No CC is required to start
Some features are not yet polished.
It has a steeper learning curve, according to some
Users report 48hrs support ticket time.
Pricing
First, their free plan is a total steal – it's free for life. You can create up to three funnels, import up to 20 products, and have up to 1000 email contacts. 
If you're looking for something more robust, the Startup plan might be right up your alley, costing $99 per month – this also gives you access to all 18 apps. With this plan, you can create up to 5 custom domains, have up to 10,000 email contacts, and create unlimited funnels and pages.
The premium plan, priced at $299 monthly, gives you unlimited custom domains and contacts. 
Go ahead and take Groovefunnels for a spin and see the results for yourself
---
GetResponse
If you're looking for insights from a fellow user, let me break it down for you.
First off, GetResponse started as an email marketing tool – they've truly mastered that aspect. It's been fantastic for engaging with leads and nurturing them. Setting up automated follow-ups and personalized messages is simple, which saves me time and helps me maintain a connection with my audience.
Now, let's talk about e-commerce. If you're running an online business, you know the importance of squeezing every ounce of value from each sale.
You know those pesky abandoned carts, right? With GetResponse's abandoned order emails, you can gently nudge customers to complete their purchases, making a noticeable difference in your overall revenue.
Ok, now let's talk upsells – an essential element of profitability. GetResponse's one-click upsell pages make it easy to offer your customers relevant, timely deals right after their initial purchase.
I've seen some of my campaigns turn from break-even to profitable by implementing this.
Speaking of value, GetResponse also offers product recommendations based on customers' previous purchases. I've found this approach to be super effective in driving repeat business.
And then there's the social media aspect. With their Social Ads Creator, I've been able to craft ads that catch my audience's attention and make them want to learn more. Plus, their Facebook Ads Management tool has saved me countless hours.
Pros and Cons
It's known for its powerful email marketing capabilities.
Conversion funnel features are strong for ecommerce
GetResponse offers flexible automation options
Users can easily connect the platform to other tools
Get started without a CC!
Some users find the interface overwhelming at first.
A few users mention limited design flexibility with some templates.
Pricing
Starting at $15/month, their basic plan includes essential features like email marketing and landing pages. 
Their Plus plan is $49/month, which gives you access to their Conversion Funnel features, webinars, and more. They also have the Professional plan at $99/month and the Max plan with custom pricing for those who need advanced capabilities.
Go ahead and give GetResponse a shot!
Check out our GetResponse Vs ActiveCampaign comparison here.
---
Clickfunnels
What makes ClickFunnels stand out among other sales funnel builders? 
Two words: simplicity and effectiveness.
I've personally found that ClickFunnels allows you to swiftly set up a high-converting sales funnel without any coding or complicated integrations.
As an entrepreneur looking to grow your online presence, ClickFunnels is an excellent option. It's ideal for those selling physical products, digital items, or top-tier services.
Here's what I loved about ClickFunnels:
The drag-and-drop funnel builder let me design amazing funnels without any design expertise. Choose from various pre-made templates and customize them to match your brand.
With A/B testing, I could easily optimize my funnel performance by comparing different page versions and identifying the top performer.
Email automation helped me set up targeted email campaigns to nurture leads and improve conversions. 
They also have a convenient affiliate management feature to manage and track my affiliate partners' sales within the platform.
Connecting ClickFunnels to my favorite tools and services created a seamless marketing experience, and the analytics feature provided invaluable insights into my funnels' performance.
What truly sets ClickFunnels apart is its capacity to replace multiple platforms like Squarespace, Shopify, Kajabi, Keap, and MailChimp. This consolidation makes running an online business much more efficient.
Pros and Cons
User-friendly funnel-building interface
Users have access to a wide variety of templates for different funnel types (and they convert at a high clip)
Clickfunnels supports many third-party integrations
Engaged user community for support and learning
Some users find Clickfunnels to be more expensive compared to other options.
The basic plan restricts the number of funnels, pages, and custom domains.
Pricing
Clickfunnels has two main pricing options. The first is their basic plan at $97/month, which offers 20 funnels, 100 pages, and 3 custom domains. 
It's suitable for starting, and as you grow, you can upgrade to their Platinum plan at $297/month. Platinum offers unlimited funnels, pages, and 9 custom domains. It's a bit pricier, but the added features could be worth it.
There is a reason why Clickfunnels is a leader in the funnel space – you can't go wrong with it!
---
Convertri: Cheapest Funnel Builder
I've tried my fair share of sales funnel builders, but let me tell you about a platform that caught my attention: Convertri.
Convertri excels in creating lightning-fast sales funnel pages, addressing the need for speed in today's digital landscape. Google's John Miller says that even a 2-second delay in load time can conversion rates.
Convertri tackles this issue head-on.
When I used Convertri, I was impressed by the drag-and-drop editor. I could fully customize my pages without any limitations. Plus, the platform automatically optimizes my content for mobile devices, which is crucial in today's smartphone-dominated world.
Another thing I appreciated was the seamless integration with other tools in my tech stack, like email marketing platforms, payment gateways, and webinar software. This makes life so much easier and helps me keep everything running smoothly.
Convertri also offers A/B testing, allowing you to test different page variations and find the one that converts the best.
Their built-in shopping cart provides a smooth checkout experience with one-click upsells, bumps, and downsell offers. I also find the ability to create sub-accounts really helpful for managing multiple clients and projects.
Pros and Cons
AMP technology helps create fast-loading for better user experience.
Free-form editor offers complete design control and customization
Solid range of integrations with other marketing tools to enhance functionality.
Convertri allows users to import existing pages from other platforms.
Some users find that getting familiar with Convertri's unique editing features takes time.
A few users mention that Convertri lacks some built-in features compared to its competitors, requiring more third-party integrations.
Convertri Pricing
Their Standard plan costs $53/month, providing 50 funnels, 500 pages, and 45,000 visitors. You can opt for the Pro plan at $58/month, which gives you 250 funnels, 2,500 pages, and 125,000 visitors. 
Large businesses' agency plan at $166/month is a fantastic option, with 1,000 funnels, 10,000 pages, and 400,000 visitors.
Convertri is seriously impressive – I think you'll like it!
---
Leadpages
Are you on the hunt for a tool that'll help you create stunning, high-converting landing pages and websites without needing a degree in design or coding? Look no further than Leadpages.
What sets Leadpages apart from the pack is its user-friendly interface, extensive customization options, and a laser focus on conversion optimization. 
This web-based platform is a go-to choice for entrepreneurs, small business owners, and marketers aiming for impressive results. 
However, remember that it might not be the best fit for e-commerce brands with a massive product catalog.
Here's a snapshot of the fantastic features that make Leadpages a must-try:
Intuitive Drag-and-Drop Builder: No need to stress over coding or design; you can effortlessly create eye-catching, professional pages.
Vast Template Library: Don't know where to start? Choose from a plethora of pre-designed templates tailored to various industries and needs, or go ahead and start from scratch if you're feeling bold.
Conversion-Boosting Tools: Leadpages is all about maximizing your conversions. Experiment with different page versions using A/B testing and track your performance using the integrated analytics dashboard.
Seamless Integrations: Connect Leadpages with popular email marketing services, CRM tools, and payment processors to streamline your marketing efforts.
Mobile Responsiveness: In today's fast-paced world, mobile-friendliness is a must. Leadpages ensures your pages look fantastic on smartphones, tablets, and desktops.
Pros and Cons
Leadpages offers an intuitive drag-and-drop builder for creating landing pages.
Users can access various high-converting templates designed for various industries.
Leadpages allows users to test different page variations to optimize conversion rates.
The platform supports numerous third-party integrations to enhance functionality.
Some users mention restrictions in design flexibility when using the builder.
Leadpages doesn't include built-in email automation, requiring users to purchase and integrate a separate provider for email follow-ups.
Pricing
Leadpages offers three pricing plans to fit different needs. Start with their Standard plan at $27/month, which covers basic features like landing pages, pop-ups, and alert bars. Their Pro plan is $59/month, which gives you access to online sales and payments, email trigger links, and more. Their Advanced plan is $239/month if you need advanced integrations.
Leadpages is the answer. Take a look and see if it works for you too! Check out our full Leadpages review for more info.
---
Cheapest Funnel Builder – Final Thoughts On How To Choose
Alright, you're ready to find the perfect cheapest funnel builder for your business. Here are the essential criteria to consider when making your choice:
Ease of use: You don't want to spend hours figuring it out, right?
Customization: Your funnel builder should offer extensive customization.
Integration: It's essential that your funnel builder can handshake with email marketing services, CRM systems, and payment gateways.
Templates: A solid library of pre-built, conversion-optimized templates.
Analytics and tracking: Data is king! 
Scalability: It should accommodate your expanding needs.
Customer support: Let's face it, we all need a little help sometimes.
Systeme.io stands out for me as the cheapest funnel builder that ticks all the boxes. It's got all those fantastic features you'd find in more expensive platforms like Kajabi, but without breaking the bank. The backend layout feels familiar but offers even more flexibility, which I find pretty awesome.
What sold me on Systeme.io was the visual mapping of automation and workflow processes. It's something I hadn't seen in Kajabi, and it makes life so much easier. Plus, it has this neat order bump and one-click upsell feature I haven't encountered on many other platforms.
If you're looking for a solid, budget-friendly funnel builder that doesn't skimp on features, I'd recommend giving Systeme.io a try.