Did you know there are ways to get free advertising online? Businesses at all stages are trying to reach their audience online but many are unaware of these untapped free advertising options.
Reach your target customers online without investing in marketing or promotion and take advantage of unique opportunities to grow your company with free advertising sites and social media.
Check out these 24 clever ways to score free advertising online!
24 ways to score free advertising online
From websites to social networks, there are plenty of ways to get free advertising online. Check out our list!
1. Facebook Groups
Facebook Groups are collective communities on Facebook where you can gather with like-minded people. You use the power of social media to reach target customers.
There are thousands of groups on Facebook that are available for users to join on a variety of topics like:
Vegan cooking
Small business marketing
Airbnb hosts in Houston, Texas
Dog walkers
Babysitters
Small businesses that want to grow on Instagram
The options are endless.
Anybody who has a Facebook account can create a Facebook group. You can set controls to determine if you want the group to be public or private.
You can also ask members questions that want to join to determine eligibility, add social learning elements, post pictures, poll group members, and much more.
It's a smart way to target people in your customer group and take advantage of free advertising online.
Here's a step-by-step guide for how to create a thriving Facebook group.
2. Facebook
Facebook is one of the most popular social media networks online and a source of free advertising online for businesses.
In addition to Facebook groups, you can advertise on your personal Facebook account or business Facebook page.
Talk about your products, share behind-the-scenes footage of your work, talk one-on-one with your audience, and more!
There are so many ways you can find your target audience organically on social networks like Facebook.
3. TikTok
TikTok is a short-form video-based social media network where you can create up to 3-minute long videos on an array of topics (and share them anywhere if you know how to remove the TikTok watermark) like:
Vegan pastry making
Selling digital products
Applying window tint to vehicles
Sharing your favorite ab fitness workouts
Showing a day in the life of your job
TikTok is excellent for organic reach right now.
Their platform isn't bogged down with ads like other platforms. So, it's the perfect time to share what you do and get incredible engagement.
Creators like Erika Kullberg and others have had a lot of success on TikTok. Erika grew her following by 3+ million on the platform in a month, with her lifehack-style videos being well received on the platform and being picked up by publications like Insider, The Independent, Yahoo, and others.
If you've got a business, you should be on TikTok!
4. YouTube
YouTube is a website and app where you can upload short-form and long-form videos to an audience who can consume your content and learn about your business.
It's one of the top places for free online advertising.
You can film and upload an unlimited number of videos to YouTube to find customers, grow your email list, and sell products directly to your audience online.
For some inspiration, read these 50 examples of successful YouTube video marketing.
5. Twitter
Twitter lets you share just about anything you'd like with your audience on the platform. However, your tweets need to be no more than 280 characters.
This makes for short, bite-sized messages you can tweet to the internet about anything you'd like, business-related or not.
Here are some examples of the kinds of tweets you can post:
Business announcements like clearance sales
Buyer events like giveaways or contests
Behind-the-scenes images and videos
Motivational quotes
Funny memes (and be sure to check out our top websites for memes)
Twitter can be a very effective way to advertise online if you're taking advantage of all the resources they give you (and is one of the answers to the question – how does Twitter make money?). If you join, make sure to do the following:
Complete your bio
Use a profile photo
Write a keyword-rich description
Use the platform consistently to share and retweet posts
Engage with users
Read about this entrepreneur who used Twitter to grow his business to an $80K/month agency.
6. Instagram
Instagram is a multifaceted social network that's perfect for advertising your business. Many successful businesses have been born from Instagram alone.  In fact, you can now do affiliate marketing on Instagram as well.
You'll find a ton of different tools and options to post on Instagram to help you connect with your target audiences. These include Instagram Reels, stories, and other features.
Many businesses join the network and see exponential growth, skyrocketing their business and helping them get new customers, like this certified health coach who grew 14X in 4 months on Instagram.
To get started in the right direction, check out our list of 170 great money captions for Instagram. They may help you attract like-minded people.
If you're thinking of using social media to advertise, many businesses find social media scheduling tools such as SocialPilot to be instrumental in helping them to implement their social media strategies.
Try SocialPilot to Help with Social Media Scheduling
7. Pinterest
Pinterest is like Google but with pictures. Users can browse the pinboard of images to find what they're searching for, from a homemade spinach lasagna recipe to tips for homeschooling their kids or hiring employees for their small business.
This visual search engine is a mix between Google and Facebook.
First, it's more of a search engine than a social network though there are social elements present.
Users can head to the search bar to find answers to the questions they have. They can also follow their favorite creators, repin Pinterest pins to their profile to save for later, join Pinterest groups, and a lot more.
The social part of Pinterest lies in following people you like and getting followers from others who want to keep up with the content you're posting to the platform.
You can also set up and join group boards, which operate somewhat like Facebook Groups.
They're usually built around a specific topic like recipes, parenting tips, side hustle ideas, or other topics. Contributors can pin to the group board and followers will get access to a board chock-full of the info they're interested in, based on the group board topic.
Advertising online using Pinterest is about sharing info about your company in the form of Pinterest pins. You can post them on Pinterest as often as you'd like and they'll circulate across the platform, reaching new people every day.
8. Snapchat
Snapchat is a social network that is known for its short disappearing messages and videos. They offer a bunch of interesting ways to advertise online to your customers like their short temporary videos, geotags, and branded filters.
You can get a Snapchat business account that will help you:
Build a custom business profile,
Create snap stories, and
Interact with your audience.
Snapchat also offers ads you can take advantage of if you're looking to explore paid ads in addition to the organic reach you can get from the platform.
9. LinkedIn
LinkedIn is a unique social network catering to career professionals and job seekers (but there are also lots of great LinkedIn alternatives too). To take advantage of using LinkedIn for free business advertising online, first make sure you have a LinkedIn profile set up for yourself (check out our list of LinkedIn Headline generator tool recommendations to help optimize your profile in seconds).
Setting up a Linkedin profile is quick and easy. It's free to do and you can have your profile set up in minutes.
Next, create a LinkedIn page for your business, set it up, and you're done.
With both your LinkedIn profile and LinkedIn business page, they can both feed into each other when people find you or your business on the platform.
If someone lands on your Linkedin page and they see you're the owner of your business, they might go to your business page (or message you with InMail on LinkedIn). Or, if they land on your business page, they might be curious who works there and visit your profile page.
We like to think of the LinkedIn Page as being your brand's place in the world's professional community. – Linkedin Marketing Blog
With your Linkedin business page, some common goals you can look at achieving are:
Creating brand awareness
Generating sales leads
Driving attendance to events you run
Building a reputation as a thought leader and industry expert
For more on how to take advantage of LinkedIn for organic business marketing, read their blog.
10. Reddit
Reddit is a social network broken down by subreddits, which are community-based groups around various topics on the platform like:
Small business
Beer money
Finance
Podcasts
Best of Netflix
Any Reddit user can create a subreddit and attract an audience to join.
In the subreddit, you'll be able to participate in a discussion around whatever topics are brewing at the moment, as well as start your own discussions.
Redditors are a tight-knit community. So, if you're a newcomer to the platform, tread lightly as some of the subreddits have strict rules for posting and discussion.
They're also not friendly to marketers who aren't trying to participate naturally. So, being booted from subreddits and being put on time out for responding to too many comments or breaking the rules is common.
It's all about assimilating with the culture on Reddit and engaging with others before you try to dive into your sales spiel.
With that said, though, if you can get in, you'll have a great opportunity to appeal to Reddit's huge audience. Here's how you do it:
Find the right subreddits where your audience is hanging out
Create content with value in mind
Engage with users
Do not spam groups
Follow the rules
As a tip, I'd recommend completely filling out your profile, including a picture and description. You'd be surprised how many people will check out your profile to learn more about you.
Your profile is a good place to talk about your business and share what you do to attract customers. It's selling without selling.
To learn more about how to use Reddit for organic marketing, check out this post.
It can also be valuable to take a course in Reddit marketing to learn more about how to effectively market your business and sell products on Reddit and drive traffic to your website.
Take a Reddit Marketing Course
11. Craigslist
Craigslist is a classified ads site where people can post their classified ad. Posting ads on Craigslist is free for the most part, excluding certain categories like the jobs category, for example.
Free advertising online from Craigslist can happen from posting ads about your business.
Visit Craigslist, navigate to the category you want to post in, and create your ad.
For your ad, you can create a keyword-rich title and write a description as well as include photos. You can even anonymously post if you don't want to share your personal information.
There are do's and don'ts you should consider when posting. Read more about these and get a free business template for your Craigslist ad. 
12. Facebook Marketplace
Facebook Marketplace is like the social media-based eBay for local communities but, without the auction bidding. People can visit Facebook Marketplace to buy and sell goods, find a place to live, connect with a real estate agent, find free stuff, and more.
For businesses, Facebook Marketplace can be a place where you can sell your goods directly to consumers. Here are some examples:
Show tickets available for sale
Sell your inventory
Show home rentals
It can also be an option for making money flipping or dropshipping, like this seller who makes $500/day using Facebook Marketplace.
There are plenty of opportunities to advertise your business and sell on this platform, so don't rule it out!
13. Google My Business
Set up your free business profile on Google via Google My Business. Doing this will help you show up in the search results when people are searching on Google.
You can claim your business free and add your business and business location so you show up on Google and Google Maps (and don't miss our guide on how to boost your Google Maps ranking). It's great for business exposure and perfect for all kinds of businesses.
14. Thumbtack
Thumbtack connects customers with service companies for home services, free estimates, and more.
This can be an excellent source of free traffic and a steady flow of customers to your business. It's not for all businesses, but if you're in a service-related industry like plumbing, HVAC, appliance repair, electrical work, or other service business, then joining Thumbtack can be a smart choice.
15. Medium
Medium is a publisher that lets anybody blog for free. The power of blogging means you can put out messages and announcements about your business, rank for keywords, and drive traffic to your business.
Medium is home to up to 100 million active monthly users. It's a great place to connect with your audience and an incredible opportunity to rank your content and push traffic back to your business website.
16. HubPages
HubPages is similar to Medium in that it's also a publishing platform that you can join to write content in your niche and reach your target audience.
It's free to join and the idea is to create your own hub (or blog) where you can write about topics related to your business.
Your content will attract your target customers and drive traffic to your website.
17. Yelp
Yelp is where people can find out about local businesses. Places like restaurants, bars, salons, dentists, and other businesses can be found on Yelp, along with their reviews.
It's one of the best places for free advertising online.
By creating a free Yelp business page, you can take advantage of a cool opportunity to spread awareness about your brand and attract an audience online.
Customers search Yelp to find businesses in their area and with a business page, you'll get a chance to get eyeballs on your business and potentially get new customers.
There's also a $300 free Yelp advertising credit they have been offering for a while for businesses new to Yelp ads. This could give you a good introduction to Yelp ads and if it's working out well, it could be a worthwhile investment in the future.
18. BuzzFeed Community
This publisher BuzzFeed shares pop culture news, lifestyle, and shopping content online.
BuzzFeed Community is the place where BuzzFeed readers can contribute their own content to the platform. They accept quizzes and lists on pop culture topics.
If your business aligns with this kind of content, it can be an excellent source of free traffic and a good way to increase your digital footprint online.
19. Quora
Quora is a question/answer community online. People head to Quora to ask the community their burning questions about virtually any topic under the sun, from advice on how to get rid of adult acne, questions about how to get free cable, resume tips to land an IT job, and more (and we even made a guide for how to make money on Quora).
It's free to join and you can attract customers to your business with your Quora profile.
First, join Quora and set up your free profile. Fill out your profile completely, including a keyword-rich description sharing information about your business and a bio photo.
Then, search for questions you can answer on Quora. Use the search bar and type questions that people have where your product/service is the solution.
The goal is to provide a valuable answer to the community and build your reputation on Quora as an expert.
On platforms like Quora, Reddit, and similar community-based sites, less is more. So, an overly salesy approach is not how you want to approach this.
Instead, come from a place of providing value and being helpful. This will naturally attract people to you and over time, your social following on Quora will grow and you'll start to see traffic funnel to your business from your Quora activity.
20. Tumblr
Tumblr calls themselves the place to discover and express yourself while connecting with others over the things you love. 
Join Tumblr and post just about anything you want:
Photos
Graphics
Videos
GIFs
Illustrations
Quotes or links
It's a social networking site where the content you post is considered "microblogs." 
To advertise your business on Tumblr, you would just want to post content around your business. Connect with your target audience highlighting the problem they have and how your business is the solution.
Here are some tips for posting content on Tumblr:
Use humor
Have fun
Post memes
Connect with your audience
Be consistent
Use tags
21. Vocal Media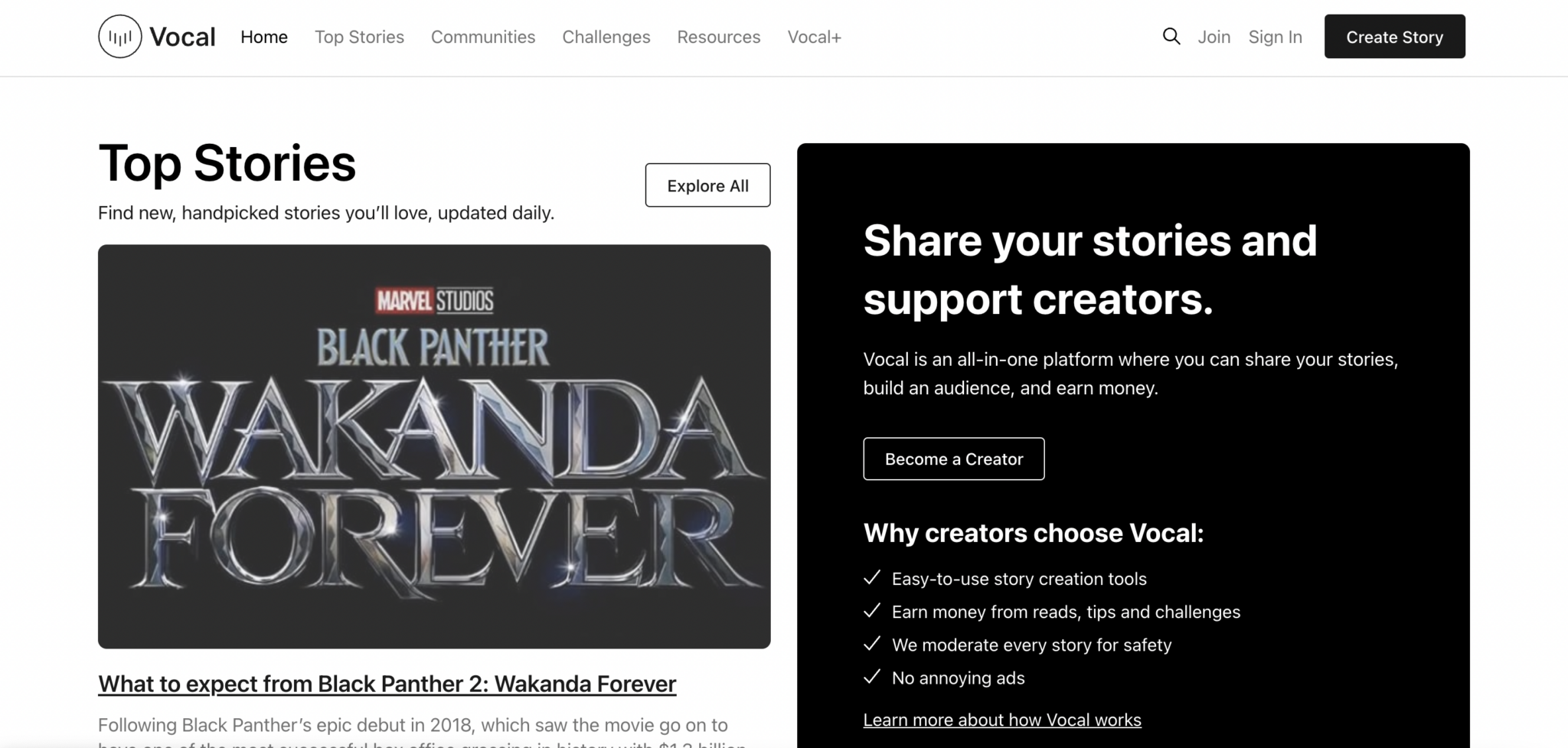 Vocal Media is a platform where creators can share their stories and build an audience. To advertise your online business using Vocal Media, you'll treat it similarly to how you'd use Medium.
Write content around your industry and share how your business can solve problems for customers.
Visit Vocal Media to learn more
22. Angi
Angi, formerly Angie's List, is the place where service professionals can connect with customers to work on projects. Some examples of service businesses that operate on Angi include:
Plumbers
Lawn care companies
Roofing
Remodeling
Electricians
If your business is in the service field, this could be a good place to find customers locally.
Service pros can register their business for free, manage leads that come in, respond to customer requests, send quotes, and work jobs.
Get exposure to millions of customers and increase your bottom line with valuable leads that Angi can push your way.
23. Geebo
Geebo offers free classified ads with categories like employment, services, vehicles, and more. While other classified sites like Craigslist and others have been rife with scams in the past, Geebo prides itself on being called the "safe community classifieds" site.
The site is user-friendly and pretty easy to navigate. To advertise your business for free, you will create an ad where you can advertise your company to Geebo's audience.
Geebo says:
We go the extra mile to help build, protect, and connect communities.
They have a common scams page to inform users about what to look out for to avoid getting scammed by others. Geebo also has a blog where they share up-to-date news around the latest scams happening.
You can check out their endorsements from people that have spoken about Geebo's commitment to social responsibility. If you are looking for a classifieds site that prides itself on running a safe operation, Geebo looks like it certainly delivers on that.
24. Adpost
Adpost is a classified ads website available for over 1,000 cities across the U.S., U.K., Asia and other places around the globe. It can be used similarly to how you'd use Craigslist to advertise your business online for free.
You can post your products and services directly for sale using photo and/or video ads on Adpost.
With over 30 million views a month, it's a good place to try to get some exposure for your company.
Where can I advertise online for free?
As you can see from our roundup of 24 different websites and online communities, there are plenty of places you can advertise online for free. You don't necessarily need to join all these sites to get started with free advertising.
I'd recommend starting with your 3 favorite platforms, joining them, and starting to use them to drive traffic to your website. Then, over time, you can add more platforms and websites to fuel your advertising efforts even further.
Which websites will you be using to advertise your business for free?