Survival affiliate programs offer fantastic opportunities to promote a wide range of products. From survival gear to clothing to food – the list is endless.
Preparing for the worst-case scenario is suddenly the thing to do. Think about it, until recently, "doomsday preppers" conjured up ideas of fanatics with guns preparing for the end of the world.
We all got a bit of a wake-up call when the most basic necessities were conspicuously scarce in stores during the global pandemic. Remember how people bought out toilet paper in all the shops?
Suddenly, food storage, stockpiling staples, and buying survival gear seem logical. Maybe the doomsday preppers have a point.
In this article, we'll cover 21 of what we think are the best survival affiliate programs available. Survival gear and all that goes with it is a rapidly growing industry and worth a look.
How To Choose Your Survival Affiliate Programs
Making money as an affiliate marketer is about the commission you can get per sale. However, this doesn't imply that you should automatically choose programs with large commission rates for every sale.
You're wasting your time if you opt to advertise a firm that pays a high commission rate but rarely sells anything. Alternatively, if you choose a merchant with a low commission rate but a high conversion rate on their website, you will be able to make money more quickly.
Here are some tips for how to choose your affiliate program.
Check to see if the company has a solid reputation.
Choose a product that you are familiar with or have already used.
Promote products that are right for your niche.
Look for programs that have competitive commission rates.
Find out how long cookies last.
Be cautious about traffic leaks.
Check out the general terms and conditions.
Check to see if the program includes a system for tracking sales.
Most websites provide their site-wide conversion rate. This shows how easy it is for customers to buy things from them. If the conversion rate is high, the buyers who visit the site via your referral link are more likely to make a purchase.
---
Our 21 Top Picks for Survival Affiliate Programs
3V Gear Affiliate Program
Fun Fact: ​​The three "V's" in 3V Gear refer to Veni Vidi Vici, which means "I Came, I Saw, I Conquered" in Latin – Julius Ceasar.
The owner of 3V Gear, Dan Beck, started the business by designing his own backpacks. Your standard bag isn't going to cut it for heavy-duty survival gear. Complete survival kits and first aid supplies take up a lot of room and weigh a lot. So, a sturdy backpack is something you'll need, and Dan designed the perfect packs. And the rest, as they say in the classics, is history!
3V Gear is well-known for its tactical bags, backpacks, and gear. You can also get excellent hydration systems, knives, and morale patches.
AvantLink and Pepperjam run the 3V Gear affiliate program. You'll also have access to affiliate marketing supplies. Plus banners, data feeds, text links, and a dedicated affiliate support team.
And as it happens, there are commissions levels:
If you generate 1-19 monthly sales at 3V Gear, the commission percentage is 8%.
With 20-29 monthly 3V Gear sales, the commission percentage is 10%.
And with 30+ 3V Gear monthly sales, you will get paid a juicy 14 percent commission.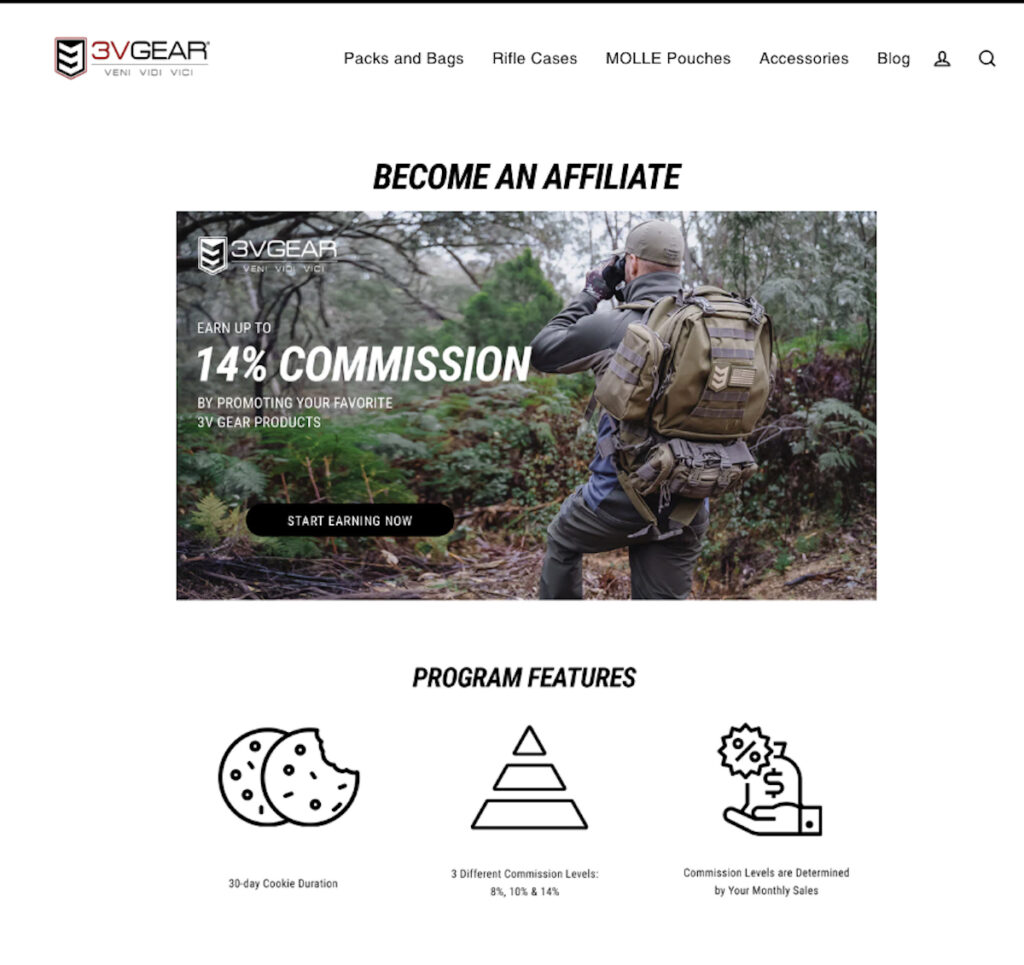 Commission Rates: 8% – 14%
Cookie duration: 30 days
Program: AvantLink and Pepperjam
---
American Family Safety Affiliate Program
American Family Safety sells emergency essentials and supplies. Their products assist families in preparing for any disaster. Their survival kits are customized and based on Department of Homeland Security standards. Each package is inexpensive, portable, and contains high-quality goods. They provide safety gear and packages for homes, schools, offices, automobiles, and outdoor areas.
Their essential supplies and disaster kits available are designed primarily for:
Floods
Blackout
Earthquakes
Hurricanes
Wildfires
Winter
First-Aid
Safety
Aside from those products already listed, you can also buy custom meal kits. American Family Safety's average order value is around $150.
ShareASale manages the American Family Safety affiliate network. The company offers a 7% commission on all approved sales. And you'll get a variety of affiliate marketing and promotional materials.
---
Crate Club
Crate Club is a subscription box service established by former Navy SEALs and members of special operations teams. As a result, each crate is brimming with *mil-spec tactical tools and gear.
*Military-spec. Everything from camping and trekking equipment to binoculars and tactical lighting is included.
You'll also find high-end emergency supplies. These include bulletproof bag inserts and luxury first aid kits for children. Plus, Special Operations teams' equipment.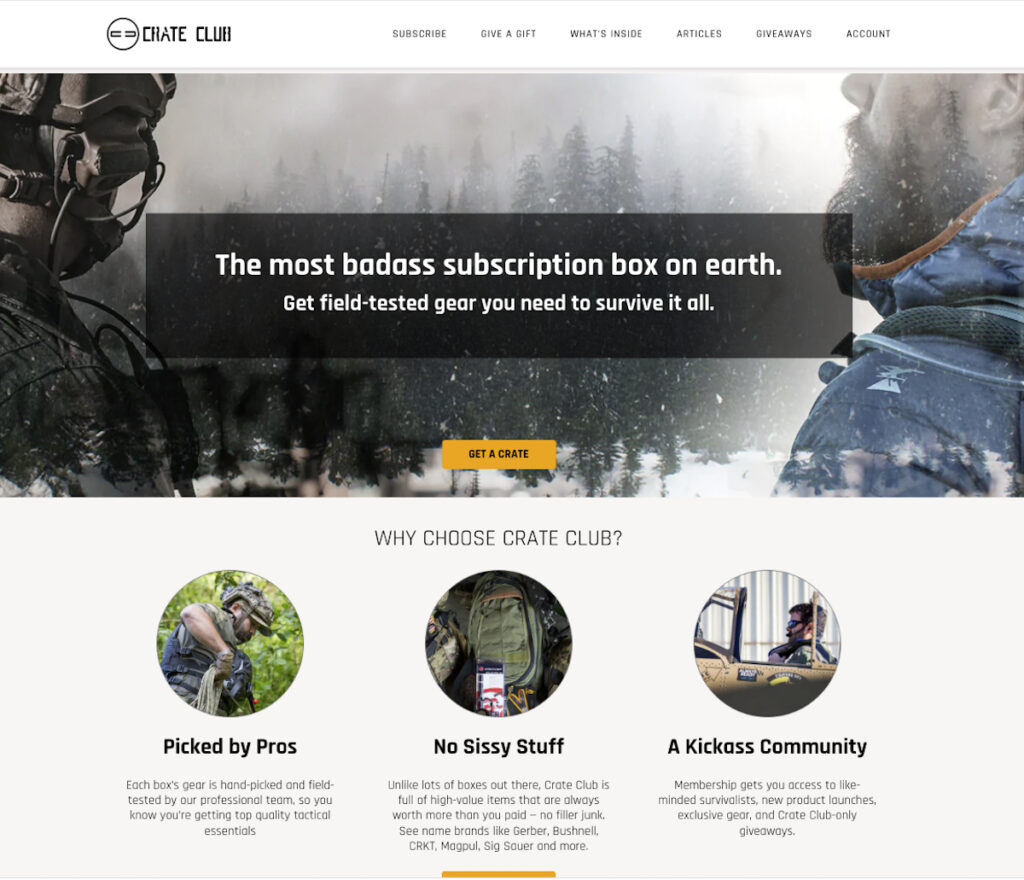 You can select between the 'Captain' crate, which costs $99.99 quarterly. And the more advanced 'General' crate costs $399.99 quarterly.
Crate Club Affiliates who promote this offer will receive a 15% commission on every sale. So, the average order will earn you around $14.85. And $209 for selling their largest annual subscription box. For other sales, affiliates get a 7% commission. Also, no affiliate products are excluded from their commission system, making it a good choice in survival affiliate programs. This is becoming increasingly rare in many markets.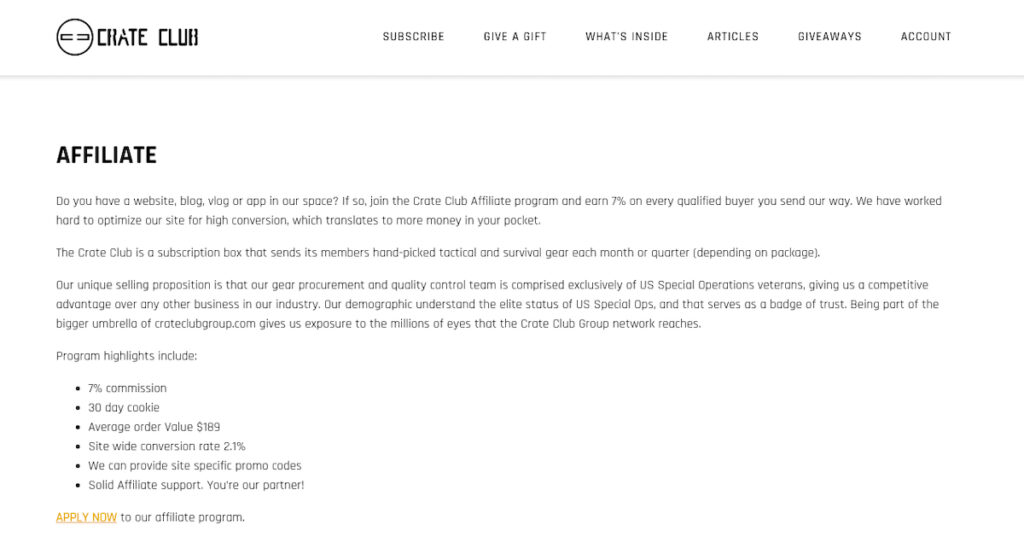 ---
eSafety Supplies Affiliate Program
eSafety Supplies has been in the safety and survival supply sector for ten years. It exclusively sells high-quality survival gear and safety products.
eSafety carries a wide range of security and emergency essentials. These include first aid kits, survival kits, LED torches, and more. Excellent brands such as 3M, Kimberly-Clark, and Microflex are available.

Because there aren't many sites like eSafety Supplies on the market, making sales is pretty easy. ShareASale handles the eSafety Supplies affiliate program. This pays up to 14 percent commissions and has a $100 average sales-ticket price. The conversion rate is quite good, at 4.1 percent, with 75 percent of customers returning to shop for more.
This means that eSafety Supplies is one of the best survival affiliate programs to join.
---
EmergencyKits Affiliate Program
EmergencyKits provides a diverse range of professionally developed kits. Their emergency kits are also known as Go Bags, disaster kits, and survival kits. They're packed with stuff you'll need in a medical emergency. And you'll find that the bags are well designed and constructed.
Their website has all sorts of interesting information and posts about disasters. Plus tips on what to do, where to go, and what emergency essentials you should keep on hand.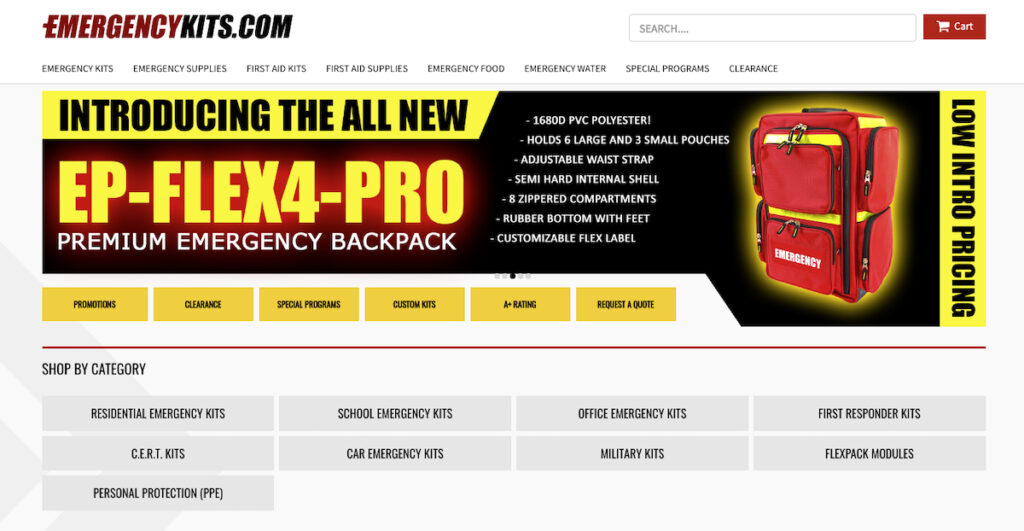 EmergencyKits has three types of affiliate programs: for businesses, organizations, and schools. You have to sign-up for any one of them first. And then, you'll get information such as commission percentages and cookie length. Plus, you'll have access to affiliate marketing material.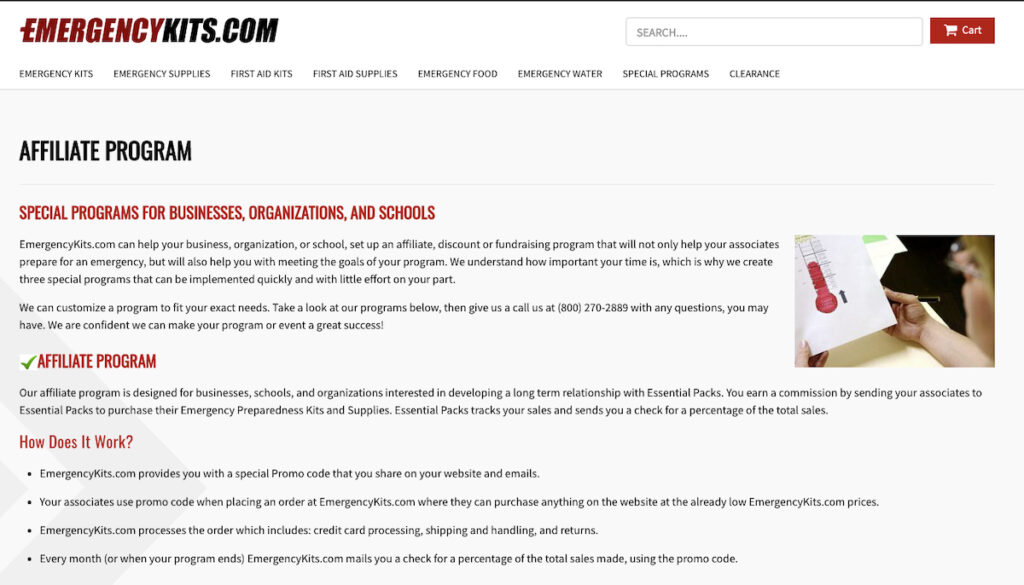 ---
HEAT Survival Training Affiliate Program
HEAT Survival Training offers training classes, videos, and manuals. These are aimed at teaching people how to survive in hazardous environments. The courses cover all possible scenarios. And you'll be taught how to survive and cope.
Techniques for Emergency First Aid
Protocols for Online Security
Self-Defense Techniques
Anti-kidnapping Techniques
Hotel Safety Awareness
How to Survive Civil Unrest
Counter Hostile Surveillance
Disaster Survival
The training includes plenty of interaction and practical examples. Also, free guides and manuals are available for download from their official website.
The WP Affiliate Platform manages and operates its affiliate program in-house. They offer an excellent 37% commission on qualified sales. Plus extra perks and bonuses. And affiliate marketing materials such as banners, text links, and guidelines.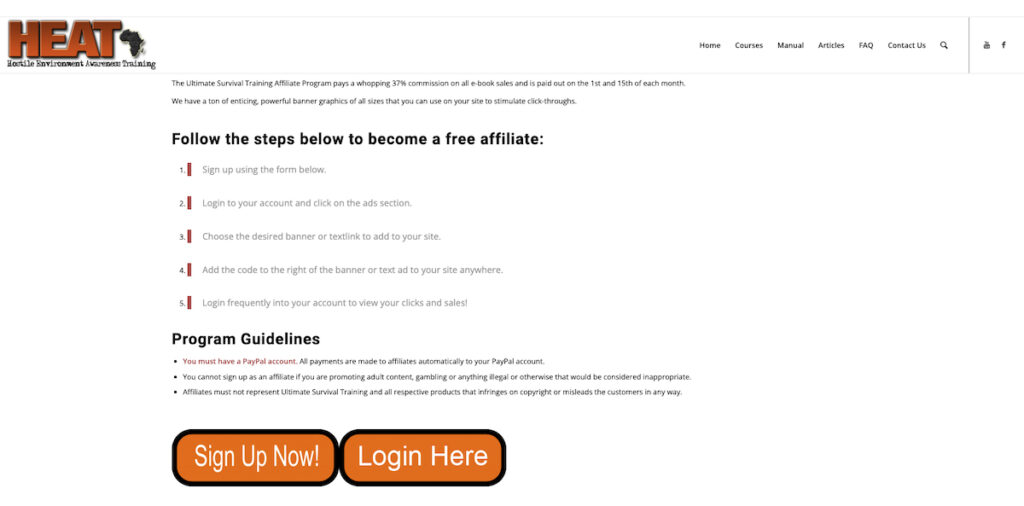 ---
Live Fire Gear Affiliate Program
Live Fire Gear (which used to be Day One Gear) specializes in supplying emergency fire-starting products.
The Live Fire Survival Kit gives you a Live Fire tin and a Ferrocerium rod with a striker. Any survivalist knows that being able to start a fire in wet or moist conditions can save your life. You should probably put the kit on your list of emergency essentials.
The ShareASale affiliate network manages the Live Fire Gear affiliate program, and affiliates earn a ten percent commission on all referred sales.
Affiliates' marketing materials include:
Banners
Text Links
Widgets
Newsletters
Discount Codes
Co-Branded chances
Data Feeds
And you'll have access to a Specialized Affiliate Support Team.
---
MIRA Safety Affiliate Program
MIRA Safety provides gas masks as well as a variety of other personal protective equipment. Their gas masks and other respiratory and safety equipment are used by military personnel, so the quality is good.
MIRA Safety is a family-owned and operated corporation in Austin, Texas. And they've formed useful alliances with key agencies and businesses worldwide.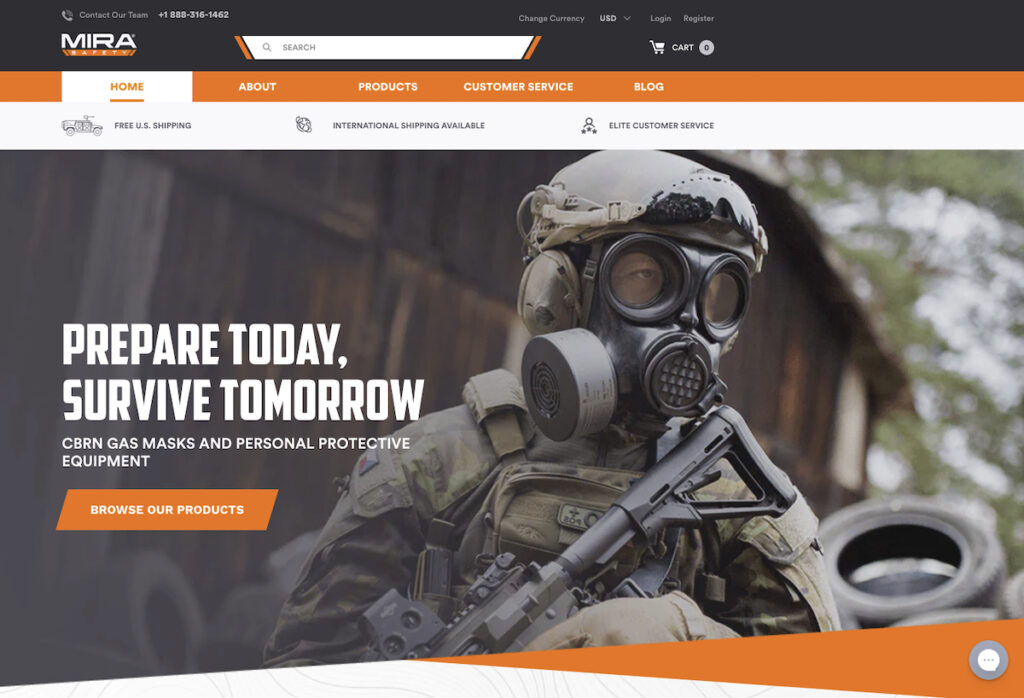 AvantLink manages the MIRA Safety affiliate program, and the company gives up to a ten percent commission on all approved purchases. They ship for free in the United States, which will improve affiliate conversion rates.
MIRA Safety's average order value is $435.00. Therefore, you can expect to earn $43.50 on each transaction (which is pretty sweet). You only need a hundred sales to make $4000 a month.
They can ship to other nations, so your traffic doesn't have to come from the United States or the United Kingdom.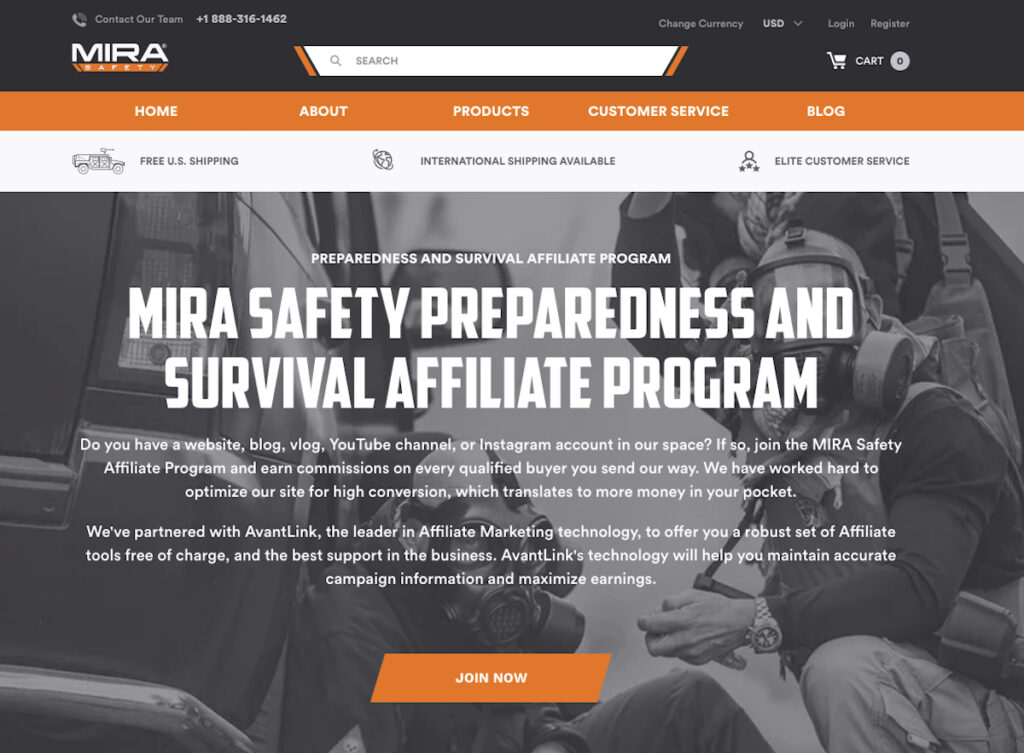 ---
More Prepared Affiliate Program
More Prepared is a survival kit firm that assists people in preparing for the worst-case scenario.
The company offers a wide range of emergency survival gear to help you confidently tackle difficulties and disasters.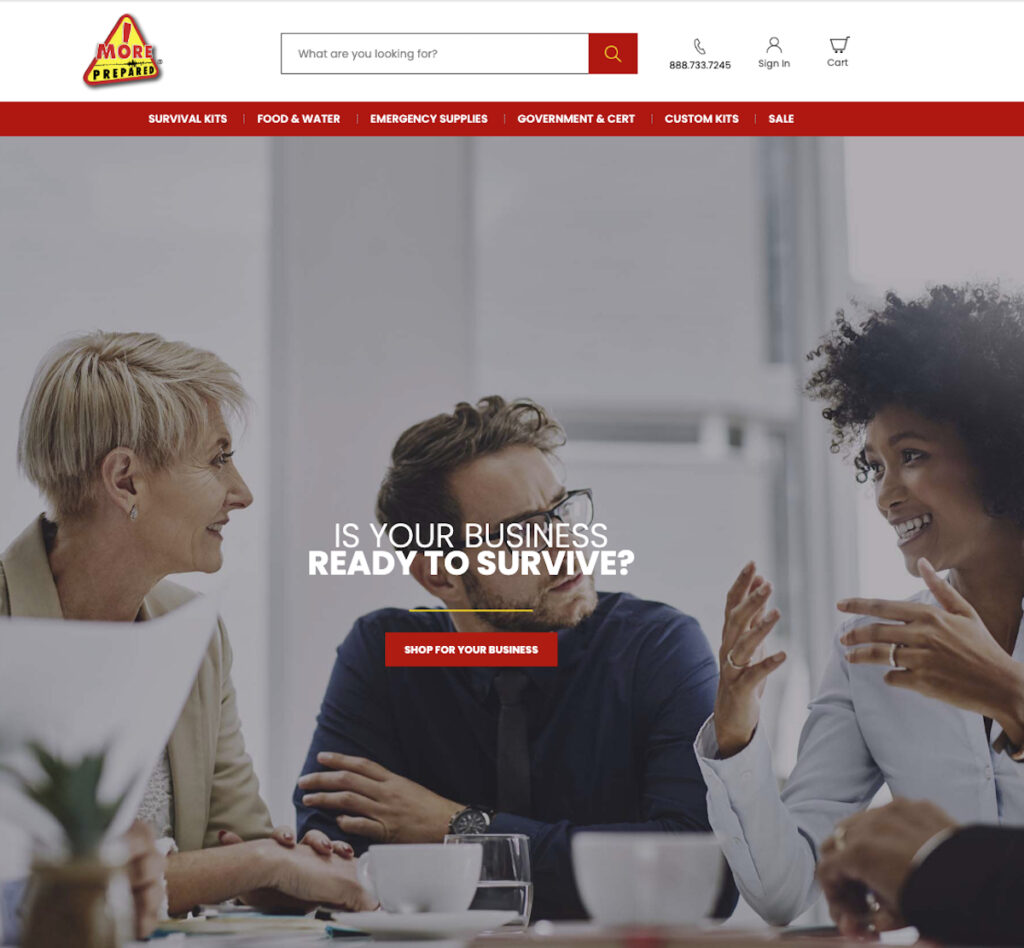 These are a few of their kits:
Car Survival
School Survival
Office Survival
They also offer emergency essentials like:
Emergency Food And Water
First Aid And Medical Supplies
Sanitation And Hygiene Supplies
Flashlights And Lanterns, and more
More Prepared's affiliate program is maintained in-house, and affiliates earn competitive commissions, making it one of the most profitable survival affiliate programs. You'll need to create a personal customer account first to apply for the affiliate program.
They haven't officially stated the commission rates, but allegedly, some major websites frequently push their stuff. If you have a blog or another traffic source with a decent number of readers, look at the More Prepared affiliate program to earn some extra cash.
All other essential affiliate marketing materials, such as banners, text links, and affiliate assistance, are available to approved affiliate marketers.
---
Mountain House Affiliate Program
Mountain House is a key player in the freeze-dried food industry. For nearly 50 years, they have been preparing meals for the US Special Forces.
Freeze-dried meals are emergency essentials and vital to any overall food storage plan. They're lightweight, space efficient, and easily transported. Customers can order food and supplies in bulk to prepare for any emergency.
AvantLink manages the Mountain House affiliate program. Responsive and dedicated account managers are assigned to affiliates. And affiliates get a ten percent commission on all sales.
Mountain House items can be promoted via blogging, forums, social media, or a YouTube channel(s).
---
Nutrient Survival Affiliate Program
Nutrient Survival supplies nutritious meals to individuals during an emergency to keep them healthy and active. They offer an extensive range of nutritional products, including hydrated food, immunity drinks and bars, protein and energy bars, stock food, and other food storage kits.
You can get a 72-hour package that feeds four adults. They also provide single-person kits for 30, 60, and 90 days.
The Nutrient Survival affiliate program is maintained through the AvantLink affiliate network. Affiliates are paid an 8% commission on sales. All further details are given once you apply to be an affiliate and are approved by the management team.
---
Radioddity Affiliate Program
Radioddity works hard to supply the amateur radio community with high-quality equipment. Plus accessories and station information. They also sell HAM radios which can be very handy during a disaster.
Radioddity gets fantastic customer service reviews for great products and support. But there's not much information about its affiliate program. You have to sign-up to get the info.
---
ReadyWise Affiliate Program
ReadyWise (formerly Wise Food Storage) has been offering high-quality survival food and emergency food storage for many years.
You can find a wide range of food options, including:
Gluten-Free And Organic Food 
Long-Term Food Products 
Dried Foods etc.
They also sell emergency essentials like:
Backpacks 
Tools 
Water Filters 
Water Storage Cans 
Cooking Utensils etc.
Commission Junction and AvantLink manage the ReadyWise (or Wise Food Storage) survival affiliate program. Affiliates earn 12% commissions on any sales they produce. And the cookie life is 120 days. According to the company, the average order value is around $650. Plus, you get access to affiliate marketing materials.
Commission Rate: 12%
Cookie Duration: 120 days
Program: CJ Affiliate and AvantLink
---
StatGear Affiliate Program
StatGear manufactures and supplies survival gear such as:
Emergency Preparedness Kits
First Aid Kit
Disaster Kit
Survival Kit
Rescue Tools
Accessories For First Responders, Nurses, Paramedics, EMS, and Public Safety
StatGear also offers first aid products that every motorist should have in their vehicles. These are neat little kits packed in semi-hard cases.
ShareASale manages their affiliate program. It pays a 15% commission, and the cookie life is 60 days. So this is definitely one of the better survival affiliate programs.
Commission Rate: 15%
Cookie Duration: 60 days
Program: CJ Affiliate and AvantLink
---
Survival Cat Affiliate Program
Survival Cat sells hundreds of essential survival gear and products, such as:
Bags 
Footwear 
Camping Products 
Energy Products
You can also choose a great survival kit from their range and other tools and accessories.
The organization is well known for supplying top-rated gear.
Refersion manages the Survival Cat affiliate network. The affiliate commission is 20%
---
Survival Combat Fitness Affiliate Program
The Survival Combat Fitness program teaches self-defense. You can fight back if you know how! Self Defense training is critical, you need to know how to defend yourself. And you'll also learn when to fight and when not to.
John Spencer Ellis and Yuri Boiarsky lead the training program. They are both excellent and knowledgeable coaches.
Their affiliate program is featured on ClickBank, and affiliates earn a 50% commission on all sales. And the cookie duration is 60 days.
---
Survival Dispatch Store Affiliate Program
Survival Dispatch Store is a survival equipment store and an online education platform. You can learn how to deal with natural or man-made emergencies. The teaching is done through digital guides and online training courses.
Aside from digital products, their store sells emergency essentials like:
Survival Food
Tactical Equipment
Books
Medicines
Hurricane Supplies
Backpacks and a ton of other products
You can buy their products through their official website and Amazon store.
Their affiliate program is active on ClickBank, and affiliates can earn lifelong commissions on membership goods and competitive commissions on physical products. You'll also have access to affiliate marketing materials. These include quality banners of all sizes, tracking tools, text IDs, email swipes, and videos.
---
Survival Frog Affiliate Program
Survival Frog is a really popular survival gear and prepper supply company. They have a large selection of supplies that are ideal for any form of emergency or disaster. Survival Frog sells knives, tents, food, first aid kits, etc.
Survival Frog has been in business since 2009 and provides high-quality products to its customers. Their slogan is "Preparing Made Simple," and they sell everything a prepper might possibly need. In addition to their extensive collection, they provide free shipping on orders of $75 or more. However, Survival Frog only ships to the United States and Canada.
Two affiliate networks, ShareASale and AvantLink, run the Survival Frog affiliate program. Signing up is free, and they generally accept niche blogs focused on survival and the outdoors. You can earn a 12% commission on every sale you refer via your affiliate links.
---
Survival Life Affiliate Program
Survival Life sells a variety of popular survival gear. These include radios, food, tactical tools, kits, and courses. Besides being an online store, Survival Life is also an educational platform. It teaches individuals how to survive in the worst situations.
I like the articles they offer where you can learn more about all sorts of fascinating stuff. For example, how to survive a monkey attack! Plus, excellent survival tips for kids.
Survival Life's affiliates get up to 75% commission per sale. And high-quality affiliate marketing materials like banners, text IDs, tracking tools, etc. This is one of the best survival affiliate programs to join.
---
Titan Survival Affiliate Program
Titan Survival is a family-owned firm based in California. Jarod King, Co-founder and CEO, is an army veteran with degrees in Electrical Engineering and Business. Titan Survival specializes in supplying high-quality survival gear to the general public and the military.
Titan Survival sells emergency blankets, combustion products, electronics, cordages, survival clothing, bug-out bags, and other survival gear.
Refersion manages the Titan Survival affiliate partner program. And affiliates receive a 7% commission. The cookie life is thirty days. Affiliates are provided with all necessary affiliate marketing resources for running successful promotional programs.
---
Valley Food Storage Affiliate Program
Valley Food Storage is a long-standing, popular survival food service provider. You can order survival food goods and kits in bulk. These can help you to prepare for natural catastrophes or other disasters.
They sell long-term food kits. And nutrient-dense, calorie-dense, and natural food products. You can also get breakfast, lunch, and dinner food goods. You can buy water pouches and protein-rich food products. Valley Food Storage also supplies a selection of survival seed kits.
AvantLink manages the Valley Food Storage affiliate network. And affiliates earn a ten percent commission on qualified sales.
---
Final Thoughts: Survival Affiliate Programs
The survival industry is growing rapidly as more people feel the necessity to prepare for the worst.
The survival niche is far more diverse than most affiliates believe. Affiliate marketers can monetize the survival niche with anything from heirloom seeds to homesteading advice. So don't limit yourself to survival kits, first aid kits, and food storage since there's a lot more here. Having said that, those products do sell exceptionally well.
There are plenty of survival gear affiliate programs in the business. You can join any of them today to start earning money through commissions. Be sure to check commission rates and conversion rates. And check typical order values before selecting the best survival affiliate programs for you.
The cookie length is also significant since it impacts how long you are eligible for a commission. The more time, the better.
Additionally, look for survival programs that offer free support and tools to their affiliates. You want to make your life easier with the best affiliate program support available.
Did you know that the affiliate marketing industry is expected to reach $36.9 billion in revenue by 2030? If you have not yet started your affiliate marketing business, you should seriously consider it now!
To help you get started, read about 13 ways to start affiliate marketing with no money. However, if you feel that you want to start off on the right footing, you may need some training. Here is a list of 15 of the best affiliate marketing courses to help you make money.
Good luck with your new venture!